Multichannel View, Profitability Tracking, and Automated Purchasing.
Get a holistic view of actionable data on every SKU on every channel so you can improve profitability and margins.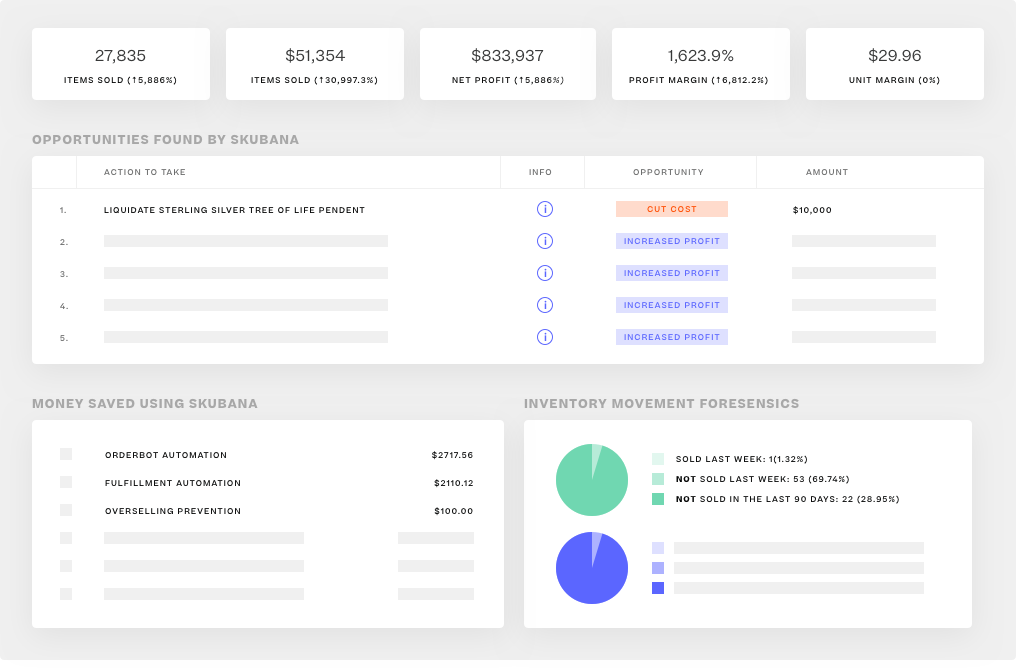 How does Skubana help your business?
Click through the sections below to see where our software makes a difference for your e-commerce business.
Introduce Clarity
Metrics that matter
Auto-Split Orders
Automate Orders
Breakdown Bundles
All channels in check
Real-time inventory
Speed up fulfillment
Track pricing, minimum order quantities, and production lead time across every supplier
Automatically generate purchase orders when stock is low, recommending order quantities based on several factors
See your entire multi-channel landscape with one dashboard for all your channels, warehouses and products
Reduce friction and inefficiency when all your teams use the same dashboard
Identify patterns and opportunities in your business for continued growth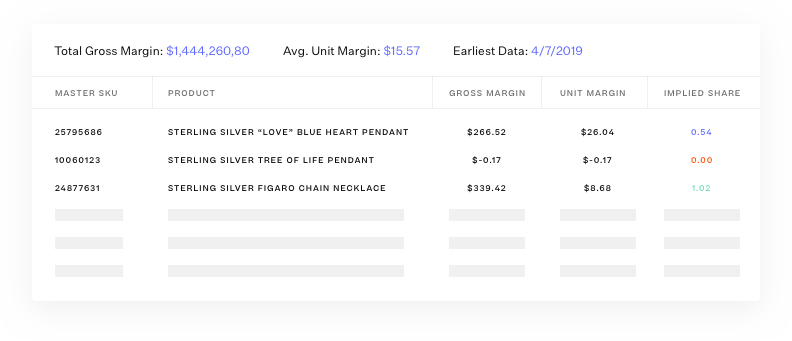 The more that you understand your product selling patterns, the easier it is to streamline and improve inventory management across multiple sales channels and warehouses. Skubana plugs in all your expenses, such as rent, payroll, and marketing so you can determine true profitability across channels on a per SKU basis.
Add multiple in-house warehouses and 3PLs with automatic shipping and return labels, for the speediest deliveries
Turnover
Gross percent of margin
Customer Fulfillment Rate
Carrying Costs
Inventory Age

Locked Inventory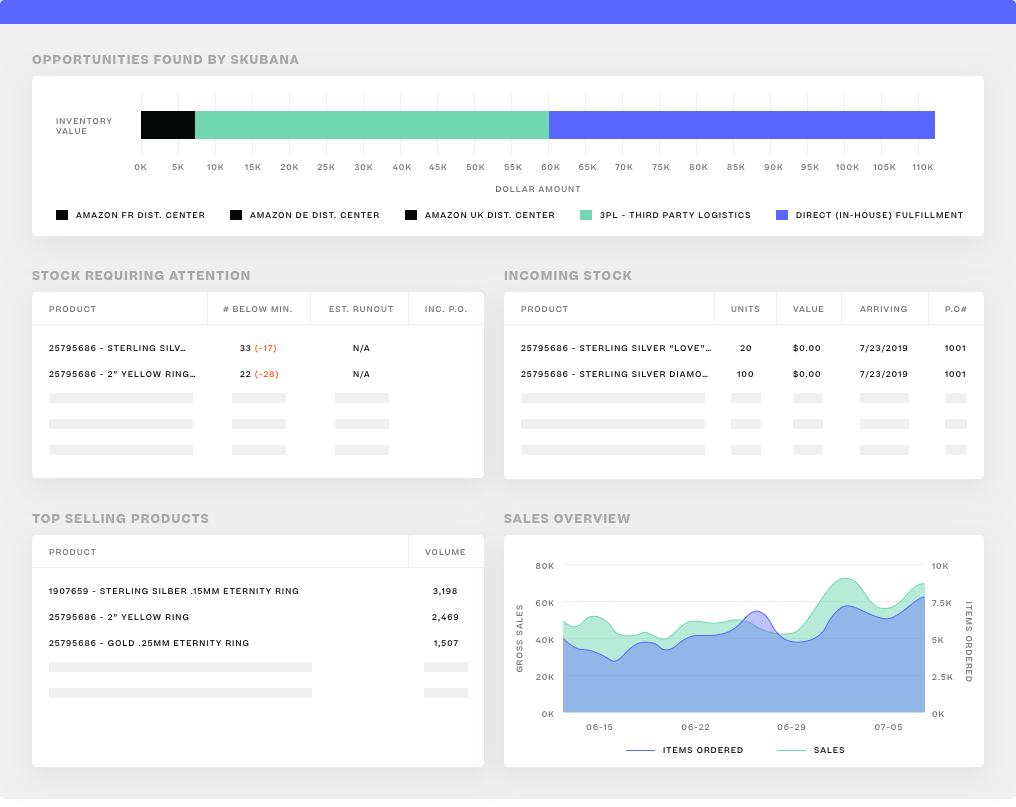 Split fulfillment of your orders based on inventory availability across warehouses or product labels.
Skubana tracks inventory at different stock locations across your warehouses, as well as view inventory holistically or by specific warehouses.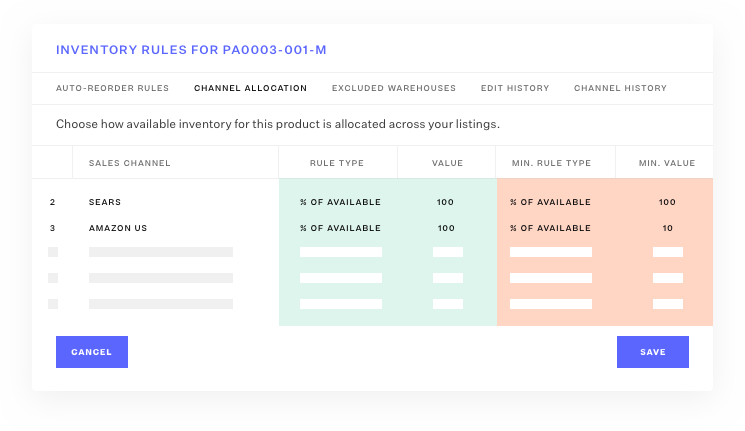 Automate repetitive or time-intensive tasks such as assigning weights/dimensions, package types, and calculating reorder quantities.

Skubana rate shops based on price, delivery date, and distance, and assign packaging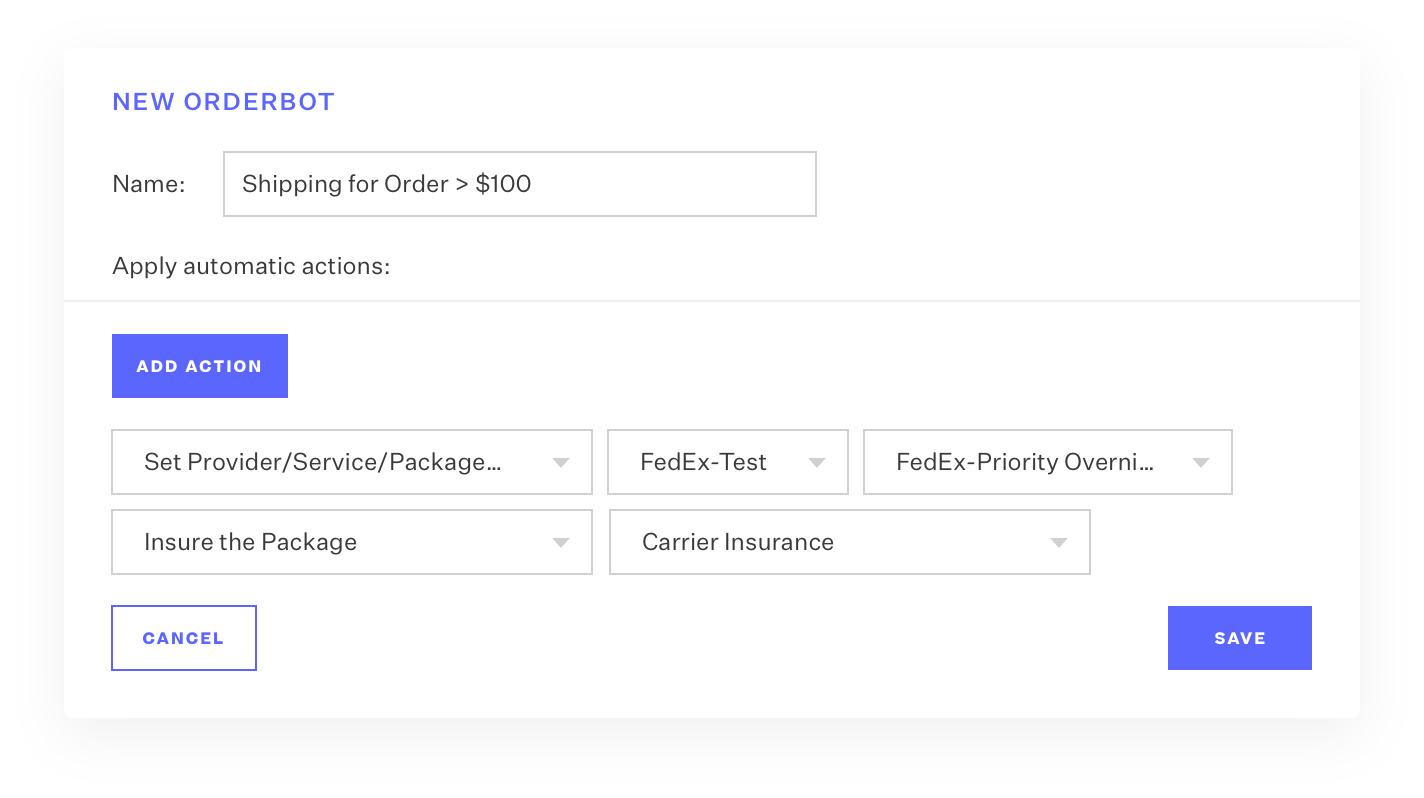 Split bundled products within an order into its individual core components
Product bundling across parent-child product kits, bundles & broad component tracking
Automatically calculate the maximum quantity possible for each bundle and kit using core products and any pre-packaged inventory
View inventory values on a per SKU, per warehouse basis for all bundle/kits
Always know exactly how and where each on-hand inventory total for a bundle/kit is calculated from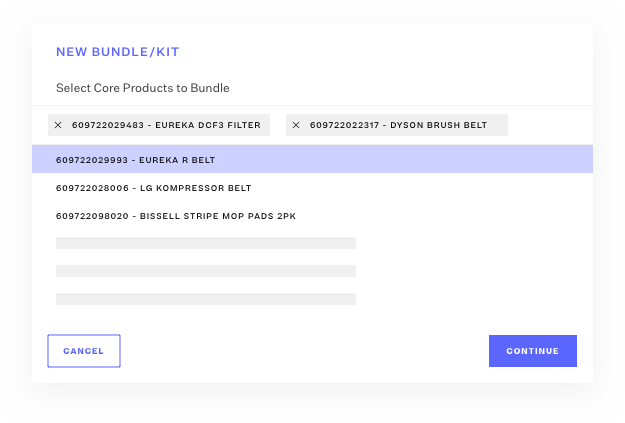 Cross-channel reporting with detailed data on revenue, order, and units sold.
Respond to new orders rapidly and accurately.
Get real-time syncing to maintain control as your sales volume increases across multiple channels.
Grasp all of your inventory in a single view and update data to quickly reflect on all of your channels.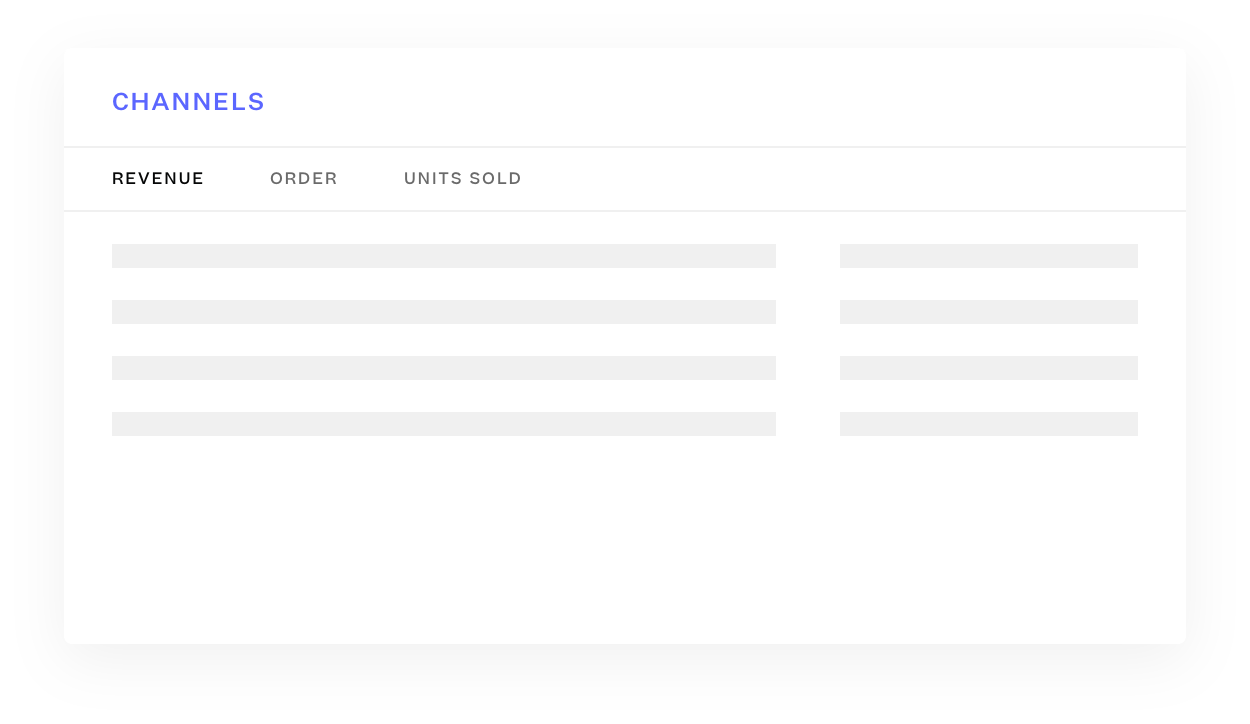 Using real data, not dated spreadsheets, across all channels for consistent metrics
Set inventory allocations on percent of available inventory to show on a per sales channel basis when a SKU is either above or below its overall inventory minimum.
Show a percentage of your available inventory to prevent overselling.
Optimize inventory displayed on each channel to create scarcity and drive more sales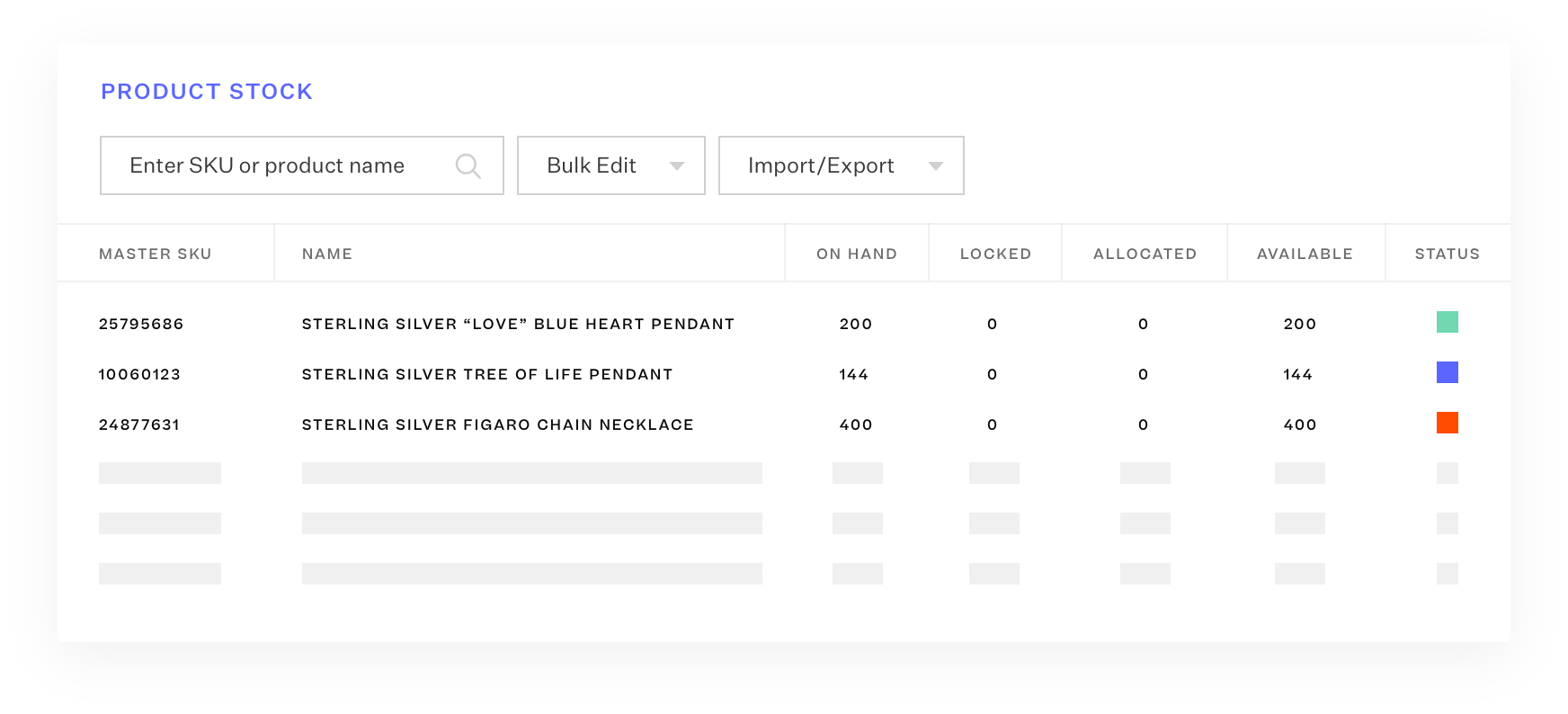 Add multiple in-house warehouses and 3PLs with automatic shipping and return labels, for the speediest deliveries
Create and Rank multiple pick locations per SKU per warehouse to receive POs and fulfill orders.
Manage multiple FNSKU's for one master SKU. Skubana will allow you to set your preferred FNSKU for multi-channel fulfillment.
Pick, re-stock and maintain inventory quantities by scanning barcodes through our Barcoders partner in our App Store.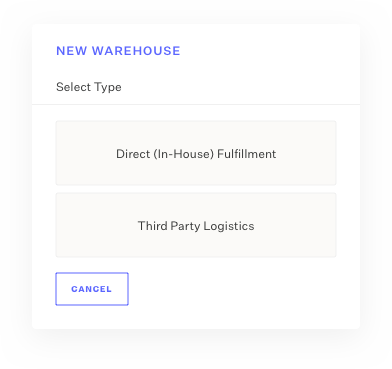 Ready to learn more about what Skubana can do for YOUR operations?
Fill out our form to get started!