Amazon Feedback Requests - Are You Doing it Right?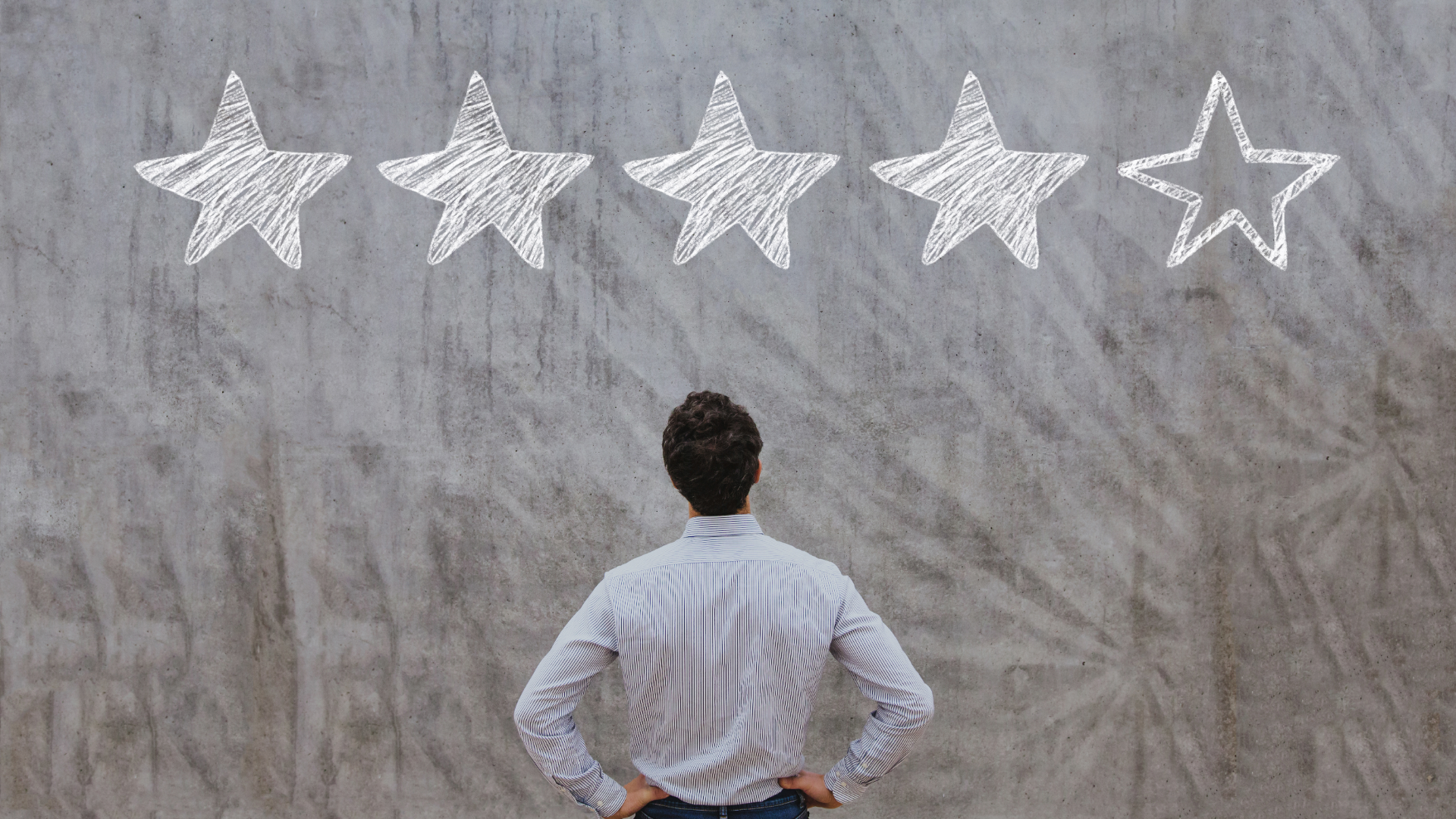 Why is seller feedback important?
Well, it's important for two main reasons.
Firstly, it helps potential buyers see how other customers rated their experiences with you. Secondly, it lets Amazon monitor your seller performance and decide if you're the type of seller it wants on its platform.
If you meet Amazon's very high standards in terms of customer service and other seller metrics then you may be eligible to win the Amazon Buy Box where close to 90% of sales occur.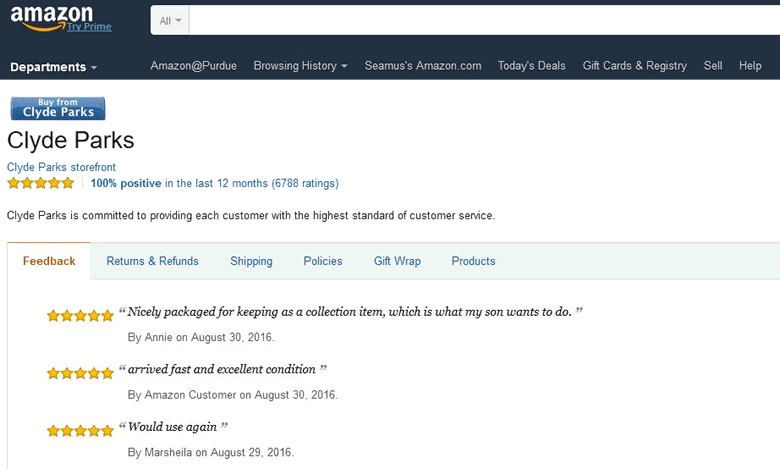 If like Clyde Parks, you have a feedback rating of over 95% (ideally over 98%), you'll improve your chances of getting a share of the elusive Amazon Buy Box. If you have a feedback rating of less than 90%, then you'll want to review your selling practices.
If you consistently fail to meet the high standards Amazon expects, you'll lose sales and risk losing your seller privileges — temporarily at first and then permanently if you don't address the issues raised.
Asking for feedback
Requesting feedback in the right way and at the right time can boost your Amazon feedback rating, sales and Buy Box percentage. When asking for feedback, we recommend a two email policy.
The first email should let a buyer know that their order is on the way. This is also a great opportunity to proactively prevent negative feedback by providing a way for the customer to contact you if they have any issues.
In most instances, instead of leaving negative feedback, the buyer will respond to the email and give you an opportunity to put right anything that might have gone wrong with their order.
Not sure what to include? Here's a template from our Amazon feedback software which helps sellers save time by automating feedback solicitation requests.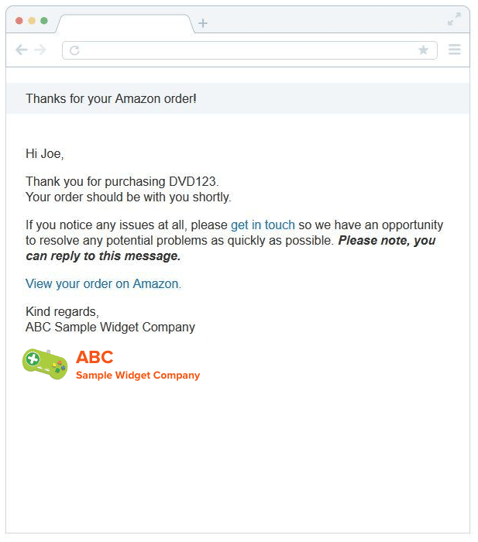 Seller tip: Including your logo in this email will help with brand recognition when you ask for seller feedback in your second email.
When the order has arrived safely and on-time (or preferably early), you can then send your second email—this can be done automatically with a feedback management tool, like FeedbackExpress.
Within this message you should remind the buyer that you're a small seller (many people don't realize that they're not buying from Amazon itself) and that feedback is really important to you.

Need help? Here's another template taken from our software which you can customie for your business.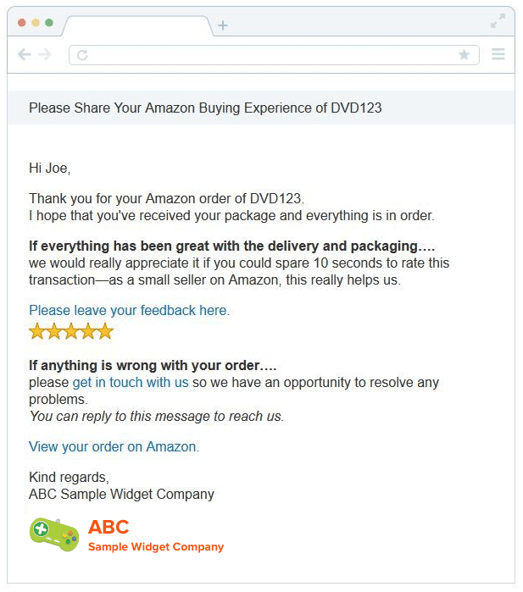 Seller tip: Make it easy for the buyer by including a link so they can leave feedback with just one click.
Most sellers are aware that you're no longer able to incentivize buyers into leaving feedback but some sellers are still violating Amazon's policy by including things that aren't allowed. To help keep you right, here's a list of what you're not permitted to include in your emails:
Links to any websites.
Links to Amazon detail pages or storefronts.
Seller logos if they contain or display a link to the seller's website.
Any marketing messages or promotions.
Any promotions for additional products or referrals to third-party products or promotions.
If you have any of these in your emails, remove them now. The only link you're allowed to include is a link for the buyer to leave seller feedback or a product review.
When to ask for feedback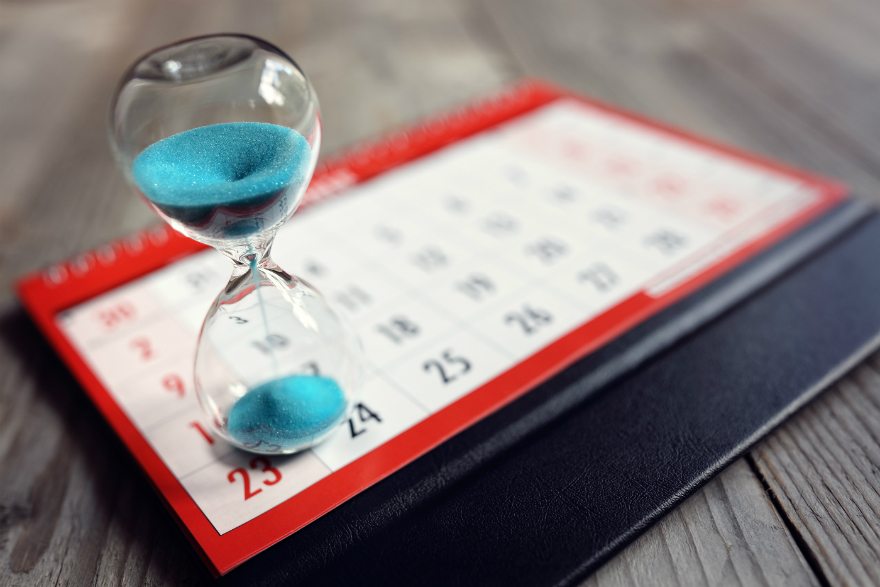 Unless you're a super casual seller on Amazon, you should be asking for feedback. But when should you send the email?
If you've decided to opt for the two email strategy we outlined then the best time to send your first email for buyer engagement is 24 hours after the order has been confirmed. This helps to avoid any conflict with Amazon's auto emails.
If you're asking for seller feedback, you should then send your second email which contains a the link to leave feedback, 24-48 hours after the buyer receives their product.
However, if you're asking for a product review, send 7-10 days after the buyer has received the product — this will ensure they've had time to try out your product before writing a product review. Again, this is a guideline — if your product takes longer to trial then send your email after a period you deem reasonable.
The metrics that matter to Amazon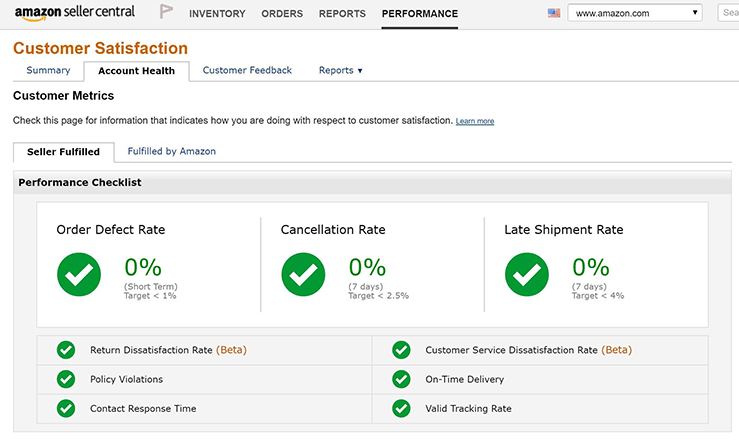 There are four important seller metrics that Amazon uses to gauge your performance as a seller:
Late Shipping Rate: You need to ship items and confirm shipment with Amazon by the expected ship date. If your late shipment rate gets above 4%, you could find yourself with an account suspension.
Refund Rate: This is the number of refunded orders divided by total orders. Communicating with your buyers promptly and effectively can help reduce your refund rate and keep your account good standing.
Pre-Fulfilment Cancellation Rate: If an order gets cancelled before you can fulfill it, then you'll want to take the total number of those and divide it by the total number of all orders. Be aware that you're only allowed to reach 2.5% before Amazon starts getting concerned.
Order Defect Rate: This is the metric where talking to your buyer and getting their feedback matters most, as it encompasses so many different things — negative feedback, credit card chargeback or A-to-z claims.
But, what if you get negative feedback?
You can proactively avoid negative seller feedback by adopting our two email policy. However, inevitably there will be occasions when a negative feedback slips through the net. When this happens, don't despair as you may be able to get it removed.
Amazon will remove feedback where the reviewer has used "obscene language" or included "personally identifiable information". Seller feedback that contains an Amazon product review can also be easily removed as according to Amazon's guidelines, these should be added to the product review section. All of this is an important part of your overall Amazon review strategy.
Finally, Amazon will update feedback if the comment is solely about "fulfillment or customer service for an order fulfilled by Amazon". For example, if an order was delivered late or got lost in transit, a line will appear through the rating and the statement, "This item was fulfilled by Amazon, and we take responsibility for this fulfillment experience." will be added.
If the negative feedback is valid and not something Amazon can remove, you can reach out to the buyer but you must tread carefully. You can't offer them a full refund in exchange for them removing their comment. If you do this, you run the risk of Amazon suspending your account.
You can contact the buyer and attempt to resolve the problem they encountered. If an order arrived late, you can apologize and offer a partial refund or a full refund for any shipping charges. If you hear back from the customer, you can politely ask them to remove the negative feedback. However, you can't connect the refund to the feedback removal.
Sellers shouldn't pressure buyers into removing feedback. Feedback manipulation, harassment and quid-pro-quo agreements are all violations of Amazon's policies.
If the feedback doesn't break Amazon's rules and if you don't hear back from a buyer after a reasonable period of time, then you may want to consider responding to the negative comment. You can apologize for not meeting their expectations on this occasion and explain anything you're doing to stop it from happening again in the future.
Receiving negative feedback doesn't always have to be a bad thing. It could be an opportunity for you to improve an area of your business that you could do better in and provide a better customer experience.
And it's not just negative feedback you might want to ask to have removed — neutral feedback can also affect your seller metrics and feedback rating.
How to maintain a 100% seller feedback rating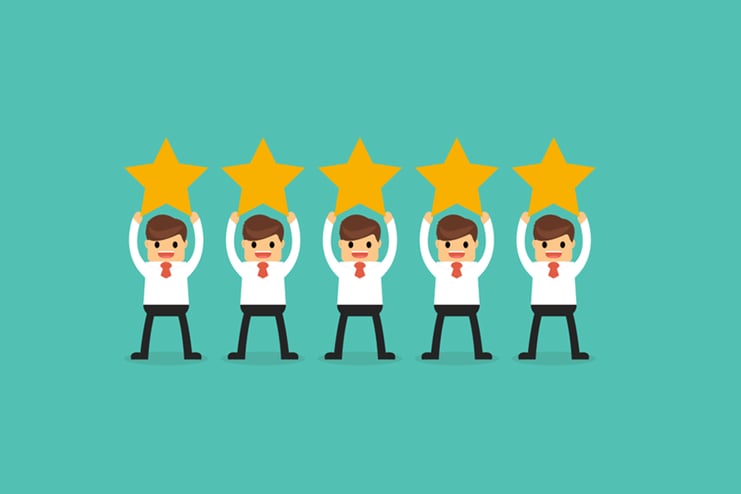 It's difficult but not impossible to maintain the perfect feedback rating. Here are our top seven tips to help you:
When choosing the condition of a product, round down, not up.
Think twice about selling an item in acceptable condition.
When you get an unfair negative feedback on Amazon, act quickly.
When you get a legitimate negative feedback, act quickly, apologetically, and generously.
Ship on time.
Respond to customers promptly.
Only use automated Amazon feedback software that is 100% Amazon compliant.
Conclusion
Smart sellers will have a formal process for collecting feedback. If you want to save time and protect your Amazon feedback rating consider using FeedbackExpress to send perfectly crafted feedback requests.
Special Offer: As a Skubana reader you can start improving your seller rating and increasing sales today. By using the promo code "SKUBANA10", you can enjoy 30 days of Amazon feedback software from FeedbackExpress for FREE (no credit card required), plus get a 10% discount on your first month's subscription. Learn more.