How Will Amazon's Google Shopping Ads Impact Your Business?
August 9, 2017
7

min read
This is a guest post by Kurt Prosser. Kurt is Managing Partner at Easton Digital. Easton Digital helps small and mid-sized retailers grow sales through online advertising. Kurt is also co-founder of ModveraLighting.com and BobcatLighting.com and host of the Columbus eCommerce Meetup Group.
Last December, Amazon began running Google Shopping Ads. Initially, the ads from Amazon started as a small test and only showed on home goods and furnishing categories. However, over the past three months, Amazon has been ramping up Google Shopping advertising by increasing bids and categories.
Here is an example of the Amazon Google Shopping Ad: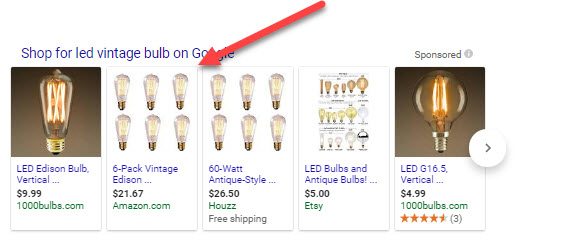 The above shopping ads show on Google's search results page at the time of this article. Amazon's shopping ad is in position two, and a click on the ad will take the visitor to an amazon product page.
This new initiative from Amazon can have major ramifications for your Amazon business and e-commerce store. However, the main questions Amazon Sellers and Retailers should be asking are…how will this impact my business, and what should I be doing to take advantage of or compete with Amazon's Google Shopping ads?
[bctt tweet="How will Amazon's Google ads impact your business? Find out today!" username="skubana_erp"]
How Google Shopping ads impact your Amazon business
Amazon Sellers already rely on Amazon's vast customer base and ability to drive traffic to Amazon.com. Therefore, it seems clear that the impact to Amazon Sellers would be positive. Google Ads simply drive more traffic to Amazon.com. Furthermore, if you have a top selling product, there is a chance your specific product could get free placements on Google Shopping and drive more sales.
Three potential risks
While the benefit to Amazon Sellers is great, there are three potential down sides. First, during our tests, a majority of the ads were for private label products with one seller. We've seen relatively few ads with multiple sellers. This means if your listing has several other sellers, you may not benefit from Amazon's Google Shopping Ads.
Second, after clicking on the Amazon Google Shopping ad, many of the landing pages offered the product in the ad along with three recommended products along the top. The three recommended products could have a positive impact on conversion rates for Amazon. However, having these additional options likely decreases the conversion rate of the main product that showed in the Google Shopping ad.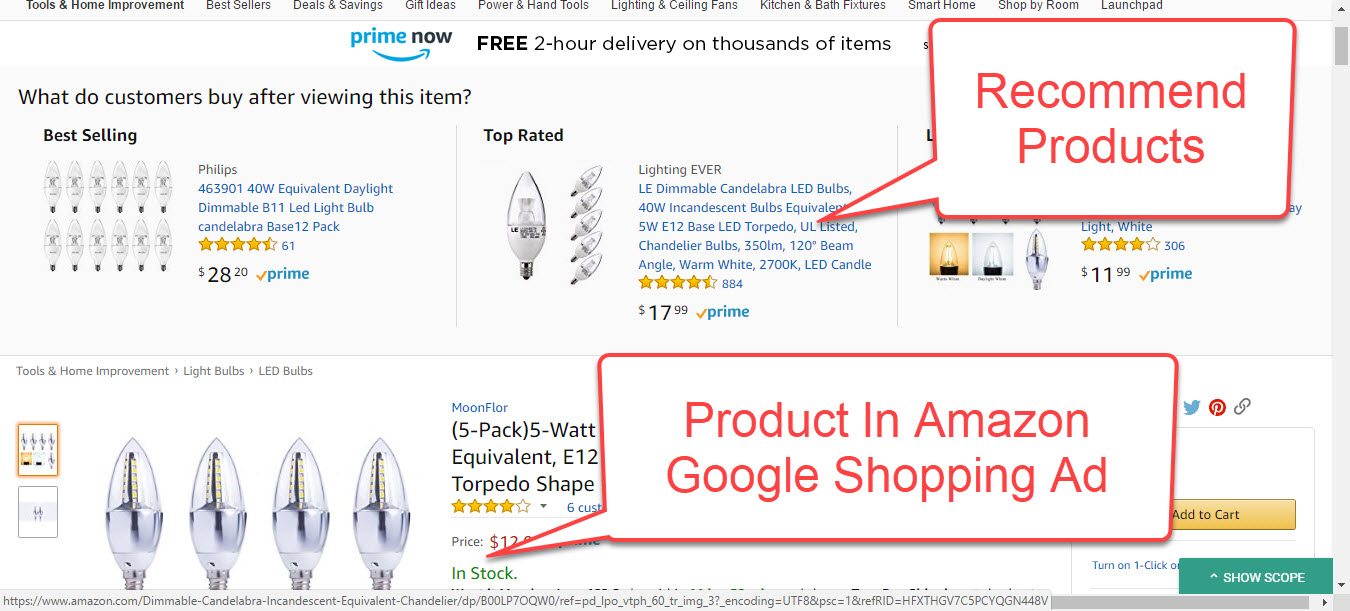 Third, as an Amazon Seller, you are very aware of the frequent changes that Amazon makes to increase its bottom line, and it is possible that Amazon could start charging Amazon Sellers to run Google Shopping ads. Etsy launched a similar initiative in October 2016. Etsy allows sellers to "opt in" to Google Shopping Ads, and then Etsy charges the seller per click, pays Google a lesser amount, and collects the difference. At this time, the Amazon Sponsored Products FAQ specifically states that "Over time, the service might expand to other placements across Amazon.com." It makes no mention of running Sponsored Product as off of Amazon, i.e. Google Shopping. So for now, enjoy the free traffic.
Improve your chances of appearing in an ad
As an Amazon Seller, there are three things you can do to help you improve your chances of showing in Google shopping ads and take advantage Amazon's Google Shopping ads.
First, fully optimize your listing with keywords.
Second, increase sales velocity. During our tests, it was clear that Amazon favored products with higher sales volume.
Third, improve your brand. During our tests, Amazon seemed to bid higher when brand names were used. For example, their shopping ads showed high when we did a search of brand name + item, ie Modvera 60W candelabra bulb.

How Google Shopping ads impact your e-commerce store
There is no question that Amazon's ads on Google Shopping will have significant impact on e-commerce businesses. Those using Google Shopping to drive a majority of sales on their website and sell products readily available on Amazon.com will feel the biggest impact.
How to analyze Amazon's Google Shopping Ads impact
There are three important considerations to factor into the analysis of how Amazon will impact your e-commerce site.
First, we ran an A/B test to test the performance of Amazon.com versus an e-commerce store URL, i.e. modveralighting.com. The bids, keywords, targeting, etc, were all the same, but we simply changed the URL. We sent one ad to the product on modveralighting.com and the other ad went to the product on Amazon.com. The results were shocking. The click thru rate on the Amazon ad was 12.94% versus 6.74% on modveralighting.com. Most importantly, the cost per click on the Amazon ad was $0.71 versus $1.63 on modveralighting.com. While the test was done using text ads, it seems likely that Google Shopping would see similar results. In short, Amazon's Google Shopping ads likely have a significantly lower cost per click than your Google Shopping ads.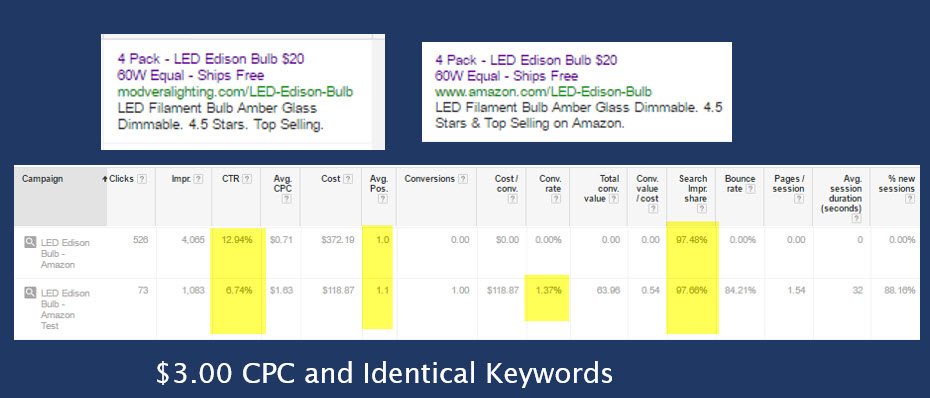 Second, Amazon can overtake your ads within grouped ads. Within the Shopping tab on Google.com, visitors can see the full list of products. On this page, Google groups products together in an effort to provide a better user experience and provide a "price comparison" feature. However, Amazon's Google Shopping ads can overtake your ads and take sales you were previously getting. It is important to note that the grouping of products relies on submitted data to Google, particularly UPC, brand, and MPN. Also, since it is against Amazon's policy to have a lower price on your retail site than Amazon, Amazon's ad will normally outrank your ad unless you are offering free shipping on your retail site.

Third, we are all well aware of Amazon's desire to dominate retail. The question we have to be asking is why is Amazon running Google Shopping Ads? Is Amazon really seeing a meaningful enough boost in sales from Google Shopping to justify paying Google, which some classify a competitor?
Amazon ran Google Shopping ads back when it was free, but ended it when Google started charging, which led some to believe it wasn't very profitable. I would argue they are running ads to push out retailers, such as Walmart, Jet.com, and others. In a 2016 survey by Power Reviews, they found that 38% of shoppers start their shopping journey on Amazon and 35% start on Google. Among the 35 percent of shoppers who began with Google, 52 percent said they clicked on Google Shopping Results, 41 percent clicked on an Amazon link, and a similar number clicked on a retailer link, while 27 percent clicked on brand sites.
If Amazon takes over Google Shopping with ads, Amazon would control 70% of shoppers' starting points. This, combined with Amazon's high customer life-time value and willingness to lose money in the short term, would create a major barrier for Walmart and other competitors. The below charts from SEMrush show a dip in Walmart.com Google Shopping advertising, which may be due to Amazon's increase in advertising.


Based on the growth in Amazon's Google Shopping advertising over the past six months, it is likely they will continue running ads for a while. Therefore, now is a perfect time to come up with a plan compete against Amazon and grow your business. There are a three things online retailers can do to better position their business.
How to position your business for success
First, you have to understand your competition and changes in your competition. Is Amazon running ads on your top terms? Who are your current competitors and have they changed over time? How are your ads performing against those competitors? To find the answers to these questions, use the Auction Insights Report in Google AdWords.
Second, you absolutely must implement Google Shopping best practices. Our marketing agency audits many Google AdWords accounts each year, and we are always shocked to see the amount of wasteful spending on Google Shopping ads. The top three mistakes we see retailers make are; 1. not using search term targeted campaigns, 2. not optimizing for mobile bids, and 3. not optimizing the data feed. Be sure to learn about Google's recommended best practices.
Third, find your value proposition and maximize it. Why should customers buy from you? More importantly, why should they continue buying from you, and why should they tell their friends about you? Do you have a brand or an e-commerce store?e-commerce and selling online is not a value proposition. Everyone can launch an e-commerce business, including manufacturers and distributors that use to sell only wholesale. Direct-to-consumer used to be a value proposition, but it is getting easier to launch private label brands/products thanks to Alibaba. The reality is that you have to figure out how to deliver a better product and better experience than your competitors, which includes Amazon.
Amazon's Google Shopping ads are good news for some and presents challenges for others. Now is a good time to evaluate your business and better prepare for a market dominated by Amazon.