Revisiting Amazon's 2020 Marketplace Updates - Recording
December 9, 2020
46

min read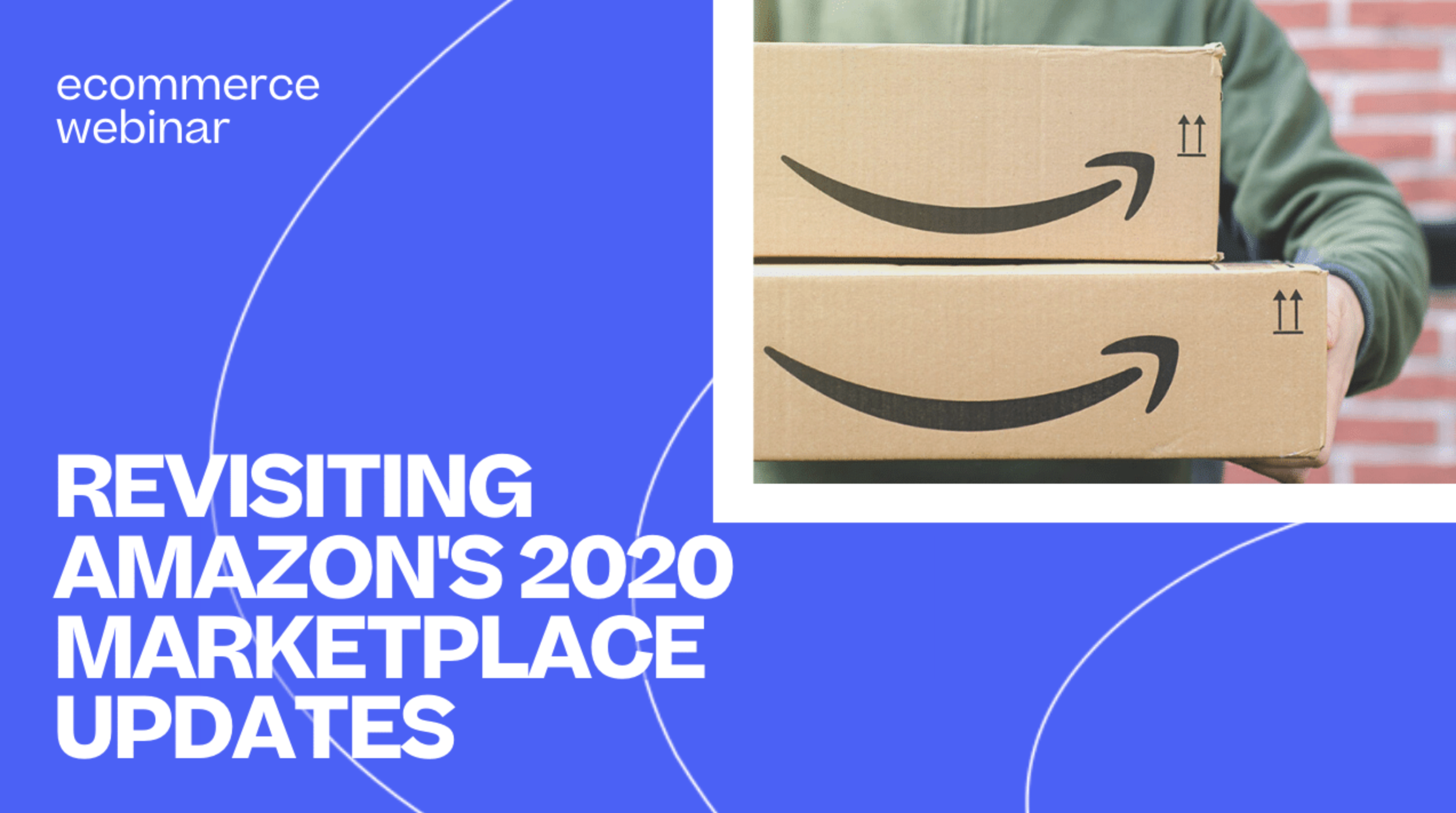 Are you a current Amazon seller OR a brand thinking of expanding to the marketplace in 2021? There are recent changes you should know first...

Like everyone in ecommerce, Amazon was not immune from the havoc wreaked by COVID-19. The marketplace was forced to implement new regulations, revise merchant policies, and even postpone Prime Day.

Despite setbacks, the pandemic has actually accelerated the marketplace's global growth. Analysts estimate that full-year revenue will jump 35% to $380 billion. 📈 For comparison, sales grew 20% year over year in 2019.

With that said, there is no better time to be a marketplace seller.

To take advantage of this momentous growth, you need to understand how the changes made in 2020 will shape marketplace selling in 2021.

Before we hunker down for the December holidays, we're joining forces with Tinuiti and eComEngine to run through the most important advertising, operational, and review updates that rolled out in 2020.

Here's what we're covering:

🌟 Brand Store Updates (claim amazon.com/YOURBRAND before it's too late)

🔍 Discoverability strategies to stand out in Amazon search results

🌍 The FOUR new marketplaces launched this year (can you guess who?)

🗯️ Changes in features and formats to Sponsored brands & DSP

📦 Updates on fulfillment options including new SFP updates

🌡️ Tips to maintain a healthy IPI score in 2021
Watch the replay right here or read the transcript below: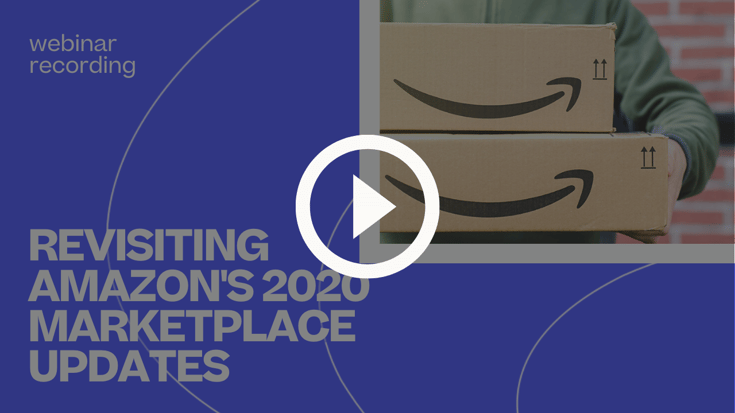 Transcript
Analicia Santaella:
Hello, everyone. Good morning to those of you on the West Coast. Good afternoon to those of you on the East Coast. Happy to have you here today, we have some great speakers and some great content around the topic of Amazon updates to advertising, operations, and reviews, so I'm very excited to have you here. Let's talk through logistics.
First, I'll introduce myself. My name is Analicia Santaella. I'm partner marketing manager here at Tinuiti, and I will be your hostess for today's webinar. So first and foremost sessions recording, I think you all know this by now, but within 24 hours, you'll have them in your inbox. So rest assured there and share those around with any of your colleagues. Log back in any time if you feel you have to troubleshoot, it should be the same link that you use to log in right now. So feel free to hop off and come back in with that same link. Resources, we do have five resources available in the handouts. So when you go to webinar panel, you'll see a drop down that says handouts, feel free to download those. They're some great resources to supplement today's session. And submit questions as our speakers are going through their slides, if there's a question that you have, go ahead and submit it. I'll be queuing all of those up so that we can hopefully get to most, if not all of them at the Q and A portion at the end.
So a little bit about Tinuiti for those of you who are with us for the first time today, we are a performance and data driven marketing leader focused on every part of the customer journey across the triopoly, which for us means Google, Facebook, and Amazon. But beyond that as well, dabbling into Walmart, Instacarts, some organic as well, but yes, we're happy to have you here today. Then I will go ahead and introduce our speakers. We have some Epic experts and some great friends. I'm happy that in the first webinar I've worked in a while is with people I work a lot with, and I'm proud to have everybody here joining me today. So first we have Aaron Gooden, he oversees marketplace strategy on Amazon. He has hands-on experience for driving results for clients businesses. And he's a great speaker, always at Tinuiti Live and on our webinars, so thank you Aaron for being here. We have Gina Tirelli, who's partner marketing manager at Skubana. She knows a thing or two about growth strategies, as well as inventory and order management. She has been a big part in Skubana becoming a leader in eCommerce, so we're happy to have you here as well Gina. And last but not least, Colleen, she is Colleen Quattlebaum, I asked her how to pronounce her last name, so I should say her full name. She's marketing manager at eCommEngine. She is focused on Amazon business development, and she's always up to date with all things inventory, feedback, pricing, and product research, all things that eComEngine, all services that eComEngine offers, and we're also happy to have you here today. So thank you, all, for joining me.
I'll quickly go over the agenda. We do have lots of great content today. We're diving into everybody's expertise here, so we'll be deep diving into the latest updates in Amazon advertising in 2020, we'll be talking about changes to Sponsored Brands as well as DSP. We'll be talking about the updates and fulfillment options and operations, huge topic all year round on news outlets, how to offset increase FBA costs, tips to maintain a healthy IPI score in 2021, and updates to Amazon communication guidelines in 2020 to get you all settled up for 2021. So I will launch a poll like we always like to kick off our webinars here at Tinuiti, just to get a sense of what your biggest priority is in 2021. So we'll be touching on all of these a little bit, but let us know what you're here for today. So you have advertising, operations, inventory management, reviews, and other, if any of the options listed are not really what you're here for today or what you're prioritizing for next year, and it's other, drop it in the chat, drop it in the questions and go ahead on, let us know what your focus is today, and I'll chat it to our speakers, so we can kind of see if we can fold in your priority into the presentation today if it's not listed. I will go ahead and close the poll now. I do wanna share the results. So we have 62% advertising. We have 41% inventory management. I'm sure stocking out of products this year is definitely not something we wanna do nor next year, so 41% inventory management. We have 39% reviews. I know reviews on Amazon is is tricky to get a handle on. So hopefully, Colleen has some tips for you all. And then Ops 33%, I know that that's tricky, and a lot of you came into our Ops webinars. So that's always a priority, that's obvious. So yeah, themes, reviews, inventory, and let's see if anybody chatted the other to me, so I can read it out. Okay, no, not yet. But if there's anything else you think we should focus on, drop it in the chat, and I'll ping our speakers, and you never know, maybe we can turn it into a webinar in the future. So without further ado, I will pass it off to Aaron, who will kick off our presentation today.
Aaron Gooden:
Cool, all right. Thanks, Analicia. Hey, guys, let's go ahead and start off with advertising since that seems like that's a pretty hot button topic that everyone likes to talk about. Cool, so starting with sponsored products, top category trends for this year through Q3 of 2020, the grocery and gourmet category for a lot of food advertisers saw year-over-year sponsor product spend grow in Q3 to about 42% year-over-year. Also, the second highest CPC is year-over-year as well at about 4% growth. And so that can definitely let us that there's a lot of competition in that space. And as online demand for consumables continues to remain elevated during the pandemic. Health and personal care advertisers were also the second fastest growing category at about 21% spend growth year-over-year and not too far behind in growth in clicks as well. Both these categories definitely saw a surge in only demand as many Americans started restricted movement, increasingly ordering products instead of purchasing products in store. Pretty much we saw this trend pick up in March, and obviously, as you guys know with where we're at with the vaccine, we expect that to continue at least through the beginning, maybe even the middle of 2021 as well. Cool, sorry, lemme go to go back one. There we go. Cool, so we can look at sponsored products. I'm sorry, yeah, for Prime Day 2020 over the entirety of the 48-hour Prime Day event. Sales per click, which is the graph that you see here has driven sponsored products about 52% higher than the first 12 days of October. Uniquely, we would expect this as well for New Year, New You in 2021, whiCh is set to start probably the end of this month usually.
Advertisers should make sure that they have ample budget for their sponsored products so that we are anticipated for this growth. Coming off of Prime Day, Black Friday, Cyber Monday, and holiday, a lot of our New Year, New You advertisers or anyone that's season is usually in the beginning of the year, should definitely take that strategically into account for 2021 when they're looking at budgeting, but also inventory planning as well, which we'll talk about a little bit later in this presentation. When it comes to Sponsored Brand utilization, this was huge in September, there was nearly 16 times as many advertisers deploying Sponsored Brand videos as in April of 2020 around when COVID first hit. Strong performance results are increasingly compelling for advertisers to use this ad type that we anticipate in 2021 as well. The main moral of the story is if you do not have video assets ready right now, you could definitely be left behind in 2021. The way that these work is, they essentially play without sound. So advertisers need to make sure that their videos work well without sound. You can also add onscreen text for a little bit more clarity and about 15 seconds is around the sweet spot for these ad types.
Cool, so Sponsored Brand video versus static ads, just a couple of stats for you guys to take a look at. In Q3, the Sponsored Brand video accounted for more than about 1/4 of all Sponsored Brand spend. So you see that 26% there in the graphic. These units enhanced the ability for brands to be able to tell their story, which can help better connect customers and drive brand, recall brand loyalty in the long run, which is great for your kind of retention campaigns that you might be running, especially for New Year, New You as well if you're trying to acquire new customers. Sponsored Brand videos, they also produced a higher click-through rate, about 350% higher click-through rate than we saw with our Sponsored Brand videos with static imagery. In that again, this is based on Q3 while also driving a conversion rate that was about 38% higher than those that were static ads. So performance by placement is not yet available for these. You guys probably have seen those for the static Sponsored Brands. So we anticipate probably in 2021, Amazon would release that information as well, helping to have more users adopt that, that ad type.
So if you look here on the screen on the right-hand side, there's a little kind of a example of the Sponsored Brand video and what it looks like. About one in five of Amazon visitors will usually convert as a result of seeing these ad types. And so a couple of tips and tricks is one, make sure that you're knowing your audience, knowing the time of year and the product that you're gonna show, especially again, if you're in New Year, New You, or even now during holiday being sure the ad copy and the video speaks to that messagery. Also keeping it brief and focused, that 15 second window is usually great, optimizing the video ad format and making sure that it loops, it doesn't just stop at the end and go dark, that those videos continually loop in case the user is still lingering there on the product. So sponsored display utilization, with that, those were formerly known as sponsored product ads. We saw after growing about 66% in Q1 to Q2, sponsored display spend grew a dramatic, 130% from Q2 to Q3 as a result of sales attribution to the format doubling, we're definitely expecting this ad type to also be continually used in 2021.
Aaron Gooden:
Oops. Cool, then some updates around DSP, advertisers continue to lean on DSP as a current advertising solution. All the clients that we work with, we definitely advocate for utilizing DSP in Q3 campaigns. Targeting Amazon audiences only accounted for about 97% of all DSP ad spend. The remaining 3% was based on targeting third-party audiences, which a lot of clients have little to no, ability to do before yesterday. But breaking news as of yesterday, Amazon essentially released over 8,000 audiences for that third-party audience segment type. So you now have the ability to grow and scale your existing Amazon DSP audience much larger because you have access to even more of those third-party audience segments, which previously, there was little to none access to that. Cool, and then with DSP always on-methods. So as you go into 2021, be asking yourself, what your excuse are you gonna be utilizing for retargeting? What SKUs are you gonna be utilizing for those third party audience segments that have just been released or any sort of upper funnel marketing tactics? What verticals are they in? What looked back windows are you going to be utilizing? All of the things that you need to keep into account when you're looking at an always on strategy for your products. And then lastly, a little blurb about Amazon Attribution, which you guys may or may not know, came out and really was in full force at the beginning of 2020, allowing a lot of advertisers to show pretty much where their marketing efforts have ended up in relation to Amazon across channels, including display, email, search, and social. It allows for a much greater understanding to produce results from Amazon as brands sell on Amazon and increasingly take advantage of such a tracking across these channels. And so based on the graph here, you can see that from Q3 of 2019 up to Q3 of 2020, search has steadily been seeing an increase in adoption of Amazon Attribution. The only one that we saw that was pretty stable throughout this year timeframe was email, but we anticipate in 2021 that potentially to go up, but search is definitely the heavy hitter when it comes to utilizing Amazon Attribution right now. So with that, I will go ahead and hand it over to Gina.
Gina Trelli:
Thank you, Aaron. I'm just gonna make sure I have mouse access, perfect. Okay, so my name is Gina, Gina Ellison, Gina Tirelli for those who know me pre-marriage, and I work in partner marketing in Skubana. Skubana is an operations platform that helps marketplace sellers unify their multi-channel data, automate their backend operations, and grow their business with clear real-time data. We support and automate activities throughout all of these operational areas from order management to inventory purchasing and everything in between. And we really believe that today's online retailers should be direct to everywhere. It's really not super scalable to just stay on one channel. So we make it possible to expand and stay organized by seamlessly unifying all of that data. So, yeah, here's a selection of some of our customers, all living their best multichannel life. And today, I am going to be talking about some of the changes Amazon has been making to enhance a seller's ability to build a branded experience within the Amazon mega brand itself. Plus why it's important to diversify your Amazon fulfillment methods after such a wreck here on global supply chains.
Cool, let's get started. Perfect. Okay, that's good enough. This one I'm really excited about a big part of my job is promoting the value of being direct to everywhere. But the fact is a lot of brands have been turned off by Amazon's quote unquote, over branding. It's really impossible to kind of stay out, stand out among other product listings. It's difficult to cross-sell at times. And if you're selling on FBA, it's really impossible to deliver unforgettable unboxing experience, which we know drives retention, and loyalty, and brand awareness. You also have tons of competition from third-party sellers. So Stores allow you to create a curated brand experience within Amazon. As you can see here, this is one of our customers. They sell bidets. And one of my favorite things about the whole Amazon Store experience, which by the way, some of you might be asking it's 2017, sorry, 2020, are we talking about this? It wasn't really new this year, it was launched in 2017, but given a lot of the things that happened this year, it really started to take center stage. This goes back to a lot of what Aaron was talking about, about using videos, and building brand engagement, and loyalty, and driving repeat purchases, a lot of that can be supported by Stores. Sorry, my clicking is really lagged. Perfect, so honestly, one of my favorite parts about the whole Store experience is the fact that you can have your own Amazon URL. So again, this isn't a change, it's more of like a public service announcement. If you haven't done this already, and you're an Amazon seller and your brand, please go and register your brand name, amazon.com, whatever it is. And then your customers can literally just land on your site and experience a more curated store. And what would be more similar to a D2C experience. Because what we've seen is a lot of D2C barons are reluctant to embrace Amazon, they're worried about limited control. They're worried about limited ability to brand themselves and create the same experience that their customers are used to. So the fact that Amazon has been experimenting with new Store technology this year, really shows that they're moving in a direction to allow brands have more ownership around that shopping experience even while it's still living within Amazon. So here are a couple of changes that I'm gonna talk about, which happened this year. Number one is actually the ability to have shoppable images. If you're familiar with Instagram, you'll know that you see a beautiful image, you can hover over it or you can click it and you can shop now. Shoppable images are essentially lifestyle images that you can essentially just add something to cart right away in one click, so I thought that this was really cool.
Another thing that they added this year was images with text, so again, it allows you to create this beautiful, clean experience where you could drive people to signature collections, you can drive them to subcategories, your best sellers, what have you, Again, it's just more functionality to create a beautiful website within a giant website, that is Amazon. And I really think more marketplace sellers should start considering maybe taking advantage of this because you'll be shocked to see how many big brands, you go, you type amazon.com/brand name, and you get one of the Amazon dogs that pop up, and they're like, "Oh, we can't find this page." I mean, there's so many big brands out there that have yet to take this step. And I encourage all brands, big and small to definitely start taking advantage of Stores this year. Okay, so that takes me to my next point. Also with Stores, but this one actually has to do with a subject close to my heart, inventory management. So now, you can bulk, upload, and opt out of stock products for your store. So one of the other arguments against marketplace selling at times would be, if you're out of stock of a product, you're not just losing a customer, you're also getting charged for it. So with Stores, you now have this option to automatically hide inventory that is out of stock. So again, crucial, it doesn't set people up for disappointment, it doesn't affect your bottom line, and it's also seasonal. So you could set these changes in advance as well, and you can be ready for a launch or be ready for a surge in a specific product type, and be able to manipulate your site appearance to match some of those buying trends. So you see here Haus Labs, another Skubana customer with their holiday deals, and then it shows for a second their stock and what's in stock and out of stock.
So a last change, we're talking about experience, but the next change actually has to do with discoverability. So a big reason Stores haven't been as popular in the past is because there was no real way to drive traffic to those pages. Brand links on listings were not always a clear path to who the seller was. Now, we've made some updates where you'll see, it says brand colon, in this case Haus Labs, and you can link back to your store. But in addition, my next slide, oops, again too fast, is actually you can have links to your slides now in your ads. So you see here, Jack and Jill, we have a little logo on the bottom left-hand side where you can link directly back to your brand store in your ads and also in sponsored ads on the top right here, which again, link not only to your product, but your brand page, so those are two new updates that were launched today. And another kind of beta surprised that we're still not sure yet whether or not it's gonna be here to stay is the ability to have your brand store come out on Amazon search. So you see here, we have men's running shoes, and you see on the bottom a suggestion for ASICS Store, so that's big because that's not just a brand search, it's a category search. And we know that there's gonna be a lot of opportunity for this in the future. It's still not officially rolled out, but it's an important thing to start thinking about, "Okay, is my logo up-to-date, Is my Store set up?" And make sure you have all of that ready for 2021. Last two things I'm gonna mention are around fulfillment, this year, there was a lot of changes, and updates, and even restrictions that we saw even early March, where Amazon simply couldn't take on all of the surge of panic buying and price couching for PPEs. And at one point they were limiting non-essential shipments. So the big lesson here is don't put all your eggs in one basket, FBA is great, and many businesses have built very successful marketplace empires really on FBA. But we've never seen the same amount of stress on supply chains as we had this year. So it's really important to kind of diversify your fulfillment footprint, whether that's using a 3PL, or using a carrier like FedEx, or definitely still keeping an FBA, FBM, SFP, sorry, Seller Fulfilled Prime, which by the way, is also gonna be experiencing some changes in February 2021, sorry. Essentially, it's a race to faster delivery.
Amazon knows that two-day delivery is pretty much so yesterday and people want things today and as fast as possible. So sellers that aren't gonna be able to meet these increased deadlines, things like pick up and drop off on Saturdays and Sundays aren't gonna be able to participate in the program anymore. But that doesn't mean that you can't meet those that rising demands, right? There's 3PLs out there that can match that overnight delivery. It's just a matter of maybe researching your options, looking at the unique specificities around your business type, what you need, how you need to fulfill it? And think about how you can use that last mile to enhance again, that retention, that repeat business that, we're hoping we can all drive in 2021. So yeah, that's pretty much my section. So little Skubana shout out again, we help you manage your Amazon inventory, fulfillment, automation, purchasing, send inventory alerts, and set minimum and maximum quantities. So in case you wanna drive some artificial scarcity, bundle products, we help you manage all of that on one easy to use multi-channel dashboard. So with that, I'm gonna pass it over to Colleen.
Colleen Quattlebaum:
Thanks, Gina, good information. Great, so I guess, I'll go ahead and I can get the controls.
Analicia Santaella:
Some PFI. Not working, I'll go ahead and click for you.
Colleen Quattlebaum:
Okay, so what I'll be sharing today is some changes in the Inventory Performance Index threshold that happened earlier this year, changes to the restock limits or storage limits. And then what you can expect for next year, and some tips or strategies to make sure you maintain or improve your IPI score, so you aren't in a position where you are restricted on your storage limits. So first of all, Inventory Performance Index is, if you can go back to the other slide, Inventory Performance Index is based on the calculation based on four different metrics. One is excess inventory percentage, FBA sell-through rate, stranded inventory, and SBA in-stock rate. And you can find your IPI score on the inventory performance dashboard. But the big change in 2020 was that in August, Amazon announced that the IPI threshold for storage limits increased from 400 to 500. And this came as a shock to a lot of sellers, especially heading into what ended up being Prime Day and the heels of that, also Q4. So the busiest time of year, IPI was increased. And so then a lot of sellers were stuck with us, some limitations. So in order to make sure going into next year that you're in a good spot, make sure that your IPI score is at 500 based on the formula that we know right now. But I will just preface that with saying that Amazon has not announced the storage limits or the schedule or the IPI threshold for first 1/4 next year, but they did share that they plan to announce it mid December.
So in the next week or the coming days, we should hear what the IPI threshold is, what that schedule's going to look like, so that we can plan accordingly. But probably to be safe right now, just aim for 500, but stay tuned for more guidance from Amazon next couple of weeks. So as far as what you can do to try to improve or maintain a strong, healthy account, and good IPI score, make sure that you're reviewing your inventory performance dashboard every day, check for stranded inventory, make sure that your settings match your business goals. And what I mean by that is if there's a SKU that you don't plan to sell anymore, make sure you Mark it as non-replenishable, so that doesn't impact your IPI score in a negative way. Also download the inventory health report, there's a lot of great information there that can give you some insight into which SKUs that you need to take a look at that have a low sell-through rate, excess inventory, stranded inventory, take a look at just really all your unproductive inventory and make sure you're reducing that, that means like deleting or closing inactive listings. Maybe you even want to convert lower priced items to Merchant Fulfilled to avoid those FBA fees, or even use more aggressive pricing to try to bring more traffic to those items with poor sales rank, to try to improve that sell-through rate. And then use the manage excess inventory tool that can help you to take a look at recommendations to improve your inventory levels as well. But removing excess items and SKUs with zero sell-through is important.
There's a lot of advantages to optimizing listings, but one of them is that it can improve your IPI score because the better your images are, the better your product descriptions and keyword, then the better your sell-through will be as well. Specifically, A+ content, sellers have shared with us that they've actually seen an increase in their sell-through rate of five to 10% just by adding that A+ plus content. So most of these tips I'm giving you, they're not gonna increase your IPI score overnight 'cause again, this metric IPI is based on your overall FBA business, the performance over time, but doing all of these things regularly and staying on top of it, but specifically A+ content can make a pretty quick impact. And then invest in productive inventory, so your most popular items, your most profitable, the higher priced items, double down on that and invest in advertising, coupons, and such to try to just maximize your sales on those. And planning ahead, really just making sure that you're forecasting appropriately. I know at times, it can be tough with different restrictions, especially with suppliers and such right now, making sure that you're keeping enough inventory on hand to minimize any lost sales. So as Gina said diversifying, have either Seller Fulfilled Prime, maybe Merchant Fulfilled in addition to FBA, so that you don't miss out on any of those lost, miss out on any sales or opportunities. And as you're planning ahead, some other things to do are to concentrate on SKUs that have the highest fees and strategize on how you can sell as much as possible to get rid of all of that inventory before the next cleanup date. And then make sure you have a process in place to continuously take a look at all of these items.
We have an IPI checklist that is in the handouts, and we'll share the link in a little bit as well. So you can take a look at that, it's great just to throw it up in your bulletin board, or whoever in your company is in charge of taking a look at that on a regular basis, just to have a good reminder in front of you of all these checks and balances that you should be doing on a regular basis. And then my last tip is that improving your feedback rate and product reviews will also end up improving your IPI score 'cause it will improve your sales. And that leads me to the next change in 2020, which is the Amazon communication guidelines. Those were updated back in November. So just about a month ago, they were announced back in September that Amazon was making the changes and Emily's even go to the next slide there. So in September, Amazon announced that these guidelines were being updated, they shared what the updates were. They actually went into effect the first week of November. And a lot of the updates were reinforcing what Amazon has already shared, but maybe, it just wasn't as clear as it could have been. So they kind of clarified a lot of the gray area, but they reinforced that third-party tools are allowed to request feedback and reviews. They reinforced that it is not okay to incentivize for reviews. They also reinforced that you should only be sending one feedback or review request for order. So they don't want buyers getting spammed and getting multiple messages. And then there were a few other minor things that they shared like emojis are no longer allowed in subject lines, attachments should not be used unless it's absolutely necessary to complete that order.
But the three that I wanna focus on specific to feedback and review requests are new requirements. And I have them listed here at the bottom, but the messages must be sent within 30 days of order completion. When sending a feedback or review request, you have to include the 17-digit order ID. And the last one is tricky, but it must be in the buyer's preferred language. So that's virtually impossible for sellers to know unless they're using a third-party tool that has, or has access to the API in some way, or if they're using the Amazon request to review button in Seller Central. So if you go to the next slide, if you're not familiar with the request or review button, it is in Seller Central and this is on the order details page. It was quietly rolled out about a year ago in fourth 1/4, but when this message, this button is clicked, Amazon automatically translates the message into the buyer's language of choice. There's also, like for instance, FeedbackFive our tool can identify the language of choice and we have default templates for those and campaign rules to adjust accordingly. And then the next bullet point is that the Request A Review Button is 100% Amazon compliant. So you've probably heard of sellers getting restricted over the past year or two because they're using Buyer-Seller Messaging and maybe saying something that they shouldn't even if they innocently didn't realize that they couldn't say something. So this is a way to make sure that you are 100% compliant because the message is being sent by Amazon, the content is by Amazon, they're sending it on your behalf. And this is an example of what the message looks like, but it includes both a feedback request and a product review request. And again, it's automatically translated as well. And then the next bullet point, the Request a Review Button is in Seller Central, one of the downfalls is that it is a very manual process.
Most sellers don't have time to go into the order details page and click the Request a Review Button individually for every order. So we worked really closely with Amazon at the beginning of this year and launched in FeedbackFive, off we launched automation for the Request a Review Button. So there's a campaign rule in FeedbackFive now that we'll just automate sending this message. So it really makes it easy, sellers can set it and forget it. And so it's just really simple. And again, it's compliant and will be automatically translated, so it will meet all of the new guidelines. And so sellers ask us, is this working? How does the Request a Review Button work versus the Buyer-Seller Messaging, and results from about 1200 FeedbackFive users who switched from Buyer-Seller Messaging to the Request a Review Button, we saw that their average daily reviews increased 41% in the first 10 days, which was a pretty dramatic increase. And I think it's for several reasons, one, Amazon worked hard to optimize the message to make sure that it would get good open rates and good responses from buyers. It's very mobile friendly, which makes it very easy in this day and age for people to scroll through their phone, click the stars, quickly give that feedback, or reviews, or the rating. So it just makes it very easy, and the message is coming from Amazon themselves versus the third-party seller. So the buyers are trusting the message more since it's from Amazon. So there's a lot of benefits to using the Request a Review Button, but you are still allowed to do Buyer-Seller Messaging. And in fact, on the next slide, I can share at least with FeedbackFive, how many users are still using Buyer-Seller Messaging versus Request a Review? The blue chunk over there is all the Requests a Review, sellers using Request a Review and Buyer-Seller Messaging is an orange, but as you can see from the beginning of this year, almost nobody was using Request a Reviews because it was brand new, but you can see that the trend is that more and more sellers are starting to use the Request a Review messaging system, now that results are proving that it's working, it's easy, set it and forget it. And you can see, especially that uptick from September to November, when Amazon announced those updated guidelines, that spooked a lot of sellers, they don't wanna have to worry about the risk of getting restricted if someone on their team accidentally sends a message that they shouldn't through Buyer-Seller Messaging. So right now, about 62% of FeedbackFive users are automating with the Request a Review Button versus Buyer-Seller Messaging just to give you an idea.
And then just also looking back on this year with Prime Day, obviously it was an October versus the usual July, and it's been kind of a crazy year and challenging year in many ways, but Prime Day as Aaron shared, there was a big spike in sales at that time as we of course expected, but that big spike in sales also results in a big spike in reviews. So if you asking for reviews at the holidays, at Black Friday, Prime Day, anytime there's this peak seasons of orders, it is more critical than ever that you're asking for reviews 'cause that's your opportunity to really boost your reviews. And what we saw is in the week prior to Prime Day versus the week after Prime Day, overall, sellers had about a 32% increase in reviews when they were using FeedbackFive to ask for reviews on those Prime Day orders. So 32% increase is, that's definitely, really nothing to look at. I'm sure a lot of sellers would love 30% more reviews. So the bottom line is make sure you're asking for them, be proactive, have a strategy in place next year, both for requesting reviews and taking a look at your account health. And then lastly, I just wanted to mention an opportunity going into the new year is that Amazon did launch two new marketplaces this year, both Sweden and Netherlands. So those are great opportunities to, again, just try to diversify your business, not only between FBA and seller fulfilled, but between different marketplaces as well. And there's also a few marketplaces that are pretty new, even though they weren't launched this year, but UAE, Turkey, Brazil, they're still very new in the last couple of years, but they are released to third-party sellers now. So those are opportunities too. And then looking forward to 2021, if you are selling in UK or thinking about selling in the UK, make sure that you're prepared for Brexit because coming January 21st, or sorry, coming January 1st, 2021, there will be some changes for third-party sellers and Amazon has sent out notifications for those. I'm not expert on Brexit, we're actually gonna webinar next month on it. But I do have an article that I can share with you where you can just read what some of those changes are and get some resources to learn more about that. So I'll turn it over to Analicia for takeaways.
Analicia Santaella:
Yes, thank you, Colleen. Thank you, Dina. Thank you, Erin. I'm sure we can all agree that we have plenty of updates and tips to take on 2021. And we do have a lot of questions that have come in. So thank you so much, if you have any more, feel free to drop it into the questions panel. I tried to answer everybody, but just know that I have queued them up so we can answer them at the end of the webinar if I did not get back to you. But yeah, so key takeaways, we went over a lot of great points, but we've asked our speakers to kind of summarize. If there's one thing you can take away today from their slides, what would that be? And so from the Tinuiti standpoint, we wanna let you know that video assets will be the key to your 2021 Amazon advertising strategy. So if you don't have that, go out and do some filming over the holidays and make sure that you have that ready to go and use for your ads, and your Stores, and maybe your own site in 2021. From Skubana, leverage your store and fulfillment to drive end to end branded experiences. The fact that you can do amazon.com/yourbrandname, that's so great, so easy. Great to see all the other things that Gina mentioned that you can finally tell more about your brand story on Amazon, which I know has always been kind of a fight for vendors, and so vendors and sellers. So then eComEngine put in account health, IPI and review strategy in place. Obviously, it's very important to have a good IPI score. I know I've got some questions on that, but just make sure that you have all your products in compliance and have everything good to go for 2021. And so before we get into the questions, Colleen did mention these two handouts, we do have them available. I don't know, Colleen, if you want to talk about them a little bit more while I send the links out to our audience.
Colleen Quattlebaum:
Sure, so the IPI checklist, it's about a two or three page document, but it just reinforces the importance of IPI and has about 15, 20 things you can do on a regular basis just to check off and make sure that you're monitoring all of those items. And then our Amazon messages compliance checklist since they're having a lot of changes, that's also just a good checking balance to make sure that you are not doing certain things with your messages or the most common offenders, I should say. And then we have a link to the actual complete guidelines on that as well.
Analicia Santaella:
Yes, definitely take advantage of those. I just dropped the links, but they're available for download in the handouts tab as well. And then Gina, if you wanna let us know about your holiday prep from A to Z.
Gina Trelli:
Sure, this is kind of a fun little take on, maybe not, I wouldn't exactly call it a checklist, but just things to remember during the holidays, it's really fun and cute inside. Each letter has a different topic that you should cover. So it's educational to help sellers kind of remember, okay, these are aspects that I might need to reconsider or build a strategy for. And remember, the holidays don't just end on December 25th, you also have returned season as well. So there's a few reminders in there on prepping for that season to come. So yeah, I hope you enjoy and happy holidays.
Analicia Santaella:
Thank you, Gina. And now for Tinuiti, we're just gonna launch again another poll, what kind of help us figure out who wants to follow up after today's webinar. So I'm gonna go ahead and launch this, if you would like to schedule an Amazon strategy evaluation with Tinuiti experts, feel free to opt into this poll. Let us know if it's the Amazon advertising that you're looking to help, whether you're working with an agency already, or working on this in house, if you'd like to chat with us, go ahead and click that option, Amazon Creative. You wanna get those video assets together, you'll help with some branding, you wanna help with your Store's creative, whatever it may be, we can help you with that as well. Amazon Ops and Logistics, we can definitely consult you there, eComEngine and Skubana are great for that help as well. And then Amazon OTT, I know video, we talked about video, but also streaming and OTT is a new wave of advertising. And it's something that we feel at Tinuiti a lot of brands should be hopping on. So if you'd like to talk about that, let us know. And then if you're interested in all of the above, that's also an option. I'll go ahead and close this poll now. Don't worry, I will not share these results, this is private. If you didn't have a chance to answer, just reply to any of the emails that you get after this webinar follow up. And so now, we do have plenty of questions for our speakers. So let's see what we can get to. Let's see, should we go for, okay, Gina, we have a question from Louis in regards to Skubana, he's wondering if Skubana can help a storefront page design, if you have any sort of tips or services that kind of help them with current storefront because I know you can do that.
Gina Trelli:
So we actually mostly handle all of your back end activities. So your inventory, your planning, your data, we leave all the creative genius to Tinuiti, so I'm not sure if maybe they could probably, I would point you in that direction first, but yeah, great to hear somebody asking you about it.
Analicia Santaella:
Yes, that is true. You can reach out to us, Louis, we'll help you. Let's see what else, so Colleen, "Based on what you were saying to get a great uptick in reviews, besides the Request a Review Button, anything else that you would suggest that would be approved by Amazon in terms of helping you get more feedback for your product?" I think you might be on mute or maybe I can't hear you.
Colleen Quattlebaum:
That's my bad, there you go. So as far as approved by Amazon, other than the Buyer-Seller Messaging, the Request a Review Button or using a third-party tool to do either of those things, Amazon does have some programs like the Early Reviewer Program or Amazon Vine that are certainly worth looking into Amazon Vine was on pause for a little bit this year, earlier this year just because they weren't taking on a new new brands and vine voices necessarily because of everything else going on this year. But those are a few other ways I would just say like avoid any black hat tactics that are out there. It'll only get you in trouble, it's not worth it. And making sure you have a great product and you've thoroughly tested it. I mean, a lot of it comes down to your product too. So if you don't have a great product, it's gonna be really hard to get good reviews. So if you're working on a private label or you haven't a good product, just thoroughly test it, learn from your reviews and try to iterate on that product if needed or even look at maybe bundling it with another item that's complimentary so that you can have your own product listing and get fresh reviews that way too.
Aaron Gooden:
And really quickly, sorry, to Colleen's point. Yeah, even in your advertising, make sure you're taking that into account when you're evaluating conversion on your products. That can also be another lever if the brand messaging and the stories and cohesive, that's one thing. But if the reviews aren't good or if the product just isn't getting a lot of good reviews due to not so thorough testing or whatever the case might be, that's definitely going to impact your conversion, and how much you're able to even spend on a certain product in advertising. So to Colleen's point, doubling down on that.
Analicia Santaella:
And so on your point of IPI, we do have a couple of questions on IPI score, Colleen. "If you have a score above 500 or so, can you still be hit with any sort of fees or is that something that they should watch out for?" We have somebody in the audience who had a score above 500, but said that they were still being penalized with some specific storage fees. Can you assume if you're over 500, you shouldn't be getting fees or is that something that's not necessarily related?
Colleen Quattlebaum:
So that's not necessarily true because there's a lot of different fees. Really, the IPI score in conjunction with fees are just Amazon's goal to get inventory moving, but there are long term storage fees, there are different referral fees and there are discounts associated with that. There's small and light fees for FBA. So there are quite a few different fees, I've just put in here in the chat, Analicia, a link to a guide that we have, it's all about the different types of fees. So that's probably worth taking a look at.
Analicia Santaella:
Yes, so I just shared it with all, so if you have had any issues with fees and FBA, go ahead and take a look at that of blog posts, and you can kind of review with your team and see what you can do. Okay, so question for Aaron. So Courtney has been having, you talked about Amazon Attribution, and Courtney has been having some trouble because she typically gets last click attribution, and she doesn't really get a full picture of her campaign. So she's wondering if you or if any of the other speakers know if Amazon is planning to roll out any sort of multi-touch attribution or attribution 2.0 that we've heard of, or if you have any tips for her in regards to Amazon Attribution.
Aaron Gooden:
Yeah, that's always going to be relatively tricky. I haven't heard anything, and my team hasn't heard anything around rolling out kind of multi-click attribution when it comes to Amazon Attribution as of right now. But as we all know, Amazon will sometimes release things in the darkness, and then we'll end up finding out a little bit about that later. My tip is just understanding that when you're looking at your information Amazon Attribution using last click, just understanding that, you're looking at the data through that lens until there is a better way to look at it with multi-click.
Analicia Santaella:
Okay, thank you, Courtney, let us know if you have any followup questions or would like to talk about that a little bit more. Gina, questions for you, "Any tips on how to remove stranded inventory that says it's not available to be removed?" That question doesn't make the most sense to me, but maybe it does to you, or should I ask for clarification, stranded inventory?
Gina Trelli:
I mean, it depends where it's stranded. I'm wondering if she's talking about FBA. I know we've had accounts of longer than normal inventory intake times, sometimes up to two or three weeks. So I'm not sure if that's what she's talking about by stranded inventory, but again, that's actually where something like Skubana would come in handy because it's able to track your inventory from the moment it leaks the vendor. Yeah, if she could provide further clarification, otherwise, I'm not 100% sure what she's asking.
Analicia Santaella:
Okay.
Colleen Quattlebaum:
Yeah, and your inventory performance dashboard will give you your stranded inventory. And obviously, you don't wanna get storage fees on those, but I would say check the inventory health report and just, yeah, it's probably a lot of reconciling that you have to do if you're not using a tool like Skubana.
Analicia Santaella:
So now, I've gotten a couple of the same questions actually coming from Msofast coming from Doug as well. "And so Merchant Fulfilled or SFP orders, are they gonna have to start being picked up on Saturdays and Sundays?" I think you mentioned that that gives sellers a leg up, but I don't know if you have more context for us.
Gina Trelli:
Yeah, so Seller Fulfilled Prime and Fulfilled by Merchant are different programs. So Seller Fulfilled Prime is the one that's gonna have new rules updated in February. I can add a link to the chat, but essentially, yes, they're looking to have a full coverage. We're not clear yet if that means Sunday as well, but definitely, the ability to pick up and to fulfill orders on Saturday and within that timeframe within the continental US for the most part. So I'll share a link to that now on the new rules, but that's coming 2021 in February for SFP.
Analicia Santaella:
Okay, great. And then I have, I guess a couple... Do you have something to add, Aaron.
Aaron Gooden:
Yeah, I was just going to say, I know that Colleen and Gina, both mentioned a little bit about SFP and FBM, just make sure in your advertising when you're running your sponsored products that you're not only running the FDA SKU for that ASIN, you're running also the SFP SKU and the FBM SKU simultaneously because the way Amazon works with sponsored products, if that FBA inventory runs out, that sponsored product ad is going to pause. And so while it's great that you may have SFP or FBM inventory on hand, it's not gonna show any advertising, The only way to consumer is going to be able to capitalize on that conversion is if it's organic, which depending on organic rank can be flexible. So just something to note, make sure that in one product ad, you're running all three of those ad types if you have inventory in all three as a backup.
Analicia Santaella:
The little nuances to remember. It's all tied together.
Aaron Gooden:
Always.
Analicia Santaella:
And so two very last questions. So Gina, it's difficult to reconcile inventory being held at multiple fulfillment locations, so are there any specific tools or strategies that you'd recommend? I guess this is also related to the stranded inventory question somewhat.
Gina Trelli:
Yeah, well, what Colleen mentioned, checking your inventory health dashboard, but again, this is kind of what Skubana does, it pulls in all of your inventory, whether that's in house warehouses, FBA carriers, third-party vendors, and just brings all of that data into one screen and that's also connects to your sales channels. So again, going back to the point about new channels on Amazon, you're able to kind of see where all of that individual storage wise from our inventory dashboard.
Analicia Santaella:
And then last question for Colleen, and then we'll go ahead and close it. Colleen, "Can you send a feedback or review request message through both request a review and buyer-seller their messaging?"
Colleen Quattlebaum:
No, good question, no, you cannot because that is considered two messages. So it was for the same order you need to choose one or the other, or you could be in violation 'cause it's sending two messages.
Analicia Santaella:
That's good to know.
Colleen Quattlebaum:
Choose one or the other. And it's okay if you have certain SKUs or ASINs that you, like if you wanna experiment with it and for certain SKUs, send request a review or certainly send Buyer-Seller Messaging, but it's one message per order. So you don't wanna get in those situation where you have, yeah, one order getting two messages.
Analicia Santaella:
Got it, well, thank you for all the clarification. It's obviously very intricate to be on the Amazon marketplace, but thank you, all, for coming here and bestowing your knowledge upon me and the audience. We went over time, I think our webinars have been short of this day, so thank you for saying with me, Aaron, Gina, and Colleen, and thank you, everyone in the audience who stayed through the end. It's a lot of you and we appreciate you being here, and we hope you learned something if not many things from us today. So thank you for tuning in and I'll go ahead and close up now.
Analicia Santaella:
Bye, everyone.
Gina Trelli:
Thanks, everybody.Analicia Santaella:
Thank you, speakers.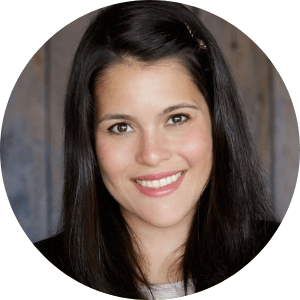 Written By
Gina Tirelli
Gina Tirelli manages Partner Marketing initiatives at Extensiv, the leading retail inventory and order management software for D2C brands and marketplace sellers looking to unify and automate their multichannel operations. When Gina is not marketing ecommerce software, she likes to spend time outdoors with her dog Elli.