Seller Fulfilled Prime & You
August 3, 2016
10

min read
Looking to be a part of the Amazon Seller Fulfilled Prime program? If you are looking to maximize orders and profits without having to endure the additional legwork of product research and simply utilize your existing product lines on Amazon, then look no further. But does your business meet the Seller Fulfilled Prime criteria to make the cut?
Based upon your shipping history that Amazon will scrutinize carefully, determination will be made on if you are even eligible to be a candidate. That's when the real work begins. You see, even if you get awarded the "Prime badge", you then have to maintain a certain criteria with your shipping--like how 98.5% of all orders must ship on time. Order cancellation rates also cannot be higher than 1.5%. If you haven't maintained these metrics before--they can be daunting unless you've really got your act together.
First is the mandatory minimum shipping standard of two-day delivery and that's a hard-line rule.
More specifically, in order for Amazon to ensure all packages are shipped with a minimum of two-day shipping service, you are required to purchase shipping from Amazon's shipping platform also called "Buy Shipping Services". You are not allowed to purchase your shipping from elsewhere and confirm shipping manually. Amazon will remove you from the seller fulfilled prime program.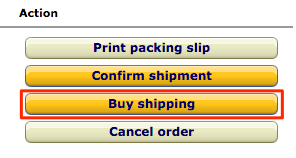 By enabling Seller Fulfilled Prime on their Merchant Fulfillment API, Amazon allowing shipping integrators including Skubana to fully support Seller Fulfilled Prime.
By adding Amazon Services as a shipping carrier, you can utilize "Buy Shipping Services" directly in Skubana and fulfill your Seller Fulfilled Prime orders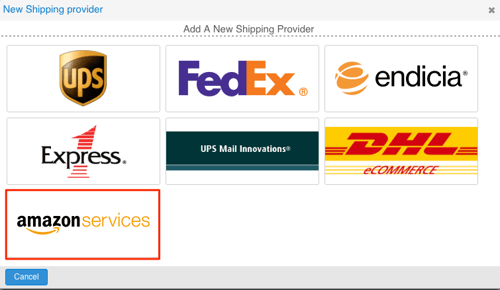 Set an orderbot or select your fulfillment method on a per-order basis. Start by selecting the provider as your Amazon Service that you've previously named in the Settings Tab. Then select the order's fulfillment method including the service type, package type, confirmation and insurance.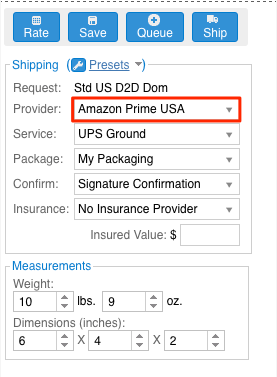 Select to rate, save, queue to batch ship or ship the singular order. If Amazon is unable to fulfill the order for the selected service that you have selected, Skubana will provide the services that are able to be selected. Click the magnifying glass next to the error.

In a new pop-out, Skubana will provide the additional rates for Merchant-Fulfilled Prime shipping that are able to be used. You can select the service and press Apply Selected Rate.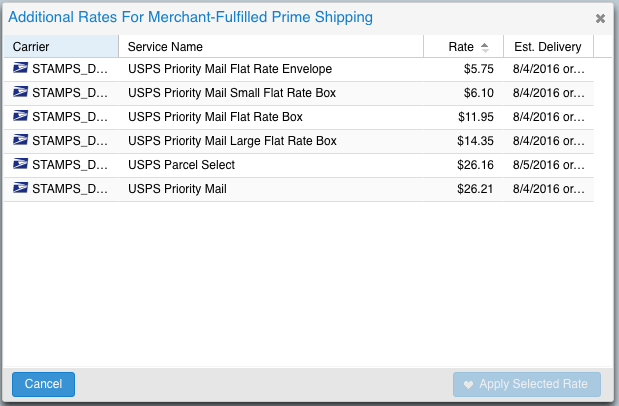 Maintaining those kind of tight metrics can be rough when things happen beyond your control--and believe me, Amazon will yank that prime badge the second your shipping history does not reflect what they picture the prime service to be. Why would you want to maintain such hard metrics?
How about an average 20%-30% increase in orders for items with the prime badge attached to it? Think of what that kind of percentage can mean to the average month of profits, particularly if you've got larger or heavier items that can be cost prohibitive to first ship to an Amazon fulfillment center. Having the seller fulfilled prime program on your side gets you many of the same benefits as FBA sales, but fulfilling the shipment direct to the customer cuts out the 3rd party shipping cost to Amazon first. Not to mention the benefits of obtaining the buy box more often. Is it difficult? Yes. Is it worth it? Absolutely. $100,000 in sales can become $120,000 or more in sales for the exact same time period if only you can manage to keep your inventory, fulfillment times, customer service and that all-important shipping, nice and tight.
While not easily obtainable for some sellers and even more difficult to maintain for those without the infrastructure, seller fulfilled prime is still something that every serious seller on Amazon should try to achieve. Not only will it increase your sales, but ultimately it can help create the best shopping experience for the customer and end-user. Ultimately, that's the end-goal of the Amazon seller agreement anyway.
Have questions about how to setup Seller Fulfilled Prime with Skubana or want to learn more about how to automate your Seller Fulfilled Prime orders? Call us at 855.812.2732 or email us at info@skubana.com.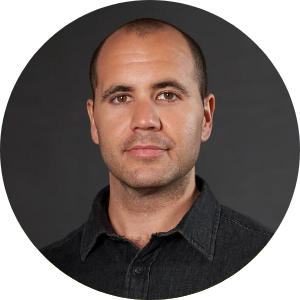 Written By
Chad Rubin
Chad Rubin is the co-founder and chief executive officer of Skubana, a multichannel e-commerce software the enables brands to unlock growth by unifying their back-office operations.