Crash Course on Amazon Sponsored Brands & Sponsored Product
April 20, 2020
45

min read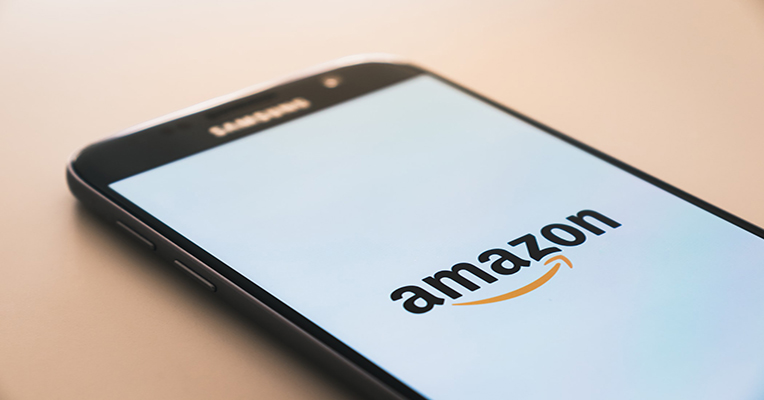 Growing your brand during a global pandemic can seem impossible.
Sellers need to analyze consumer data, build compelling campaigns and implement operational infrastructure to reignite brand awareness and drive conversion. To succeed during times of uncertainty, brands need to diversify across ecommerce channels, not only in their product offerings, but in the channels and messaging strategies they rely on to reach customers -- who are also currently experiencing the disruption themselves. Learn how Boldify partnered with Tinuiti and Skubana to diversify their sales channel and advertising strategy and increase sales by 391%.
You can watch the video below or read the full transcript underneath.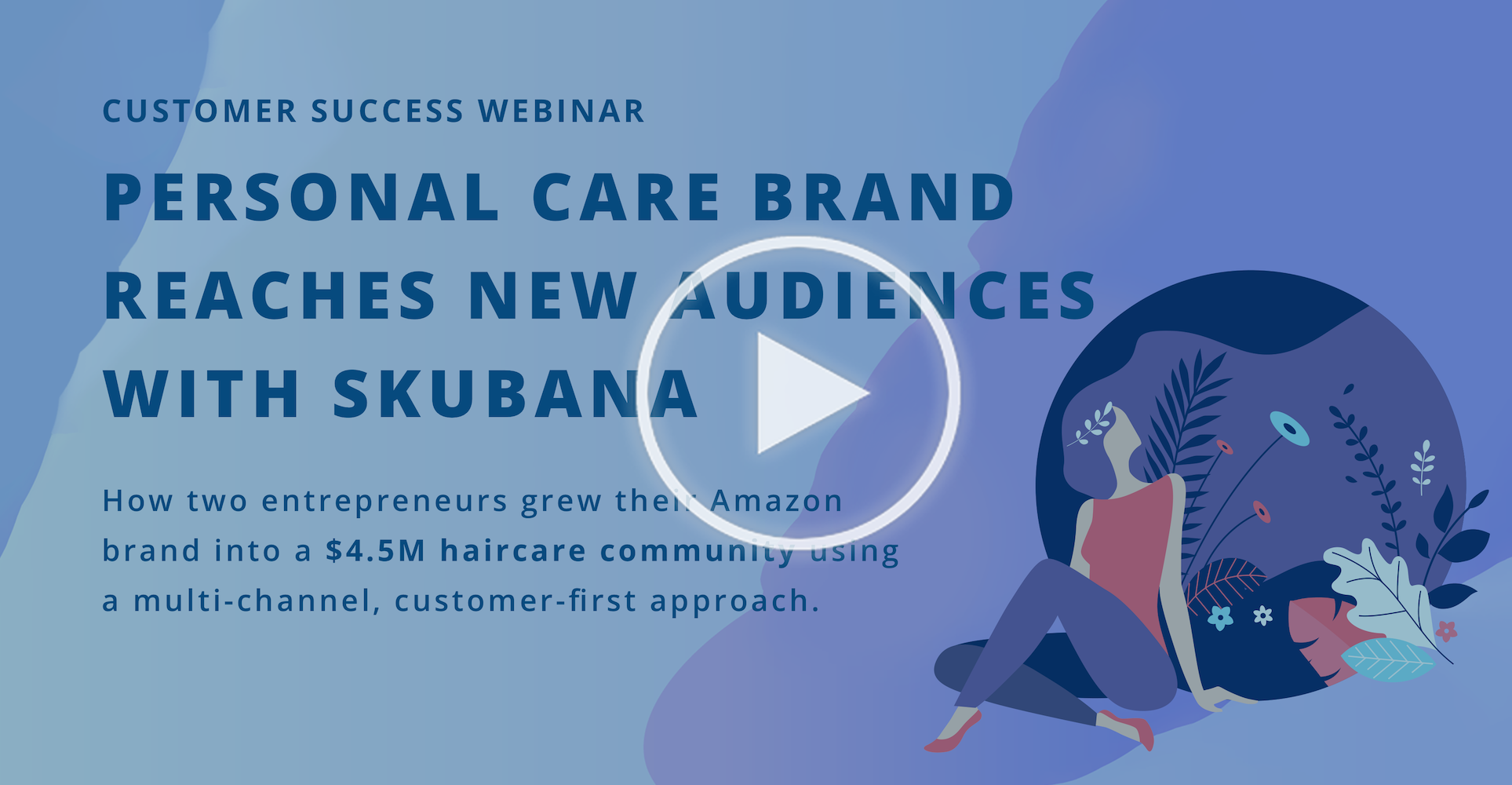 Persephanie Arellano:
Good morning West Coast and good afternoon to East coasters. Thanks for taking the time to join us today. My name is Persephanie, I'm the webinar coordinator here at Tinuiti reporting to you live in San Diego and I'll be your host for today's webinar Crash Course on Amazon Sponsored Brands & Products, Campaign Strategies to Reach New Audiences & Scale Profitability. Before we go ahead and dive into logistics and our agenda, we do have a few poll questions queued up. So whenever you're ready, go ahead and chime in when I watch those.
Persephanie Arellano:
For anyone being introduced to us for the first time welcome and I hope to see you attend more of our hosted events in the future. We know your time is extremely valuable, so really excited that you decided to spend it here with us at Tinuiti and our partners at Skubana and also our client Boldify. Let's go ahead and dive right into it. A few event logistics. The platform that we're using is GoToWebinar so please submit any questions that you might have in the chat box to the right. I'll be sure to add this to the queue of questions for our speakers at the end.
Persephanie Arellano:
There's also a couple of resources available for you to download, so whenever you get a chance, feel free to check these out and then lastly, this webinar is being recorded and I'll be sending it out by tomorrow morning so keep an eye out in your inbox. You can go ahead and reference and share with your colleagues, and if you're having any trouble accessing these features, just go ahead and let me know. I'll try to troubleshoot the issue in the backend.
Persephanie Arellano:
All right, and then a little bit about Tinuiti for anyone that's just being introduced to us for the first time. Tinuiti is a performance and data driven marketing leader and we focus on every aspect of the customer journey across the triopoly of Google, Facebook, Amazon and beyond. Today we deliver the best in class data analytics, creative execution, and of course exceptional strategists as well. Due to the current environment that we are in, Tinuiti recently launched a COVID-19 resource hub and here it's meant to be a resource for marketers that covers impact implications across channels.
Persephanie Arellano:
We already have over 15 blogs published, so I highly encourage you to go ahead and check it out. I'll go ahead and share the Bitly link, I'll send it out to everybody in the chat right after this section is over, but here we have actionable steps that your brand [inaudible 00:02:13] address the challenges that have surfaced with COVID-19 as well. All righty, and then a little bit about our speakers before we get started. Today we have the pleasure of having [Jack 00:02:25], Mike and Sandi joining us.
Persephanie Arellano:
Jackie is an associate of Marketplace search and she has over four years of experience working with the Marketplace fields with a specific passion for digital marketing, focusing now on Amazon Marketplace so she's passionate about understanding her client's objective and using data driven solutions to achieve their goals, and then we have Mike from Boldify who's going to be joining us during the live Q&A who now has a $4.5 million business that he has developed in just over three years. We'll dive into a little bit of the secrets of his success with a few of his products, and then we have the pleasure of having Sandi who's worked with Skubana since 2018 in the customer success team.
Persephanie Arellano:
Sandi runs Skubana's customer support team and interacts with their customers daily to provide them with the best support possible. Really excited to have each and every one of you join and then here's our agenda for today. We're going to be covering first Amazon advertising; the client case study, Boldify which you can find on our website and also on Amazon's website; then we're going to be covering sponsored products and brands, the basics; proactively addressing challenges that have surfaced with COVID-19 specifically when it comes to inventory; multichannel inventory management and then we'll be ending with our live Q&A.
Persephanie Arellano:
Without further ado, let me go ahead and launch our first poll for everyone. This question states, how are you managing your Amazon strategy? Here we have a couple of answers you can choose from. Either in house, either with an e-commerce team, agency or maybe with a technology tool. I'll leave it open for just a few minutes. Once I see about at least half the attendees have voted, I'll go ahead and close it up and share the results out loud and then just to keep everyone informed, there's one more pool for everyone and then I'll go ahead and kick it over to Jackie to start us off.
Persephanie Arellano:
All righty, thanks to everybody that voted. Let me go ahead and share the results out loud with everyone. How are you managing your Amazon search strategy? It looks like we have a solid 72% in house, 12% with an agency, 10% with an e-commerce team, and 7% with a technology tool. Thank you for everyone that voted. It's really nice when you guys do that. We know how to tailor the content as we progress through the presentation. Here we just have one more question for you and then this one states, how is your vertical performing with the current environment with COVID-19. Here we have a couple options maybe depending on your vertical, maybe you're booming with business, seeing a significant increase in conversions, maybe it's business as usual and you're not affected by it. Perhaps maybe on holds until the revamp or maybe conversions and sales are dropping. Just due to the limitations with the current environment that we're in.
Persephanie Arellano:
Either way, you're in the right spot here to optimize your current strategy as it pertains to Amazon paid search. I'll go ahead and leave it open for just a few more moments. All right. Thanks to everybody that voted. How is your vertical performing with the current environment with COVID-19? Taking a look at our results, actually pretty even. It's not really what I was expecting, but it looks like we have 33% stating conversion and sales dropping. 28% business as usual, not significantly infected, and then we have 23% booming increase in conversions and then 16% on hold until the revamp.
Persephanie Arellano:
Thank you to everybody that voted. We really appreciate it. Without further ado, I'll go ahead and pass it over to Jackie.
Jackie Bui:
Awesome. Thanks Persephanie. Hi everybody. My name is Jackie. I am an associate here on the marketplace search team at Tinuiti and really excited to dive into Amazon advertising today as it pertains to my client Boldify and we're just going to go into how we were able to leverage different ad units and reporting as well as restructuring and optimizing campaigns and content to help meet our goals. Just first taking a high level look at Amazon advertising, we've got the search side, which will include seller central and ad console and there's also Amazon's programmatic platform called demand-side platform or DSP.
Jackie Bui:
We do use DSP for Boldify to run a full funnel advertising strategy but today we're going to be focusing on more of the search side. Specifically taking a look at sponsored products and sponsored brands which run on a pay per click model. Let's dive into the Boldify case study. Boldify partnered up with us due to time constraints and just a lack of bandwidth and we really came into alleviate those pain points and find missed opportunities and optimizations to reach new audiences and build up organic ranking for relevant keywords.
Jackie Bui:
Looking more longterm, Boldify wanted to scale profitability after achieving our initial goals. Looking at the solution, we identified several areas of opportunity within the account and we're able to reach our targets while scaling profitability at a healthy advertising cost of sales or ACoS. Each quarter we were able to boost sales volume at an efficient rate with significant year over year growth in detail page views, total sales and units sold.
Jackie Bui:
Before we dive into the specific strategies that we implemented for Boldify, let's just start off with the basics for sponsored products and Sponsored Brands. You'll first want to identify what your goals are for the business, so think both short term and long term. For Boldify in the short term we wanted to focus on restructuring the account just to set us up for success in the long run. This meant investing more heavily in content, ensuring that campaign structures allowed for optimal data analysis and finding areas of opportunity to leverage in order to grow brand awareness and overall visibility.
Jackie Bui:
This all just helped us solidify our brand presence and by leveraging all of the available ad units, we were able to improve organic ranking for several core key words and even secure Amazon's Choice Badges for our products. When you're breaking down your goals, you can take look at what we call the advertising triangle. This is going to show the relationship between volume, efficiency and speed. If you're looking at gross sales volume quickly, you're sacrificing the efficiency of the account because you're trying to get as many sales as possible, including the sales that may not be as profitable for you.
Jackie Bui:
If you want to focus on your account's ACoS, you want to go after solely profitable sales, but if you're going after ACoS, you'll likely see a reduction in the sales volume that you're pulling in, and obviously in a perfect world we want to gain as many sales as possible at a profitable ACoS, but this is a strategy that is going to take a much longer time to yield those results. Just as a refresher, we broke down some different ad placements you'll see on the search engine results page. Sponsored Brands campaigns will typically live at the top of the search results and here you have the ability to include ad copy.
Jackie Bui:
New features have also been released for Sponsored Brands recently and now on top of targeting keywords, we can target ASINs and categories as well as feature custom images or videos. For sponsored products, you'll typically see these in the first few placements of the search results as well as throughout the page as you scroll. These ads can also show up on product detail pages in areas such as the sponsored products carousel, and then lastly we have organic placements starting at the fourth placement in the example shown here. These are simply unpaid placements, but using advertisements to build up your sales velocity and sales history is a longterm strategy to help move your products up the rankings organically.
Jackie Bui:
By consistently generating conversions for your product in advertisements, you're proving to Amazon that your product provides a good and relevant experience for the customer. Looking at Sponsored Brands a little more in depth. While these typically appear at the top of the search results page, we've also seen it throughout the search results and at the bottom as well when using the new video in Sponsored Brands feature. This update just allows brands to use a video to drive back to the product detail page instead of the typical aesthetic, which is the three products featured with ad copy.
Jackie Bui:
The Sponsored Brands ad unit is similar to manual sponsored products campaigns in that we can target keywords, ASINs, and categories with all match types. However, some of the key differences is that this ad unit has access to ad copy. It can feature up to three products within the ad itself and it can drive to locations other than just a product detail page such as sub pages in your brand store, and we typically use Sponsored Brands to really drive brand and product awareness. This can be seen as more of a mid to upper funnel strategy.
Jackie Bui:
Just breaking down sponsored products ads, we have automatic and manual campaigns. In late 2018, Amazon updated the structure within auto campaigns to now include four different targeting groups, so substitutes, complements, close match and loose match and you can set bids by the individual targeting group. We here use auto campaigns as a keyword discovery tool by pulling search term reports to find converting search terms that we can add back into our manual campaigns to target, and then within our manual campaigns you can use different match times for keyword targeting at broad, phrase, and exact.
Jackie Bui:
Broad and phrase targeting because there are more opportunities for our ads to be served. These allow us to leverage search term reports to pull out those longer tailed keywords that we're generating conversions from to add back into our targeting. Just as an example, you could be targeting the term boys' shoes using phrase match and you can see an assertion report that you're maybe getting conversions from the search, boy's shoes for running. You can add that as a new keyword into your manual campaign.
Jackie Bui:
Within manuals we're also able to target ASINs and categories and you can refine this targeting as well. For example, we've used this feature to target competitor products that have higher price points than us or a lower star rating. Just looking at keyword match types, these examples will show you what types of search queries can show up for a given match type. Exact match has the least amount of leniency typically showing up for singular or plural variations of the keyword being targeted whereas with broad match and phrase match, these allow you to show up for those longer tail searches.
Jackie Bui:
Harvesting these longer tail keywords from search term reports and adding the converting ones back into your manual campaign will allow you to keep a refreshed list of what consumers are searching for when they choose to convert on your product. And then just diving a little bit into the search and reports. They have a lot of use cases, but the most common one we use it for is to harvest converting keywords and ASINs from both auto and manual campaigns, to add back into the manuals. For Boldify, we typically will harvest new targets every two weeks or once a month, but you can do so more or less frequently just depending on what your goals are.
Jackie Bui:
This is also a great report to find negative keyword opportunities and cut out areas of wasted spend. Also take a look at what search terms you're generating spend and clicks for without any conversions and identify the keywords here that may not be as relevant to your product. Let's shift our focus to Boldify and what their goals were and how Tinuiti helped to reach them. Their initial goals were to really drive visibility of the brand. We wanted to maximize on impressions, clicks and sales volume to solidify the organic ranking for our core keywords. Advertising played a huge role with this because we drove conversions on a consistent basis through our ads to continually prove to Amazon that our product was relevant to those searches and that we could provide a good customer experience.
Jackie Bui:
This led to us gaining high organic placements for several relevant keywords and even earning the Amazon's Choice Badge for products within the catalog. Once we were able to boost organic ranking and brand awareness, Boldify longer term goal was to scale the profitability of the business. Some of the strategies we leveraged to meet those goals was really investing in our content for product detail pages and the brand store. We also restructured campaigns, leverage different Amazon reports to consistently refresh our keyword and ASIN targeting as well as implemented granular bid optimizations to trend towards our goals.
Jackie Bui:
Boldify's original campaign structures had a really solid foundation, but we did want to revamp them a bit, so we made sure each advertised product had its own set of auto and manual campaigns. Again, using autos as a data and keyword harvesting tool. Within the actual ad structure, we wanted the ad groups to be mirrored between the auto and the manual campaign. This just allowed us to have more granular reporting data that we leveraged to inform our overall advertising strategies. Just as an example, Boldify has a hair fibers product with several color variations and by having each of those colors in their own ad groups, we were able to easily analyze search and reports to match up the individual child ASIN to a specific search or purchase intent.
Jackie Bui:
Another strategy we implemented was what we call a must win campaign. We identified the most core keywords for each product and added them into a campaign with high bids. From there we switched the bidding strategy to fixed bids so that Amazon would not adjust the bids on their end. The main key performance indicator of this strategy is not ACoS. The whole point of it is that these are the most relevant keywords that we want to always win the ad placement for. Originally Boldify had a mixture of branded and non-branded terms within the same campaigns. What we did was separate sponsored products and Sponsored Brands campaigns by non branded keywords to reach new audiences and then by Boldify branded terms to ensure that we were protecting our branded space and then by competitor keywords to steal visibility and sales and because each of those types of targeting performs at different levels of efficiency, we wanted to separate them in order to more granularly adjust bids by targeting theme.
Jackie Bui:
Let's dive into match types and bid optimizations. Boldify's original match type strategy was more so focused on just broad match keywords so we expanded that keyword targeting out just to make sure we were targeting relevant search terms at all match types but you'll want to keep in mind what your product is, what vertical you're competing in, and what your overall goals are to determine if you need to use all three. And when you set your bids, don't just have a set it and forget it mindset. Take a look at how the bids perform over time and do an analysis of how you should be adjusting your bids depending on performance. You'll also want to keep in mind that there's a data lag on Amazon, so take current performance with a grain of salt as well.
Jackie Bui:
And then lastly, using our proprietary technology CAPx, we're able to automate bid optimizations based on our ACoS goal to run on the back end of the account. This is a huge time saver, especially for those larger accounts where you may have hundreds of thousands of keywords and targets. Instead of manually adjusting bids in the user interface, our program actually allows us to set bid rules to automatically adjust bids to trend towards our goals. On top of that, I'm always observing performance and then making manual optimizations on top as necessary.
Jackie Bui:
Just going into our product targeting strategy. Within manual campaigns, we're able to target ASINs as well as categories and using search term reports, you can identify ASINs that you converted off of and add that into your product targeting strategy. Make sure that you're still looking at the actual products though before blindly adding them in, because sometimes you'll see a one off situation where a consumer was looking at a completely irrelevant product and still converted on yours. You can also target categories and even refine it to only target products within that category that have a higher price point than your product. Maybe it has worst star ratings, or you can even target products that don't have prime eligibility.
Jackie Bui:
This just ensures that you have competitive advantages over the products that you're targeting, and we use this strategy both authentically and defensively. To protect our own branded space, for example, we're using ASINs in our catalog to target other products within our own catalog. Not only does this ensure that competitors aren't showing up on our page to steal impressions, clicks and sales, but it's also a great opportunity for you to cross sell products from your brand for example, if you have two products that are complimentary to each other. Offensively, we target competitors' listings to gain visibility and awareness on other sellers pages. Maybe you have a newer product being launched and your goal is to build impressions and clicks around it.
Jackie Bui:
Take a look at which relevant products get a lot of traffic by having high organic rank and target those pages to get more eyes on your detail page, or maybe you want to steal sales, but doing so at a more efficient rate. Do a search for your product and identify those competitor ASINs where you have advantages against and target those pages to show that you have a better offering. If you have access to the brand analytics dashboard, be sure to leverage that data as well. There are reports here like the item comparison and alternate purchase behavior that can help you identify ASINs that are frequently looked at or frequently purchased with your product. You can target those to get the browser back to your detail page or cross sell your product with a complimentary one.
Jackie Bui:
One more crucial aspect of Boldify that we identified opportunities for was their content. They had a great foundation already laid out for their product detail pages and brand store, but we wanted to build upon this. Before we even start building out the advertising strategy, we take a look at the brands content. You can be doing everything right from an advertising perspective to get the ads in front of shoppers and have them click through but if the shopper lands on a detailed page with poor content, no details, maybe no reviews or pictures, they're not going to feel confident purchasing from that brand. Let's dive into some aspects of the product detail page.
Jackie Bui:
Does your product title mention your brand name or call up the key features of your product? If it doesn't add those in. Looking at your bullet points, is it catching the shopper's eye by calling out the prominent details at the very beginning of each bullet and then goes into further detail or is it vague? You don't want to leave the shopper wondering about certain aspects of the product. Moving down the product detail page is your A plus content. Is this built out and visually appealing? This is the last section below the fold of the product detail page that consumers see before they scroll down to read the reviews and it's a great area for you to provide more insight on your product and your brand.
Jackie Bui:
And then just looking at your photos and videos, make sure to utilize all of the available space that Amazon is giving you with a mixture of both product and lifestyle images. Videos are also a really great way to showcase how to properly use a product, which in turn can help you diminish negative reviews from people who may just be using it wrong. This is what we did for Boldify by implementing this, how to demonstration video. If you think about shopping online and just all the ways that it differs from going into a brick and mortar. In a physical store, a consumer can test out your product, they can feel it, they can try it on themselves, they can ask an associate questions about it.
Jackie Bui:
Given that Amazon is online, you want to provide all the relevant details to ensure the browser is still getting that in store experience and they're not left with more questions about your product. Ultimately investing in your product is going to increase the confidence people have buying from you and it just further legitimizes your brand. With the campaign restructures, granular analysis, and bid optimizations as well as improving content and leveraging all available ad units and testing out new features, with Boldify we were able to solidify that organic ranking for several core keywords and really build up that brand awareness within the category. This ultimately led to a 387% lift in detail page views, 359% increase in total sales and a 354% increase in units sold.
Jackie Bui:
Before I pass it over to Sandi from Skubana, obviously many sellers have had to shift their strategies due to the current climate with COVID-19, and in the past few weeks brands have seen that Amazon is prioritizing inventory and shipments to products in high demand or are deemed essential. Some of the impacts that this has had on Amazon businesses is not being able to replenish FBA inventory because Amazon is prioritizing other categories and products as well as the delayed shipping dates on a platform that consumers rely on for fast shipping. In order to alleviate some of these pain points, you may want to identify the ASINs that you're at risk of running out of inventory for and strategize about how you can slow down conversions to not sell through as many units if you know that you're not able to get additional inventory in time.
Jackie Bui:
Also, if you have the operational capability, consider switching your FBA SKUs to FBM or fulfilled by merchant in order to bump up the delivery dates shown on your product detail pages. Just on the topic of inventory management, I will pass it over to Sandi from Skubana to discuss their order management platform.
Sandi Isozaki:
Thank you so much Jackie. That was amazing. Hello everyone and thank you for listening in today. Again, my name is Sandy Isozaki and I work for the customer success team here at Skubana. Specifically I run our customer support team and as a customer support manager I support Boldify's account and team. Today I'm going to be showing a view in Skubana and how Boldify utilizes some of our main features to optimize the efficiency of their operations. All righty. For anyone who is unfamiliar with Skubana, we are an order management platform that arose from the challenges of our CEO, Chad Rubin that he faced as an early Amazon and e-commerce seller. What makes Skubana so great is that we are the source of truth that connects you on your myriad of sales channels with the fulfillment solutions you need to maximize your reach to consumers online.
Sandi Isozaki:
We were built with sellers in line and we are here to make the multichannel profitability experience seamless for you, and as a member of our customers success team, we do everything in our power to help our customers succeed and provide the best support possible. Just a little bit on this slide, these are some of the amazing brands that Skubana works with and we have so many customers that we can't fit them all on this little graphic here but we love working with our customers. These are some folks that I hear from on a daily basis whenever they can... asking questions or are looking to improve their current operations I'm here to help.
Sandi Isozaki:
I'm going to be talking about why two channels are better than one, especially during times of uncertainty that we're going through now with COVID-19. It's always important to have a backup plan to sell merchandise. Recently Amazon FBA suspended many product categories due to COVID leaving so many sellers stuck because reclassifying listings was also suspended, so that meant that new shipments to FBA were halted if stock didn't fit the criteria. Amazon outlined overnights and if you didn't have an alternative solution to getting your merchandise to customers, you were basically at a standstill. That's one of the reasons why at Skubana we encourage all of our customers to diversify whenever possible and Boldify is no exception.
Sandi Isozaki:
Boldify knows that a single sales channel is not viable for longterm success because it limits your ability to reach and retain customers. By selling on both Amazon and Shopify, Boldify can capitalize on marketplace traffic while also owning a first party brand experience. One of the reasons why Boldify came to Skubana was because they needed solution to route Amazon and Shopify orders to multiple 3PLs based on inventory availability and product type. One of the cool things about Boldify is that they package their bundles specifically based on the sales channel that they're selling on and so with Skubana, they were able to set up their products in a way that allowed them to automate some of that process.
Sandi Isozaki:
Skubana is able to remove complexities around replenishment, inventory management, order fulfillment, and channel profitability. Skubana is able to synchronize orders coming from Boldify, Shopify, and Amazon seller accounts with available inventory across their fulfillment sources. We're able to do that by natively integrating with multiple sales channels, including Amazon, Shopify, Walmart, eBay, BigCommerce and more. The screenshot here kind of shows some of those options and they keep going. In addition to our channel selection, brands can also connect to their 3PL of choice.
Sandi Isozaki:
I'm going to be hopping into Skubana's inventory module next. Our inventory management is pretty much one of my favorite modules in Skubana. It's something that I love to go over with customers because it's straightforward and it allows Boldify a high level of control over how they want to handle their inventory using Skubana's automation options. Boldify can use Skubana to identify inventory that needs attention, find items that need to be replenished, set allocation rules for how they want to handle inventory on a sales channel basis.
Sandi Isozaki:
Taking kind of a look at our screenshot here, this is a quick view of our inventory module and make it really easy for our users to know what they're looking at based on visual cues. We have this right hand column over here where you see like a red icon. We make it very easy in a color basis to see not only what inventory and products you have that are out of stock currently, but we let you know ahead of time when they're reaching kind of like a low status based on numbers that you can personally set. If low to you means a 100 units or 500, that's all personalized in your account.
Sandi Isozaki:
An important distinction and crucial benefit of using Skubana is making sure that you don't oversell. I kind of love this icon or this graphic here because as a customer success team member, it's something that I'm keeping in mind every day at when I interact with my customers is understanding that the seller experience can be very stressful and there's a lot of pressure put on sellers by Amazon and so at a very basic line, not only do we want our customers to succeed and grow but we want to make sure that we're preventing them from experiencing any sort of penalization or suspension from Amazon. When you have full control over how you want your inventory shown or also withheld from sales channels, you can avoid a lot of angry customers awaiting shipments that would be a potential result of overselling.
Sandi Isozaki:
Talking about our order management Boldify can use Skubana to get a complete view of orders regardless of channel all in one view. Skubana's order module is very easy to digest as your orders evolve from a fresh order to a shift one and depending on your fulfillment preferences, it's also even possible to ship orders without even touching them. Just at a quick glance of our orders module, basically orders kind of come in from all of your different sales channels, from this way, from that way, eBay, Shopify and they're all brought into one place. You can see that based on this current view, we're just going off of the age of the orders, so becoming fresh less than in an hour and then you can fulfill them based on any sort of rules that you set up previously, which I'm going to be talking about next but you can all basically manage them from one place, which is super convenient.
Sandi Isozaki:
Talking about that automation you need to see bon... we have basically order bots, and order bots are your custom business rules designed to do the work for you when it comes to fulfilling orders. Order bots are my other favorite part, our offering of Skubana because they're user friendly and they have nearly unlimited combination options depending on how to utilize them. Customers often ask for my input on their order bot workflows and I'm very happy to delve into them to get as granular as possible, as granular as they want to in order to achieve their automation goals.
Sandi Isozaki:
Boldify specifically uses some very simple order bot automation and combination depending on how the origin of their orders comes in because they want to fill them through a specific route. Looking at our screen here... we have over 50 order bot filters as well as over 50 actions as well that you can apply and then from there you can basically build on them and have as many as you want. They're basically kind of like, if you think either programming or an Excel sheet using like if then statements. You can customize any sort of workflow that you want to come in from your sales channels. Think about how you want to process them and then how you want them to be fulfilled and we basically set all of that for you through automation.
Sandi Isozaki:
Boldify uses a basic workflow that specifically uses Skubana's product labels in order to route their orders to the appropriate warehouse. In combination with their reordering workflow, Boldify's able to have a more hands off experience once their products reached their 3PLs and FBA warehouses. This diagram kind of shows these cute little bot icons. When our order bots are applying those basically kind of the actions that we're setting up, it's very simple. Since adopting Skubana, Boldify has been able to eliminate the need for an in house warehouse and using order bot workflows and direct 3PL and FDA integrations. Boldify is able to automate both fulfillment and replenishment.
Sandi Isozaki:
That being said, if an in house warehouse or drop shipper was part of your fulfillment flow, we can accommodate that as well. Next I'm going to be talking about some of Skubana's analytics reports. We offer a lot of them actually in various different sections. One of the ones that I think Boldify can benefit from the most is the sales overview dashboard. This shows you revenue as well as units sold across your sales channels and all of our analytics reports are derived directly from there or your sales channel and SKU data since everything basically lives with Skubana, it's that source of truth.
Sandi Isozaki:
If you're wondering how to read this report, basically you would select the sales channel that you want to look into and then also select the date range. From here you can identify what percentage of your customers are repeat buyers, the median value of their orders, as well as how many purchases they have made. Pretty much after taking a look and analyzing this report, what you should be able to do is find out which sales channels have the most repeat customers and where a sales channel is lacking in repeat customers. You should also be focusing on your email marketing and promotional efforts towards these customers to boost your revenue.
Sandi Isozaki:
In addition to that, we also have our most frequent customers report. This particular report reveals the value and recurrence of your customers. It looks very simple and how to read is essentially just the same as the last one. You select which sales channel and date range you want to filter by and you're then given a list of your high value repeat customers and the total sales value they are worth to your business. This is an addition to our customers module that we have separately. These are just reports that we offer that kind of help you pinpoint where you want to build your business from and your focus areas. Whoops. I think I went back on... There we go. Okay. And on top of that, after your analysis you should be able to find out which sales channels have the most repeat customers, and also taking a proactive approach from here.
Sandi Isozaki:
This is our most frequent customers report. Where a sales channel is lacking in repeat customers, you should be able to focus your efforts for your email marketing and promotional efforts towards those customers to boost your revenue and your customer retention. If you have a fantastic brand like Boldify and your customers have already gone to your site, you've won that buy box, you've purchased that order on Amazon or Shopify or wherever. They already know how great your product is and so we want to be able to help you focus in and utilize those customers you already have and we also have that, like I mentioned, that customer's module so we keep customer information retention so you will be able to do an easy email outreach or anything else that you want using your customer database from there.
Sandi Isozaki:
That's all I have for today. If you have any questions about Skubana that we don't get to cover during the remainder of this webinar when we go through question, you can reach out to us via email or you can also look us up on Twitter. Thank you so much for your time today. Appreciate everyone listening.
Jackie Bui:
Great. We can kind of dive into what our key takeaways are. I'll start off with the search side. You want to set your business up for success by really investing in your content to improve ranking and indexing as well as to increase buyer confidence in your brand. Also, build clean campaign structures to allow for more granular analysis of your performance data. You're also going to want to identify your goals for the business and leverage the available ad units to build your brand. Test new features out, and give your strategies the proper time to perform in order to accurately optimize towards your goals.
Sandi Isozaki:
More takeaways to be, that a single sales channel is not viable for longterm success. It limits your ability to reach and retain new customers. It also allows others to capitalize off of your brand on channels where you haven't established a presence already. Also outline a plan to lean out cost structures using technology to drive more automated and shock resistant operation to stay profitable during crises like this one.
Persephanie Arellano:
Awesome. Thank you ladies. Without further ado, let's go ahead and dive into our live Q&A. Before we did go ahead and go straight into it though, I did just want to go ahead and launch this quick poll. If any of our attendees did find this information insightful, your Amazon sponsored products and then crash course along with this inventory management tips through the uncertain times, feel free to just go ahead and indicate so on the poll if you'd like to continue the conversation with any of our in house experts. Otherwise, I do have the first question here and I see that Mike is also on the line. Hi Mike. Happy that you're able to join us.
Mike Viskovich:
Sure, yeah, thanks for having me.
Persephanie Arellano:
Of course. The first question that we have here is how do you track conversion rate increases attributed to changes made to your product detail page content?
Mike Viskovich:
Okay. Yeah. Conversion rate is tricky on Amazon mainly because there's so many different things going on at any one time. I think to get accurate conversion rate you kind of have to just be really careful about what other things are changing. The main thing would be... I think it's reviews like I kind of keep an eye on the... I think a lot of people check the recent reviews and also so if anything's happening to your top reviews, that kind of fit conversion right more than any potential kind of content changes would affect it. That's the biggest thing, is just to kind of, when you're changing stuff on your listing is to just kind of like manually keep an eye on it. That would be a big one and also just making sure you're getting enough... probably enough sessions. If it's a lower performing SKU and you don't have enough sessions, then the data might not be quite as accurate.
Mike Viskovich:
You want to make sure that there's nothing weird going on with the rankings as well because you want to make sure that whatever you've changed was actually affecting the [M conversation 00:43:47] rate and it's like nothing else is affecting it, and then probably just making sure that you're not starting any new kind of traffic off Amazon traffic campaign because if you're doing some kind of top of funnel thing... I guess you does want to make sure that nothing else is happening that could be effecting conversion rate because it's hard. It is like a bit of a gut feel as well but I think those things are the most important to kind of keep an eye on. It's kind of like kicking the [inaudible 00:44:27] everyday and making sure there's no other things that are going on that could be skewing the data.
Persephanie Arellano:
Awesome. Thank you Mike. Let's go ahead and move on to our next question, unless Jackie you got anything that you wanted to add on or can I move on to the next one?
Jackie Bui:
We can move on.
Persephanie Arellano:
Okay, cool. The next one that we have here is, are you leveraging off Amazon strategies that may be contributing to your performance on Amazon?
Jackie Bui:
Yeah, so I can probably go a little bit more in depth, but I did want to mention... I know at the beginning of the webinar we kind of touched on this, but we do use Amazon's demand-side platform and with this we re-target shoppers on and off of Amazon as well as do in market orders... in market targeting as well as targeting our competitor's audiences.
Mike Viskovich:
Yeah the SP demand-side platform has been really good for us. Yeah. I think when we started doing it I didn't really know what to expect but we're getting really good results. I think we're at about at three times [ROEs 00:45:51] at the moment, which is really good compared to other Amazon advertising platforms. I think on... like it's a typical to potentially, it depends on the product and stuff and the product category but it's kind of typical to get maybe like a one, two ROEs on Facebook or something like that. Like it's quite... just harder but Amazon DSP has been an awesome platform for us to get a really great return and just expand out kind of Amazon channel quiet. It's basically turnkey.
Mike Viskovich:
Jackie's been handling our DSP campaign and she's doing a great job and just like a no brainer really. If you were... I don't know if you have to be [inaudible 00:46:37] know these like a minimum of the [inaudible 00:46:40] but I'll definitely look into it because it's... Yeah, it was really easy and it's been a great return for us.
Persephanie Arellano:
Awesome. Happy to hear that. Moving on to our next question that we have here is, if I've already had my sponsored product campaign strategy set up with a clear structure, what else can I do to improve performance?
Jackie Bui:
Yeah, that's a great question. If you've already got them set up with a really solid foundation, another step that you can take is taking a look at placements performance. This will break down how each campaign is performing at top of search product pages and rest of search. You can identify campaigns that are maybe performing at a really low healthy ACoS either top of search or product pages and place a bid multiplier there to increase your competitiveness to win that placement. I know the question was for sponsored products, but also for Sponsored Brands. There's still a lot of new updates coming out so you can test out the new betas like the custom images or even having a video to be featured instead.
Persephanie Arellano:
Got you. Thank you Jackie. This next question that we have here is, what are the most popular order bots?
Sandi Isozaki:
I'll answer that. I'd say some of my favorite and one of the ones that come up the most are based on location filters. We have some like for a zip code, state, postal zone and countries. We can allow our customers to automate their orders coming in based off of that information because all orders should have at least one of those and then also for the filters as well, we have, like I mentioned on previously... Boldify uses our product labels but those are also... they can be translated into order labels as well and so we basically use these labels in terms of automation of how you want to handle any product that comes in within a specific label or any order, how you either want it fulfilled, what kind of shipping services that you want to use, finding our cheapest rate as well with if you have multiple shipping providers as well. I'd say that those are some of our most popular with our customers and the ones that come up the most.
Persephanie Arellano:
Got you. Thank you, Sandi. This next question that we have here is what impact does an A-plus page really have on conversions?
Jackie Bui:
Yeah, that's a good question. We kind of touched on that earlier how it's kind of hard to really solidify tracking your conversion rate increases after updating your content but with an A plus page, this is below the fold on the product detail page and you know that when people are coming to Amazon, they're going to want to look at the reviews. A plus content is the last section that they can take a look at before reaching those reviews and making a purchase decision. It's just an additional place for you to further get insight about your brand and the product as well.
Mike Viskovich:
I'll also add there Jackie. Apparently... I don't know if it's true, but it probably is true. Amazon does give a tiny bit of wait to the algorithm. So if you've got A plus content it's going to help your own keynote a little bit, most likely. So it can't hurt to have it in there.
Persephanie Arellano:
Awesome. Thank you. This next question that I have here, it says, I have a Shopify store where I sell my products with build by my FPA as well as products from brands that are fulfilled by drop shipping, can Skubana integrate with my Shopify store and automate orders places for drop shipped products to?
Sandi Isozaki:
Yes. We have a direct integration with Shopify. It's one of our most popular sales channels that our customers use. Absolutely yes on that part and then in terms of multichannel fulfillment through FBA, absolutely. We can basically set up order bots to route that fulfillment flow as well. We can basically recognize that the sales channel equals Shopify and then you could customize if you want all of your SKUs or all of your products sold on Shopify to fulfill through FBA or if you want part of them to do that, you can specify that as well and then we can also have a separate route for any drop shippers that you have. We're able to connect via FTP or SFTP or through email flow. Basically we have an entire purchase order flow that all customers can use and depending on how you communicate with your drop shipper we can handle that as well.
Persephanie Arellano:
It's lovely. Thank you Sandi. This next question I have here is how to identify maximum bids for a keyword? How would you identify that?
Jackie Bui:
Also a great question. Like we kind of touched on in the webinar, typically we want to start off with auto campaigns for launching a product and allowing that campaign to run for a couple of weeks. From there what you can do is pull a search term report and identify the CPCs that were converted on within the auto campaign. That's a good starting point to use to harvest those keywords into a manual campaign. There are also some third party tools out there that will give you an average CPC or a suggested bid. Probably on Amazon there are also suggested bid ranges, but definitely take those with a grain of salt as well.
Jackie Bui:
There's really no exact science. Once you set your bid, you do want to monitor performance. Give it a little bit of time to actually perform at those set bids and then from there it'll tell you through performance how you want to adjust.
Persephanie Arellano:
Got you. Thank you Jackie. This next question has a little bit to do about Walmart, so it says, I currently handle just the Amazon advertising for my company, but it's getting clear that we need to put more effort into Walmart.com e-commerce outside of general basics of search terms and keywords. How different is it to work with Walmart.com if you have any insight?
Jackie Bui:
I don't have too much experience with Walmart side, but there are some similarities between the two platforms. I think this would be a great opportunity for you to reach out to our team here at Tinuiti. We do have a Walmart service line as well, so you can definitely get more insight there.
Persephanie Arellano:
Awesome. Thank you Jackie and I think we have time for maybe just a couple more questions. This one states, how did Boldify ramp up their spending? Do you have any recommendations for small businesses to plan for ad budget?
Jackie Bui:
Yeah, that's a good question. With Boldify, we had a set monthly budget to start out with. Obviously we wanted to see how our initial strategies would perform first and then from there kind of adjust, but just allow things to actually be tested out and see how they perform. Obviously you don't want to say that no matter what, this is what our monthly budget is. If you have the capability to spend more and you're also seeing revenue come through, maybe take a look at it as a percent of your total revenue. So taking, say for example, you can do 10% of your total revenue as your monthly budget but there are definitely a lot of ways to take a look at that.
Persephanie Arellano:
Awesome. Thanks Jackie and it looks like maybe just a couple more questions. What are cascading bids?
Jackie Bui:
Yeah, so cascading bids is... at least for Boldify we're using all three match types. That would look like, just as an example, a broad match type keyword starting out at a dollar 50. I phrase match keywords starting out at dollar 70 and exact match starting at a dollar 90. The reason for that being, obviously with broad match, you're able to be showing up for more searches because it's very broad targeting. You kind of want to keep a pulse on that because broad spend can increase a lot more heavily than something like an exact match just because you're able to show up for so many more searches.
Persephanie Arellano:
Got you. That totally makes sense. I think this is going to be... it looks like we have come to the end of our time here. I wanted to give a huge thank you to each and every one of our speakers, Jackie, Mike and Sandi for taking the time to join us, but especially to all of our attendees. Just wanted to go ahead and review our upcoming webinar calendar, but also just review our COVID of the resource for marketers if you joined on a little bit late. I did send this Bitly link out, but this is meant to be kind of a resource hub just for marketers. You can go ahead and check out our 15 blogs, learn how to optimize your current strategy depending on what channel and vertical that you're selling on right now. Feel free to check out more information there. The Bitly link is attached.
Persephanie Arellano:
I will be sending out the recording by tomorrow morning and this is our upcoming webinar calendar, so you can check out more information about all of these at tinuiti.com/content. Today we did have the Crash Course on Amazon Sponsored Brands & Products. Next week we will be covering how to optimize your paid search budget due to the uncertain times and then the following week we'll be having how to adapt your Amazon DSP strategy due to COVID-19. Otherwise that is offered today. Huge, thank you to everybody. This is Persephanie signing off from San Diego. Have a great rest of your day.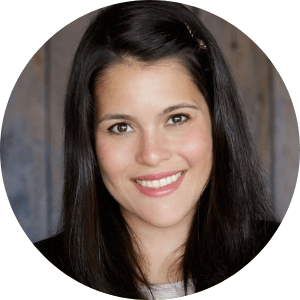 Written By
Gina Tirelli
Gina Tirelli manages Partner Marketing initiatives at Extensiv, the leading retail inventory and order management software for D2C brands and marketplace sellers looking to unify and automate their multichannel operations. When Gina is not marketing ecommerce software, she likes to spend time outdoors with her dog Elli.