Beyond BFCM Maintaing Holiday Momentum for 2022 - Recording
November 26, 2021
54

min read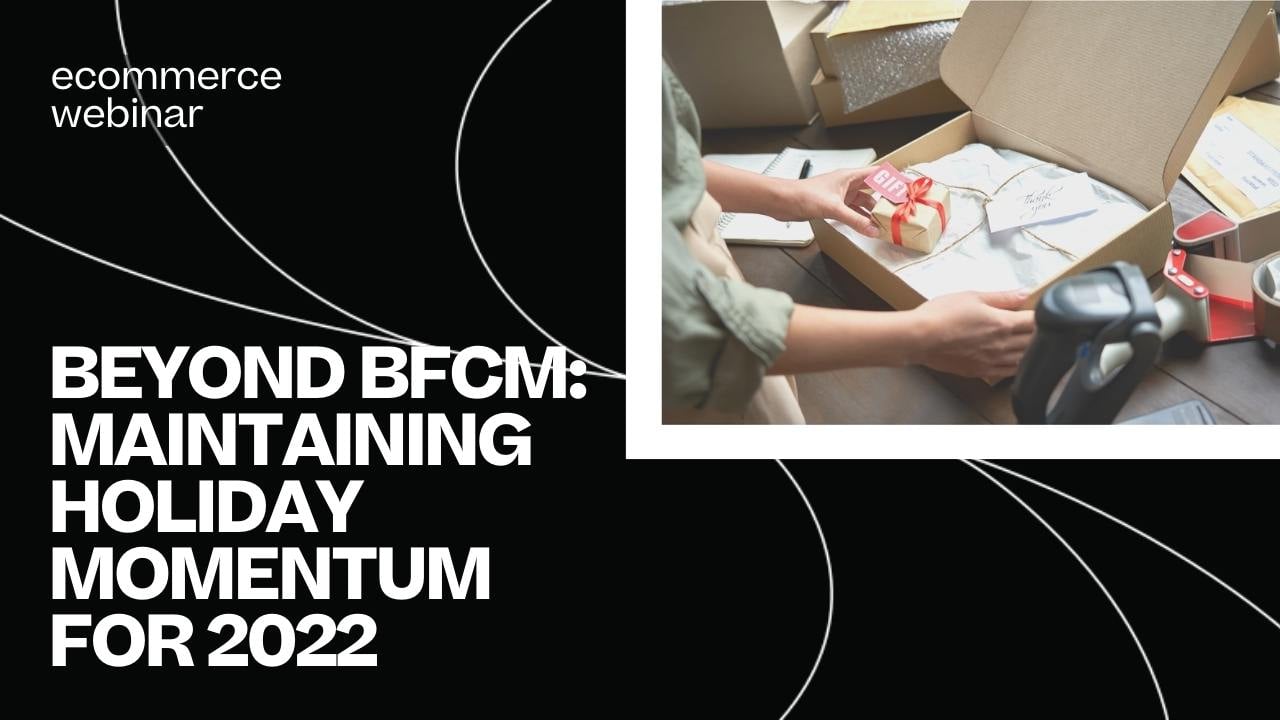 The fourth and final episode of our Holiday Hustle is all about what to do after BFCM to keep momentum going through December and into 2022!

We had eight of our expert panelists from previous episodes for an AMA to cover their top tips💡for post-BFCM success from every channel 🛒.
Transcript
Michael Wadsworth:
Let me share my screen here. All right here we go. Can everyone see my screen all right? Cool right on. All right now we're not too past, so can we go ahead and get us started off. So yeah thanks for joining again, I'm Michael from Justuno. Today we're joined with nine partners all from previous episodes of the Holiday Hustle series. We have Evan from Postscript, Amit from Omnisend, Savannah from ShoppingGives, Dan from Loop Returns, Brett from Gatsby, Kelsey from Justuno, Bobby from MuteSix, Chris from Gorgias and Ashley from Skubana. So yeah, it's gonna be a jam packed session. We have a ton of talk about and a whole lot of insight to give. So the other quick logistics for this are going to be the recording of this will be sent out tomorrow morning. So if you can't make the full time, if you wanna send to someone, look out for that email tomorrow morning. Additionally, a lot of this is gonna be geared towards the Q and A session afterwards. So answering any last minute questions about five principal Monday beyond anything, you have throw it in the Q and A box, submit it or throw it in the chat either works just fine. And yeah, I think that's it. So without further ado, Bobby from MuteSix is going to kick us off. And yeah, let's get it rolling.
Bobby Baker:
Awesome thanks for having us, Michael. Everybody, how's everybody doing today? Bobby Baker here from MuteSix, and we're gonna really be jumping into how we maintain momentum for 2022. So kind of getting started in here really starting off you know, the word FOMO. The biggest thing is a lot of brands they want to do everything that every other brand is gonna do. And some of the things that are typically done right around this time of the year. So some of the tips for scaling really, I called this battle of the brands simply because this is the time of the year where all the brands are trying to get really their new customers. So we're gonna talk a little bit about Q4 really end of Q4 this holiday, and then really transitioning into 2022 and how we can do that best. So, number one is time your juiciest offers. So I know we're really focused on a lot of the competition that's coming in during this time. There's gonna be crazy crazy offers and different brands, making some really exciting offers. And so there's gonna be a limited amount of spending cash in the economy. So typically in the beginning of the month and in the middle of the month, that's when people get paid, that's when most of the dollars will be spent. So the brands that win are gonna be the ones that are first to market, the ones that are really putting their exciting, their juicy offer in front of everybody before some of the other competition or some of the other brands. Again, there's limited amount of funds in the economy at any given time. And really the consumers will buy the most exciting offers. So a lot of times brands wanna use things that really they're decent offers, but they're not like super exciting. They're not jumped out of your chair size of offers. And that's the type of stuff we wanna leverage right now. And really as we go into the rest of the year. So consumers will buy products at prices they can't miss. And really the big thing is acquiring early before it's gone and late after payday. So if you're launching your black Friday or one of your juiciest offers November 1st, you'll be early. If you're launching it November 14th, you're on time and November 27th, you're late. And so we used to always say in sports, if you're early, you're on time, if you're on time, you're late. So really that's how we wanna approach this and make sure we're taking advantage of that. And one thing to also note there is, say, just for example, you have a 30, 35, 40% off site-wide offer that you want to do for black Friday. So you wouldn't necessarily wanna launch that offer on November 1st, ideally you can kind of lead up to that to where the first 14 days of the month, November 1st to 14th, you're doing something maybe a 20% off of a specific product or a 30%, 35% off of a specific product. And then the second half of November, that's when you really start to really roll out your juiciest offers. Now you roll out your 40%. So really about strategically placing those offers at the right time so that you can really pick up a lot of new offers. Some people are like, hey, what if you know consumers buy that first offer? And then they see the second one. Great, that's an opportunity for them to buy more. And then we have some strategies that we can use as far as just excluding past customers or excluding some of our remarketing audience if we are worried about that. And then jumping on to tip two, really this is a time to prep for 2022 engagements. So this is where we talk about really maintaining a lot of that new customer growth that we've already pretty much had during Q4. And so Q1 is typically slow unless you're a health or fitness brand gearing up for that new year, new you timing. That's always really big for those types of brands. But for most brands, it's actually a slower period. So brands really will have to craft new and exciting offers. And this doesn't mean that you have to have X amount off of your product or service. It really just means that you have to find cooler ways to get your audiences excited. And so really the ways that we like to do that, four really cool ways, I think that always worked really well really any time of the year, but primarily for the beginning intro of 2022. So one of those is giveaways really leveraging, you guys have probably seen some of these on social or through some other brands and really making sure that we're giving people an opportunity to really get our product for free, essentially just by taking a couple of tasks. And this is a really great way to build engagement. You have people tagging other people, you get comments and shares and all this other stuff. So it really does well for giveaways. And then also challenges. I love doing challenges as well. This is the type of stuff that you can do and really craft it to your brand, right? So if you're a candle brand, you may do something along the lines of, what's your favorite scent. And within that challenge, people start to post pictures, they tag or hashtag whatever your brand is or whatever find your scent. And now you're actually able to leverage that concept, leverage those back content and those great fans that have already shown a lot of love and engagement for your brand. And then the last two, one is partnerships, and this is really just collaborating with other brands that may have other good messages, other good products and things that you can actually collaborate with. And that will really help you guys really streamline new conversions that may come from that brand specific or that partnership specifically. But it may also be an opportunity for you to juice up your offer. So if you're a fitness brand and you're selling, you know, workout bands or workout equipment, you may pair with a supplement company that can actually, kind of work in tandem with your core audience. And then lastly, referrals and affiliates. This is just another opportunity to acquire more customers from some of your existing customers or from other affiliate types of individuals. And a lot of times this can allow us to avoid some of the paid media that you might have to actually go after or give you a chance to really just create a web effect. And last thing I got for you guys here is really appeals. So one of the biggest things is while we're crafting messages for black Friday or for post Q4, really Q1, we wanna make sure that we're tapping into both areas of the brain, both areas of any individual. And so you can go ahead and click once or twice more here, Michael, thanks. So on the left, on one side of it, you have the left brain other side you have right brain. Like 45% of the world is left brain, 45% of the world is right brain, and 10% is both. So instead of crafting messages that are heavy logic focused and really focused on that, or really just creative or storytelling type of messaging or creative, we wanna really bring both worlds together and try to communicate to a hundred percent of the world. We wanna really bring things in that actually, have the facts has the numbers that you know people that are are more predominantly left brain will resonate with. You wanna bring some of that in with more of this maybe storytelling sort of feel, or really adding a little bit more creativity to the mix. You can go ahead and click one more Michael. Cool, cool, yeah animation is a little bit slow today. But I'm really at the end of it, it all comes down to just making sure that we're leveraging, a different consolidated approach and tapping into that left brain, that right brain, and really bringing both worlds together to really communicate with everyone that could potentially be a good fit for the brand. So good hit the next slide please Michael. Awesome so this is the last slide here. We're gonna open it up for the next team to chat. But if you guys have any questions, feel free to reach out to info@mutesix.com. We can put together a free audit for you guys and help you understand which channels could be good for your brand and which ones may not be a good fit. We're pretty straight forward in that stuff. So if you have any questions, feel free to reach out.
Michael Wadsworth:
Awesome, thank you so much, Bobby. That was awesome. Yeah big shout out to that. Yeah so yeah if you have any questions for Bobby or MuteSix particularly put them in the chat for any budget questions, and I'll save those for the end. So Casey, I will get to that question, but I think that's a really good question that some other panelists could touch on as well. So next up is Skubana and then it's Ashley. So take it away Ashley.
Ashley Brown:
Thank you, Michael. So quick refresher for anyone. Skubana is a cloud-based platform. So we handle order routing accounting, shipping inventory management through our automation tools. So I'll be talking about adopting with automation. And then just touching super quickly on current e-commerce and supply chain trends. As we know e-commerce is continuing to grow and boom, as a result, there is massive shipping bottleneck. So last week I think as many as half a million shipping containers were waiting to be offloaded just from LA and long beach. So just highlighting the relevancy of my first tip, which is staying operationally nimble. So I think, year over year, we couldn't do it this year. And I also would say going into 2022, I wouldn't recommend that either. It's important that you can adjust your inventory system to accommodate not only for seasonality that comes with black Friday, cyber Monday and the holidays, but just the current world events and trends we're seeing, the ones we can't see yet. So just making sure that you're thinking strategically and changing any inventory rule you have to take into account delivery delays, your competition running out of stock. And then like I spoke about limited shipping container capacity. I've even heard of different warehouses and brands trying to get capacity on planes and going from the ground or from the sea to the sky. And that's also the prices are skyrocketing. So some good strategic thinking, but also I think a lot of people are adopting that way as well. And then that brings me to my second tip, which is making sure you utilize a flexible network. I think it's convenient for sure to start with the do it all system. But at the end of the day, you wanna be able to pick software based on your business needs specifically. You can't be the best at everything, I think we all know that by now, you want the expert in each area of e-commerce you're looking to grow in. So what this means is when it comes to choosing a 3PL or warehouse, shipping and fulfillment is the biggest cost line items. So they have your inventory, that relationship is absolutely critical. So being able to expand when necessary, let's say you get all of your new customers from black Friday, cyber Monday, are on the west coast, and you only have one warehouse and your current 3PL in a closed system, you can't reach those customers quickly. You know, that's gonna be a problem for you, but if you have a flexible network, you can easily add another warehouse and reach those customers in the two day delivery that they expect, thanks to Amazon. And then also we have a customer, the last object who was super focused on sustainability, gen Z, also really into sustainability. So going into 2022, I know a lot of brands are starting to see this trend and be like, all right, let's tap into that demographic. So being able to optimize again, better 3PLs, it cuts the shipping time packaging, all of those things are considered when choosing that partnership. And then I will leave you all with a early gift. If you pick the time with the link, which I'll throw in the chat, 'cause I know that's the tiniest font, well chat with you and give you a $50 gift card. So yeah thank you everyone.
Michael Wadsworth:
Awesome thank you so much, Ashley. Yeah please take advantage of that $50 gift card, please, you know, get yourself an early gift. And one thing I thought about when you said the LA Ashley there's as the last year the Panama canal, when that ship got stuck, I can't help but think about that. And isn't it about like what was it $10 million every second or minute or something that it was stuck there, just something like that. So yeah thank you Ashley very much. So without further ado, let's go on to our next speaker and that is Amit Take it away.
Amit Mehta:
Thanks Michael, thanks everyone for joining us. So for those of you, quick introduction about Omnisend, we are a marketing automation platform designed to help e-commerce retailers utilize email, SMS, web push notification within our platform and for holiday tips. So Michael we'll go to the next slide, I wanted to share with you guys. I know for most of us who are attending, we already have automation set up already in our business. But during the fall months, let's say like October, this is a good opportunity for you guys to really start testing and really start amassing holiday specific marketing automations. So if you aren't using automations, I wanted to share this one stat with you from an Omnisend side, we saw that automation's generated about 29% of all email orders in 2020, while only making up about 2% of all email send. So I know for a lot of us, we spend a lot of times building up that individual campaign that we're gonna send out like every Thursday or Wednesday, but really start utilizing automations because even though they only make up about 2% of overall email sends, they're pretty strong for our business from an e-commerce perspective, from a sales perspective. So I think the other thing you just wanna look at on the right-hand side, when we look on black Friday 2020, what we can see from a status standpoint is that the welcome series nearly earned about a 75% conversion rate. So really it's pretty clear because most e-commerce sites are seeing more traffic to their sites. So I think with welcome series, it's the first time you're gonna have a really an opportunity to interact with that customer and getting them to know about the brand. You can also entice them with maybe leveraging a first purchase incentive or discount through a holiday happy holiday email. The next one you'll see there as cart abandonment. So again, I know most of us have cart abandonment set up, but cart abandonment, is a great opportunity for you guys to recover revenue, about 59% of conversion rates happen on black Friday and cyber Monday when it came to shopping cart abandonment. So you should definitely try to hone in on that messaging from that standpoint and how many emails you're gonna send out to that customer to retrieve that loss cart. One thing I wanted to share with you guys is also that post-purchase communication. So those are really great for nurturing your customers relationship and really encouraging additional sales. So both during and after the holiday season. So if you don't have those set up, I think it's a good opportunity for you guys to do post-purchase. It's a prime spot to do cross selling as well for you guys. So again, really great automations are really gonna make a successful holiday season. And we can go to the next slide, Michael, because I wanna be respectful of time. One tip, you can start in the holiday season, but also you can carry on in 2022 for you guys is we all know that the e-commerce space is cluttered, right? It's an intensive competitive field. So I think especially during the holidays and even after the holidays really highlight what makes your stand out. So whether that would be additional value add. So that could be whether that's in the automated form or promotional form, really highlight the features like you have that maybe your competitors don't, like free shipping, or maybe talking about curbside pickup or maybe extended and hassle-free return policies, live chat, or 24/7 support. So I think that's really really important as you try to build a relationship with your customers to really highlight what makes you unique in the marketplace. So therefore they continue to not only make one purchase, but they can also expect what future purchases will look like. But that's really all I have on my end, but I just wanted to say thank you guys. And if you're interested in learning more about Omnisend, feel free to shoot me an email, but our offers at 30% off for the next three months.
Michael Wadsworth:
Awesome thank you Amit that was great. Yeah big fan of, actually I know welcome emails actually get me more often than not now that I'm thinking about it. So that's really cool. All right so moving along, next up is Dan from Loop and I have a quick poll to launch with him and he can kick us off.
Dan Anand:
Thanks Michael, and thanks so much for everyone attending today. A lot of great partners, learned a lot myself. Loop Returns and returns. It's just a fun poll that we just share with you guys. As we head into the busy season, everyone is familiar that there's gonna be a lot of sales happening. Most brands and customers don't look to returns as something that is top of mind. But unfortunately, when you get the wrong size, because your aunt sent you the let's say a wrong t-shirt or wrong sweater, maybe that happens every year, for me it does. It is a unfortunate circumstance, but you know, every customer has to go through this. So I would love to understand in the last, all right the poll is here. So we see a lot of attendees have returned stuff for last year four plus times. So yeah, it's quite quite the experience for everybody. For someone who is not familiar with Loop, Loop is a returns platform. And so we help scaling shop by brands, push more of the returns to favorable outcomes. So if everyone's familiar with the return and have gone through as we are all consumers at the end of the day, returns don't always need to be a refund. What a refund is, is collecting the payment that you gave to the brands in returning the product that you bought. Of course, there are other outcomes maybe you're familiar with such as an exchange. So majority of the times customers just bought the wrong size or style, so how do you get that customer, the right products? And as while there is store credit. So that is customers, they purchase a product, maybe the timing wasn't right, they wanna return it, but they still want to hold a credit with your store, come back and shop with that brand again. So when we see with returns during the holiday season, what's interesting is return rates go up. Of course sales go up and that's natural that return rates will go up. Over the last three years, our data suggested and told us that return rates are actually increasing by 31% compared to the average return rate outside of those months of between mid November to mid January. So we have a couple of tips for you folks here today. Of course I mentioned returns and a lot of the times there's a blind spot in a brand's return policy. For literally one quarter of the year, the customers that are going to be buying your products are not usually gonna be the ones that are gonna be using them or wearing them. And so you need to understand and have a strategy that really aligns with that shift in shopping behavior. So the two tips that we'll provide today are quite simple. One is just make that gift exchange easy, make it a simple process. And like I mentioned, we're all consumers, my aunt literally every year gets me the wrong size clothing. And I keep telling her, "aunt just give me a gift card. I'd really love to just purchase my own products so that I don't go through this hassle." If you can allow customers like myself, if you're in that position to be in the driver's seat, let's see you got the wrong size shirt. You still love the brand. You wanna come back and exchange, make that process easy. So when what I say by making it easy is giving the gift recipient the ability to initiate an exchange, but by themselves, allowing them to change their address, to get the new product back to them. And throughout that exchange process, allow them to immediately exchange, not having to wait to get their refund and then repurchase. And by doing that process, you'll experience as a brand, fewer refunds, you'll collect and retain more of those customers. Most importantly, those customers are typically gonna be first-time customers, and just create a favorable experience for everyone. So it's really a win-win win. In addition to just making gift exchanges easier, one really simple tip and will help you push more of those refunds into exchanges this holiday season is gonna be offering a free shipping on exchanges. So as a customer, as you're going through and reading the return policy, you can see that a refund, maybe you have to pay for your shipping label. If you offer this small carrot, if you could call that, to a customer that could be enough to really persuade them to stay with the brands, maybe select a product that they didn't see the first time go around and choose an exchange. And of course that's gonna encourage them to opt for a non a refund. And at the end of the day, you're selecting and retaining more revenues. So of course, free shipping that's a thank you for their loyalty. And one paired nicely with just an easy process. It's a win-win win. So Michael, if you wanna just go to the next slide there. and I provided a couple screenshots of our platform. So Allbirds is one of our merchants. Within the returns portal, typically you're gonna find that within the return policy page, and it's a sub domain, and as you access the portal, of course, these gift recipients, they didn't make that purchase on your Shopify store or whatever story you're on. So you're gonna need to make sure that they're one, gonna be able to easily access the return by having a gift recipient option. If you see at the bottom there. And then they could easily adjust their address so that the new products coming back. And then lastly, if they're wanting to exchange for a completely different product or just a different variant, you have that ability to do so. So lots of things to think about in today's presentation, but I just wanted to wrap things up by saying, we're here to help and support and dive a little bit deeper into this process. So we are giving away one month free on a new contract. If you have any questions, feel free to drop them in the chat here, but as well, you can always contact me. I'll leave my email in the comments below. But thanks so much, Michael, and I'll pass it back to you.
Michael Wadsworth:
Awesome thank you Dan. Yeah, returns are the one aspect I, well, only recently I start to seriously or consider more often for brands because before it's one of those crucial things, but yeah, just something that never quite occurred to me when I was selling things online until it needed to happen. So yeah, that was great. So, yeah, moving along. Next up we have Gorgias. So Chris, take it away.
Chris Lavoie:
Cool can you hear me, Michael?
Michael Wadsworth:
Yep all good.
Chris Lavoie:
Great perfect, all right well thanks, Michael. And thanks Justuno for another great event, really enjoyed the last episode of this event, And also congrats on your new website launch. It's looking really crisp, so I just wanted to give that a shout out.
Michael Wadsworth:
Thank you.
Chris Lavoie:
Cool, yeah, yeah, no problem. Cool so yeah, my title today for this talk is getting more by doing less. And hopefully that will become obvious as I go through. So we'll just get to the first slide here. So quickly for those who aren't familiar with Gorgias, we're a customer support help desk. We power all of the communications that you might have with the customer, via your website, via live chat, social media moderation, SMS, et cetera. So we've ran integrations with all those different channels. We make it easy for you to deliver exceptional customer experience. And so for this presentation, I really wanna focus on, how for the upcoming BFCM holiday season, you can focus less on repetitive questions. Like where's my order, which takes up a ton of time for you to actually resolve if you're not using a powerful tool. And then instead of focusing on that so much, free up your bandwidth to focus on pre-purchase opportunities. So I'll dive in here. And so on the left side, I'm talking about the fact that drowning in WISMO, which where is my order really leaves a little bandwidth to focus on pre-purchase opportunities from an engagement standpoint. And so if we consider the fact that 25 to 40% of your entire support volume is strictly related to whereas my order inquiries, which I'm sure brands with us can relate to. It takes a ton of time for you to say, switch tabs, go into your Shopify account, look up that customer, get the information, and then type out an email response. That's not scalable, it's not ideal for you or your customer. That's gonna take up a ton of time, and what this, how this manifests and the result of that is upset customers due to high first response times, high resolution times, poor retention and poor customer satisfaction. And so what we wanna do is we wanna say, okay, let's automate and deflect as much of that WISMO volume, and really start focusing on pre-purchase opportunities. And that's what takes me to the side here on the right leveraging live chat, for instance. And so just to give you a glimpse of where we're gonna head with this talk is trying to drive as much traffic to your website as possible, which is obvious, but then having something like a live chat, which is one of our Gorgias features, ready to go. So instead of your support agents focusing on post-purchase inquiries, they're actually there to engage for pre-sale opportunities, which actually, as you'll see in the next slide takes up 10 to 15%. And if you're failing to leverage live chat to drive these purchases, what this means for you is you're missing out on a huge sales opportunities. So the key there is to deliver fast response times. So you can go to the next slide, Michael. This will all make a lot more sense here on the next slide. So what we're showing here is we've analyzed hundreds of thousands of Gorgias tickets to understand what are the most commonly asked questions. And so this is a pretty representative breakdown of a typical D2C brands support volume. And I'm putting support in quotations because as you can see, order status is taking up the majority here one-third of your entire volume, but the categories that are highlighted in blue are boxes, product availability, product suggestion, product question, pre-order question. Well these are pre purchase inquiries that are being disguised or masked as post-purchase support volume. And when you spend so much time doing repetitive tasks, like getting an order status, you're not getting to these questions, which although they seem like in small percentage points, as you've started doing a thousand, 10,000 and even 25,000 tickets per month, or customer inquiries per month, you can imagine that this adds up to a big opportunity. So if you simply just multiply, your ticket volume each month by these percentage points, which is 10 to 15% multiplied by your average order volume, then that will paint a picture for how big an opportunity it is. So that's really the big takeaway. So it's really important for you to understand your support volume and understand what you can automate. So if you go to the last slide here, just to highlight a really powerful feature that we've recently released with Gorgias in the past few months here is this idea of a self-serve portal, essentially. And so when you go on a website like hellotissue.com, which is a fantastic every day company of ours. What you'll first engage with on the bottom right of the screen is this little widget which shows up just like this, by putting in your email or your SMS number or your order ID, it will give you the ability to other track return, cancel, or a report, an issue with an order, which is now putting, giving the customer all of the power. This isn't even just automating supportive on. This is actually just deflecting it from happening in the first place. So this is an easy way to have customers get answers to repetitive questions themselves. Now you can free up in with your support team to put their sales hat on and be there to engage via live chat. And so, we're really excited about this feature, it's really timely. And so if you wanna go to the next slide, Michael, just to wrap up. We are offering anyone tuned in with us this today. If you pay for your first month, you're gonna get your next two months free. And there's plenty of time leading into BFCM to try out Gorgias and you can get set up. So yeah, I wanna thank the organizers. Thank you, Michael for hosting and yeah excited to keep learning more from the practice.
Michael Wadsworth:
Yeah awesome, thank you very much, Chris. That was great. And Chris, actually quick question from the audience. I think you're the most, yeah, you can definitely answer this one, but Angelique wants to know how can we understand support volume for SEO? The goal is to show the importance of SEO to the customer service section of this site. So Angelique feel free to elaborate in there, but I think just wanting to know about SEO and customer service.
Chris Lavoie:
Yeah great question. I'm dropping my email in the chat. That's something that we're thinking a lot about and have a lot to say about that. So yeah, Angelique, you can just hit me up and I'll be happy to chat about that.
Michael Wadsworth:
Awesome, all right. Next up is Evan from Postscript. So take it away, Evan.
Evan Romano:
Hey, Michael, yeah thanks for hosting us. It's a fantastic event and a great way to sort of wrap up the four-part series here. For those of you who don't know, Postscript is a SMS marketing platform for Shopify stores. So we really focus on making sure that you can sort of get the highest ROI out of this new channel. That's really becoming more and more important to merchants as we're sort of seeing a lot of these privacy updates happen through other channels. And as we sort of have to diversify how we're acquiring and retaining customers. Today, what I'm really focused on is understanding how we can actually set merchants up for success post BFCM. So obviously BFCM weekend is going to be the biggest time of year for you. And the main goal is to drive as much revenue as possible, make sure that you're sort of hitting those targets and those numbers. And what we really sort of wanted to just sort of take a step back and assess was at a higher level how can we make sure that the holiday season is a massive success for these merchants and for you guys and not just BFCM. And so the first sort of major tip that we thought about was making sure that you're actually incentivizing list growth. So you're gonna get this massive influx of traffic to the website. These are people who are gonna be extremely high intent, they're looking to purchase. And Bobby made a great point. There's only a limited wallet share for this weekend, right? And so if we're assuming that there's a limited wallet share, but someone's still interested, the best thing that you can do is actually get their information, whether that's obviously phone number or email, to make sure that we're sort of keeping them within your marketing funnel and not just assuming that it is black Friday, cyber Monday or bust. There's gonna be times over sort of the, especially that early part of December, where if you have a bigger list, it's gonna really set you up to be successful for that time of the year in that period, not just BFCM. So one of the tricks that we sort of used and tools that we've used is making sure that you can actually provide an additional discount if someone signs up for email or SMS. So that could be a gift with purchase. If someone signs up your SMS list, that could be, maybe you have a 25% off site-wide. If they sign up for SMS, you now give them 30% off site wide. So you're still providing them with that discount if they don't sign up for your list, but you wanna make sure that you're sort of gathering that first party data, that information that you can then go and communicate directly with them. And sort of the second part, once you grow this list, which is this great marketing asset that you've developed is making sure that you actually automate your holiday marketing. So what that really means is making sure that you're thinking specifically about talking to your customers specific for the holiday season. So it could be setting up a different welcome series that has two to three parts that is only for people who signed up during BFCM or during that two week period. So you can talk to them differently. Maybe it's a different post-purchase, a post-purchase text that goes out all week or two after, because when they were buying from you that first time they had sort of one frame and maybe they were buying for themselves, but suddenly they didn't need a gift for their brother or for their sister. And I know I've been in a situation where I thought I did my holiday shopping on black Friday, cyber Monday, but the first two weeks of December, I had to spend a lot of money to sort of fill in those gaps. So there is always this time where especially if you collect sort of, that first party, that information you have that direct contact with them on SMS, that you can set up all of these specific automations that Amit had a really great point about and tailor them and tailor the messaging for that customer that they signed up during that time to make sure that you sort of make the most out of that full season, rather than just sort of the four days or the week that you're doing that massive sale. And if you wanna go to the next slide, Michael. And obviously a big thing about list growth isn't just sort of collecting numbers at checkout. It's actually about sort of having a great pop-up as well. So I wanted to just highlight this, and this is a great part of our partnership with Justuno here, where we actually have ready-made ready to use pop-ups that are within the templates to the platform have SMS and email. So if you're looking to grow your SMS list, you have a really easy way to do it, that's compliant, that's two steps, and it's gonna make sure that you can actually increase your revenue for the entire sort of holiday season here rather than just the one week or the four days during BFCM. And if you're looking for an offer, what we're doing for anyone who joins this webinar is a 60 day free trial. I'll post my email on this chat here, just to send me an email if I can get that conversation started. But if you sort of opt in now and come onto Postscript to make that change 60 frees brings you up to pat post BFCM. So it's a great time to sort of start with this channel that is really providing sort of an out-sized impact for a bunch of our merchants, thanks
Michael Wadsworth:
Awesome, that was great, Evan. Very quick, concise and snappy I really appreciate that shout out to Justuno, that was an unpaid shout out by the way, just for full credit. Thank you very much, Evan. Yeah and please, please take advantage of the 60 day free trial if you're not using SMS, please hop on that like right now. Yeah Evan will be sharing this email in the chat. So moving on, next up we have Brett from Gatsby. I have a quick poll I'm going to launch, and then Brett, if you want to take it away.
Brett Bernstein:
Yeah thanks Michael and Evan nice presentation. Everybody else and Amit too, I'm actually gonna probably call out Amit and Chris from Omnisend and Gorgias during this quick session. But let's go ahead and start off first with a quick poll. I'm interested in knowing which of these platforms your company is most interested in or most focused in for next year when it comes to acquiring consumers. So where do you think you'll find your most customers, you know, next year?
Michael Wadsworth:
I wanna give them a few more seconds to come on in. All right. All right.
Brett Bernstein:
Awesome very cool. Okay so we actually had a ton of functionality for Instagram in Gatsby and then TikTok is coming out this month super soaked on that. So just good to know for us as well. And I'll be able to touch on this in our last few minutes here with Gatsby. Those of you that don't know what Gatsby is. We are a partner here in the Shopify space, but also even non Shopify customers can use us. And just like you've heard about from the previous presenters, like the Amit and others capturing email, capturing phone number, super popular and important aspects to grow your business. I think Amit said like 30% of your revenue right now is gonna come from email. Oh with Gatsby we pioneered another capture point or another data capture and that Instagram handle or social handle. So alongside capturing email and capturing phone number with Gatsby installed you now capture Instagram handles as well. We provide insights on that. And then we sync those insights with the rest of the tools you're using like Omnisend and Klayvio, Gorgias, Yopto. So you can actually automate influencer marketing directly with your customers through the tools you already use. Like the ones that I just mentioned. So our number one tip going into the end of this year and early next is to spend five minutes starting to collect Instagram handles with the holiday traffic you have right now. We actually have a gift right now showing you how to do this on your Shopify post-purchase page, using a Klayvio form. It's very similar with other forms as well. Just go ahead and after somebody checks out, ask them to provide their Instagram handle right here, and you can do Justuno forms, any of the forms you're already using, we can make it work. And you can see here, once somebody checks out, they can give you their Instagram handle like that. This is super powerful information that you can use during BFCM to identify influencers who wanna work with, to promote your holiday campaign. And then into next year, build more complexity around this strategies, you can do things like incentivize customers who have purchased a previous product from you to go and promote a new release in that line, right? Or build complexity around, hey, if you mentioned librarian for the next 30 days, twice or three times, you get this code, mentioned us five times, you get this incentive. So the idea is that it's making it much easier to scale influencer marketing. So we can go to the next slide here, Michael. So just to show you a quick visual, of what this could look like using a Klayvio flow. And again, once actually clone this flow over for you, we have for Klayvio as well as for Omnisend. When a customer of yours mentioned you on Instagram, you can trigger an entirely automated workflow to reward them for that mention. And I'm sure you've heard example, like if somebody has between one follower and 500 followers, they'll receive this email with this offer, this email with this reward thanking them for their mention and so on. Between 500 and 2,000 and so on. So again the idea here is just putting in place a few automations using the partners already on this call to automate your influencer marketing. So with that, I'm gonna let you guys get a quick offer here. This is a special offer that we don't put out very much. Again, actually I'm the founder of this company Gatsby So I'm happy to work with anybody directly on any questions you have, but we are offering right now, 30% off your first three months on our business or plus plans. And this is good through the end of October to start this. So go ahead and just email me up at my email in the chat widget. And we'll get you hooked up with his offer. Any questions at all, please let me know in chat. And I see here one from Amber.
Michael Wadsworth:
Yeahgo for it Brett.
Brett Bernstein:
Okay cool. So the conditional split is one of the best parts about all of this is inside of inside of Klayvio or on this end, you can create different triggers. So if one of your customers has between, let me just see you the rest the question, yeah for whichever number of Instagram followers, are the followers less than that. No no okay great question. So Amber, the Instagram followers and their bio and how many posts they've done when they mentioned you on Instagram, all of that data will flow automatically into Klayvio. There'll be automatically segmented and put into the right flows. I actually had an online onboarding call with the customer just before this call from start to finish 30 minutes to add the form and sync that data to Klayvio or Omnisend. So you can automatically trigger those flows and segment the conditional splits obligate. Here's my email address everybody. Give me an email if you wanna hop on a call. I'll also give you customer service manager as well. So the two of us to we're there to help you. And thank you, Michael for the opportunity to speak today and everybody on the call, great stuff.
Michael Wadsworth:
Yeah, no great stuff, Brett. That was awesome and good question too, from Amber. Good question. So moving right along. we're about 15 minutes to the hour. So without further ado, Savanah from ShoppingGives.
Savanah White:
Thank you so much, Michael. Hi everybody, hope you've been enjoying so far. My name is Savanah, I'm the Head of Partner Success at ShoppingGives. And if we're new to you, we are a social impact commerce platform that enables brands to give back and to keep it as simple as possible, we make it easy for you to do good. So you can focus on the impact you're making instead of how you're gonna make impact. So we can jump to the next slide. In terms of what we're expecting to see for holiday and beyond consumers are now asking that their brands that they support do more than turn a profit. And that's no longer kind of a nice to have for retailers. It's really a requirement for success in today's time, gen Zs and millennials really are looking for impact in every brand that they support. And we've seen that brands that do have a donation on giving piece are more successful and have customers that come back to spend more and come back more often. Through cyber week giving also provides you as a differentiator to other brands that are gonna be also discounting at the same time. So if you and a close competitor are both giving 50% off your customer would likely go with the one that's donating. So hopefully you'll be the one that's doing that. Looking at this black Friday, cyber Monday, I always say BCFM instead of DFCM. So use this as a barometer to mark your giving for the rest of the year next year. So how can you leverage these important giving days to identify what's important to your customer, and then use that in your ongoing giving strategy. Our two tips for that is first that engagement counts. So similar to what Bobby was saying before, you really wanna bring this messaging to your customer as early as you can. So don't just wait until giving Tuesday to say, oh, and by the way we give, because your customers are gonna be coming off, spending a bunch of money on black Friday and cyber Monday as well. So if giving is important to them, they're gonna wanna know to expect it. As well as on the day, make sure that you're giving is front and center for your customer. So you can drive engagement with any sort of giving activation that requires them to click or change something on site. So you can see it in the example, that's our partner Margaux, they were giving at checkout, but they'd mentioned right on the homepage that 5% is going to the Lower East Side Girls Club. If the homepage is expensive, real estate and eyebrow banner is also great footers in your emails and email calling out that the giving strategy is gonna be happening on this day are also really helpful ways to get that messaging up. And then on the doing wealth side. So like I mentioned, customers are gonna spend more with you when they see that they're donating. And you can see from this chart that even during peak holiday discounting the customers on that purple line, that average order with donations was still higher than average order value without donations. So if you can include your customer's input in you're giving as well, they're gonna spend more money too. A great way to do this is actually to open up the search bar. So if we go to the next slide with ShoppingGives, you're able to support any 501 C3 that's in good standing within the US. So what this would look like on a website, this is an example from our partners, White & Warren, when a customer hits that select button, it opens up a choose model, and they can pick any nonprofit that they would like to support. From a brand perspective, that means you're saying to your guests, we care about what you care about. We want you to shop your values, choose a cause, and we'll donate it at no extra cost to you, but then you get those insights to see what percentage of your customers are choosing. And also are they spending more, how is their spending in comparison? And then to use that for your future activations, you can also see by category what nonprofits your customers care about. So if 20% of your customers are choosing their own cause and 15% of that 20 is giving to animal rights causes. Maybe you know that you wanna do some sort of activation around that. If they're all giving to LGBTQ causes, maybe you need to focus your pride messaging outside of June as well. So use the information that you get now in order to power your future giving activations into 2022. And especially when you have a big day like giving Tuesday to highlight giving, it's a really great opportunity for brands to do so. Going to the next side, we do have an offer for you guys. That's not on here, I'm sure Ben will put it in the chat, but for anyone interested, we are offering 15% off an annual plan. To activate on that you can send us an email and we'll get you going. But if anyone has any questions or would like a second set of eyes on their giving campaign, we're happy to lend an eyeball.
Michael Wadsworth:
Awesome thank you very much Savanah. That was awesome.
Savanah White:
Of course.
Michael Wadsworth:
A really cool stat about how the higher AOV across the board for donations I didn't know that that's super cool. Great so next step. So yeah, last but not least Kelsey from Justuno will be taking away.
Kelsey Stapleton:
Awesome thank you. So if can you go to the next slide. We're just gonna be going over some best practices for your black Friday, cyber Monday week weekend reminder to keep it simple, make sure that if you can have your coupon codes, auto apply rather than a clipped copy function. Make sure you have clear shipping information. We've had other partners already talk about this length. So I'm not going to say very much other than all major carriers right now are saying to expect delays. So make sure that all of your information is clear. This is great use for a banner or for an in checkout experience pop up like a foreigner. Your product recommendations are very powerful. If you don't have any yet, I do suggest you start looking into those. Last year we saw that they had a 37.5 conversion rate and actually helped increase average order value overall per purchase. Site-wide banners, these are great. I did put on here that promotions with coupon codes, the engagements decreased by 33.7% in comparison to those that have them automatically applied. The reason I put that there is because if you do use a coupon code and that's something that you don't have a choice for, make sure that you're having a banner for all your visitor throughout their experience. So that way they always know what the coupon code is and where to access it. Countdown timers, we saw that they had an average order value of $163 last year. So if you're going to have your sale structured around like a countdown time or a specific day of when it's going to end, make sure you add a countdown timer. We always suggest you don't use them for over 48 hours because they kind of backfire. The idea of countdown timers is to increase urgency. And if you have them set for like a week, you're actually decreasing. Non centered promotions, we actually saw in 2020 side promotions converted at 25.5% in comparison to the center promotions, which converted much lower. So if you have the opportunity, try side promotions. Another great thing to use with those is tabs. So people can reopen promotions at any time. Black Friday, cyber Monday don'ts. AB test, holiday shoppers are not usual traffic. They're not gonna be the people who were on your site. So if you do run any AB tests, they're only gonna apply to your holiday season and not to the rest of the year. Do not focus on your lead capture. The goal for black Friday, cyber Monday is conversion. Gamification so we actually saw that they had an 18.66% conversion rate in 2020 in comparison to the rest of the year when it's in the thirties or the forties. So gamification you definitely don't wanna do you wanna avoid anything that has multiple slides or multiple steps. Surprise shipping information, we talked about this a lot. Clearly say all of your shipping options. If you have a generic versus, your prime or whatever, make sure that that's all clearly stated easy to find on your website. And finally don't ignore your mobile traffic. 50.9% of shoppers are looking to shop on their phones this year. So make sure that you're testing and looking at all of your mobile traffic. Pro-tip website messaging made double the revenue pop-ups with the informs made in 2020. So don't lead capture only talk about your sales. Finally, keep your goals on top of mind. With all your strategies that you've outlined, always ask, how does this affect my goals for the holiday season? If your conversions or the promotions you're running, leading towards conversions, is it to get more subscribers, ask yourself, are your promotions leading to that? Continue your conversion efforts through the holidays after cyber weekends, what are you doing in December and 2020 to help increase conversions during that time? Just some quick ideas. Think about doing an incentive during December for those last minute shoppers, especially with shipping being the way it's going to be. If people are able to save money and say, I'll get it to you after Christmas, that is an option for late shoppers this year. Market to your current subscribers. Remember that those people are, and this isn't a pro tip, gift cards are the top looked for gift this year. So those people who are usually your shoppers on your site, frequent buyers, they're probably gonna get a gift card for you this year. So make sure that you're marketing to them after the holiday season, after Christmas, to ask them to spend that money. New year new you incentives. These are always really popular among beauty, fashion and health brands. Especially at the beginning of January, when everyone says they're going to be healthy and workout. Try running a sale, or some sort of incentive, maybe it's a free gifts or an ebook or anything like that. And then finally, your inventory clearance sales, something we always suggest when they are run they are done very well just to make sure that you're being very cognizant of what your inventory is like. And that's all I've got. We wish you the best luck. And if you do need extra help during the season, we are offering a holiday package this year. You can email sales@justuno.com and I'll drop that in the chat and our sales team can figure out what might best fit your needs.
Michael Wadsworth:
Awesome thank you so much, Kelsey. That was great thank you. The speed as well. So we have about six minutes left, so I wanted to open this up a few questions there some earlier, but if you have any questions right now for any of the panelists at all. I just wanna hear their thoughts on anything by credits from money related, anything at all. Shoot it in the chat, but for now I want.
Savanah White:
We actually
Michael Wadsworth:
Yeah.
Savanah White:
Sorry, you can go ahead. Go ahead, Michael sorry.
Michael Wadsworth:
Oh, no worries, no worries. So yeah, we had Casey earlier. I think it was Bobby's presentation wanting to know, is there a particular marketing channel that resonates with left versus right brain people?
Bobby Baker:
So I take that, okay.
Michael Wadsworth:
Go for it.
Bobby Baker:
Yeah so that's a really good question. And I think most channels have the ability to really resonate with both, right? There's usually not one or two types people that are on any given platform. I would say there are like Pinterest, for example, would be somewhere where I would really expect a lot more right brain individuals just because it is a creative platform. There's a lot more like imagination and creativity that's going into that platform naturally. So a lot of those users may be a little bit more right brain on the creative side. And then things like maybe Snapchat and then of course TikTok is very very creative as well, but I'm starting to see a lot of facts, a lot of logic being pushed through these different channels. So I really think Facebook, Google being an email, of course, being like those primary sort of the main ones that can really be leveraged on both sides of both left brain, right brain. And then I think Twitter would be probably the only one that I would assume would be a little bit more on the logic side.
Michael Wadsworth:
Awesome thank you, Bobby. Casey, I hope that answered your question. That was really thorough. Yeah and then other from the chat. Well, Brett threw in the chat, answered
Brett Bernstein:
I was just responding to Amber there asking about the poll you ran and where clients were spending when it comes to Facebook and Facebook ads are still, I would say one of the Facebook ads, Google ads, Instagram ads those are the top three from my experience. But for influencer marketing in particular, Facebook isn't anywhere near as big of a category as Instagram would be, we see TikTok becoming more and more, like you see brands wanting to do TikTok but very many of them don't quite know yet how to sort of things set up on it. But Instagram, as you guys saw from the poll is by and far, the top contender for influencer marketing.
Michael Wadsworth:
Cool, thanks Brett. Otherwise, so if you have any of it you can just throw it the chat, but I was curious and it goes to all panelists, but I was curious about the most surprising thing or stat you've seen or are seeing or expecting for this black Friday, cyber Monday season, following you like 2020, and obviously 2020 is quite unique year. And so 2021 is still in that midsection. So I wanna open this up to kind of anyone just about like the most interesting thing you've seen, or maybe most notable takeaway that the audience should take away. Anyone? Viewer.
Brett Bernstein:
I could throw a stat in there that's interesting when it comes to our customers. So most brands are not asking for Instagram handle yet, and it becomes like a, it's just a very novel idea. So nobody really knows what to expect. We've been finding that about 15% of the people who choose to give you their email address in a just form, or following website will also opt to give you their Instagram handle as well, maybe about 15% or so give or take. And then you can put that on a two-step or again, post-purchase et cetera. And then secondly, when they give you their handle and this varies by industry, but we have some clients in the fashion space in particular that see up 40% of the handles, they collect have over a thousand followers each. So based on your customer demographics, but if you are telling this to a younger audience and get a really high number of people who have influencer followings.
Michael Wadsworth:
Cool what's going on. And Brett actually, unless any other questions come in, but how do you see TikTok factoring into the influencer space?
Brett Bernstein:
So we've rolled it out as our second channel that we're implementing into our platform this month. So we see being a really big component, especially with larger brands where people want to expand and they need more places other than TikTok, oh more than Instagram from what we've heard, it's been a very successful platform to try out. So if you're not using it now, there's very little risk to set one up and start playing around with it. What's cool about TikTok is you don't have to have a lot of followers to go viral, their algorithms care more about the engagement, and then they'll blast it out. Kind of like how real does it on Instagram.
Michael Wadsworth:
Right cool. Thanks Brett. Cool I don't see any of the questions coming in, unfortunately, and we're about a minute to the hour. So I just wanted to give a huge thanks to all of our panelists again today. Thank you so much for participating in the previous episodes of Holiday Hustle series. And to all our attendees, please make sure you take advantage of those very generous offers they all presented. That's awesome and especially those coupon, if you get that a few dollars, take advantage. So yeah thank you again everyone, because if you have any questions at all, I'll be recording this will be sent out tomorrow morning and send emails to all of our partners here. They're happy to help. They want to help. And that's why they're here. So yeah, just take advantage and thank you so much. So I don't want to say bye. We're good to go, cool, all right. Thank you everyone.
Bobby Baker:
Bye guys
Thanks for having us Michael.
Michael Wadsworth:
Yeah, have a good day. Thank you.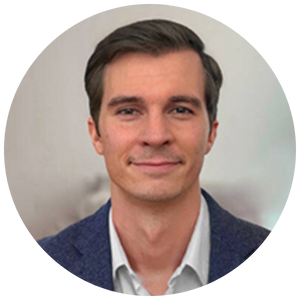 Written By
Matt Rickerby
Matthew Rickerby is the Director of Marketing at Extensiv, the leading solution for multichannel, multi-warehouse D2C brands. For the past ten years, he's covered e-commerce topics ranging from SEO to supply chain management.