9 Strategies to Write Conversion-Oriented Email Copy Every Time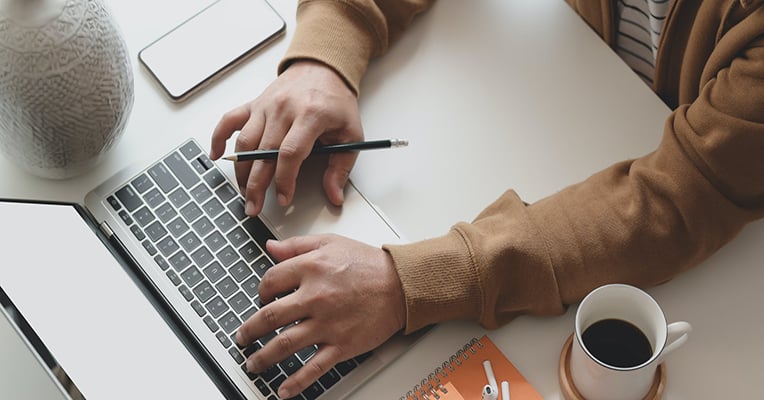 This is a guest post written by Ben Johnson. Ben is the Head of Content at Proof, a Y Combinator-backed startup that provides real-time social proof and personalization software. Over 18,000 sites trust Proof to help increase their conversion rates.
Let's face it: We're not all Shakespeare, and writing isn't everyone's forte. However, writing is a big part of telling your company or product's story, especially if you're reaching out via email to customers or prospects.
Don't despair. While you may not be able to jot down dazzling poetry or win a Pulitzer for your writing skills, with these nine strategies in your email-writing arsenal, you'll have the capability to create strong content that's focused on conversions.
1. Target it to your audience
Simple additions that make content feel personal are a big deal.
For example, just adding a customer's name (no advanced writing skills required) to your communications can make the message feel more personal and can increase your open rate. According to one study, sending an email that includes the customer's name in the subject line led to an open rate of 46.21%. Another study from Solitaire Bliss reveals that they increased email open rates by 86.3% with the use of personalization, better subject lines, and a few more changes.
When you're creating an email, think about more than just adding a name — think about the person or group to whom you're sending your message. What do they want? Make sure to review email subject lines before you send them out to keep them as targeted as possible.
If you have a diverse audience for an email campaign, break the group into small subsets focused on similar interests, roles, industries, etc. Segmented email campaigns can increase growth metrics such as revenue; studies report increases as high as 760%.
2. Make your descriptions do the hard work
When you're describing your product or service, the more detail you can give, the better. Luckily, when you're trying to create descriptions, there's a technique you can use that doesn't require specialized writing skills.
It's bullet points. Why are bullet points great for creating conversion-oriented copy?
They make your content easy to read.
They force you to focus your writing on specific features and benefits.
They don't require flowery language or detail — just relevant, concise fact sharing.
They are more eye-catching and attention-grabbing (people take time to review lists with bullets more often than lists without bullets — 70% vs. 55% respectively).
Isn't the content above easier to scan and read than the same content (below) in a paragraph format?
They make your content easy to read. They force you to focus your writing on specific features and benefits. They don't require flowery language or detail — just relevant, concise fact sharing. They are more eye-catching and attention-grabbing (people take time to review lists with bullets more often than those that don't include them — 70% vs. 55% respectively).
3. A picture is worth a thousand words
Sometimes converting isn't just about reading. Including visuals in your emails can be a great way to tell your story without actually having to write your story. Emails with graphics earn higher click-through (4.11% vs. 2.87%) and open rates (25.16% vs. 17.80%) than those that only include text.
Another option to improve your conversion rate for emails? Adding video.
If you add a relevant video that describes your product and successes, you could see through-the-roof increases in click-throughs. One study reported an increase of 300% when video was added to email campaigns.
4. Delete your first sentence
You're probably saying, "Wait a second. I already don't like writing and now you're telling me to delete my work?"
When you write, often your second thought or second sentence may be the more compelling message, the one that gets to the heart of what you're trying to say.
You may not always need to delete your first sentence, but you should scrutinize it to see whether it's serving its purpose or whether it's more fluff or filler. A good opening line naturally engages people and keeps them reading through to your CTA. If yours isn't doing it, cut it out.
5. Add in a testimonial
Testimonials work because they show your potential customers how you've made a difference for your current customers.
Buyers have more opportunities than ever to access information about a company and the way it does business. In this market setting, testimonials are even more valuable because they're not just your company's marketing messages; they're the actual experiences of people who have used your product.
When you're using a testimonial, you're able to use your satisfied customer's words instead of creating your own. That sounds like a winning proposition.
6. Read a lot of testimonials
In addition to using a testimonial verbatim in your email messaging, you can also make use of them to strengthen your own writing. There's a saying, "Features tell; benefits sell"; and testimonials are all about benefits.
When someone provides a testimonial about your product, they're not saying, "The printer uses less ink." Instead, they're saying, "Since we started using this printer, we've saved $300 a month on our ink and printing costs."
If you review the testimonials your clients provide, they'll often write your content for you. You can use the benefits they've offered to create your bullet point lists, your actionable CTAs, and your attention-grabbing subject lines, because you're using messaging that you know will work.
7. Get help
If you're working to build your skills and confidence with creating email content, you may sometimes wish you had a coach to make sure you're doing the right things. Fortunately, there are plenty of online tools that can give you a little assist in those areas.
For example, Mailshake offers real-time copy analysis to help you make your content stronger on the first try, as well as A/B testing tools so you can understand what works in your email and fix what doesn't. Other digital marketing tools like CoSchedule's headline analyzer can help you feel more confident in the content you create and its ability to generate conversions.
8. Make your CTA great
Closing the deal is important, and a great call to action can boost the success of your email.
It's not all about writing, either. One company placed their CTA in a button instead of a text link and increased click-throughs by 28%, and streamlining your CTAs into one well-worded option instead of multiple options can also increase your success rate. One study showed a 42% lift, for example.
9. Follow up
When you're writing your first email, go ahead and start thinking about your second email.
It's not unheard of to email prospects multiple times before getting feedback or a response, much less a sale. One study showed that the sixth email in a particular series got a higher response rate than the first (18% versus 27%).
Instead of trying to fit all the features and benefits of your product, or all of the strategies in this article into that first message, share it over the course of a campaign. Lead nurturing campaigns, for instance, can be a great way to get a customer to convert as they slowly learn more about your brand and product.
Your first message might feature a bulleted list of benefits, your second a video, and your third a testimonial. By testing out different approaches, you'll be able to hone your messaging and find the perfect fit for the various segments of your customer/prospect base.
Great emails aren't always works of literary art. Instead, they can be built by using your analytical and strategic skills to assemble different pieces (testimonials, subject lines, CTAs, features/benefits) to create a cohesive whole.
What's your go-to technique for building a great email? Feel free to share your best email success story in the comments: