Top 133 Direct-to-Consumer (DTC) Brands & Companies for 2022
February 15, 2021
50

min read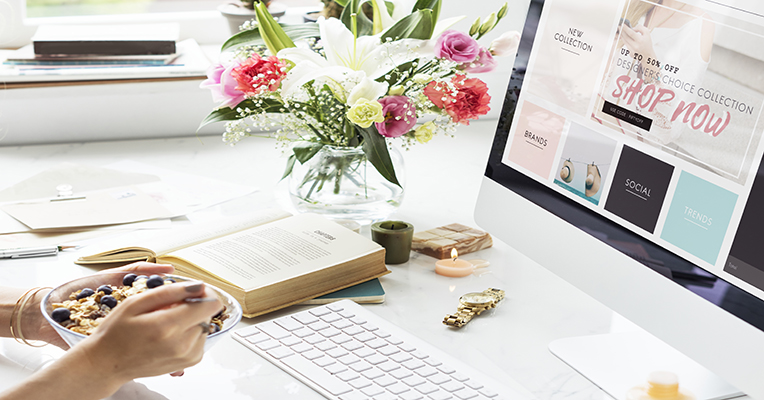 Editor's Note: This post was originally published on October 17, 2017, and was updated in December 2020 to highlight recent direct-to-consumer trends, as well as for accuracy and comprehensiveness.
E-commerce is the place to be for young, scrappy direct-to-consumer brands. By going down the non-traditional route, these e-commerce businesses bypass the middleman and have the opportunity to focus on the customer alone.
They can go straight to the horse's mouth and provide exceptional service and streamlined experience.
What Are Direct To Consumer (DTC) Brands?
Direct to consumer (DTC) brands sell their products directly to their customers online. This is a win-win situation for consumers and brands because it lowers costs and prices by bypassing third-party retailers. Direct to consumer brands are also positioned to respond more attentively to customer feedback and collect first-party customer data to make better business decisions.
How Is the Direct-To-Consumer Industry Changing?
The direct-to-consumer (DTC) world is in constant flux, both in terms of product offerings and in operational practices. One of the most prominent trends impacting the industry is the blurring between the digital and real worlds.
The divisions between shopping experiences in brick-and-mortar channels and digital environments, including websites, online marketplaces, and social networks like Instagram and Facebook, are also dissolving.
Today's customers expect to connect with brands in a variety of ways, and if a brand isn't exactly where customers expect to find them, they will miss out on establishing a meaningful relationship with them.
The evidence of this trend is abundant and the latest branding statistics support that.
A Harvard Business Review survey of more than 46,000 customers found that 73 percent used multiple channels during their shopping journeys before deciding to make a purchase.
Accenture found that 88 percent of consumers engage in "webrooming"— browsing and choosing products online and then opting to buy them in a store.
However, wholesale partnerships and brick-and-mortar expansion present a new set of challenges for direct-to-consumer companies. But there are several prominent brands who are taking this challenge head-on and redefining what it means to "direct-to-consumer" and embracing the concept of "direct-to-everywhere."
The Ultimate List of Direct-To-Consumer (DTC) Brands
So we've put together the list of our top 133 coolest direct-to-consumer brands. We've split them up in sections for easy reading but they are not in any particular order.
Accessory Direct-To-Consumer Brands
For a long time, your accessory choices were split between cheap and tacky or super expensive. These companies helped change the game.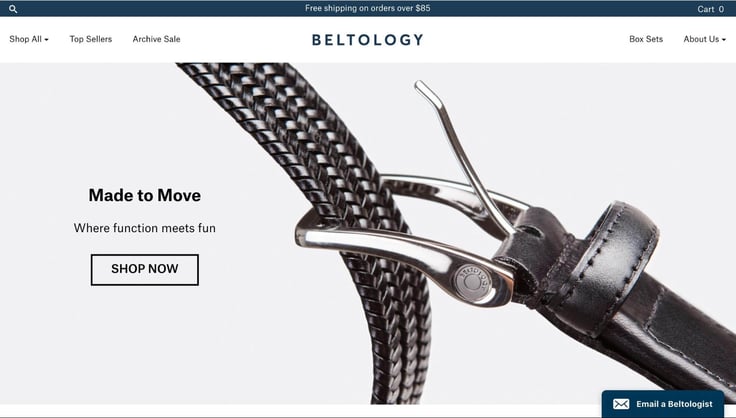 Belts are for more than just holding your pants up. That's how the founders of Beltology felt when they first started their e-commerce store! They began designing belts that were more than just a means to an end and created a digitally-driven experience that makes it easy to find the belt you are looking for.
While you do need to pay for returns, Beltology gives you 100 days to return or exchange your product. You can follow Beltology on Twitter @Beltology, Instagram, or Facebook.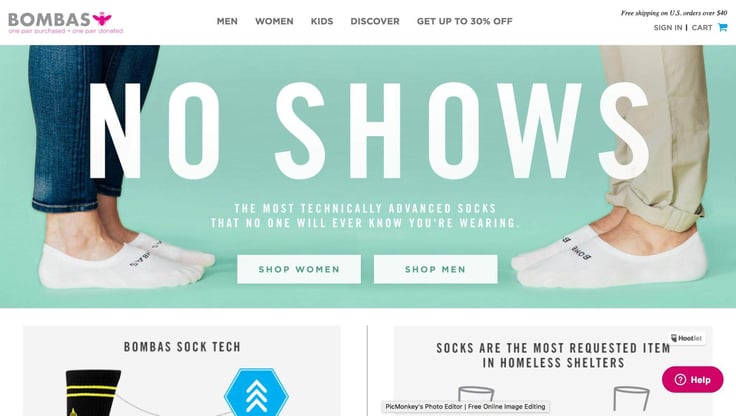 Socks are more than the stuff that go on your feet before you put your shoes on. Bombas' socks are a bit different. They offer super comfortable athleisure socks that help you give back. For every pair purchased, Bombas will donate a pair of socks to someone in need.
This e-commerce business lives, breathes, and wears its company values. They stand behind their product 100%. Returns are easy and no questions asked: the only request is to wash worn socks before sending them back. The returned socks are then donated to someone that needs them. Everything about the customer experience here is easy and the feel-good factor is powerful. This is the kind of digitally-savvy, consumer-focused e-commerce business that thrives in today's marketplace.
You can follow Bombas on Twitter @Bombas, Instagram, Pinterest or Facebook.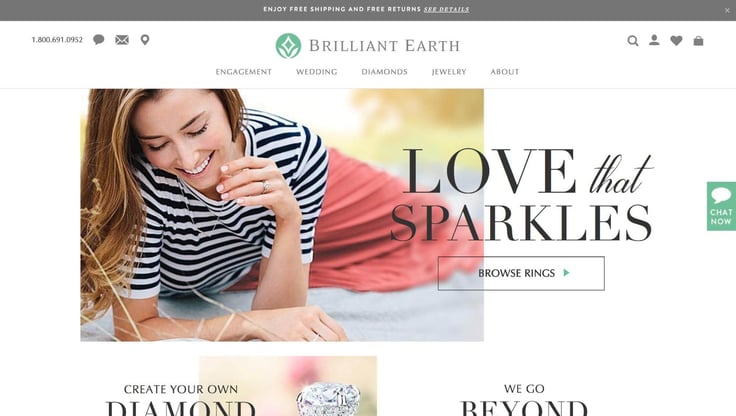 Diamonds are forever, and Brilliant Earth makes it easy to buy conflict-free diamonds. But, they go beyond current industry standards by ethically sourcing diamonds from mines that follow strict labor, trade and environmental standards.
They make it easy for consumers to make ethical choices, support communities, and the environment.
You can follow Brilliant Earth on Twitter @BrilliantEarth, Instagram, Pinterest or Facebook.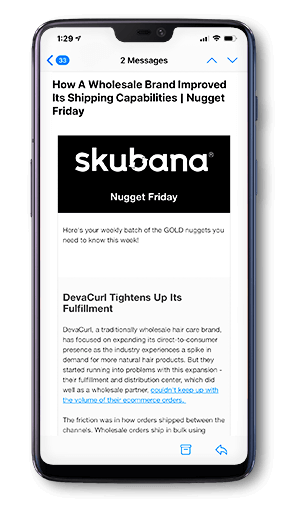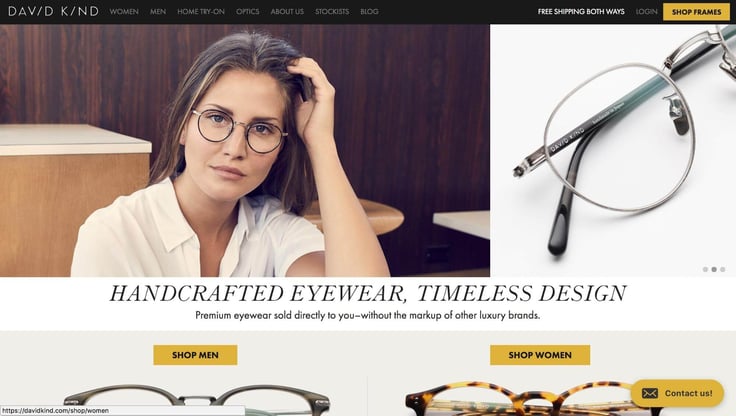 Premium eyewear without the markup. With David Kind, you are paying for quality frames, not celebrity salaries. They make getting the perfect pair of frames easy.
Pick six frames you love and get them delivered straight to your home. Try them on and find the perfect pair. Shipping is free both ways, with no obligation to buy. The team has even developed a patented selfie system that helps you figure out how a frame would fit your face. They are determined to make buying glasses as easy as possible.
You can follow David Kind on Twitter @DavidKindLA, Instagram, Pinterest or Facebook.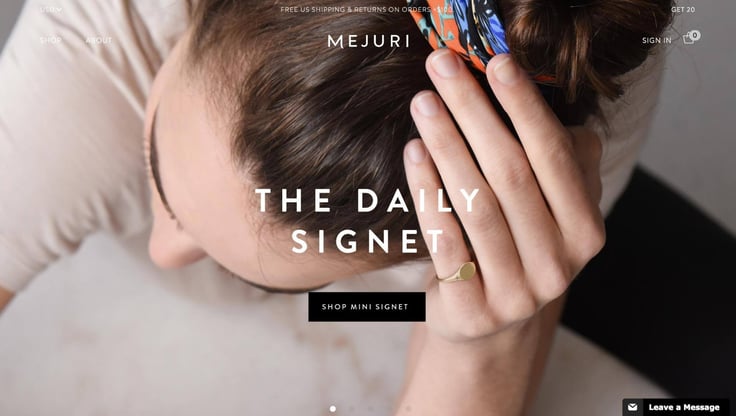 Mejuri offers an alternative to cheap, tacky jewelry and expensive pieces that will break the bank. They use classic manufacturing techniques, cut out the middlemen, and use their own designers to create exceptional, affordable classics.
You can follow on Twitter @Mejuri, Instagram or Facebook.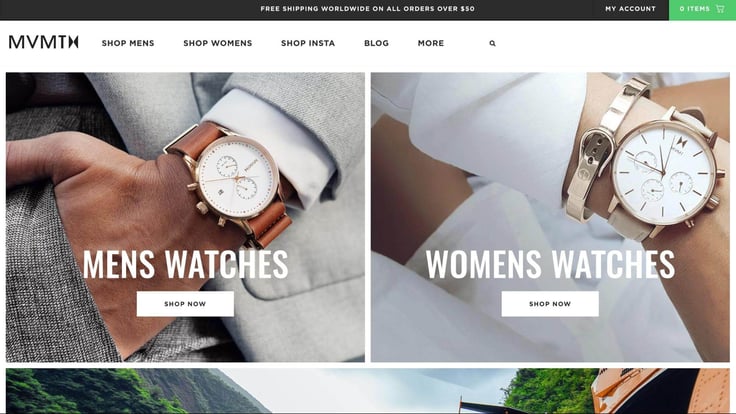 MVMT makes beautifully crafted, premium, hard-wearing watches that can go places. Classic, stylish versatile designs that don't break the bank or make you afraid to ever wear them in fear of scratches. With MVMT, you can put that fear aside.
You can follow MVMT on Twitter @mvmt, Instagram or Facebook.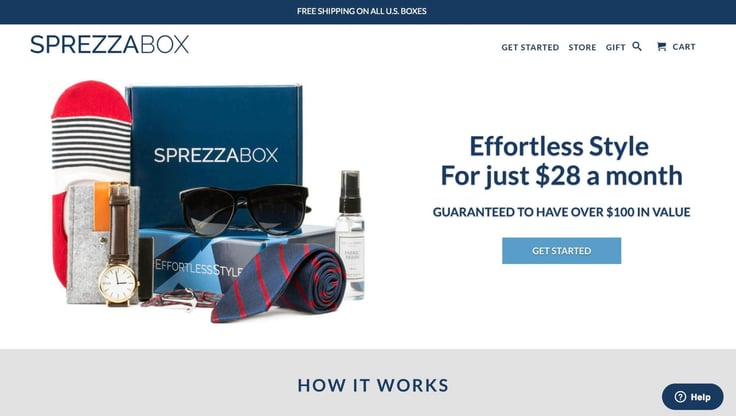 A monthly accessory box for men delivered to your door? That's exactly what Sprezzabox does. Sprezzabox's stylists pick out 5-6 items like ties, pocket squares, socks, and grooming products. It's a fantastic chance to try something new and push your fashion boundaries without having to make actual purchase decisions.
You can follow Sprezzabox on Twitter @sprezzabox, Instagram or Facebook.
Make a statement with your socks. Stance creates original, uncommon socks so that your feet don't feel like they weren't invited to the party. Going directly to the consumer enables niche businesses like Stance to really stand out and share their unique perspective.
For a lot of us, socks tend to be an afterthought, a faceless value pack that goes into the Amazon basket on autopilot. Storytelling and a unique approach combined with quality, high-performing materials have helped Stance turn that concept around and make socks into something more!
You can follow Stance on Twitter @stance, Instagram or Facebook.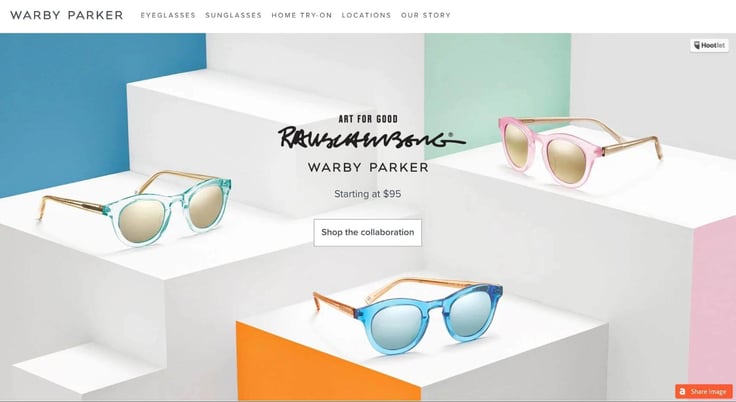 Buying a pair of new frames shouldn't be rocket science. It shouldn't involve multiple trips to the optometrist and leave you with the desperate desire to never put another frame anywhere near your face.
Warby Parker transformed the experience. Their in-house design teams put together gorgeous frames that you can try on from the comfort of your home! Select five frames, test them out and find the one. All that, with free shipping included!
You can follow Warby Parker on Twitter @WarbyParker, Instagram or Facebook.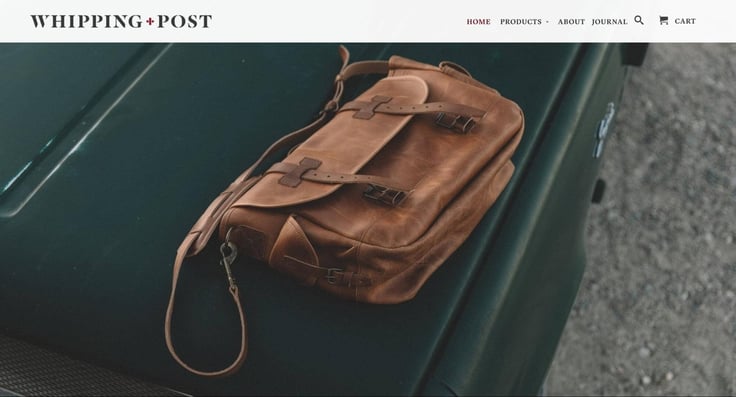 Leather bags can help you go places. This functional, robust leather isn't the stuff you get at the high-end retail store. It's tough, well-crafted, and built to last. These aren't bags designed to sit and gather dust. They are meant to be on the road with you, gathering the patina of adventure.
You can follow Whipping Post on Twitter @whippingpost, Instagram or Facebook.
Clothing and Services DTC Brands
Buying clothes isn't always easy. For too long, our options were split between affordable low-quality clothes or breaking the bank. Unsatisfied with the status quo, these DTC subscription brands broke the mold and changed the way we shop.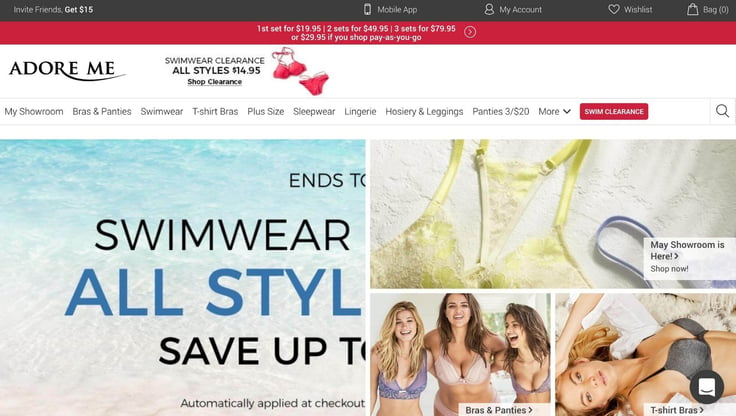 This lingerie brand pulls together the key aspects of great customer experience: free shipping, free and easy exchanges, a great introductory offer, and quality member rewards. Every 6th lingerie set is free!
The Discover your style quiz takes the unpleasant task of figuring out what to buy and gamifies it, transforming it into a fun experience and capturing the customer's details while delivering value.
You can follow AdoreMe on Twitter @AdoreMe, Instagram or Facebook.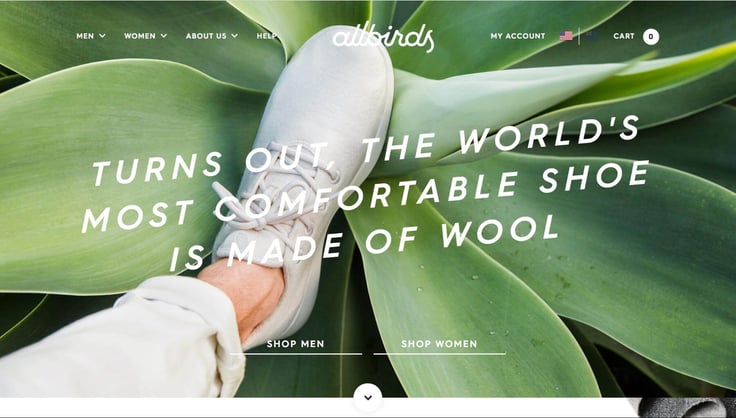 We all wear shoes. A lot of the time, we wear uncomfortable shoes made of poor quality materials that pinch, wear out quickly and irritate our feet.
Allbirds, a New Zealand company, jumped in with a sustainable solution. They use superfine merino wool, a natural and sustainable material, to create a shoe made for comfort and durability. The thing about shoes is that you've got to try them on. Allbirds make that easy by offering a 30-day free trial during which you can return your shoes, no questions asked, even if you've worn them outside.
This is pretty much unheard of in the clothing industry! But, by optimizing for the customer, Allbirds's guarantee combined with a gorgeously designed website makes it easy to hit that buy button every time.
You can follow Allbirds on Twitter @Allbirds, Instagram or Facebook.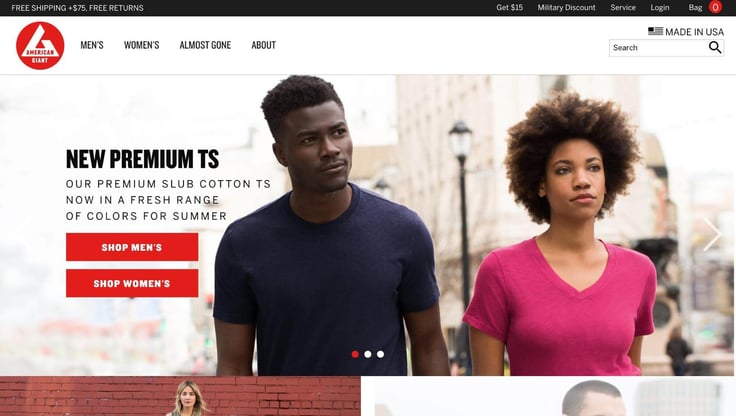 American Giant has a strong brand identity that would get lost in a marketplace. They know who they are and who their products are for. Their dream was to make exceptional, US-made clothes and sell them for a fair price.
The tagline Don't get comfortable says it all. This product is made for, and marketed at, the people who want to live their dreams. The team believes in what they make, offering a lifetime guarantee and free returns any time, for any reason. Free USPS shipping starts at orders over $75.
You can follow American Giant on Twitter @americangiant, Instagram, Pinterest or Facebook.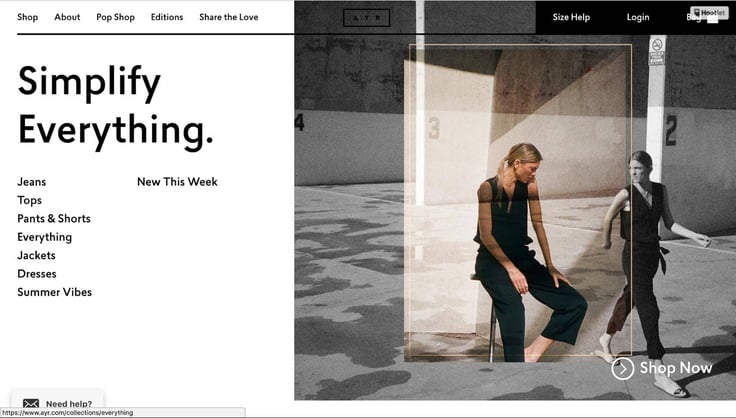 With so many clothing companies out there, it can be hard to stand out. AYR doesn't have that problem. The design quality, all-year practical (yet luxe) clothing for independent women. They believe clothes should help you lead the life you want, not hinder it. Everything from their website to the marketing materials is designed around that ethos.
Returns and exchanges are free and customers have 30 days from the date of purchase. You can follow AYR on Twitter @ayr, Instagram, Pinterest or Facebook.
Black Milk's products aren't for everyone. But, that's the beauty of e-commerce businesses. They can target customers who love their products. The Black Milk founding story is a tale of entrepreneurship, struggle and, ultimately, victory. From odd jobs and a broken-down sewing machine to a successful e-commerce business with a cult following, the team knows who they are.
The brand was built through direct marketing and it continues to use it effectively to reach their customers. You can follow Black Milk on Twitter @BlackMilkTweets, Instagram, Pinterest or Facebook.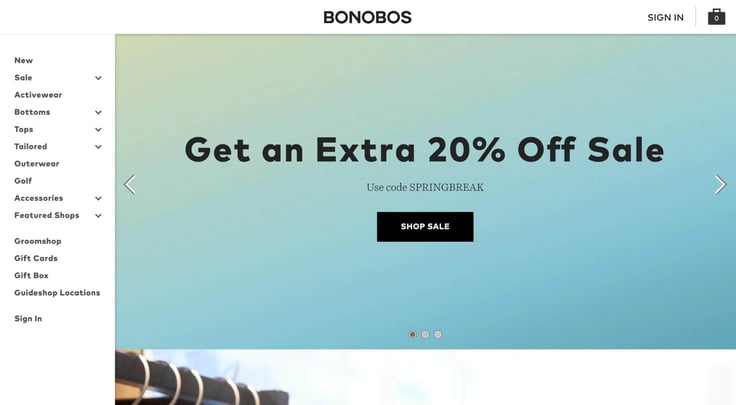 Clothes that fit can make or break you. They make you feel more comfortable and able to achieve greater things. Bonobos, a clothing brand for men, is all about that fit. Their online experience and innovative approach turned shopping from a living nightmare to something closely approximating fun.
With free shipping both ways, free, easy returns and exchanges, and a world-class customer service team, Bonobos was one of the first brands to take online retail to a whole new level.
You can follow Bonobos on Twitter @Bonobos, Instagram or Facebook.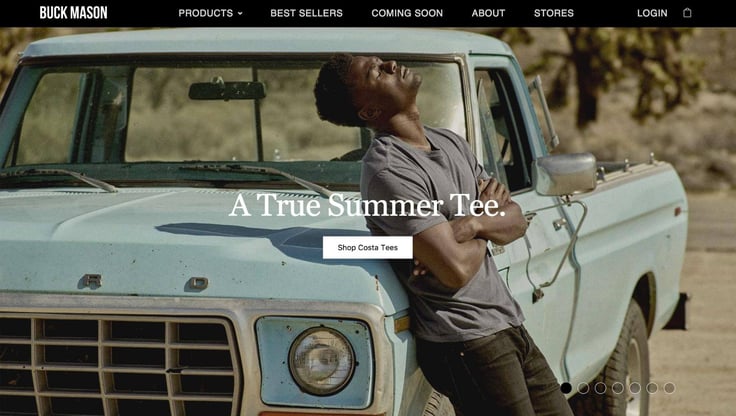 Clean, well-designed quality basics can make your wardrobe. Yet, in traditional retail, they can be surprisingly hard to find. You won't find fast fashion here. Clothes are designed for the consumer that wants functional quality at a good price without expensive ads or ridiculous markups.
You can follow Buck Mason on Twitter @buckmasonusa, Instagram or Facebook.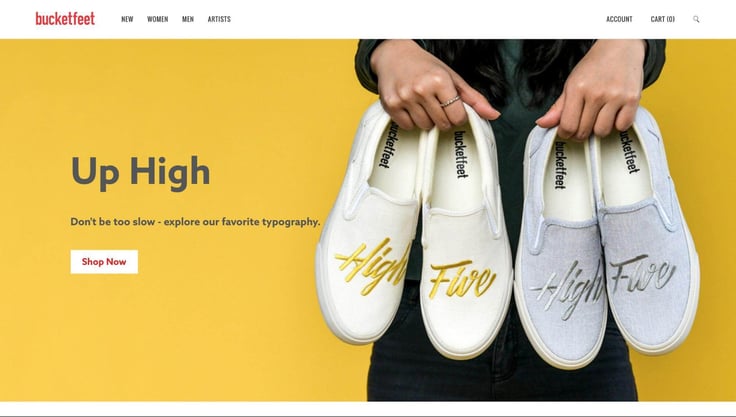 Stand (quite literally) out from the crowd. Bucketfeet sells artist-designed footwear in limited runs. And, they support their artists who receive an upfront payment as well as royalties on each pair sold. This helps consumers buy unique items while supporting the artist community that makes it all possible.
Every design tells a different story and can help you spark your own. Shipping and returns in the continental US are free for orders over $70.
You can follow Bucketfeet on Twitter @Bucketfeet, Instagram or Facebook.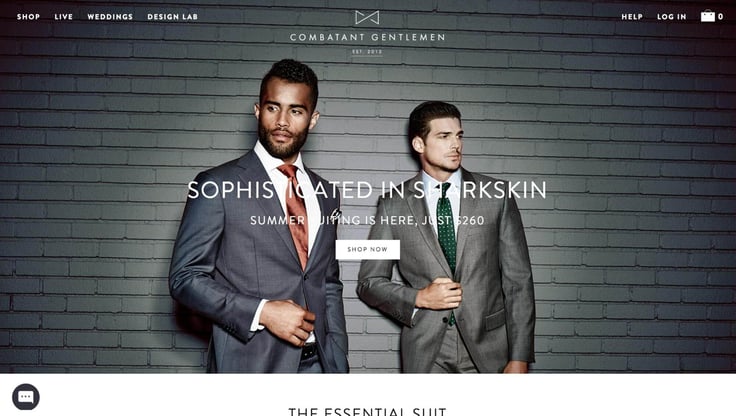 High quality tailored suits used to be the purvey of the rich. But, by skipping the middleman and going straight to the consumer, brands like Combatant Gentlemen are able to offer premium quality and luxe fabrics at affordable prices.
You can follow Combatant Gentlemen on Twitter @CombatGent, Instagram, Pinterest or Facebook.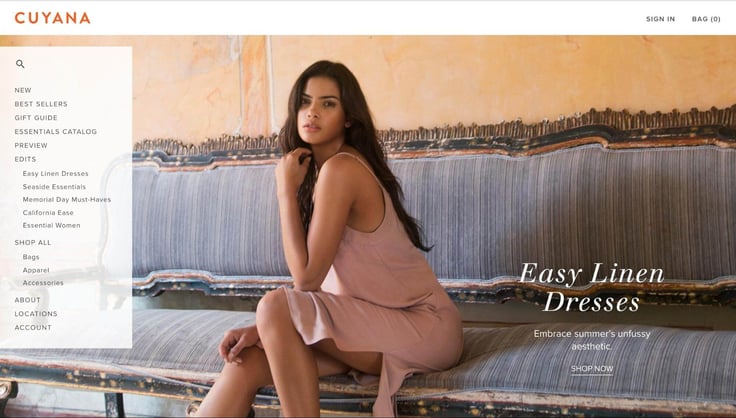 The essentials shouldn't be the hardest thing to find. Yet, so much of the time, it seems like it's the exact opposite. Clothing brand Cuyana embraces the idea of the lean closet- a closet that has fewer, but better, items. So, Cuyana offers quality basics for women that reject fast fashion in favor of quality.
You can follow Cuyana on Twitter @cuyana, Instagram, Pinterest or Facebook.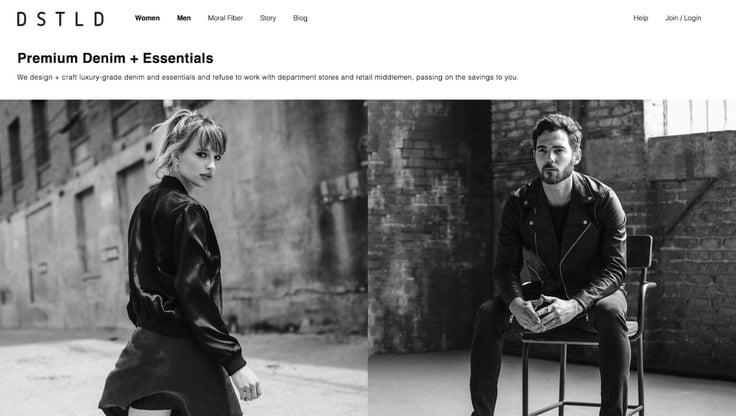 DSTLD doesn't do retail. Their luxe cool denim and essentials are only available online. They eliminate the unnecessary and focus on refining luxury and making it available to shoppers who want more. Whenever possible, materials are ethically sourced and ethically priced. Ground US shipping is free and returns must be made within 30 days.
You can follow on DSTLD on Twitter @dstld, Instagram or Facebook.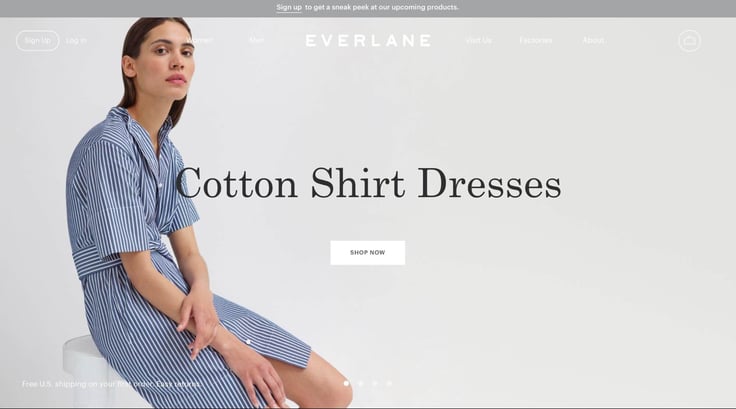 Everlane started life selling affordable $100 cashmere sweaters designed in house. Over the last few years they've grown into a luxe clothing brand that prizes radical transparency, great customer service, ethical sourcing and a minimalist aesthetic.
There are no unnecessary extras here. Even the clothing arrives in a neat paper envelope without extra plastic. With an intuitive website and a digital marketing strategy, Everlane is able to offer amazing quality at a low price point.
You can follow Everlane on Twitter @Everlane and Instagram.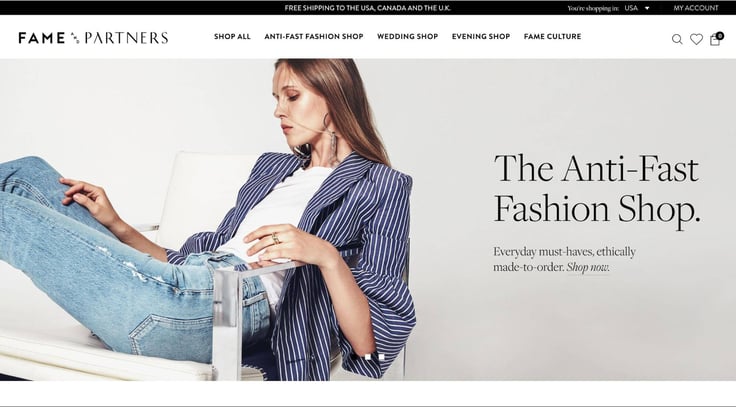 Everything at Fame and Partners is created with you in mind. After you take the personal shopping quiz, they curate items based on your taste and preferences. While they do have some standard items, many pieces can be made-to-order based on your measurements and preferences. Get the perfect fit, all from the comfort of your couch.
You can follow Fame and Partners on Twitter @fameandpartners, Instagram, Pinterest or Facebook.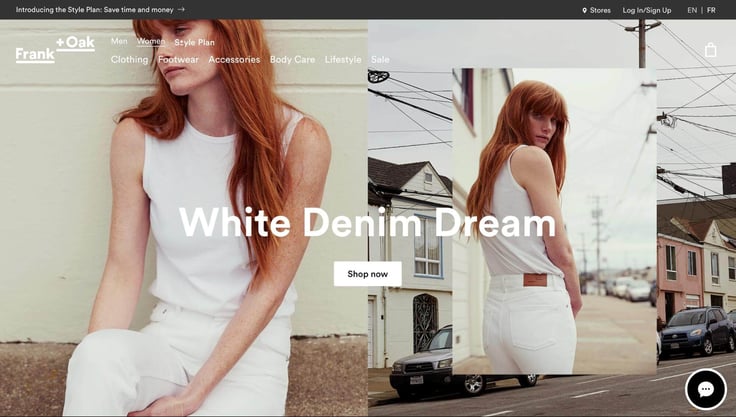 E-commerce direct-to-consumer stores can offer a kind of luxury customer experience that traditional businesses struggle to compete with. Frank and Oak offer custom recommendations and real-time style advice and make premium, Canadian-designed clothing for every occasion.
You can follow Frank & Oak on Twitter @FrankandOak, Instagram or Facebook.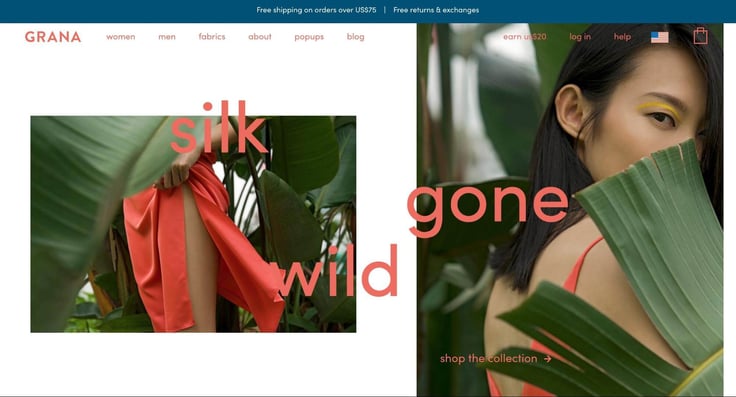 Honest prices, great fabrics, in-house designs, and ethical manufacturing. What more can you want? Grana makes it easy to buy ethical, sustainable clothing without breaking the bank. They cut out the middlemen and expensive ads, and use smart digital marketing and great, bespoke customer service to raise brand awareness and create a fantastic customer experience.
You can follow Grana on Twitter @Granacom, Instagram, Pinterest or Facebook.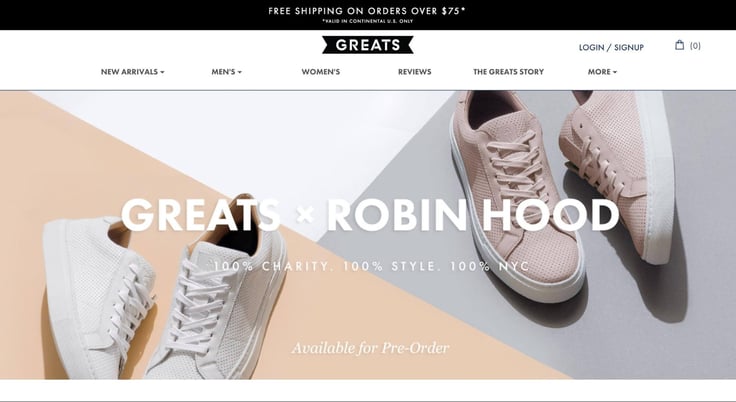 Selling to third parties is inefficient. Selling to consumers means better prices and more control over your brand. It allows brands like Greats to use their stories and values to connect with their customers. Two guys wanted to make great quality shoes at affordable prices. And, because of e-commerce, they were able to do that and disrupt the shoe industry. It's a pretty great story.
You can follow Greats on Twitter @Greatsbrand, Instagram, Pinterest or Facebook.
Select your fabric, customize your suit design, and take your measurements. No, you don't have to go to a tailor. Yes, you can do it from your living room. Indochino makes high-quality suits to order. The streamlined process makes it easy for the customer while helping the company make an affordable, high-quality, custom product.
You can follow Indochino on Twitter @Indochino, Instagram or Facebook.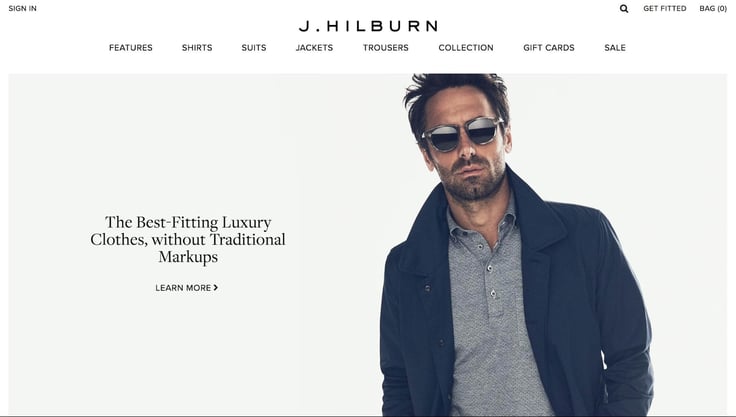 Luxury clothing brand J. Hilburn cut out the overhead by going directly to the consumer. They use high-quality fabrics, form partnerships with factories, and engage personal stylists that help customers design the wardrobe they want. No more poor fitting shirts- with the 90-day fit guarantee and help from a personalized stylist, your days of bad clothes can come to an end.
You can follow J.Hilburn on Twitter @JHilburn, Instagram or Facebook.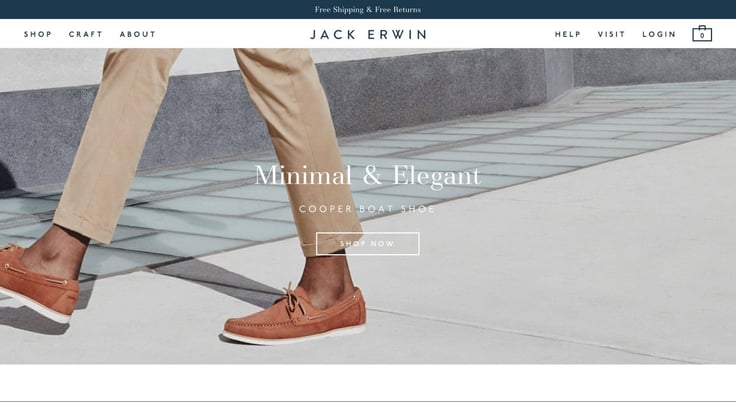 Quality, comfortable dress shoes can make a suit, and they can make your day. But, how do you find the right pair without wasting precious hours trying on countless shoes at the mall? By going to Jack Erwin. Crafted in Spain from high-quality materials, this is more than just a shoe. It's a commitment to a better life.
You can follow Jack Erwin on Twitter @JackErwin, Instagram, Pinterest or Facebook.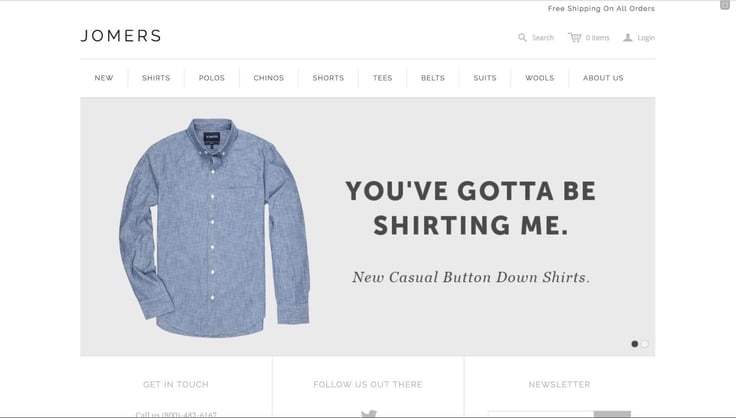 Jomers offers high-quality menswear without the branding, labels, and celebrity endorsements delivered straight to your door with free shipping across the US (including Alaska and Hawaii). They make affordable, everyday clothing you can love and wear. By keeping it simple, Jomers is making waves.
You can follow Jomers on Twitter @jomers.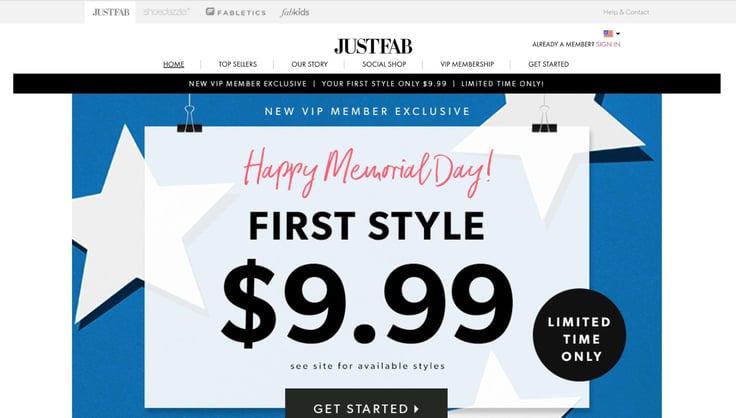 A JustFab membership gives you access to great clothing items from various retailers. But, if you become a VIP, you get special access to exclusives at cheaper prices. Becoming a JustFab VIP is easy. Take a short quiz to get personalized recommendations, then shop and save. You get VIP access and free shipping and exchanges, plus easy returns.
You can follow JustFab on Twitter @JustFabOnline, Pinterest or Facebook.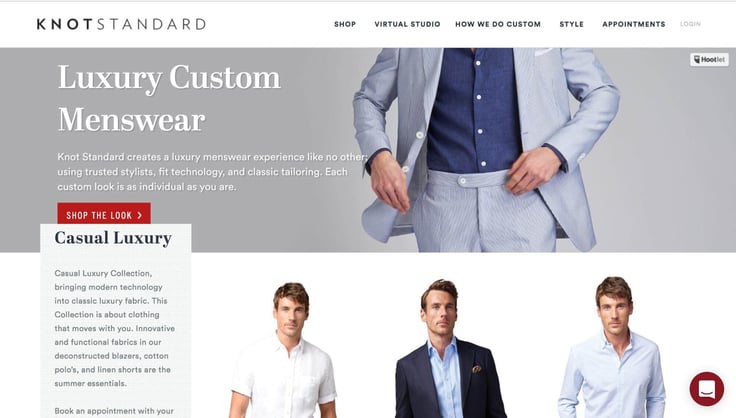 Technology has disrupted the purchasing experience. With the Knot Standard online studio, you can build a 3D wireframe of your body and the team can design a suit that fits perfectly, cut and assembled to your specification. A custom suit made to your measurements and delivered to your door. It's not standard, but it should be.
You can follow on Knot Standard on Twitter @KnotStandard, Instagram, Pinterest or Facebook.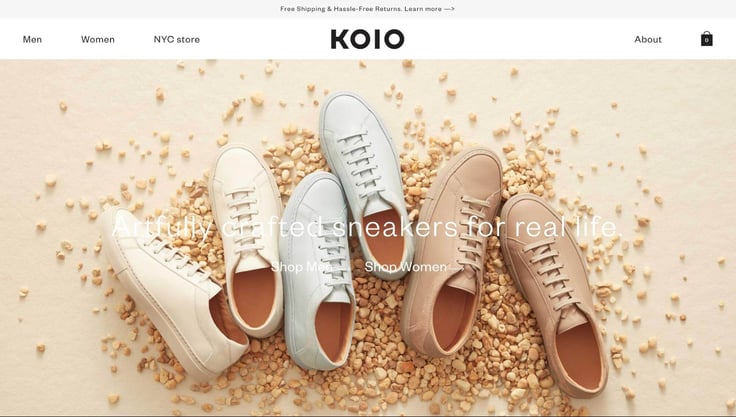 Handmade Italian sneakers that are for more than just running. The Koio collective combines functionality, practicality, and elegance in the modern leather sneaker. Shipping is easy and domestic shipping is free, so try the shoes on in the comfort of your own home before you make a full commitment.
You can follow Koio Collective on Twitter @KoioCollective, Instagram, Pinterest or Facebook.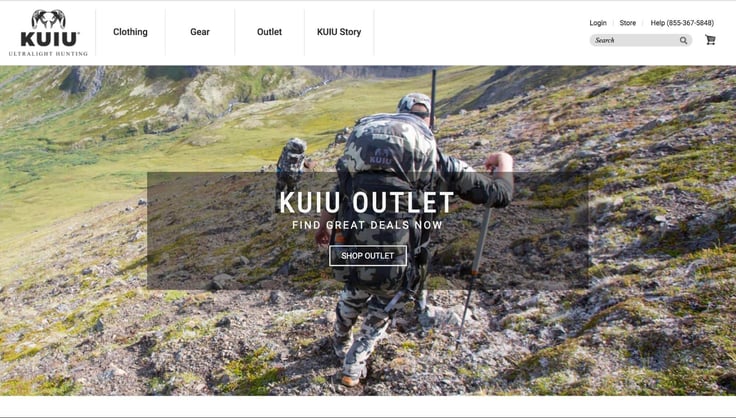 Hunting gear needs to be strong, durable and weather-resistant. And, it needs to allow for unrestricted freedom of movement. KUIU is committed to creating equipment and gear that doesn't let you down and supports what you are trying to do. They focus on creating great, consumer-focused products without the markup.
You can follow Kuiu on Twitter @kuiu, Instagram or Facebook.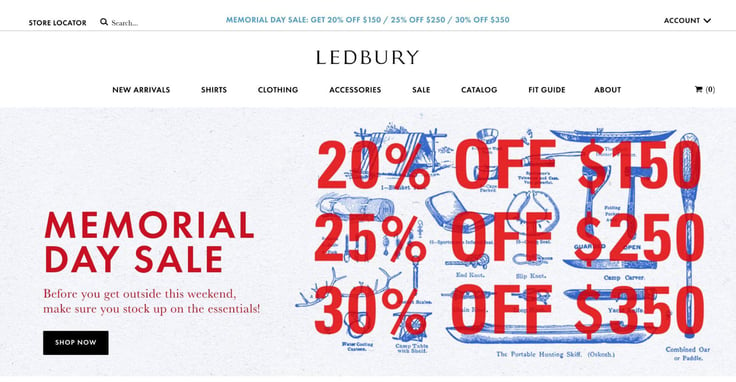 Finding the right shirt should be easy. After all, everyone wears them, right? But, when it comes to traditional retail a lot of the money you were paying doesn't go toward the shirt. They go toward paying middlemen. With Ledbury, there are no middlemen. Every piece is rooted in tradition and designed with the consumer in mind.
You can follow Ledbury on Twitter @Ledbury, Instagram or Facebook.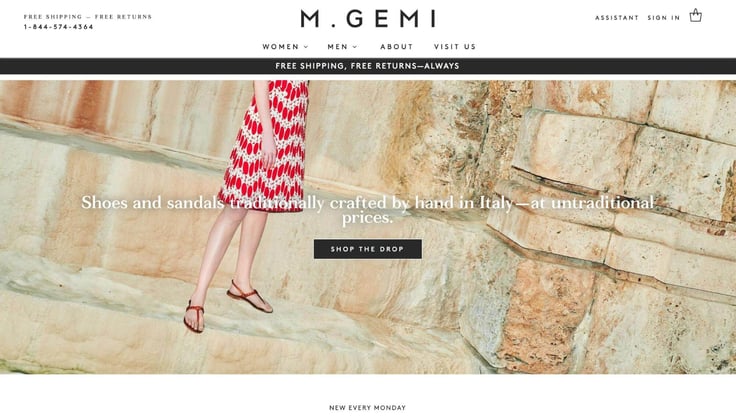 M. Gemi creates handcrafted Italian shoes and sandals at affordable prices and delivers them straight to your doorstep. It's convenience in a box. Modern luxury means cutting out unnecessary go-betweens, creating a fantastic product and offering it straight to the consumer.
You can follow M Gemi on Twitter @MGemi, Instagram, Pinterest or Facebook.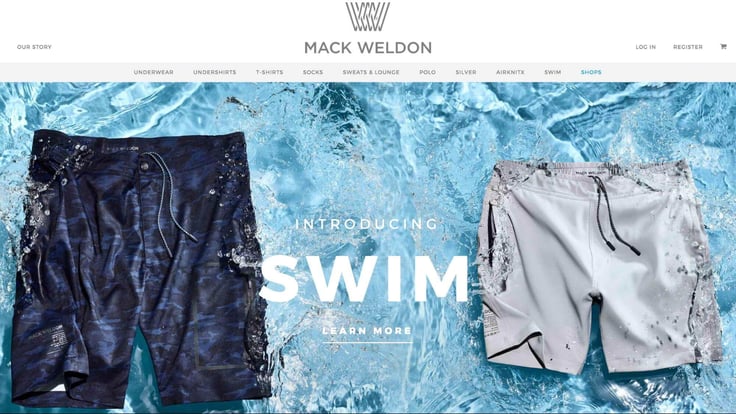 The first rule of basics is that we don't talk about basics. Mack Weldon eliminates the need for a talk by creating high-quality premium men's basics and an easy-to-use, streamlined ordering system. With the click of a button, the basics go from their fulfillment center straight to your underwear drawer.
You can follow Mack Weldon on Twitter @MackWeldon, Instagram or Facebook.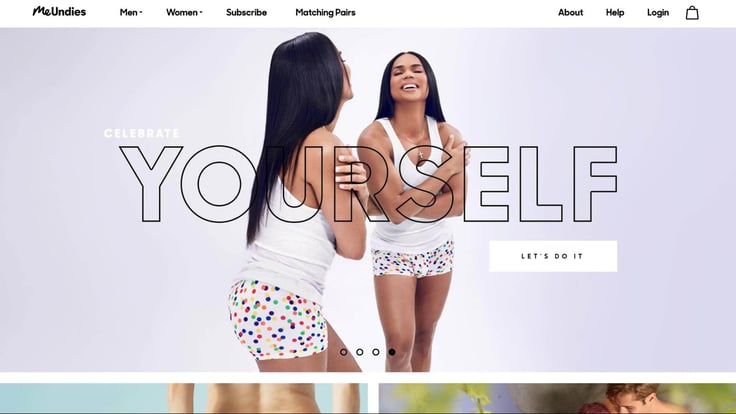 High-performance underwear has a lot of potential and MeUndies didn't wait for traditional retailers to tap that. They are taking their products straight to the consumer. Their products are ethical; MeUndies only partners with state-of-the-art factories that meet their high standards. Comfortable underwear that helps make the world a better place. What's not to like?
You can follow MeUndies on Twitter @MeUndies, Instagram or Facebook.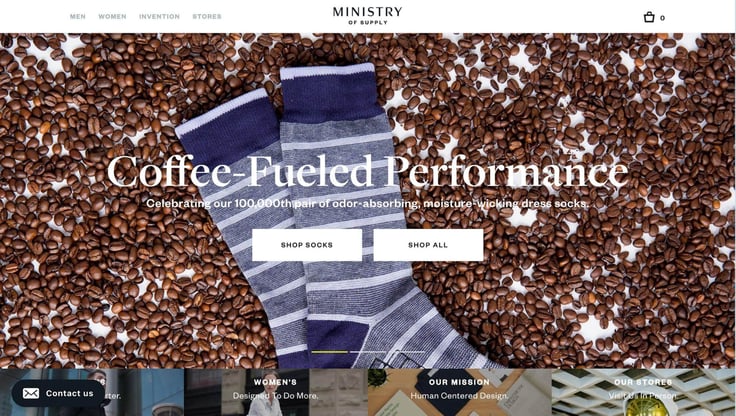 Not your basic basics. Here, high-tech performance meets luxury. What we end up with are high tech dress clothes that look and feel luxurious but can go through a lot with you. These clothes don't wrinkle and don't require dry-cleaning or specialized washing techniques. They work hard, just like you.
You can follow the Ministry of Supply on Twitter @MinistrySupply, Instagram or Facebook.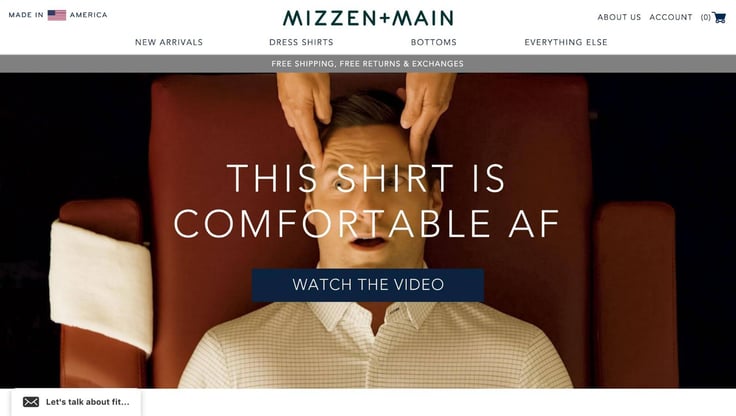 Comfortable shirts that don't break the bank. They use quality fabrics and avoid expensive celebrity endorsements. Mizzen and Main are all about comfort- the shirts are easy to wear, easy to order, machine washable, and made from performance fabric, which means they can go where you go.
You can follow Mizzen and Main on Twitter @MizzenandMain, Instagram or Facebook.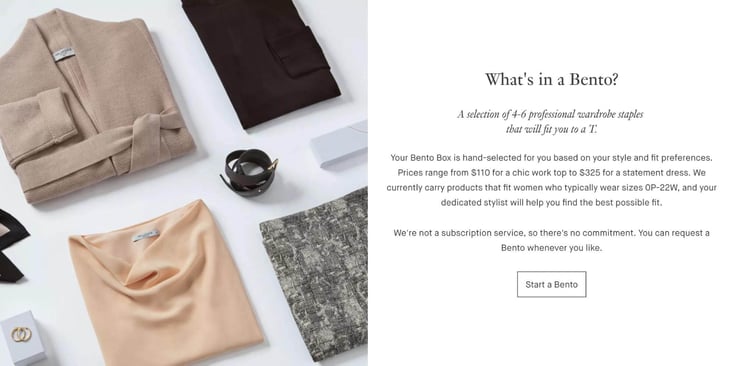 Simple, elegant, professional workwear for women who want to look and feel great without spending ages deciding what to wear. MM LaFleur creates a work uniform for women, similar to what the suit does for men. Chic and elegant, they craft quality pieces you can wear over and over again.
The ordering process is easy. They ask you some questions about style, you answer. They send you a Bento box full of items they think you'll love. You take the ones you want and return the rest. Simple. Elegant. Convenient. Just like the clothes themselves.
You can follow MM LaFleur on Twitter @mmlafleur, Instagram or Facebook.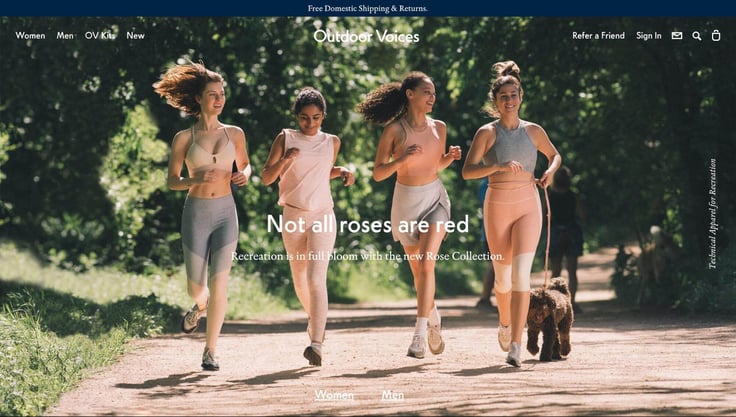 You want leisurewear that performs but doesn't have a high price tag attached to it. Outdoor Voices creates high-tech, comfortable leisurewear that you can sit in or sweat in.
You can follow Outdoor Voices on Twitter @outdoorvoices or Instagram.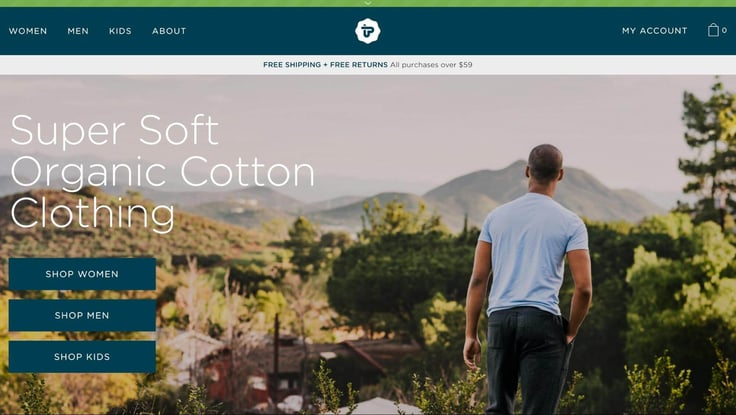 Wear Pact offers soft organic clothing for men and women. Their clothing minimizes the impact on the environment.
You can follow Wear Pact on Twitter @pactorganic, Instagram or Facebook.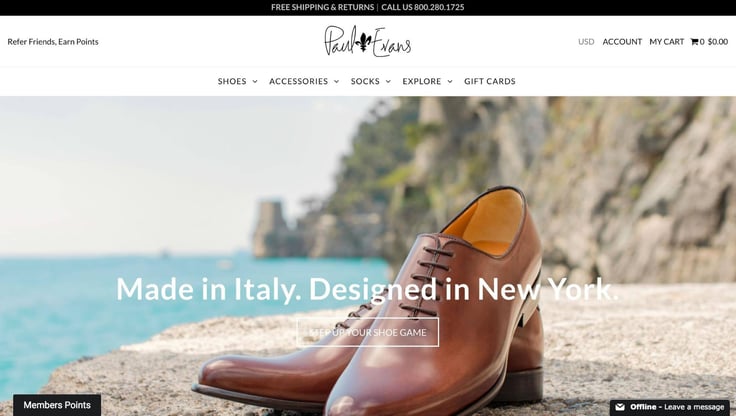 Gorgeous, hand-crafted leather shoes made in Italy and designed in New York that you can afford. Paul Evans delivers on this dream with their beautiful, exquisite shoes.
You can follow Paul Evans on Twitter @paulevansny, Instagram or Facebook.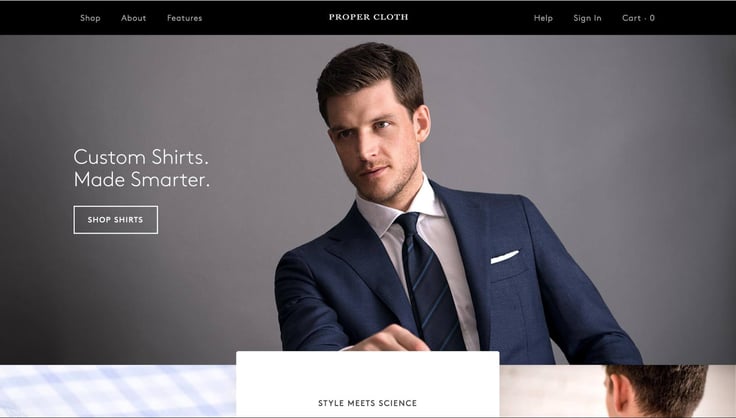 What size dress shirt should you wear? Proper Cloth helps you find the perfect size for you with a short, interactive quiz. This mirrors an in-store experience, only more relaxing. The team combines classic style with data analysis to create high functioning shirts that fit perfectly.
You can follow Proper Cloth on Twitter @ProperCloth, Instagram or Facebook.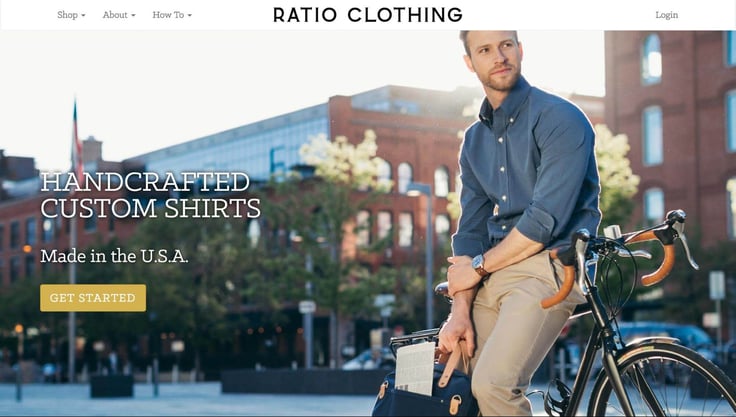 Handcrafted custom shirts made in the US. A Ratio shirt has is well-designed, uses premium materials, and is a guaranteed perfect fit. Shipping is free and returns are fairly painless.
You can follow Ratio Clothing on Twitter @RatioClothing, Instagram or Facebook.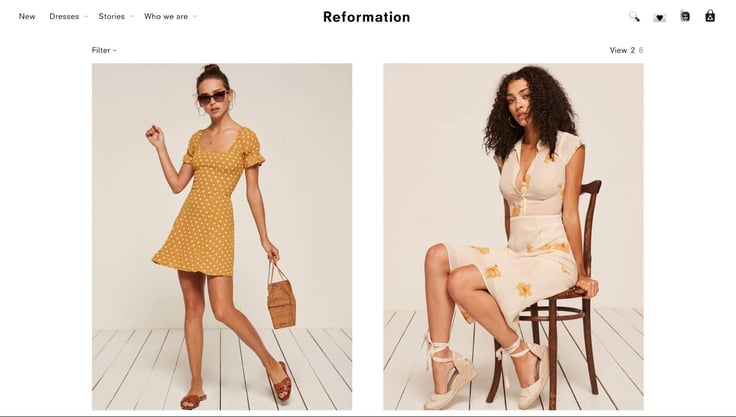 Direct-to-consumer can still mean special and limited edition, and that's exactly what reformation provides. They source sustainable fabrics and all the garments are made using responsible manufacturing.
You can follow Reformation Clothing on Twitter @reformationx, Instagram or Facebook.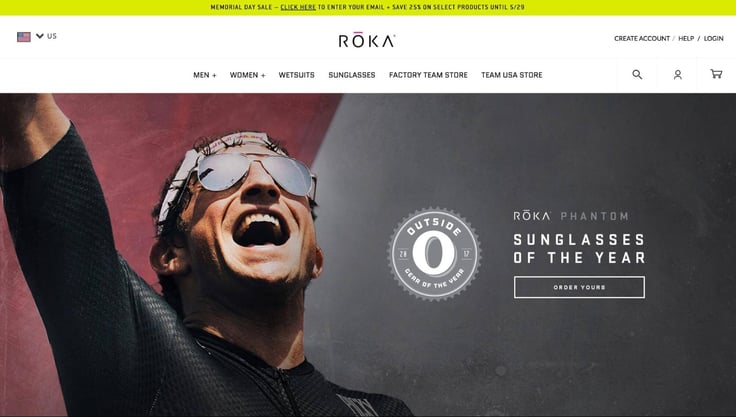 Great apparel can help you unlock your full potential. Think of the kind elite athletes and Starfleet officers use to win medals and break records. Roka has made this high tech gear available to us mere mortals. By going directly to consumer, Roka can focus on creating awesome pieces that break barriers for the athletes that want more.
You can follow Roka Sports on Twitter @rokasports, Instagram or Facebook.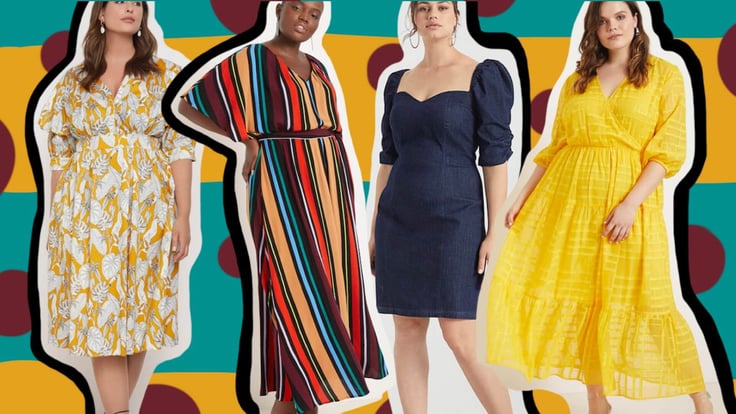 ELOQUII is an e-commerce brand that offers an online plus-size clothing store featuring women's plus size fashion, clothes and accessories. They bring trend-driven, feminine, polished fashion from the runways to their customers, working on a compressed design cycle and dropping new styles every week.
You can follow Eloquii on Twitter @eloquii, Instagram or Facebook.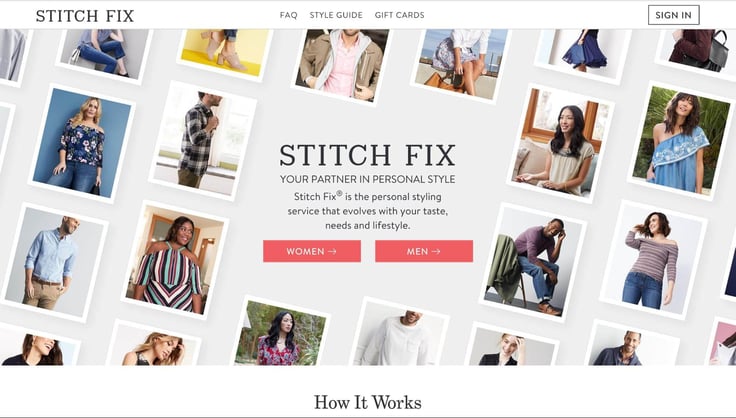 Getting dressed for the office can be hard. Stitch Fix takes the pressure out of the decision. Fill out a style profile and a personal stylist will pick out pieces they think you'll love and send them to you. You get to pick what you like and send the rest back. No money upfront. No commitment. Just buy what you keep.
It's a fantastic way to take the stress out of shopping for busy people who want to spend their free time outside of the mall.
You can follow Stitch Fix on Twitter @stitchfix, Instagram or Facebook.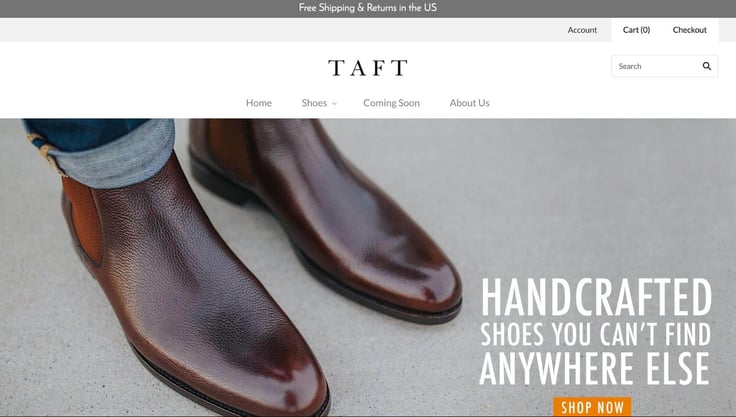 Quality handmade, hard-wearing, beautifully designed shoes. This isn't the type of footwear you get at the store. Made in Spain by artisans from quality materials, these shoes are as far away from mass-produced footwear as you can get.
You can follow Taft Clothing on Twitter @taftclothing, Instagram or Facebook.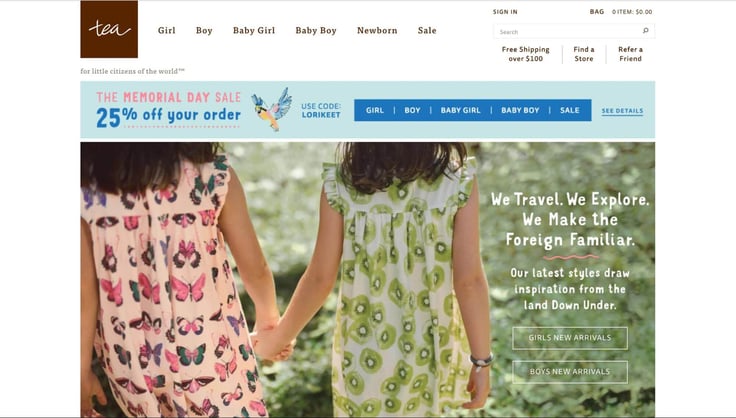 Quality, affordable, functional kids clothing. The Tea Collection is inspired by international designs and uses that to create unique clothes that reflect global attitudes and fit the citizens of the world. These aren't clothes to be sat in. These are clothes made for and inspired by adventure. All the materials are ethically sourced, reflecting the company's commitment to global responsibility.
You can follow Tea Collection on Twitter @teacollection, Instagram or Facebook.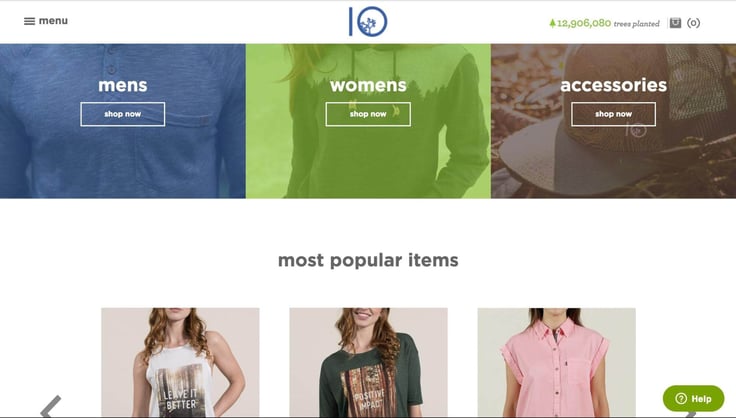 TenTree's unique model doesn't work in a traditional retail environment, but it shines online. For every item purchased, TenTree plants (you guessed it) ten trees. Without fail. They are committed to making the world a better place and as a consumer, you can see exactly how many trees have been planted based on your purchasing behavior. It makes giving back feel tangible and real.
You can follow TenTree on Twitter @tentree, Instagram or Facebook.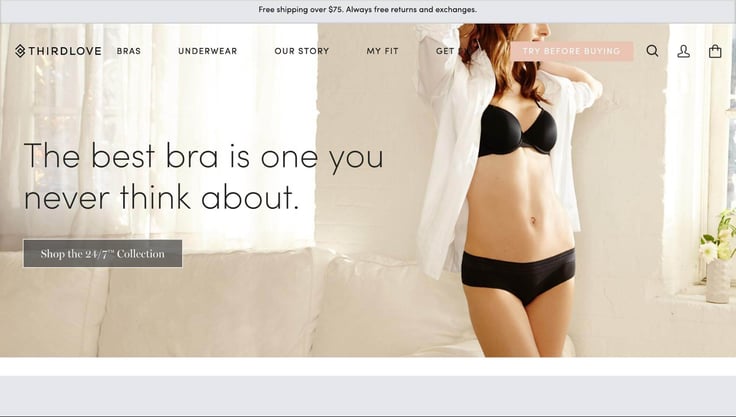 Third Love revolutionized the bra industry by creating bras for different body types and shapes and for venturing into the world of half sizes! By going a step further, doing extensive research, gathering measurement data and creating a proprietary material that's hyper comfortable, they made buying a well-fitting a bra a much more pleasant, streamlined experience.
You can follow on Twitter @ThirdLove, Instagram or Facebook.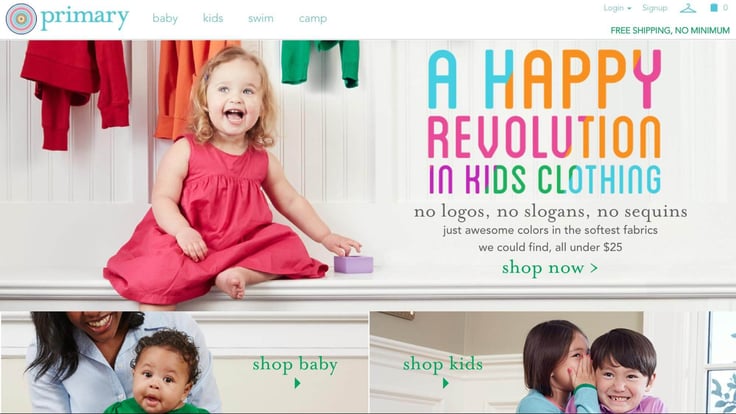 Primary provides children's clothing that's comfortable and long-wearing. They offer free shipping with no minimum order amount and hassle-free returns. Everything is built around ease, accessibility and helping you get the right clothes for your children.
You can follow Primary on Twitter @Primarydotcom, Instagram or Facebook.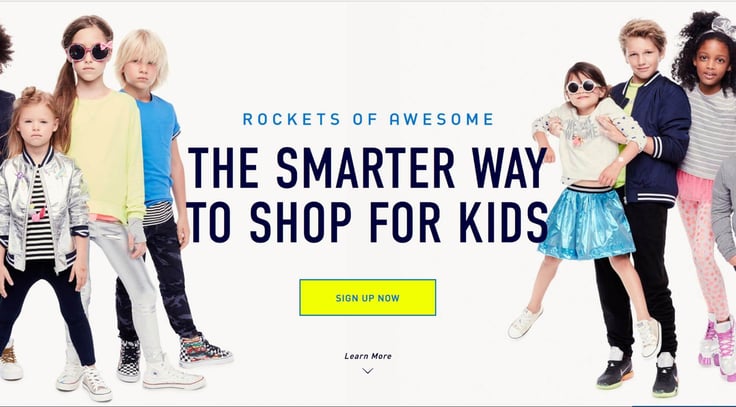 Get a quarterly box delivered to your door, packed with items your kids would love based on their interests. Keep the clothes you (and they) want, and return the rest. Shopping with Rockets of Awesome really is that simple. It helps you focus on spending more time together instead of wasting time shopping for clothes they'll grow out of.
You can follow Rockets of Awesome on Twitter @rocketsofawesom, Instagram or Facebook.
The ballet flat is the epitome of class and comfort. But a lot of gorgeous-looking flats have paper-thin soles and get destroyed rather quickly. Tieks creates bold, versatile and high-quality ballet flats you can wear over and over again without hurting your feet or your style credentials.
This isn't your run of the mill retailer shoe- each pair of Tieks takes 3 days and over 150 steps to create. But, the direct-to-consumer model brings them straight to you without the markups!
You can follow Tieks on Twitter @tieks, Instagram or Facebook.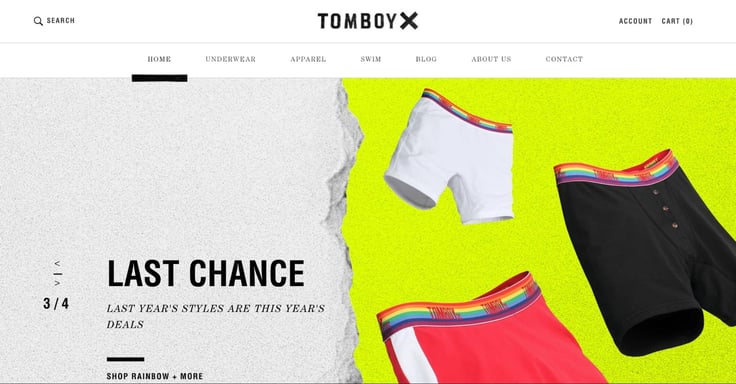 High-quality underwear for people who crave comfort. TomboyX saw a gap in the market and filled it. Since the start, they've expanded into loungewear and swimwear, creating eco-friendly, ethically sourced products that don't pinch in all the wrong places.
You can follow TomboyX on Twitter @TomboyExchange, Instagram or Facebook.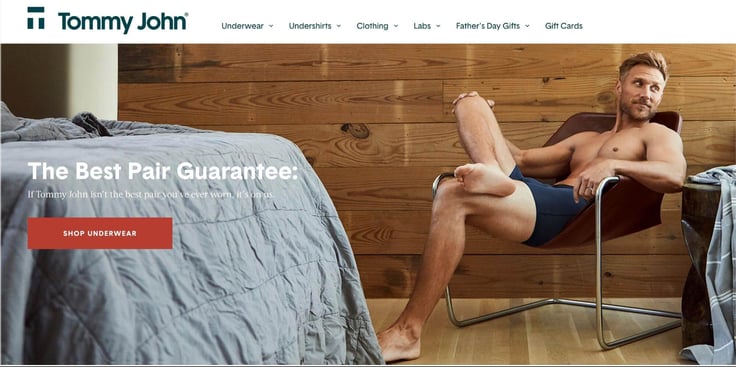 Tommy John designs and creates for comfort- no bunching, no pinching, no tugging, no poor quality fabric. Their pieces are designed by expert tailors using quality materials.
You can follow Tommy John on Twitter @TommyJohn, Instagram or Facebook.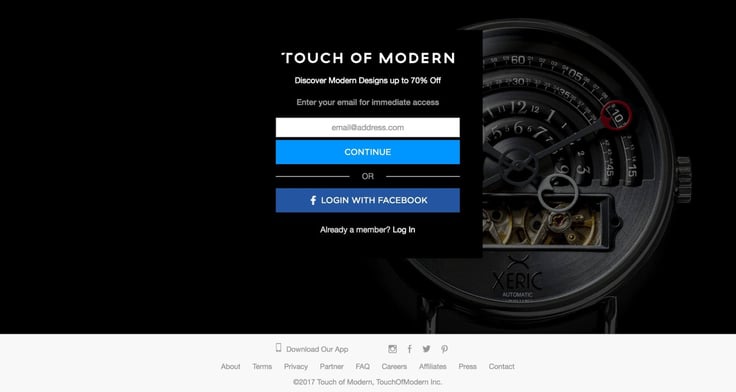 A curated online destination for men's fashion that connects customers with quality products, Touch of Modern expertly creates an exclusive shopping experience. The slick design and the requirement to sign up creates an air of mystery around the brand and sparks curiosity. What's hiding behind that slick landing page?
You can follow Touch of Modern on Twitter @TouchofModern, Instagram or Facebook.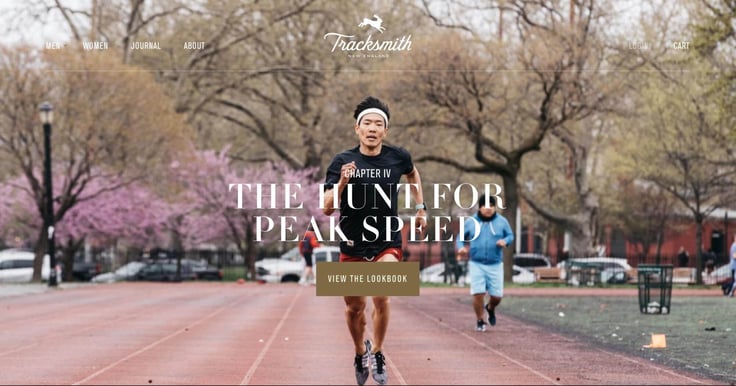 Your gear should support your run. It shouldn't chafe. It should be like a second skin. Tracksmith creates running gear that works with you and supports your goals. Their symbol is the hare, the fast, relentless runner that has a little fun with the race.
You can follow Tracksmith on Twitter @tracksmith, Instagram or Facebook.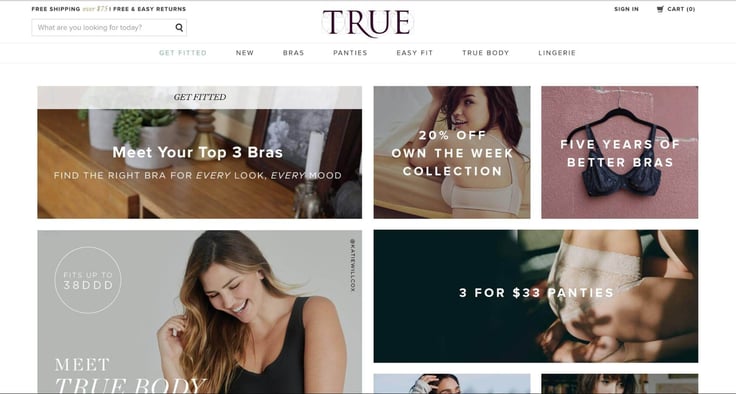 True and Co focuses on designing underwear with comfort in mind. Instead of playing around with measuring tape, True and Co designed a fit quiz you can take without getting up and going anywhere.
You can follow on Twitter @trueandco_us, Instagram or Facebook.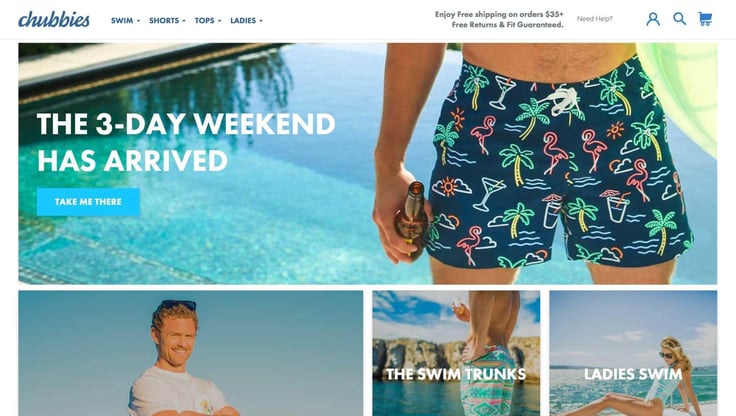 Comfortable clothes for lazy Friday afternoons. But, these aren't just any clothes. They are weekend- and beach-inspired wear to get you ready for those lazy, hazy summer days. With free shipping, free exchanges and simple 90 day returns, Chubbies makes it easy to buy, try and find the perfect outfit for some serious relaxing.
You can follow Chubbies on Twitter @Chubbies, Instagram or Facebook.
Nutrition Direct-To-Consumer Brands
We all know we should eat healthier. But, knowing and doing are two very different things. Some brands decided it was time to dive into that market.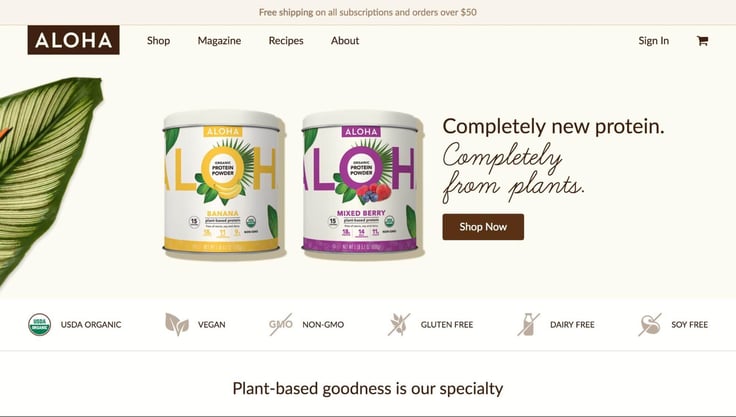 Protein powder isn't just for bodybuilders and Crossfit enthusiasts. Aloha gets that message across beautifully through their branded website that emphasizes what their ideal customer is looking for: organic, sustainable, plant-based protein.
Their commitment to plant-based sustainable food is apparent in everything, from their copy to their mission statement. Unlike many of the other brands on our list, all sales Aloha makes are final and items can't be returned, refunded or exchanged. But, as this is a custom made edible product, we can understand the concerns for quality.
Adding a free sample trial can help take this ordering service to the next level and encourage a purchase by decreasing risk. You can follow Aloha on Twitter @aloha, Instagram, Pinterest or Facebook.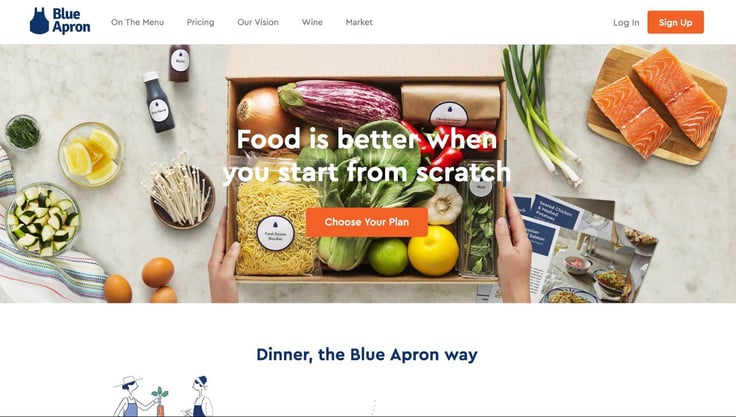 Yes, Soylent is now a thing (and as far as we know it isn't made of people.) But, most of us still want to enjoy a delicious, fairly nutritious meal after a hard day of work. The problem is that by the time you come in, the last thing you want to do is scroll through Pinterest for the right recipe then go on an ingredient hunt.
So, the Blue Apron team optimized the entire cooking experience. They work with farmers and source local, high-quality food, put a recipe together and then deliver it straight to your door. Their vision – to build a better, natural food system – is apparent every step of the way. The easy ordering system and convenient delivery makes it easy to make healthy choices and create incredible meals.
You can follow Blue Apron on Twitter @Blueapron, Instagram, Pinterest or Facebook.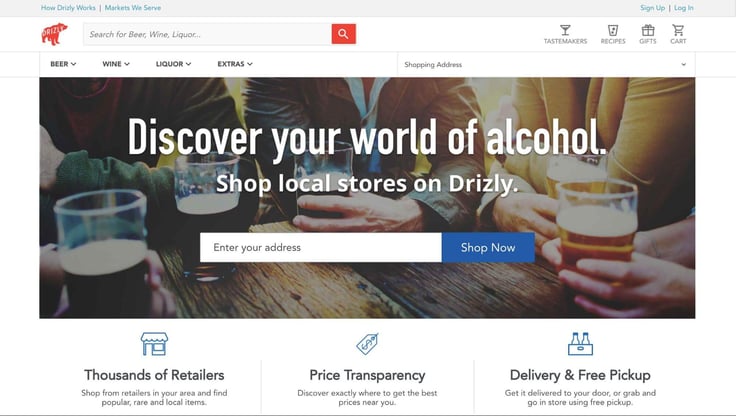 Forgot to buy beer for the weekend? Choose from thousands of retailers, find out who has the best price, and get your alcohol delivered straight to your door. You can even arrange for a free in-store pick up if you are heading that way to pick up the pizza. And, because Drizly is on the same wavelength, they have a whole section of the site dedicated to pizza and beer pairings.
You can follow Drizly on Twitter @Drizly, Instagram, Pinterest or Facebook.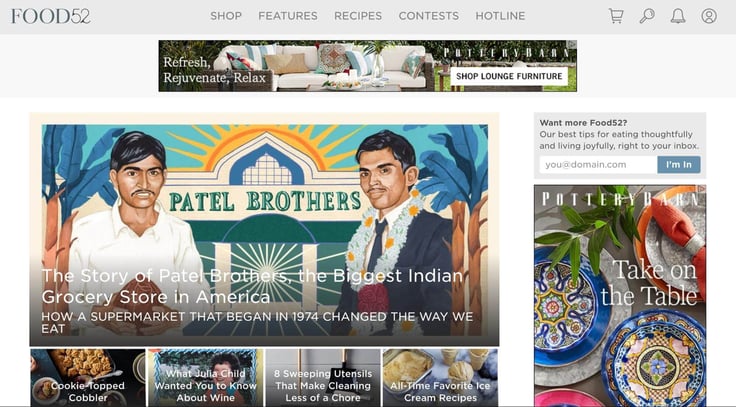 Eat thoughtfully, live joyfully. The Food52 manifesto can be felt through every part of their e-commerce business. Get all the quality appliances you need for a joyful kitchen from the same place. But, this is so much more than a place to buy kitchen goods. Articles, multiple recipes and contests all bring the customers together and offer them something more than a place to buy the stuff they need- it creates a community.
You can follow on Twitter @Food52, Instagram, Pinterest or Facebook.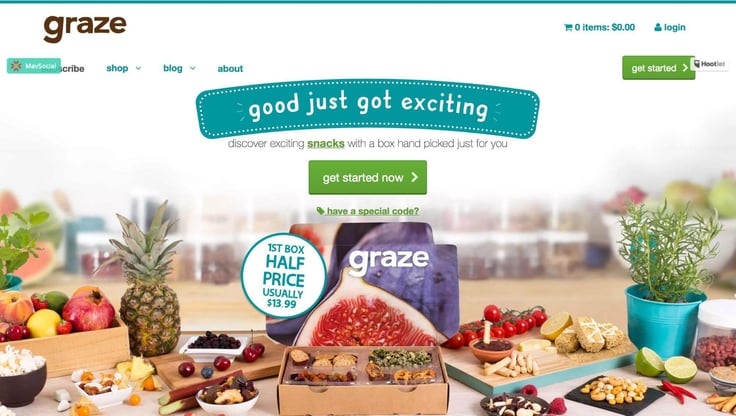 Snacking is essential to keep the hunger at bay. But, it's not always easy to make healthy snacking decisions, especially when there are cookies about. Graze make that easy by creating delicious healthy snacks and delivering them straight to your home or office. Just tell the team what you like and hate and they'll send you a custom box of delicious morsels.
You can follow on Graze on Twitter @Grazeusa, Instagram, Pinterest or Facebook.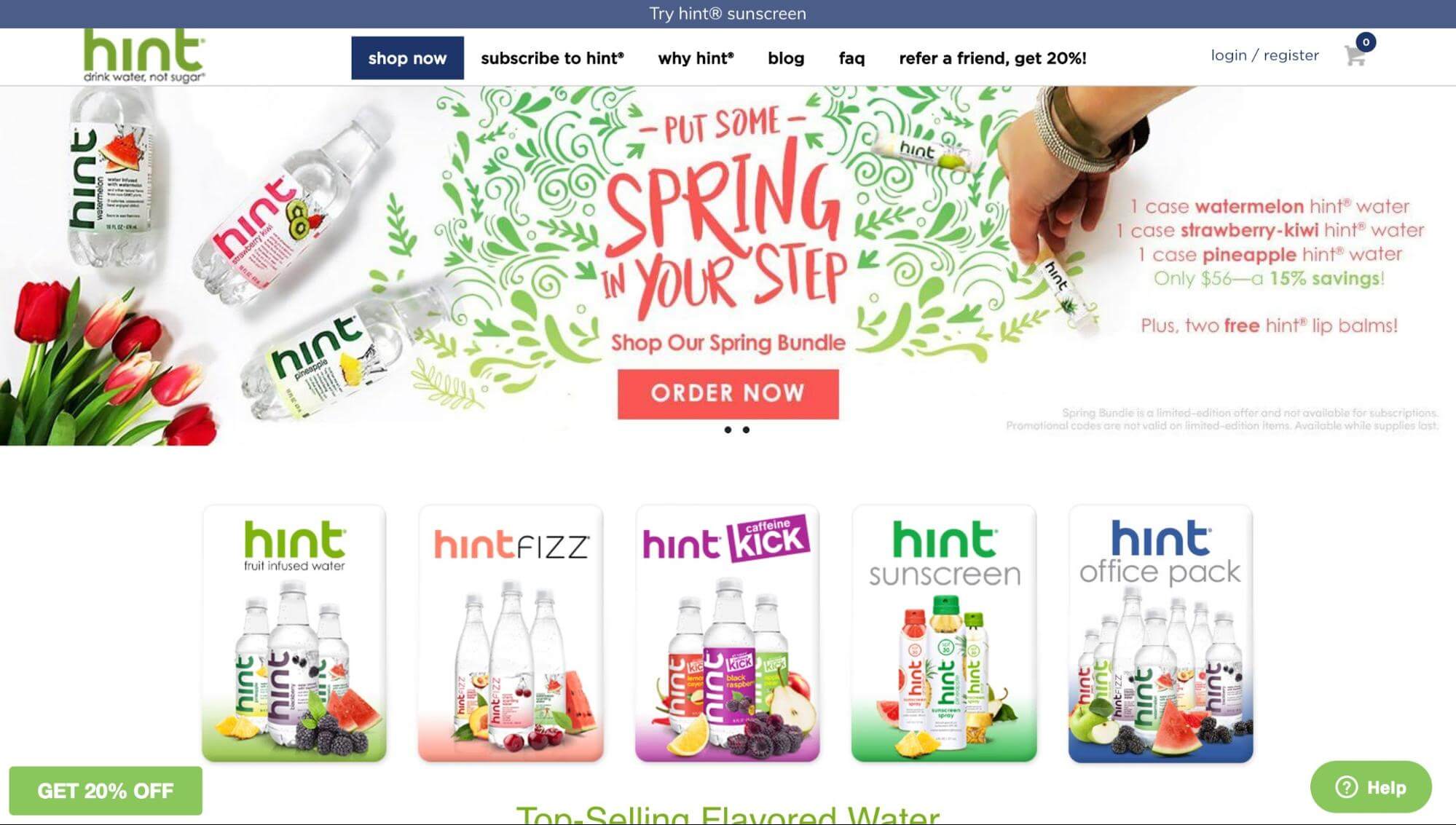 Sometimes you really want a refreshing flavored drink but don't really want a soda. Hint water helps you stay healthy with non-GMO, naturally flavored water. And, you don't have to spend hours at the store trying to read the labels- check the ingredients list on the website, order and get it delivered straight to your door. Let someone else do the heavy lifting for a change!
You can follow Hint Water on Twitter @Hint, Instagram, Pinterest or Facebook.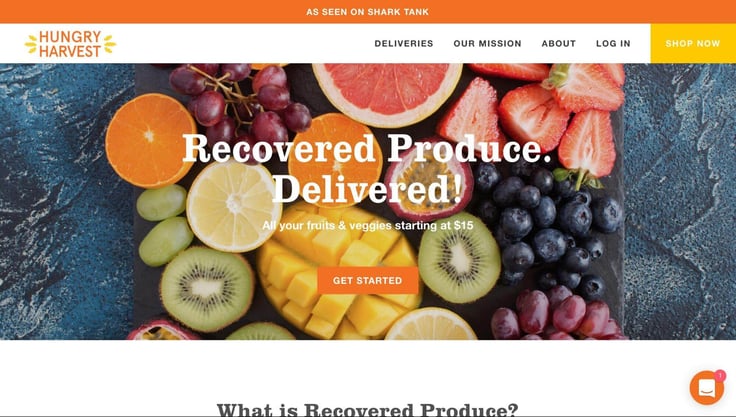 So much produce goes to waste because of visual imperfections. Hungry Harvest steps up, like the Batman of produce, saves it and delivers it.
Get produce delivered straight to your door, set up regular deliveries, or only choose to get produce now and then. Farm-fresh produce whenever you want- no need to even put your shoes on!
You can follow Hungry Harvest on Twitter @HungryHarvest, Instagram or Facebook.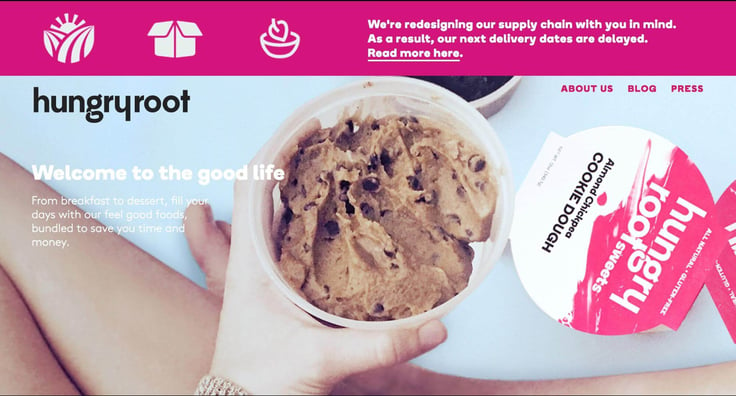 Eating healthy is hard. Hungry Root makes it easy to stay on track by creating vegetable-based, easy to make food that is basically a better, more nutritious version of your favorite meals.
Customize your veggie-full boxes and get them delivered straight to your door. Disruptive companies like Hungry Root can be key to making healthy food as easy to grab and go as traditional takeaway.
You can follow Hungry Root on Twitter @Hungryroot, Instagram, Pinterest or Facebook.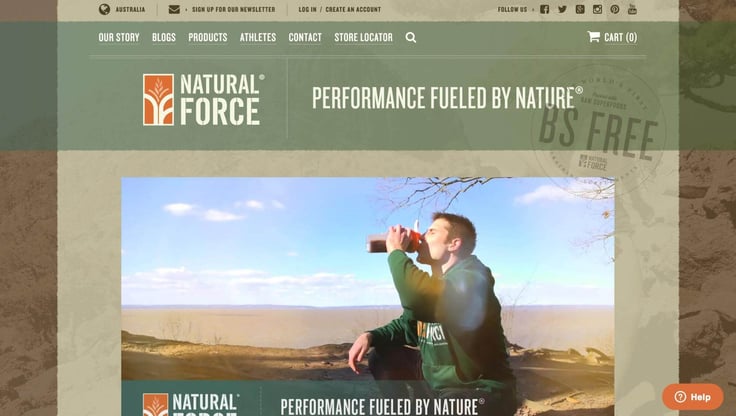 Training supplements can improve your performance, but many athletes worry about putting junk in their body. The Natural Force supplements are organic and wholefood, using herbs and superfoods to give you that boost of energy. Taking the right supplements should be the easiest part of your training, and Natural Force makes sure of that.
You can follow Natural Force on Twitter @mynaturalforce, Instagram or Facebook.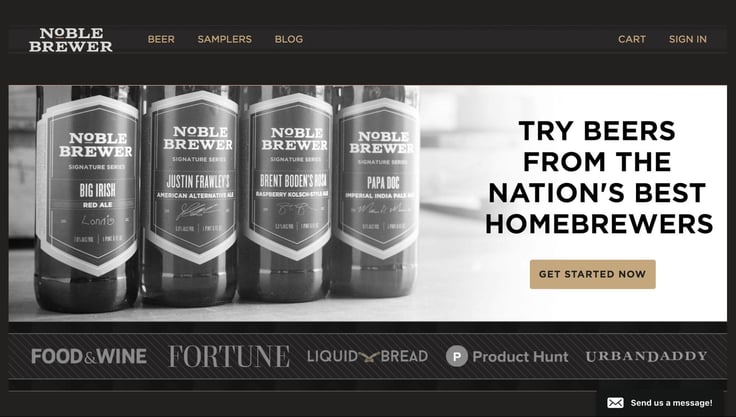 Like beer? Join the club! The Noble Brewer partners up with small breweries to create a beer subscription box that's delivered straight to your door. You get to try great new beer without ever leaving your flat.
You can follow Noble Brewer on Twitter @NobleBrewer, Instagram or Facebook.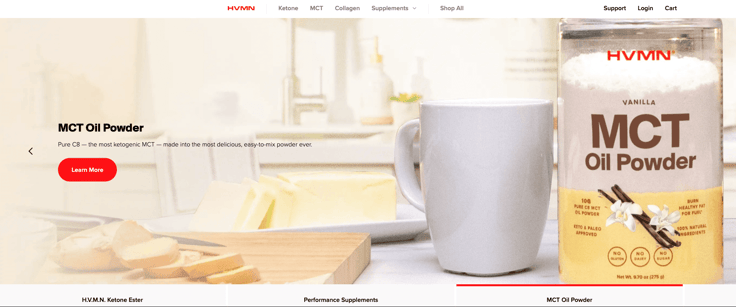 HVMN, previously known as Nootrobox, develops ketone ester drinks, products supporting a ketogenic diet, and nootropic supplements. You can learn about the various products, their effect and the research behind them from their website. They even help you build your stacks!
You can follow Nootrobox on Twitter @hvmn, Instagram or Facebook.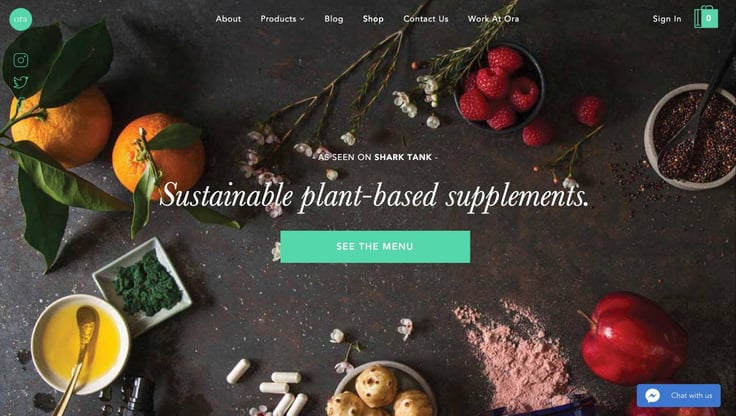 Plant-based supplements that are easy to buy and leave you feeling good, both because you are consuming something healthy and doing your bit toward sustainability. Ora's supplements are organic, non-GMO, gluten-free, and entirely plant-based. Going direct to the consumer lets Ora show off their playful side and create a great customer experience.
You can follow Ora on Twitter, Instagram, or Facebook.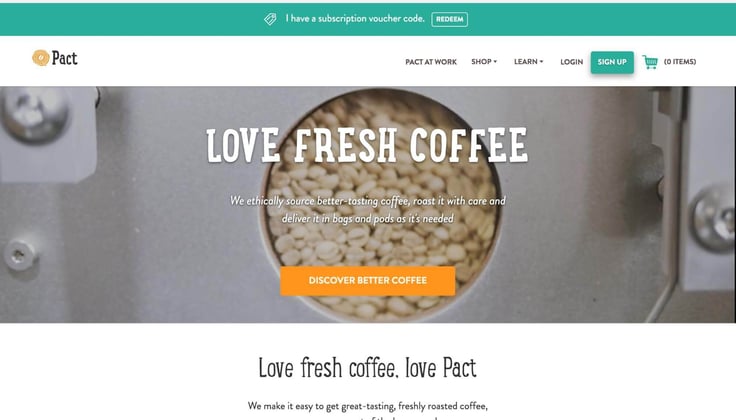 Ethically sourced coffee you can order online and drink any way you want. Pact works directly with farmers and pays them above the market average. The coffee is ground and packed quickly to preserve the quality and is delivered straight to your doorstep through a quick online purchase.
You can manage your order frequency, set up deliveries and make sure you never miss a coffee run! You can follow Pact Coffee on Twitter @pactcoffee, Instagram or Facebook.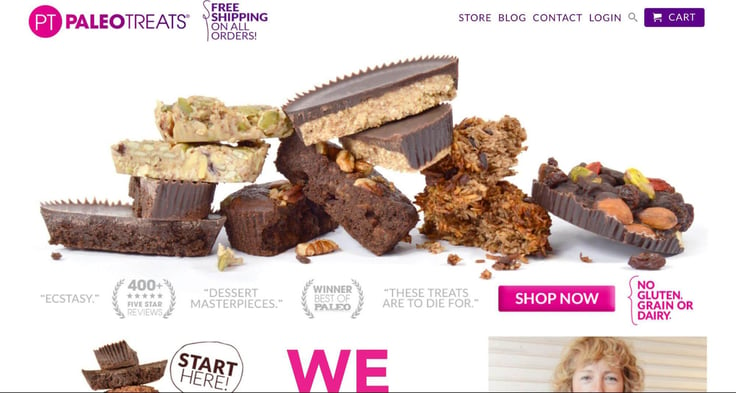 It's amazing how much sugar worms its way into all food. So, when you go Paleo, snacking options can be a bit limited. These Paleo snacks are designed with you in mind and ship straight to your door, making Paleo more convenient.
You can follow Paleo Treats on Twitter @paleotreats, Instagram or Facebook.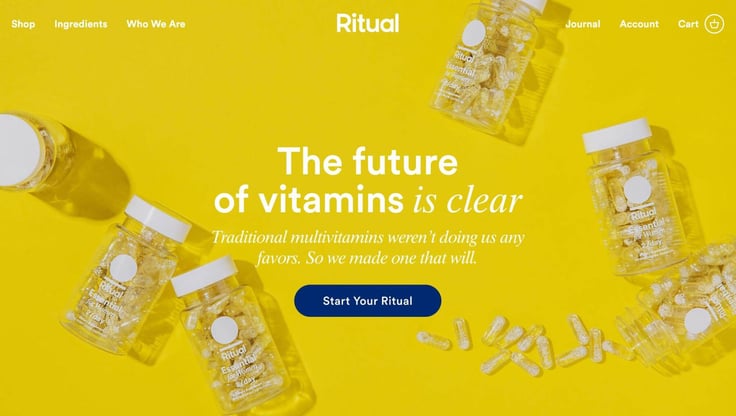 Confused about which vitamins you should be taking? Not sure when you need to take them? Ritual found a way to simplify the vitamin conundrum by creating an all-in-one vegan vitamin that's delivered right to your doorstep. Natural material you can trust.
You can follow Ritual on Twitter @myritual, Instagram or Facebook.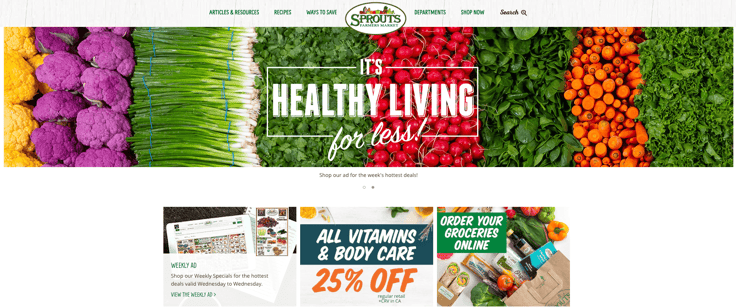 Sprouts is dedicated to responsibly and ethically sourcing all of their food, from the farm-fresh produce to the hormone-free meat. They sell healthy, affordable, sustainable products at reasonable prices, making it easier for consumers to get fresh, delicious food!
You can follow Sprout's Farmers Market on Twitter @sproutsfm.
17. Torii Labs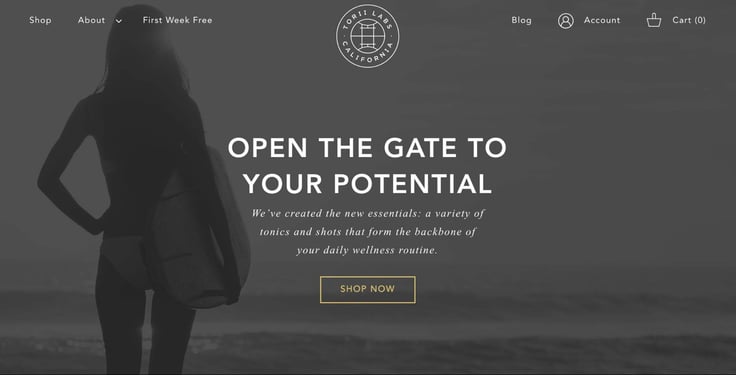 Natural solutions that help support your body and your mind and push you to new heights. Torri Labs creates natural tonics made from wildcrafted herbs and organic juices that enhance your physical and cognitive functions.
You can follow Torii Labs on Twitter @ToriiLabs, Instagram or Facebook.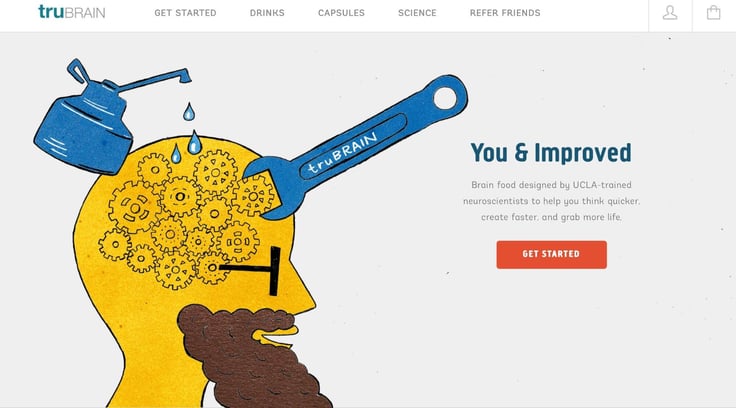 Can "nootropics" really help you think faster and increase your mental agility and performance? TruBrain thinks so! They create a selection of drinks and capsules that aim to boost mental endurance and help your memory.
You can follow TruBrain on Twitter @TruBrain.
Home Direct-To-Consumer Brands
Your home is your castle. Ideally, you want it to be comfortable and cozy. These brands have helped turn a lot of the annoying aspects of managing a home into relatively painless to-do points.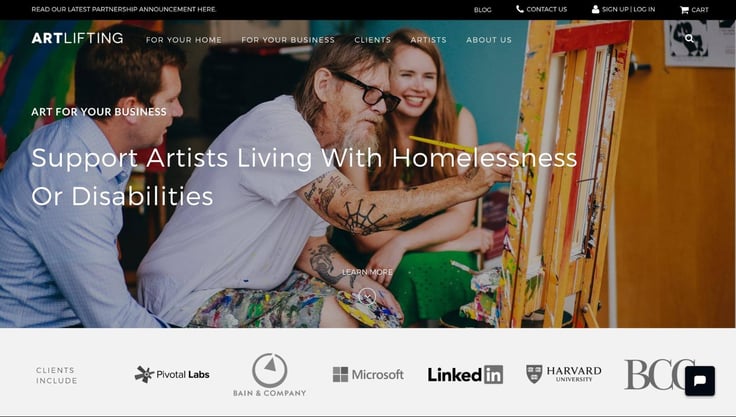 Artists come in all shapes, sizes, and backgrounds. Art Lifting helps consumers support artists living with homelessness or disabilities by buying their work.
They empower artists and consumers to make a difference through creativity- both by using and enjoying it. Art Lifting acts as a professional art gallery, managing and promoting the work of their artists. But, buying art you haven't seen in real life can be hard. To make the purchase risk free, Art Lifting offers free returns and exchanges.
You can follow Art Lifting on Twitter @ArtLifting, Instagram, LinkedIn or Facebook.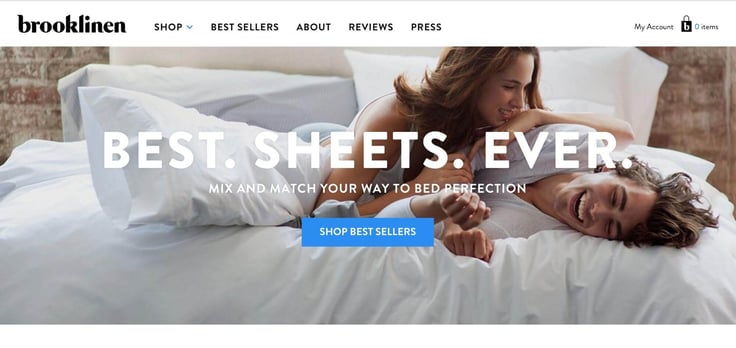 Eight hours of sleep is even more satisfying if your sheets are comfortable. Brooklinen offers simple, ultra-comfortable quality sheets, responsibly made from great materials! Their core values are all about efficiency and creating a great experience.
Brooklinen aims to create a quality product and hassle-free shopping experience by curating options that work for your needs, with a personal touch. They live by those principles and offer a lifetime warranty. Returns and exchanges are hassle-free. Any used returns are donated to Goodwill and have a small processing fee.
You can follow Brooklinen on Twitter @Brooklinen, Instagram, Pinterest or Facebook.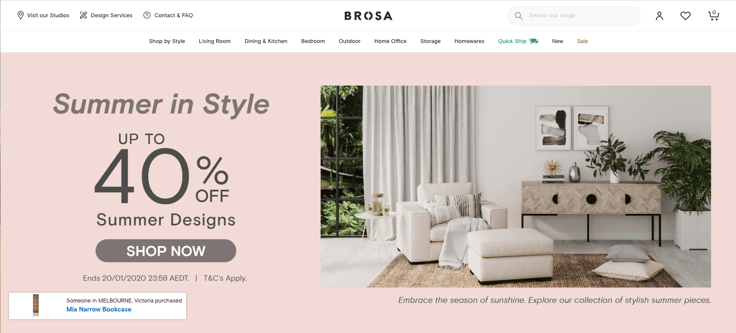 Tired of run-of-the-mill, commercially produced furniture? Australian company Brosa works with furniture designers so consumers can get special designer pieces without paying a premium to retailers. It's a customer-powered process! Every month, the Brosa team puts their top designs up and customers vote on which pieces become reality.
This is great for Brosa, because it lets them market test the product before investing in manufacture. And, it's great for the consumer because they get pieces they actually want to buy.
You can follow Brosa on Twitter @BrosaDesign, Instagram, Pinterest or Facebook.
Bob's is a DTC company dedicated to offering a great selection of quality furniture that's sustainable while also comfortable and stylish.
Their mission extends beyond just providing excellent furniture at everyday low prices. They also have a goal to help better the communities surrounding each of our locations through the Bob's Outreach program and the Bob's Discount Furniture Charitable Foundation.
You can follow Bob's Discount Furniture on Twitter @MyBobs, Instagram, Pinterest or Facebook.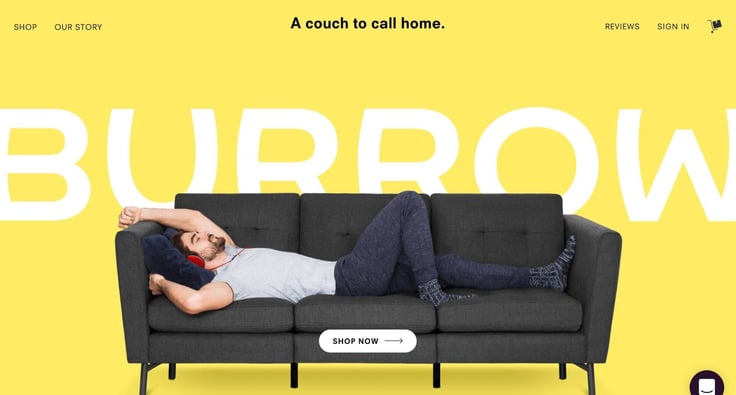 A comfortable couch you can hang out on. Who doesn't want that? Burrow combines a lightweight frame with a timeless design, meaning you can move your couch anytime, anywhere.
It ships in a week, arrives in boxes with easy to follow assembly instructions, and there are no tools to lose and decipher. Shipping is free, arrives straight to your door and you've got a 100-day trial period. No more trying to jam furniture into your car or paying extortionate shipping fees. Burrow makes buying a couch as relaxing as sitting on one.
You can follow on Twitter @hiburrow, Instagram, Pinterest or Facebook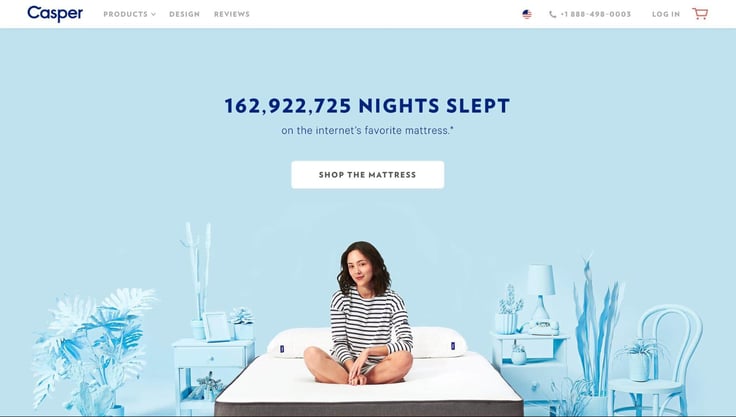 Traditional mattresses are heavy, difficult to move around and not all that comfortable. Casper delivers mattresses straight to your door in a box you could actually move. Shipping and returns are free, and you get a 100-day trial period.
Before companies like Casper came along, buying a mattress was a lot harder than it should have been. But by focusing on creating and improving their mattress based on customer feedback, they simplified the process and brought it into the future. Plus, their sleep jokes are pretty on point.
You can follow Casper on Twitter @Casper, Instagram, Pinterest or Facebook.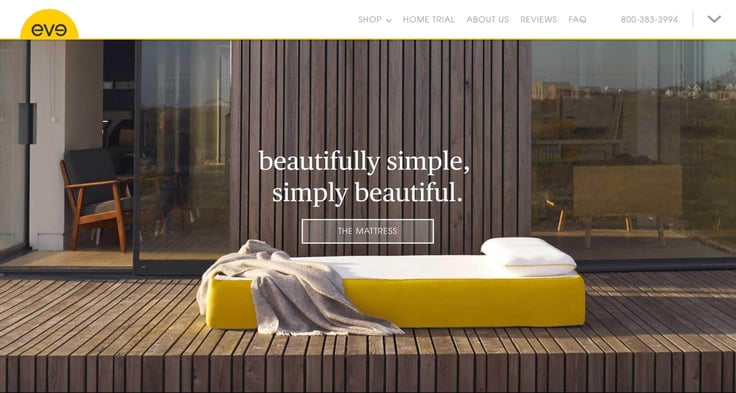 Getting a good night's sleep can transform you into an entirely different person. Getting a simple, well-designed mattress shouldn't require you to jump through hoops or hire a mover. Sleep Eve uses simplicity and a new kind of memory foam to create a great mattress. Delivery, returns, and pick-up are all free.
You can follow Sleep Eve on Twitter @Eve_sleep, Instagram or Facebook.
7. Floyd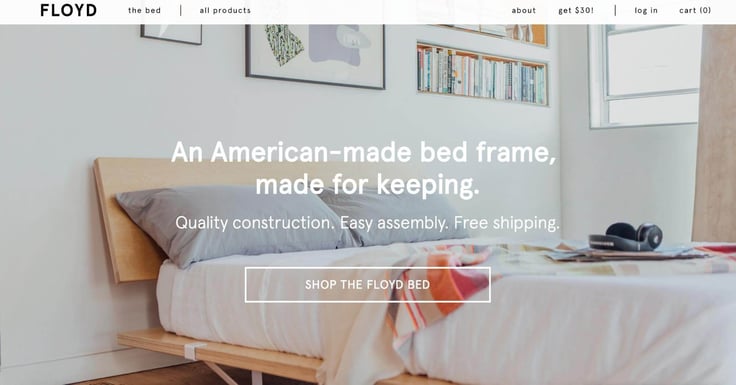 Like mattresses and large furniture, buying bed frames can be a pretty painful experience. You either need to pay the extortionate delivery fee or ask your friend that owns a truck for a favor. Not anymore. Floyd makes American-made, quality furniture shipped to your door with super easy assembly. Unlike Ikea, Floyd furniture does not test relationships.
You can follow Floyd on Twitter @FloydDetroit, Instagram, Pinterest or Facebook.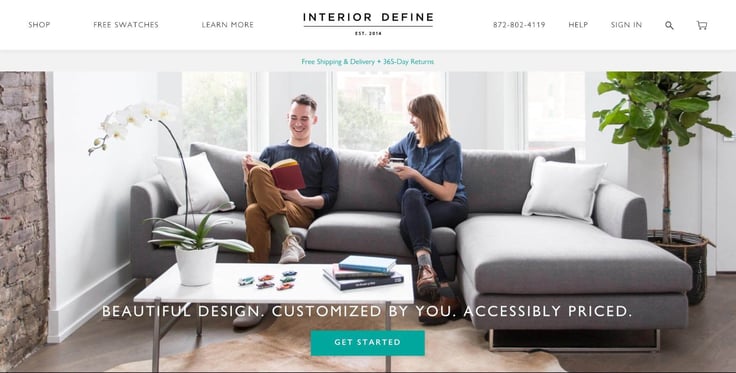 Interior Define provides affordable custom sofas. Tired of the high price tag on designer pieces and the poor quality of mass-produced sofas, Interior Define began building quality relationships with partners and started designing customizable, high-quality furniture. Built-to-order and delivered to your front door. Now that's what we call luxury.
You can follow Interior Define on Twitter @interiordefine, Instagram, Pinterest or Facebook.
Bed, bath and beyond isn't always your first choice, but sometimes it's the only one there is. Parachute provides a direct-to-consumer alternative. Their bedding and linens are high quality, made from sustainable materials and responsibly manufactured.
You can follow Parachute on Twitter @Parachutehome, Instagram or Facebook.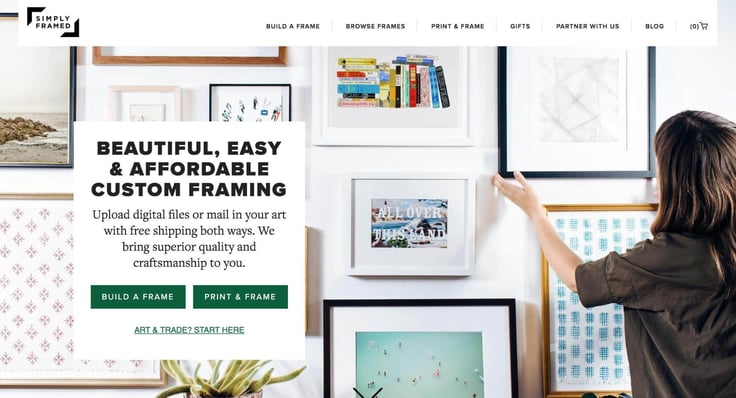 A beautiful piece of art can really help you tie your room together. And, sometimes there's nothing quite as special as getting something personal framed. But, it just takes so much effort! Simply Framed makes the process effortless. Upload the digital file or put the picture in the mail- shipping is free both ways! Then, choose your frame and enjoy. It's simple, easy and requires very little effort on the customer's part!
You can follow Simply Framed on Twitter @SimplyFramed, Instagram or Facebook.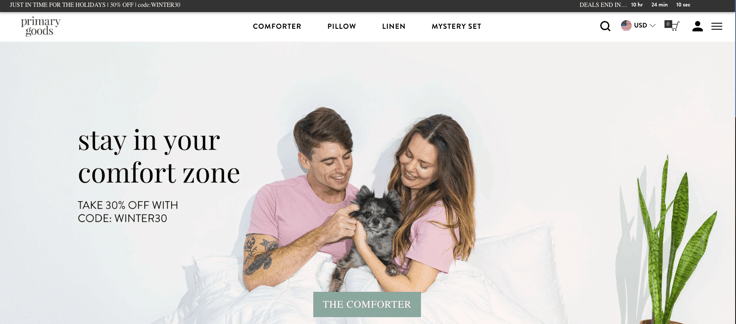 Bedding is so much more than just the stuff you sleep on. The right material can instantly set the mood for sleeping. Primary makes smart bedding with a 100-day trial- they are that sure their customers would love it!
You can follow Primary on Twitter @beprimary, Instagram or Facebook.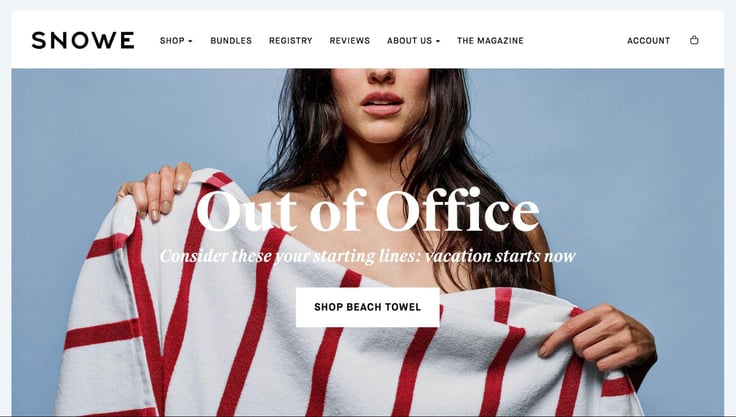 Snowe sells quality home essentials you can use over and over again. They work straight with select European and American factories and cut out all the people who normally handle the middle stuff. That way, they can produce high-quality goods at affordable prices and serve their customers better.
You can follow Snowe on Twitter @snowehome, Instagram or Facebook.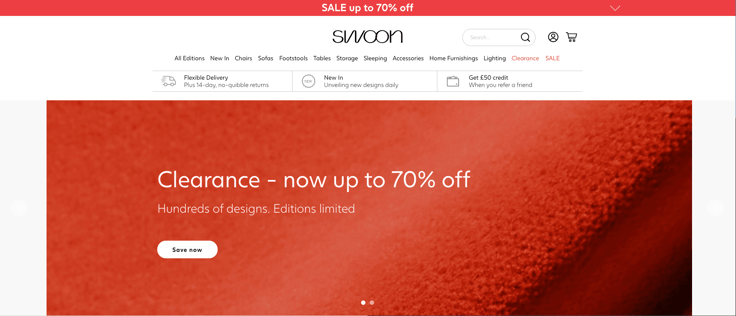 Find the unique furniture you've always dreamed of. Swoon Editions offers handcrafted furniture pieces at a fair price. The money you pay here doesn't go toward paying middlemen- it goes toward getting the best materials and paying artisans.
You can follow Swoon Editions on Twitter @swooneditions, Instagram or Facebook.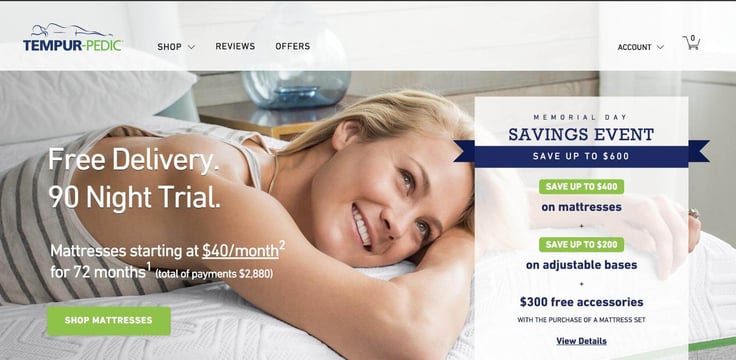 Made of the proprietary Tempur material, Tempurpedic mattresses bring a high-quality mattress directly to the consumer. The mattress shapes to the body and responds to your temperature, weight and shape to create a fantastic sleeping experience.
You can follow Tempur Pedic on Twitter @TempurPedic, Instagram or Facebook.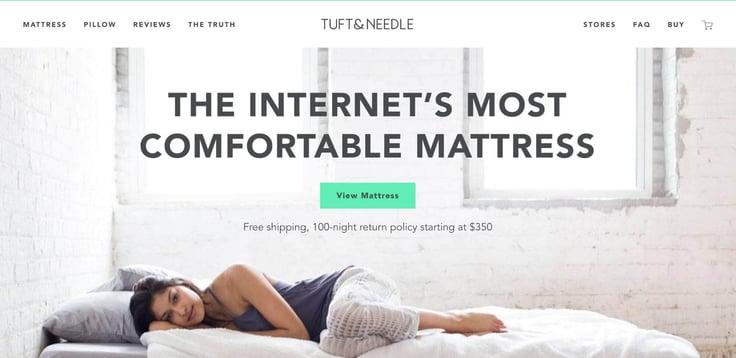 Innovative mattresses, crafted in the US and designed to give you the best night's sleep ever. Tuft and Needle saw a problem in the mattress industry. Prices were too high and there was very little transparency. Buying a mattress was the equivalent of flipping a coin and hoping for the best. So, they took back control by designing a killer product and selling it directly to the consumer.
You can follow on Twitter @TuftandNeedle, Instagram or Facebook.
Nobody likes having insects around the house, and the old fly swatter doesn't really make much of difference with these persistent pests. Zevo is a plug and decimate solution. The multi-spectrum light technology attracts the critters and traps them on a sticky film backing. No chemicals. No gimmicks. And no need to go anywhere near the insects.
You can follow Zevo Insect on Twitter @zevoinsect, Instagram or Facebook.
Travel Direct-To-Consumer Brands
There's nothing quite like packing your bag and setting off to see the world.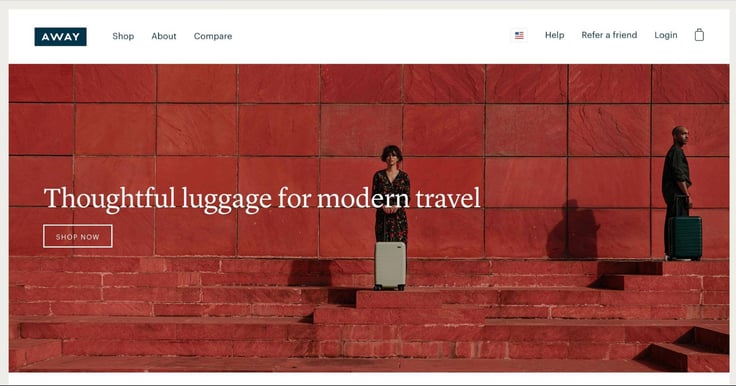 Travel is fun. Buying luggage… not so much. It breaks, drags and starts looking weird around the edges pretty quickly. Away wants to help you make the most out of every trip by turning your suitcase into a treasured companion, your home away from home.
The pieces are developed with the modern traveler in mind- hard, unbreakable shells, USB chargers, and compartments all wrapped up in a lifetime guarantee. Ground shipping is free within the continental US. But, the best part may be the 100-day free trial- you can take the bag for a spin, travel with it, and if it isn't the perfect match, return it no questions asked. This shows explicit trust for its product and dedication to its customers.
You can follow Away on Twitter @away, Instagram, Pinterest or Facebook.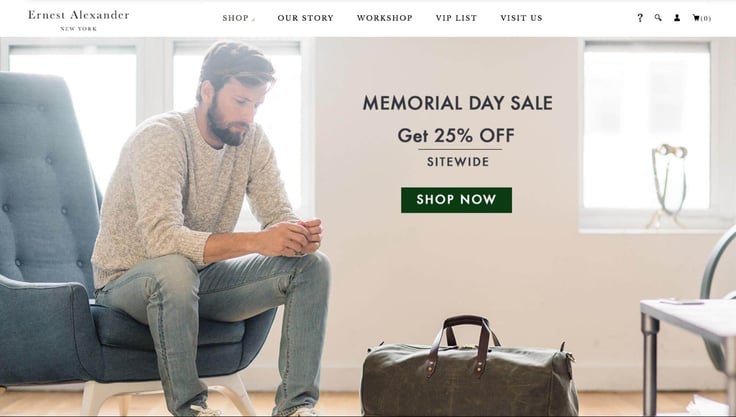 A great bag can take you anywhere. It is a faithful companion on great adventures, constantly there to hold your wallet and a bottle of water. Ernest Alexander embodies the idea that our clothes and personal items are a reflection of who we are, so they use premium materials to create high quality bags that last.
You can follow Ernest Alexander on Twitter @ernestalexander, Instagram or Facebook.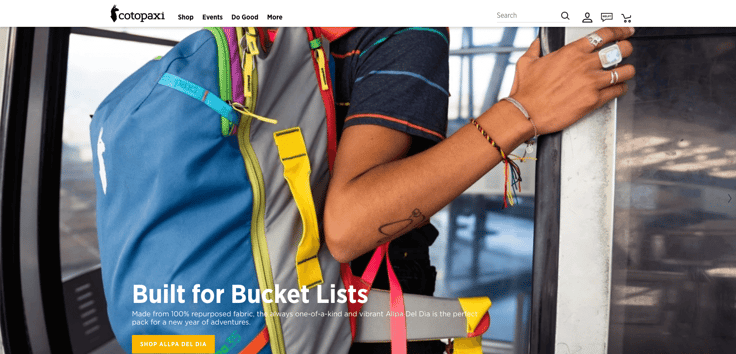 Cotopaxi is a direct-to-consumer outdoor gear and apparel company. Every piece of gear is tied to a humanitarian cause in the world's poorest countries. Cotopaxi's aim is to help the world's poorest of the poor and to provide transparency by showing the exact impact of donations.
You can follow Cotopaxi on Twitter @cotopaxi, Instagram or Facebook.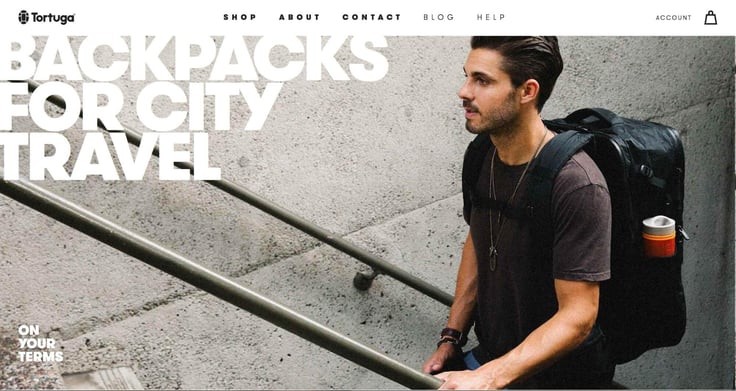 Backpacks are the essential travel companion. Yet, so many of them just don't have the space and design flexibility you need. Tortuga create backpacks for different purposes and travel styles to help you make the most of your adventure.
You can follow Tortuga on Twitter @TortigaBackpack, Instagram or Facebook.
Personal Care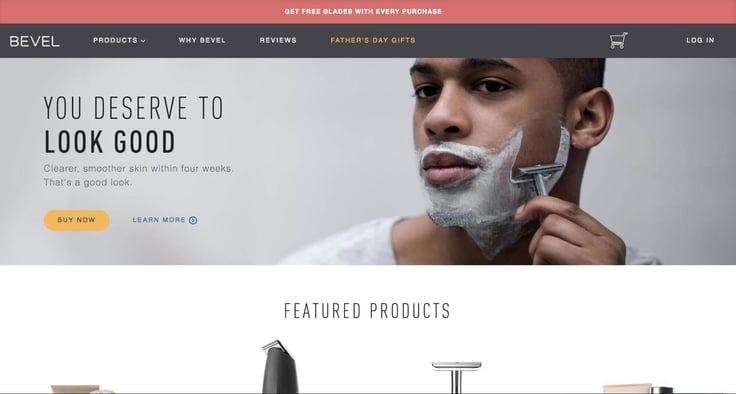 A high quality, reliable razor is a non-negotiable for most men. Using it shouldn't involve skin irritation and razor burn. Bevel's products are specifically designed for men with coarse, curly hair who've had to put up with poor quality products for years.
Every Bevel product is designed to help men get the close shave they deserve without risking ingrown hairs. Bevel helps the consumer by providing quality tutorials, speaking to their issues and helping solve a real problem mass-produced razor blades haven't been able to.
You can follow Bevel on Twitter @Bevel, Instagram, or Facebook.
Razors are expensive. Paying all those athletes to advertise them doesn't come cheap. So, the Dollar Shave Club decided to skip the line and go straight to the customer by creating a razor subscription service. This direct-to-consume pipeline is one of the benefits of subscription services.
It eliminates the need to remember to buy new blades, saves you money and keeps your shaving areas smooth and free from razor burn. Easy, effortless, affordable and delivered straight to your door. That's a winning strategy!
You can follow Dollar Shave Club on Twitter @DollarShaveClub, Instagram, Pinterest or Facebook.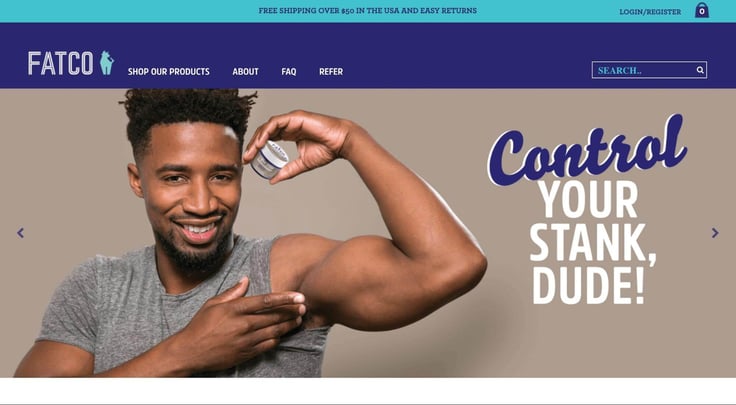 When it comes to skincare, you've got a lot of choices! But, with the big brands, it seems like most of their budget goes towards paying celebrities. A direct-to-consumer brand like Fatco can focus on using all their profits to create better skincare products. Fatco brings chemical-free, organic, natural skincare straight to your front door.
You can follow on Twitter @FATCOCare, Instagram, Pinterest or Facebook.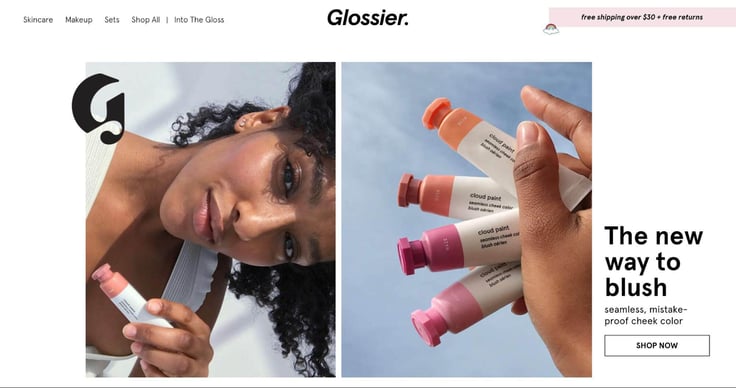 This direct-to-consumer beauty brand is all about enhancing your skin's natural glow. These products are made for people, by people. Glossier's marketing emphasizes this concept, focusing on helping consumers embrace the imperfect.
You can follow Glossier on Twitter @Glossier, Instagram, Pinterest or Facebook.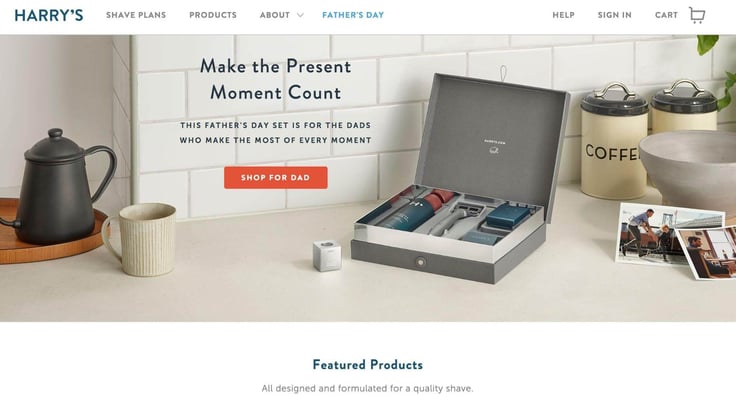 Getting a great razor shouldn't be a long, arduous process. Yet, it's weirdly hard finding the right one. Do you need a vibrating head? 10 ergodynamic blades? Three aloe strips? And that's before you even get to the foam…
Harry's shaving products are made for people who shave by people that shave. Quality construction, affordable blades and a monthly shave plan make it easy to stay smooth.
You can follow Harry's on Twitter @Harrys, Instagram or Facebook.
Monthly customizable beauty box, full of things you love delivered straight to your door. How does Julep know what you like when even the beautician struggles? Answer a quick quiz, chose your products and frequency and get your box delivered for free once a month. Finding the right beauty products can be a lot of work- Julep eliminates the work factor and adds an extra fun factor.
You can follow Julep on Twitter @JulepBeauty, Instagram, Pinterest or Facebook.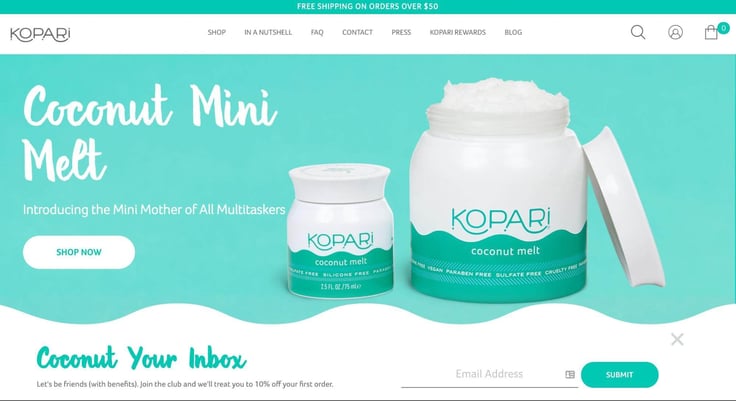 The internet mostly agrees that coconut oil is pretty great. So, Kopari uses 100% organic coconut oil to make natural beauty products. Easy orders, free shipping on large purchases and a great blog on all things coconut oil, Kopari are showing off this multitasking powerhouse of a product.
You can follow Kopari Instagram, or Facebook.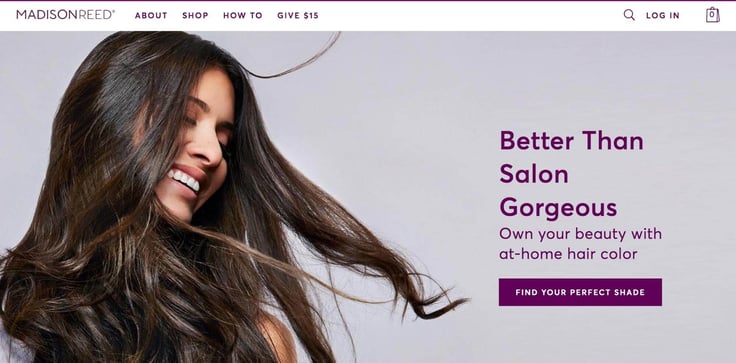 Professional hair colors are expensive but box dyes are a one-size-fits-all solution that doesn't deliver great results. The Madison Reed team help you select a custom color based on a quick questionnaire. You can get in touch and speak to a stylist anytime, and the information on the site walks first timers through everything they need to know.
You can follow Madison Reed on Twitter @madisonreedllb, Instagram or Facebook.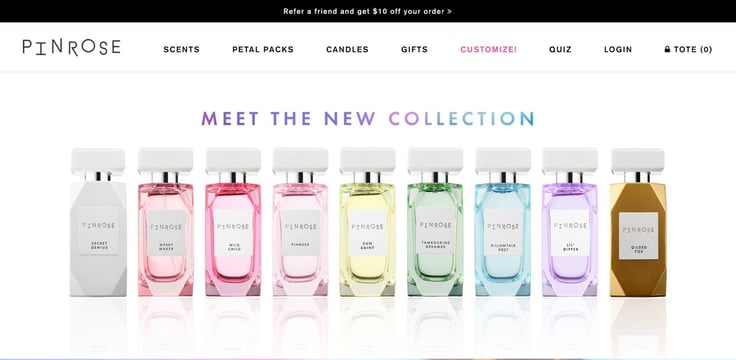 Pinrose brings the perfume industry into the new century by creating high quality, effortless scents that celebrate accessible luxury.
You can follow Pinrose on Twitter @pinrose, Instagram or Facebook.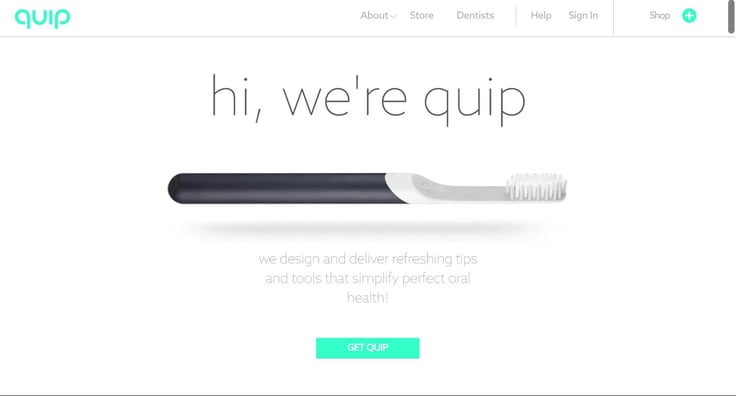 The right toothbrush can make the world of difference to your dental health. Quip is a smart, guided electric toothbrush that comes with a timer, lifetime guarantee and an automated ordering system so you don't forget to replace the head every 3 months. Welcome to the new world of dental health.
You can follow Get Quip on Twitter @getquip, Instagram or Facebook.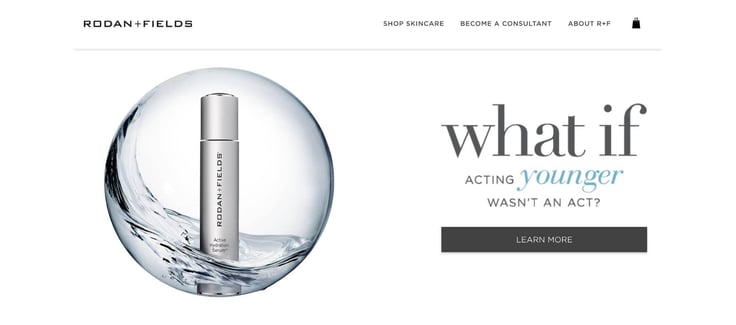 Skincare that improves your skin day after day. Using the Rodan and Fields solution tool, get a personalized skincare recommendation you can use to take charge of your skincare routine.
You can follow Rodan and Fields on Twitter @RodanFieldsHQ, Instagram or Facebook.
Other Direct-To-Consumer Brands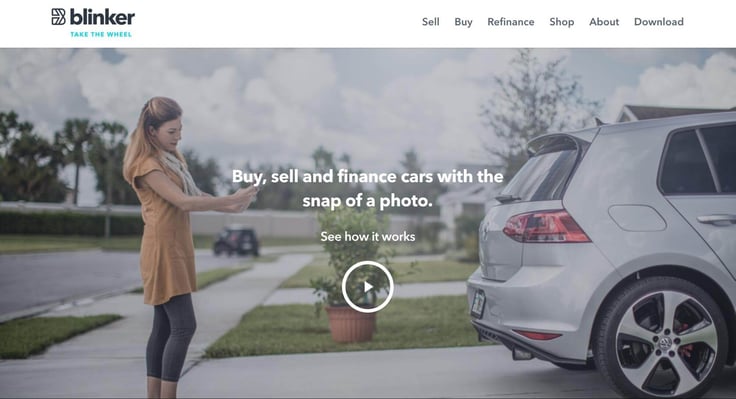 You can't buy or sell cars online, right? Wrong!
Download the Blinker app, line up the photo, and Blinker will instantaneously pull up all the details on your car including the Black book value so you can set a fair price. Add a description and you are ready to go. The entire experience is confined to the app- from arranging a test drive to price negotiations and the final sale.
Blinker eliminates middlemen, puts the entire experience in your hands and arms you with all the information you need for a smooth transaction. Plus, it adds a level of safety because all the exchanges between the buyer and the seller are recorded in the app. And, there are no fees for using the app. It's the streamlined experience the industry has been missing.
You can follow Blinker on Twitter @blinkerapp, Instagram, or Facebook.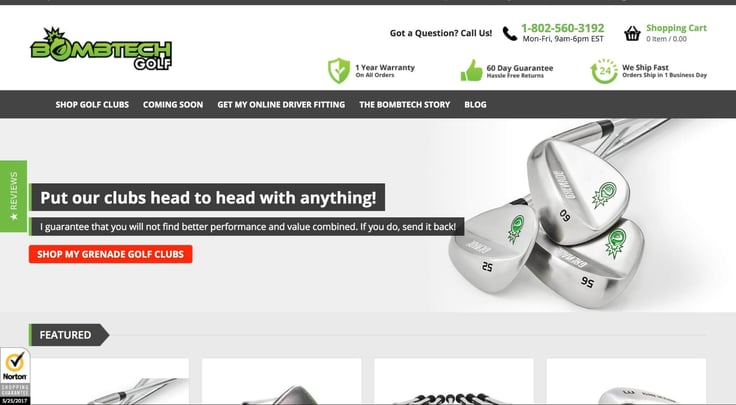 Fast shipping in under one business day, 60-day hassle-free returns and 1-year warranty on all orders. BombTech Golf certainly makes it easier for consumers to get involved in the game! The online-only model helps them keep prices low and pass the savings onto the consumer.
This is a premium kit for golfers, by golfers by a team that wants to disrupt the golf club market and make it easy for pros and newcomers to get high quality kit!
You can follow BombTech on Twitter @BombTechGolf or Facebook.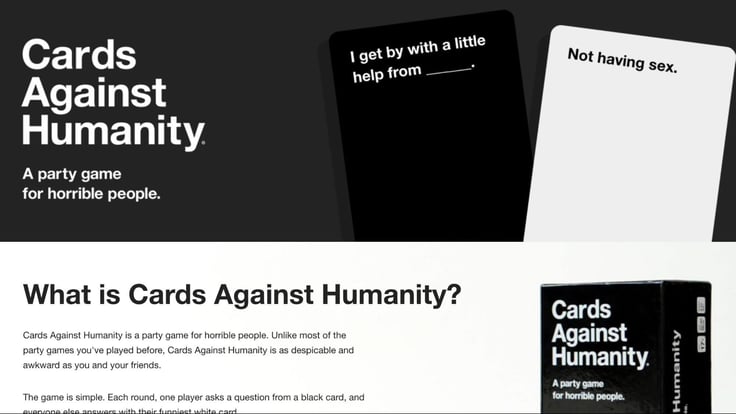 The infamous card game still broke into the millennial market despite the number of digital games and entertainment available. You can buy a deck or design one of your own. Clever digital marketing and copy helps keep the tone of the games alive and differentiates it from other similar products.
You can follow Cards Against Humanity on Twitter @CAH , Instagram or Facebook.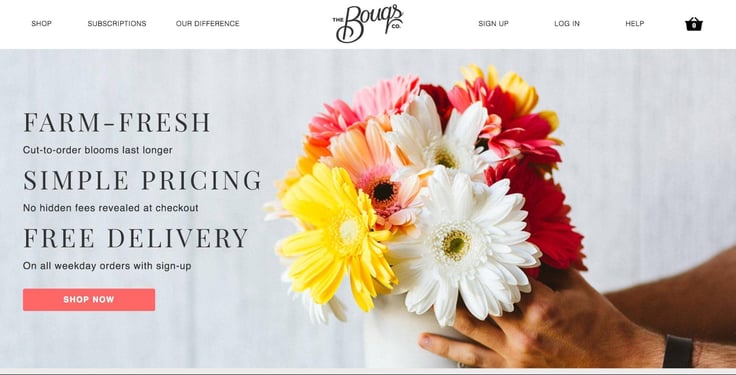 Flowers are pretty. They can light up the room and help tie your haphazard decor together. Plus, they make you look like you made an effort. The Bouqs Co deliver farm-fresh, sustainably farmed flowers straight to your door. And, delivery is free if your order on weekdays!
They offer subscriptions, one-of-a-kind artisan bouquets and flowers for every occasion! They are all about transparency, simplicity and making it as easy for you to get your flowers as humanly possible.
You can follow The Bouqs Co. on Twitter @TheBouqsCo, Instagram, Pinterest or Facebook.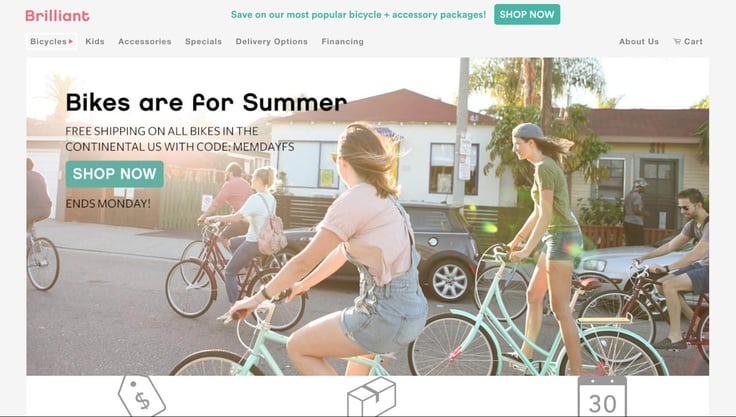 Riding a bike has a lot of great benefits, from keeping fit to saving money on gas! But, finding the right bike can be hard. What if you don't like it? What if the seat is super uncomfortable? The Brilliant Bicycle Co. make it easy to find that perfect match. Their Find Your Perfect Ride quiz asks you a few key questions and recommend the best bike based on your needs.
Delivery is easy and straight to your door, and easy to follow assembly instructions are included. And, if it doesn't work for you, you've got 30 days to return it! The whole process is optimized for every step of the buyer's journey.
You can follow Brilliant Bicycle Co. on Twitter @RideBrilliant, Instagram, Pinterest or Facebook.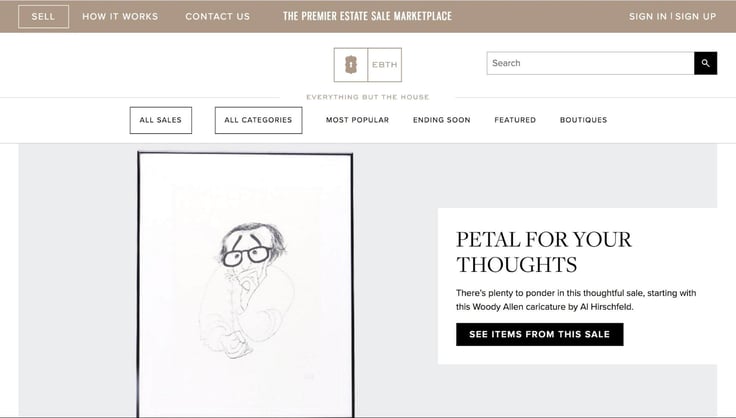 Traditionally, estate sales are long, confusing and hard to get into. EBTH takes the whole thing online, helping both sellers and buyers through the experience. They have a huge variety of items and open up their marketplace to bidders around the globe who wouldn't normally have access to estate sale items.
You can follow EBTH on Twitter @EBTHofficial, Instagram, Pinterest or Facebook.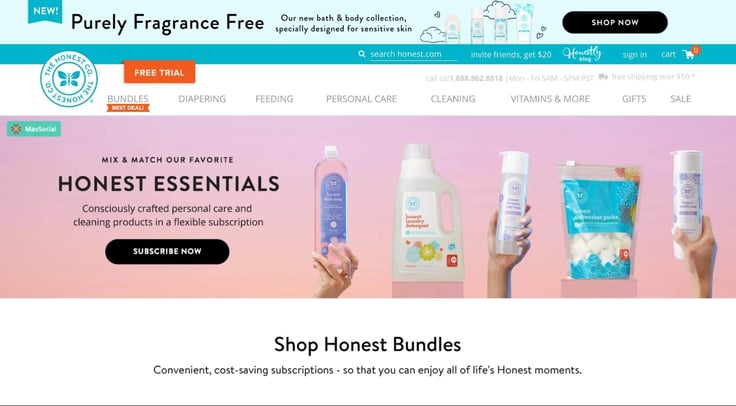 There's more to Honest Company than being found by Jessica Alba. The Honest Company is committed to creating honest, sustainable, effective and ethical products that keep you and your family healthy and happy. All the ingredients lists are available online and consumers can buy individual products or sign up for convenient, regular bundles.
You can follow Honest Company on Twitter @honest, Instagram, Pinterest or Facebook.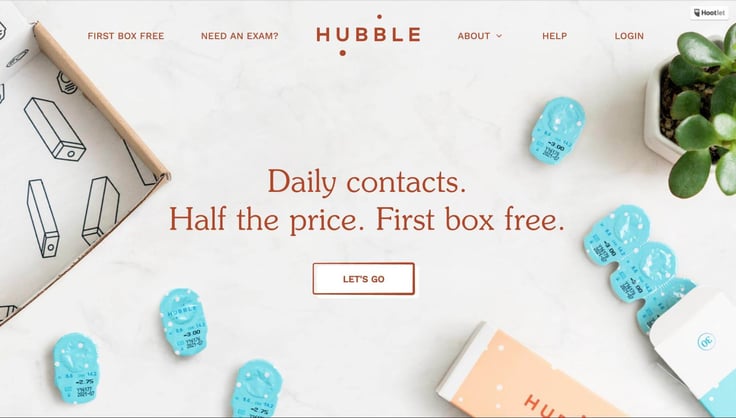 Buying contacts usually involves a long negotiation with your optometrist followed by negotiating clunky, old interfaces. Hubble makes it easy to get your monthly supply of contacts delivered straight to your door. So much of the contact lenses market is owned by giant companies. By going straight to the consumer, Hubble Contacts are using their personality and easy to use interface to put themselves firmly at the front of the line.
You can follow Hubble Contacts on Twitter @HubbleContacts, Instagram or Facebook.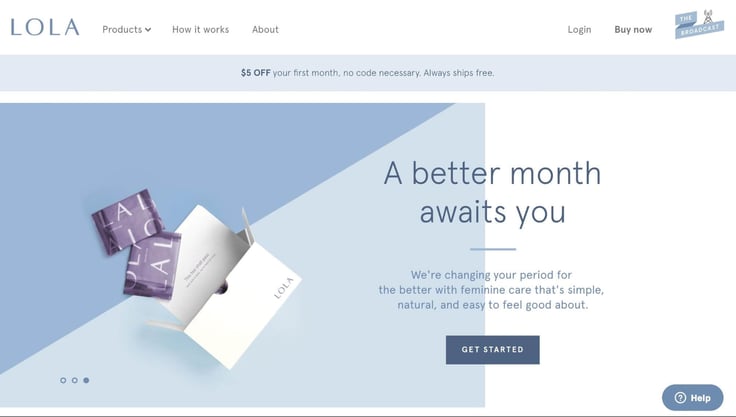 Natural, 100% organic feminine products that don't break the bank. By going direct-to-consumer, Lola was able to sneak past giants like Tampax and Always to offer conscious consumers the innovative solution they've been looking for.
You can follow My LOLA on Twitter @mylolatweet, Instagram or Facebook.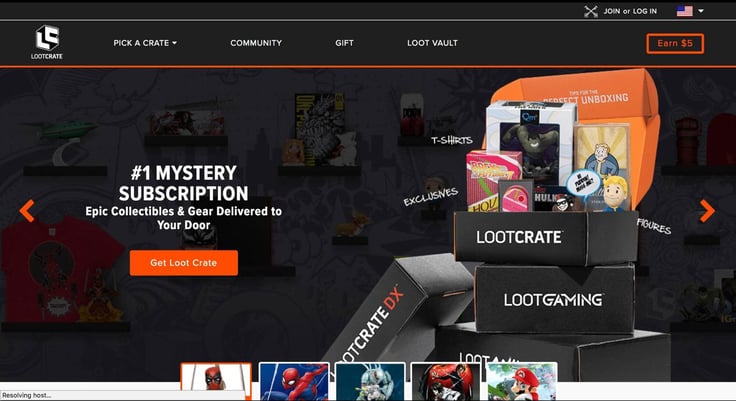 Going to GameStop means losing valuable game time. Loot Crate takes in-game magic and introduces it into real life by creating an exclusive loot box based on specific interests and likes, then delivering it straight to your door. It is perfect for gamers who want something more.
You can follow Loot Crate on Twitter @lootcrate, Instagram or Facebook.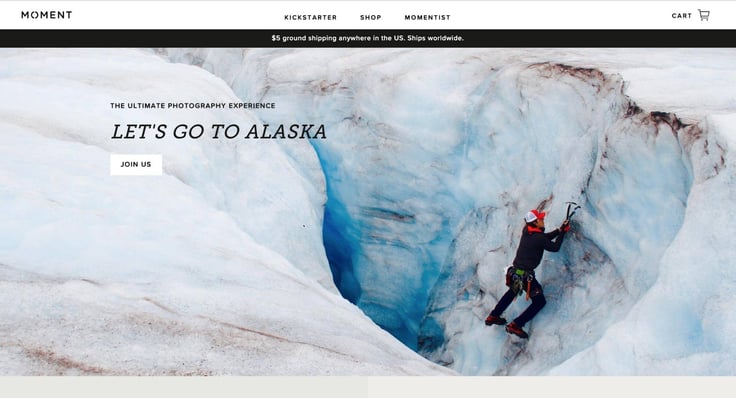 Your phone is a camera in your pocket. Sometimes, you might wish that camera was a little bit better. So, Seattle-based company Moment created camera cases that enhance and protect your phone camera. This helps mobile photographers capture that moment perfectly.
You can follow Moment on Twitter @Moment, Instagram or Facebook.
If you're working for a legacy brand thats looking to enter D2C for the first time, you can check out these steps to launching your direct-to-consumer site.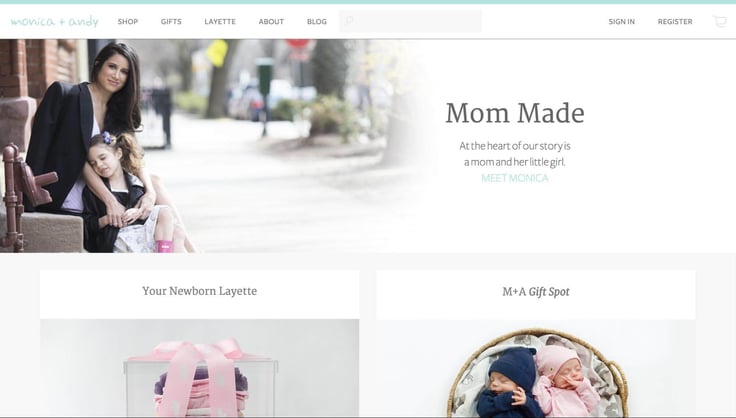 Mom and baby products that are free of any dangerous chemicals or stuff you may want to avoid. Monica and Andy's products are made by a mom, for other moms. You can find quality clothes, made from natural materials and you can get them from your phone without braving the outside.
You can follow Monica and Andy on Twitter @monicaandykids, Instagram or Facebook.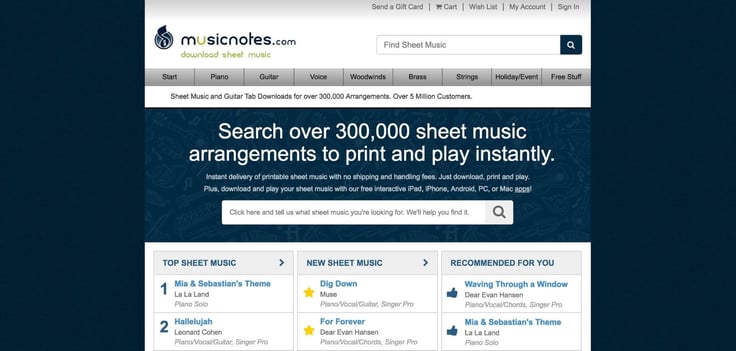 Find and download printable sheet music instantly. No shipping, long waits, or endless searches. Just go over to Musicnotes, browse what they have or search for something in particular, buy and print. Simple.
You can follow Musicnotes on Twitter @musicnotes, Instagram or Facebook.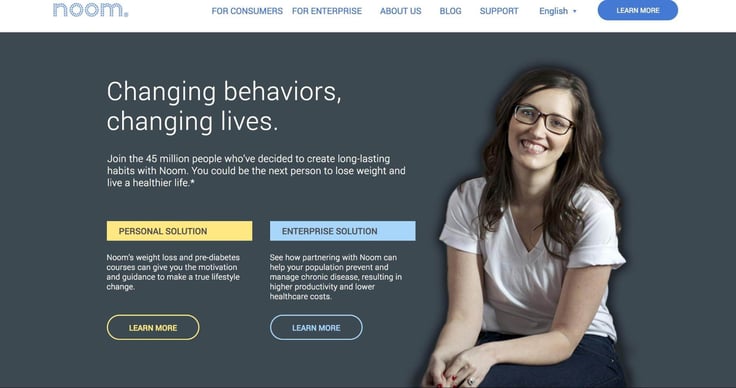 Weight loss is hard. Noom offers a solution. You get 16 weeks of articles, challenges, and support. Noom helps create a community around weight loss which can make the whole process feel a lot easier and uses digital means to show you that you are not in this alone.
You can follow Noom on Twitter @NoomInc, Instagram or Facebook.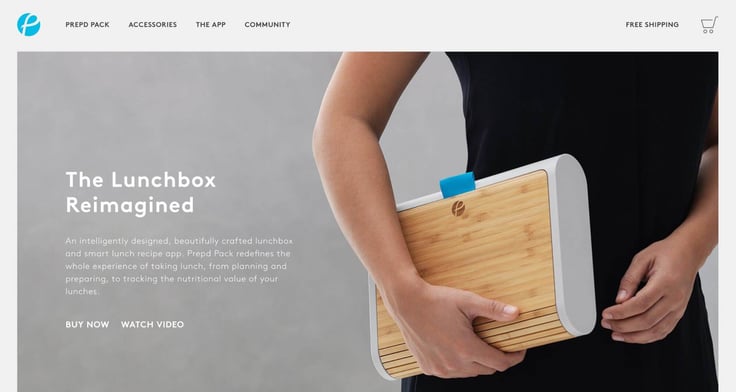 The Prepd Pack is the smart lunch box you didn't know you needed. It comes with a smart lunch recipe app so you can plan your lunches. The entire lunch box is designed to optimize the experience and help you make better food choices.
You can follow get Prepd on Twitter @getprepd, Instagram or Facebook.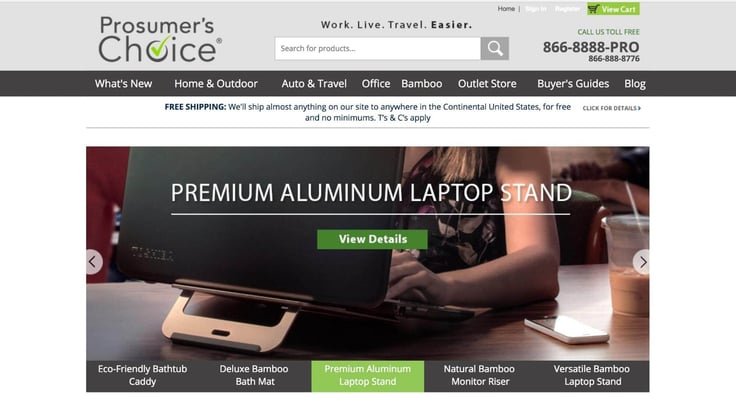 Who doesn't want to select products that make our lives easier? Prosumers Choice bring them together under the same roof and offer products with a purpose. They offer environmentally friendly and socially conscious products you can really enjoy!
You can follow Prosumers Choice on Twitter @ProsumersChoice or Facebook.
Even wished for a cooler that actually keeps your drinks cool for a long time? The RTIC cooler beats regular coolers by keeping ice for up to 10 days, using an integrated locking system and a rapid draining system. Plus, it keeps bears out!
You can follow RTIC Coolers s on Twitter @RTICCoolers, Instagram or Facebook.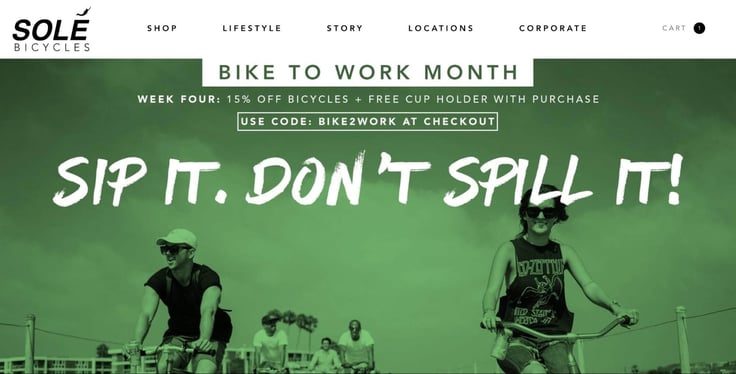 Get the perfect bike for your commuter needs. Want a lightweight single speed? Sure! Need a city cruiser? Sole's got you covered. If the only thing standing between you and cycling is not having a great bike, Sole Bicycles deliver to your doorstep and the bikes require very little assembly!
You can follow Sole Bicycles on Twitter @SoleBicycles, Instagram or Facebook.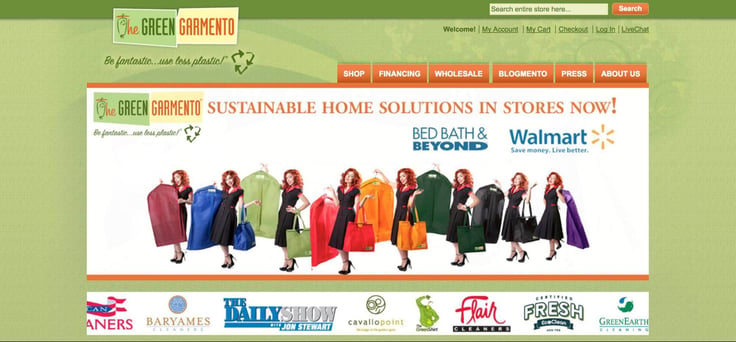 Sometimes you can't avoid going to the drycleaners. Not that you haven't tried! The Green Garmento create reusable, recyclable drycleaner bags that let consumers do their bit for the environment and minimize plastic use.
You can follow on The Green Garmento LLC Twitter @GreenGarmento, Instagram or Facebook.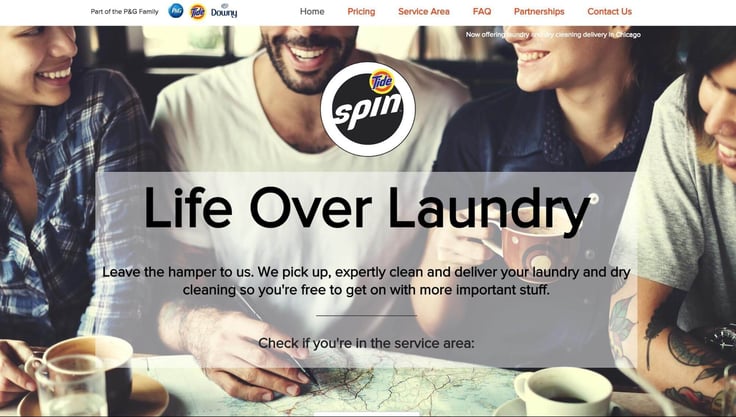 Tide Spin, a branch of detergent giant Tide, offers a laundry service. Using the service is easy. Download the app, pick a day drop-off point, or use the 2-hour evening service where a driver picks up your clothes and brings them back once they are ready.
You can follow Tide Spin on Twitter @TideSpin, Instagram or Facebook.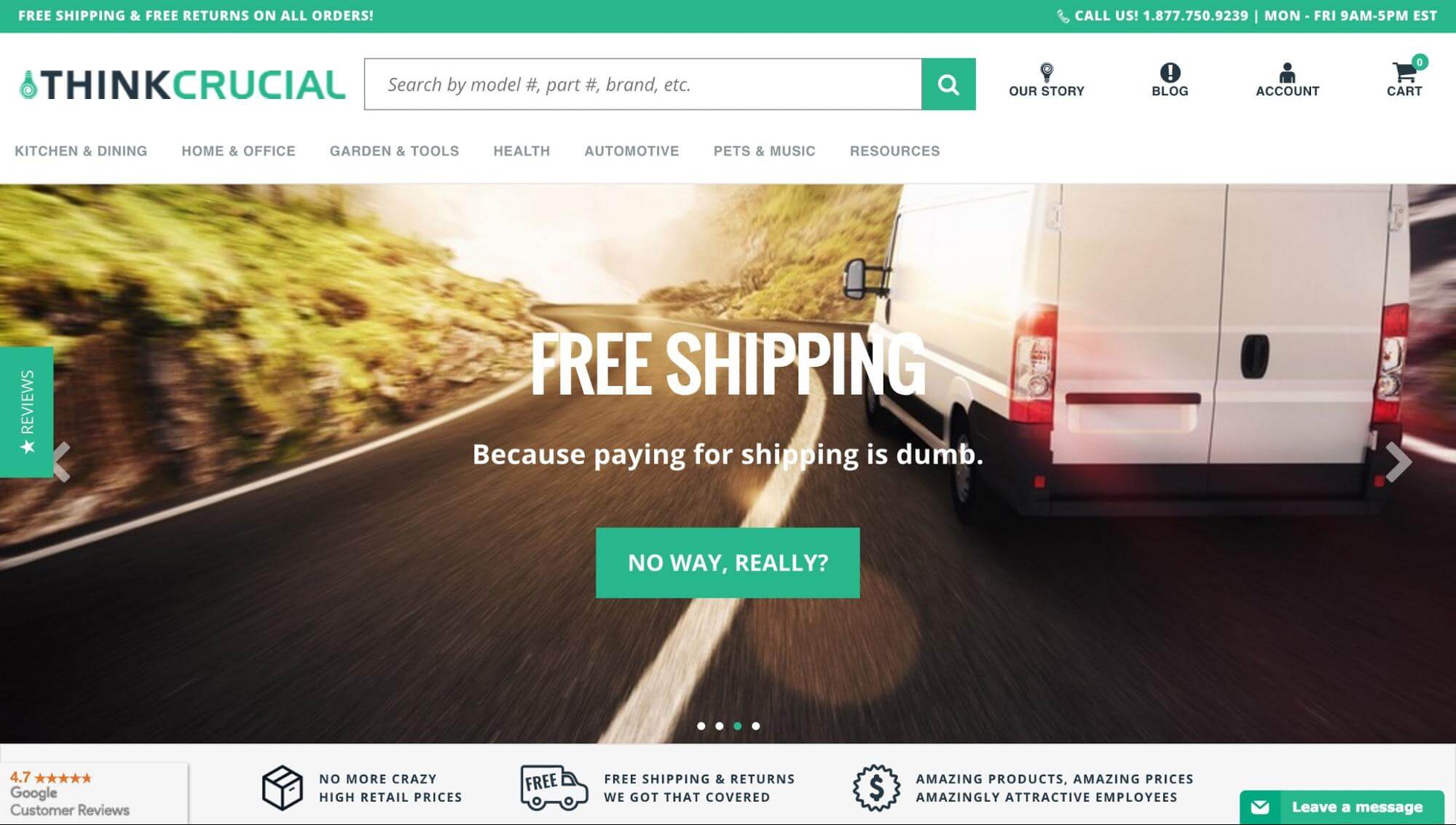 The crucial stuff you need for your home, all under one neat, easy to search roof. Essentials shouldn't break the bank, but by the time they reach you they've gone through dozens of third parties. Think Crucial cuts through the tape by getting essential products directly to the consumers that need them as effortlessly as possible.
You can follow Think Crucial on Twitter @ThinkCrucial, Instagram or Facebook.
Your favorite brands
Phew. This was a long list! But, at Skubana we really feel that each of these brands deserves its place on the list and is doing a fantastic job connecting to consumers.
Check out the seven of the biggest CPG industry trends and opportunities that brands are currently capitalizing on to find the most profitable products to sell.
Are there any brands you love that we've missed? Let us know in the comments!
DTC Brands FAQ
What is DTC in retail?

Direct to consumer in retail is where products are sold directly from the brand or company to customers. This model has grown in popularity with the rise of ecommerce as it takes away middlemen channels such as third-party retail distributors and marketplaces.

How many DTC brands are there?

DTC brands have grown a lot since 2019. It is reported that there are more than 400 direct-to-consumer companies in different markets and the DTC space is projected to grow as more consumers become comfortable with online shopping and the rise of influencers.

How to build a direct to consumer brand?

To build a direct to consumer brand, you will need to make sure that you have the right product market fit for your product before launching, prioritize your customer journey and customer service, and be willing to take feedback and adapt to your customers' needs to continue building strong customer relationships over time.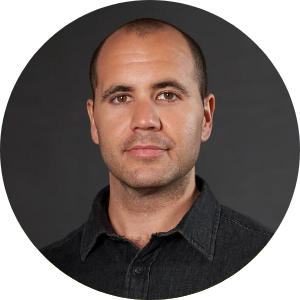 Written By
Chad Rubin
Chad Rubin is the co-founder and chief executive officer of Skubana, a multichannel e-commerce software the enables brands to unlock growth by unifying their back-office operations.