How to Write the Perfect Apology Letter for Your E-Commerce Customers pt. 2
September 8, 2015
8

min read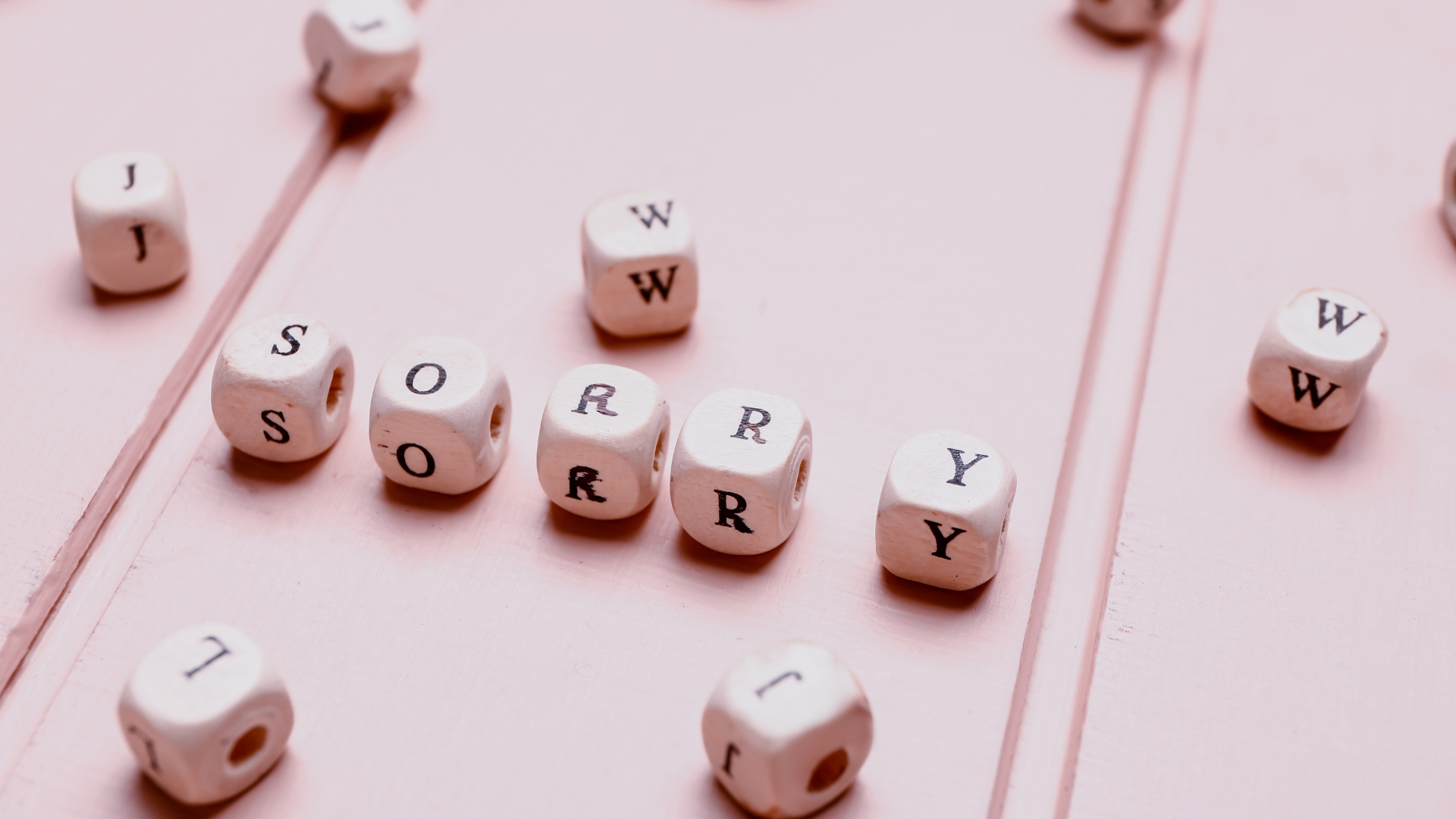 In our previous blog post we had dissected an apology letter we received from Crate and Barrel. A small error led to us being unsatisfied customers, but a well-thought apology letter turned it all around leaving us with a positive final impression.
However, what happens when the scale of the error is far larger, and the number of those who were affected is in the millions - Do you write the same apology letter?
In this post we'll be discussing the infamous Flipkart Billion Day Sale that occurred last year and the aftermath of how the company handled their mistakes.
The Flipkart Fiasco
On October 6th 2014, Flipkart hosted their One Billion Day Sale. With wide-spread marketing and word-of-mouth hype, Flipkart anticipated over one billion recorded sales. So, what went wrong?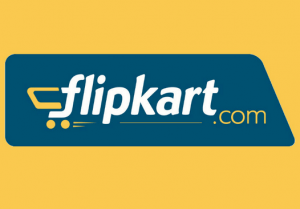 They had 1.5 million people making purchases, and selling over $100 million worth of goods. That's awesome right?
The extreme number of incoming traffic actually crashed Flipkart's system, causing people to purchase products that were long stocked out, discounted prices weren't reflected in the final purchase, and order cancellations. It was dogs and cats living together, mass hysteria.
With that actual 1.5 million statistic, most of those people were disappointed by one of the sale's faults. Naturally, Flipkart issued an official apology email hoping it would ease the anger:
"Dear Customer,

Yesterday was a big day for us. And we really wanted it to be a great day for you.But at the end of the day, we know that your experience was less than pleasant. We did not live up to the promises we made and for that we are really and truly sorry.

It took enormous effort from everyone at Flipkart, many months of preparation and pushing our capabilities and systems to the limit to be able to create this day. We were looking at fulfilling the dreams of millions of Indian consumers through deals and offers we had painstakingly put together for months.

And though we saw unprecedented interest in our products and traffic like never before, we also realized that we were not adequately prepared for the sheer scale of the event. We didn't source enough products and deals in advance to cater to your requirements. To add to this, the load on our server led to intermittent outages, further impacting your shopping experience on our site.

An unprecedented 1.5 million people shopped at Flipkart yesterday. While we stand humbled by the sheer faith that such a large number of customers have shown in us, we are unhappy that we were unable to live up to the expectations of millions more who wanted to buy from us yesterday.

And this is not acceptable to us.

Delighting you, and every single one of our customers, is absolutely the top most priority for Flipkart and we have worked very hard over the last seven years to earn your trust. Yesterday, we failed that trust. We have learnt some valuable lessons from this and have started working doubly hard to address all the issues that cropped up during this sale.

Price Changes As we were preparing various deals and promotional pricing in the lead up to the sale, the pricing of several products got ​changed to their non-discounted rates for a few hours​. We realise that this breaks the trust our customers have put in us. We are truly sorry for this and will ensure that this never happens again.

Out-of-stock Issues We ran out of the stock for many products within a few minutes (and in some cases, seconds) of the sale going live. For example, most of our special deals were sold out as soon as they went live. We had ensured availability, anywhere from hundreds to a few lakh units for various products, but it was nowhere near the actual demand. We promise to plan much better for future promotions and ensure that we minimise the out-of-stock issues.

Cancellations We had large number of people buying specific products simultaneously. This led to some instances of an order getting over-booked for a product that was sold out just a few seconds ago. We are working round-the-clock to ensure availability of additional units for these products and will do our level best to ensure that we minimise any cancellations.

Website Issues ​We realise that the shopping experience for many of you was frustrating due to errors and unavailability of the website at times. We had deployed nearly 5000 servers and had prepared for 20 times the traffic growth - but the volume of traffic at different times of the day was much higher than this. We are continuing to significantly scale up all our back end systems so that we do a much, much better job next time.

Everything that we have achieved at Flipkart is purely on the basis of our customer's trust and faith. This is why we come to work each day and continue to remain extremely passionate about building the best possible customer experience for Indian consumers. We failed to live up to this promise yesterday and would like to apologise once again to every single customer for our failure.

Thank you. Sachin and Binny"
In their apology letter, written by the two founders of Flipkart, they stated all the issues that overwhelmed Flipkart's site and their deep regret for this occurrence.
That's all they wrote.
If you as a consumer took the time out of your day to quickly purchase a product you've been wanting to go on sale, and later have your order cancelled due to a lack of inventory, would this letter ease your frustration?
This apology letter ended up dividing their customer base into two halves: the forgiving, and the unsatisfied.
The forgiving became silent, but the unsatisfied, took to social media to vent: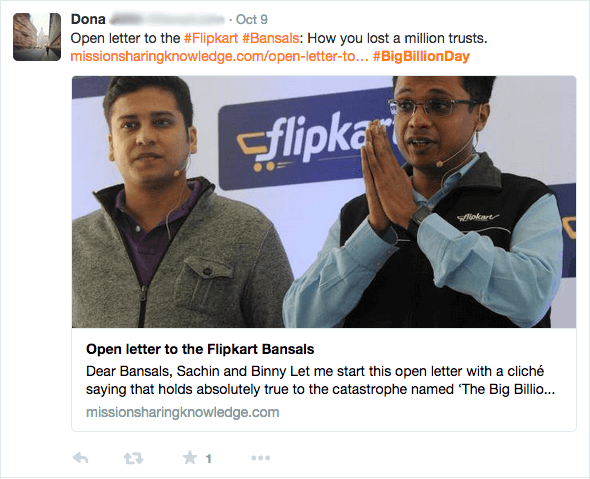 However, the fire had not extinguished post-BigBillionDay. A whole year has gone by, the anger has not subsided a bit and trust is still shaky as #bigbillionday is still riddled with insults and negative comments.

So what exactly went wrong with the apology?
Their apology letter is structured similarly to Crate and Barrel, and it's signed by the CEOs like Crate and Barrel as well. So what exactly is the difference between Flipkart and Crate and Barrel apology?
Simply put, it's the scale of those affected and what the company had done after the error occurred.
Crate and Barrel apologized and promised for a better future. Flipkart, noticed by many customers is only performing disaster management.
If a customer has an opinion that really reflects their distrust with the company, that's a huge telltale sign that you need to earn that trust back.
Be aware of your marketing.
What made Flipkart hard to trust again was how their public relations team handled the BigBillionDay. Thousands of people were affected harshly by the issues that the sale had, and yet the marketing team had not acknowledged the errors straight away.
Flipkart's marketing was focused heavily on the "success" of the BigBillionDay sale. They flaunted the success by saying things like:
"Our teams and sellers worked days and nights to make this sale a success - and our efforts paid off. We got a billion hits on our site today and achieved our 24 hour sales target of $100 mn in GMV in just 10 hours."
Coverage over this fact was blasted with loud horns in celebration, however those negatively affected were left in the dark as to what had happened to their orders.
The next day, Flipkart released their apology letter and had from that point on, divided their audience.
How to Avoid Flipkart's Mistake by Adding Restitution
When writing your apology letter to your customers, try to avoid dividing your audience. What Flipkart had not done is provide restitution.
Boasting of your profits while apologizing to customers creates a powder keg of disaster. But rather, conveying the image of using those profits to provide a discount code to those affected can go a long way for the customers. Not only does it show that the company cares, but the initial discount the customers were refused can now be redeemed as well.
What was the epicenter of this poorly-executed sale?
Mass order cancellations and out of stock issues that were the main causes of this PR backlash could have been avoided if their software was prepared to handle the traffic.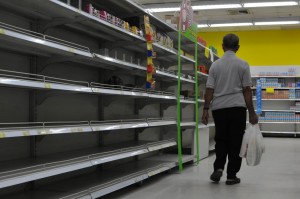 When your business is marketing a large day sale like BigBillionDay, you cannot have your servers run as if it's business as usual. The server traffic can become overwhelmed, crash and slow down to a near-halt so the inventory won't stock-out for an hour while hundreds buy the product. Inventory reflection is absolutely essential to avoiding a huge issue like this.
We understand the importance of an accurate inventory reflection, which is why Skubana's initial development was to focus on an always real-time reflection of inventory. No matter how many channels you sell on, a sale on one channel will reflect for all.
What to take away from this letter?
Be aware of your marketing.
Be apologetic and humbling for those negatively affected.
Ensure your system is prepared for traffic and don't oversell.
Add restitution to show compensation for serious inconveniences.
Flipkart's apology felt half-hearted as their public relations team makes it evident that posting one apology and the rest of their marketing is boasting the day's success, their main concern is how much money they've made.
As a business, you do not want an angry, divided customer base because it takes years to get that loyal customer, but only a second to lose one.
P.S. Tired of juggling pieced together e-commerce softwares to run your business? Want an all-in-one cloud based solution for your e-commerce? Don't worry, Skubana has what you need and more.
Looking for further insights from other top e-commerce sellers? Check out our Unboxing series featuring Graze and Chubbies.
Work Smart. Sell More.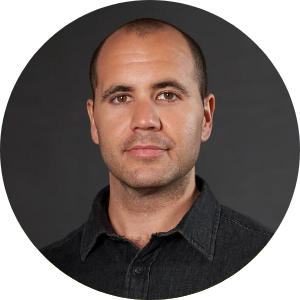 Written By
Chad Rubin
Chad Rubin is the co-founder and chief executive officer of Skubana, a multichannel e-commerce software the enables brands to unlock growth by unifying their back-office operations.