The Ultimate Jet.com Integration Guide to Manage Your Orders, Inventory, and Profit
October 7, 2016
9

min read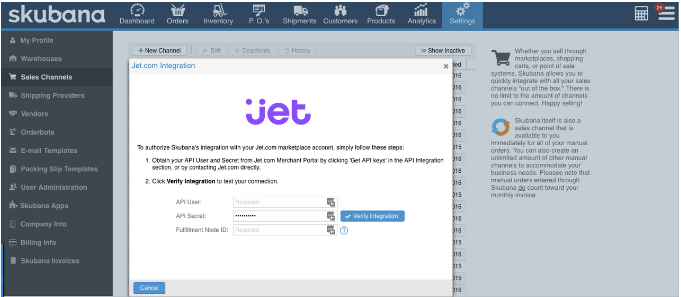 Top 5 reasons Walmart.com Acquired Jet.com
#1 - Walmart gets access to certain brands that would never consider selling to or on Walmart.com.
#2 - Walmart extends their target demographic as the Jet.com buyer profile is city dweller or millennial at a higher income bracket, but again, would never consider Walmart as go-to buying destination. We believe a Jet.com customer is very similiar to a Target customer and this is Walmart's way of accessing that customer archetype.
#3 - Jet.com's proprietary node system enables Walmart.com to ship from their stores based on geographic location to a Jet.com customer.
#4 - With Walmart, Jet.com now has access to brands on shelf at Walmart that were not going to sell on Jet.com.
#5 - Mark Lore, the CEO of Jet.com
Jet.com's Backstory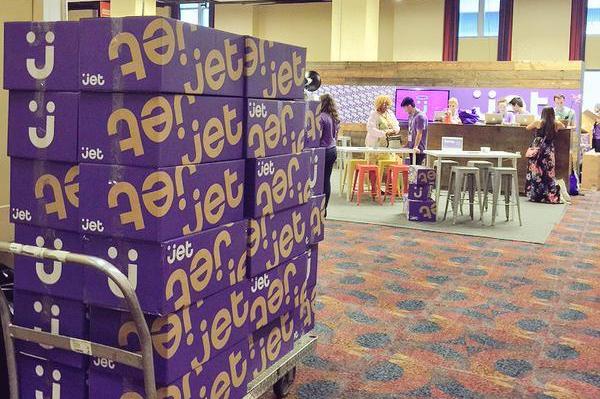 On July 21st, 2015, the Internet buzzed with the excitement of an e-commerce platform set to take on Amazon with a new sales module. Jet.com launched with the simple premise of offering shoppers a discount based on how much they purchased, and made those discounts affordable by cutting their percentage of the sale in exchange for a yearly membership. While Jet.com has since scrapped the yearly membership, they still offer prices starting at about 8% lower than anywhere else, and shoppers can receive discounts of up to 10-15% by ordering additional items from the same seller. With only some exceptions, Jet.com profits by keeping whatever discount they don't offer to the buyer from a 15% commission. So if they offer an item to a seller at a 10% discount, Jet receives a 5% commission.
It's also a concept that works. Jet.com initially raised $225 million in fundraising capital, and then by November of 2015, had acquired $500 million in venture capital, and eventually launched with over 4.5 million products.
More importantly, that initial success is in no small part to CEO Marc Lore, who has attained success in e-commerce with multiple ventures.
Marc has been going head to head with Amazon.com for years as the CEO of Quidsi, which operates Diapers.com, Wag.com, Soap.com, and several others. The two companies clashed over Diapers.com, which was beating Amazon in diaper sales thanks to the company's ability to predict their specialized sales and therefore to store select stock items in specific areas, allowing some orders to be fulfilled in literally hours. Lore eventually sold to Amazon for $550 million, working for the company for just over two years, before leaving to launch Jet.com.
Unlike Diapers.com, Jet.com is designed to directly compete with Amazon by offering lower pricing, cheaper shipping, and larger sales for each seller. The platform also hit one million users by November of 2015, and is today valued at some $1.3 billion. Walmart.com acquired the company on August 8th, for $3.3 billion, which should improve the consumer base and possibly the product listings on the platform. Walmart benefits from Marc Lore's experience and expertise, and part of the sale included a contract to keep Lore on for 5 years as CEO. But, Jet.com will benefit as well. Jet's primary goal is to save money on shipping, and Jet can now take advantage of WalMart's distribution node, by shipping products out to Walmart centers, and Walmart will be able to handle the final distribution.
What Makes Jet.com Different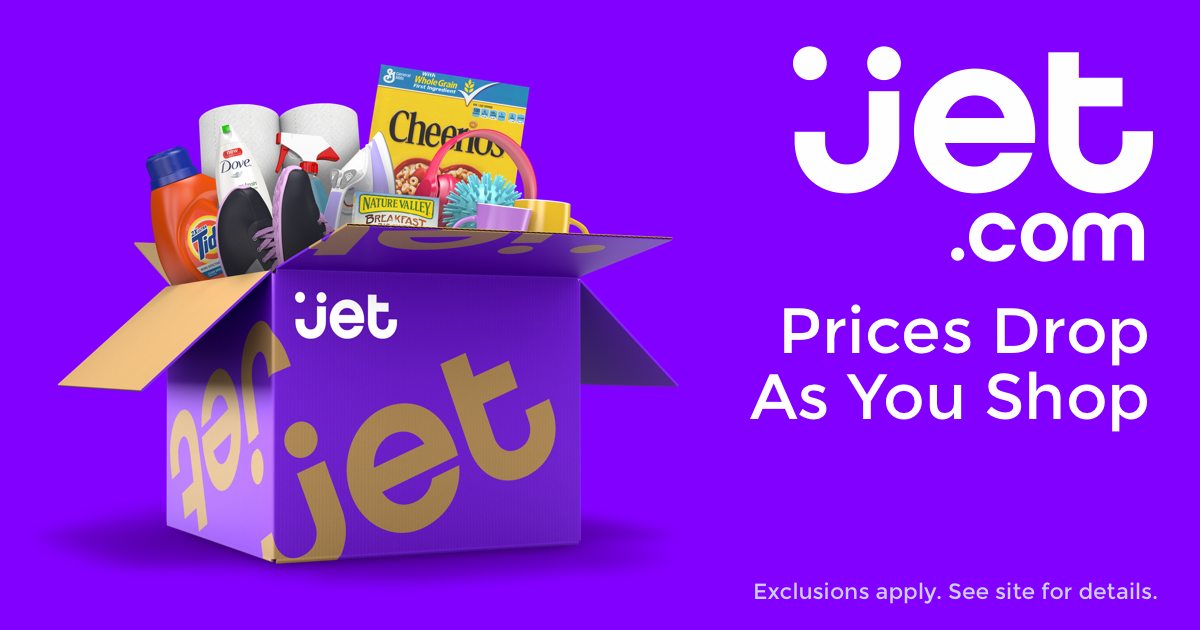 Jet.com's primary draw for consumers is that they offer a typical 4-10% cost reduction, don't charge for extra shipping options, and offer free shipping over $35. While the discounts are not large, the entire concept is meant to prompt users into making larger purchases from the same seller, which reduces costs on both ends. Jet works to offer added discounts to sellers by finding the items they have in their shopping cart from one seller, which allows the buyer to save on shipping, get an increased discount on the items they purchase, and reduce the hassle of receiving multiple packages.
It also works for sellers. Jet.com charges an average of 15% commission and all of their discounts come out of that. Larger orders also mean reduced fulfillment costs per item, which can reduce both shipping and packaging costs. Plus, Jet.com encourages the use of cost-effective shipping methods, even if they take longer, which means that 3PL (third party logistics) solutions in combination with low-cost delivery through USPS can save sellers considerably. In fact, that's one of the reasons why Walmart acquired by the platform, the deal, Jet.com's audience is more in line with consumers who typically shop at Target, so Walmart is gaining exposure to an entirely new demographic. And, this audience is likely to expand as Jet.com integrates Walmart's consumer packaged products and goods, because Walmart can literally acquire any product for Jet.
While Jet.com doesn't offer an audience as large as some of their competitors, the website does have a large audience, and it attracts buyers who want to make more purchases from the same seller. This offers an opportunity for e-commerce retailers with multiple products that go well together, because it can increase overall sales.
Setting up a Jet.com Marketplace Seller Account (with Skubana)
Jet.com requires e-commerce sellers to apply for a merchant account, which you can do here. During registration, you will be asked to answer questions regarding your sales, volume, merchandise, etc. Jet.com will manually approve your application within 1-2 weeks.
Once you've been approved for a merchant account, you can log in through the Jet.com merchant portal to get started. Once your account is approved, it gets a little bit more complicated. Jet.com saves money by not using a seller interface, which means you have to use a third party application, such as Skubana. You can directly integrate the Jet.com API into Skubana's software.
1.Log into the Jet.com merchant portal.

2. If you have not yet set up a Fulfillment Node ID, set one up. To set up a fulfillment node, simply click "New fulfillment node" and add the name and address of the warehouse. Jet.com will automatically generate a Fulfillment node ID. Importantly, you have to complete this step in order to complete the Test API to begin adding products to Jet.com.
3. Go to API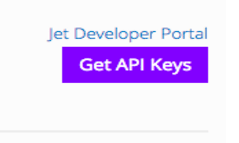 4. Click "Get API Keys". Save these numbers
5. Open your Skubana seller interface
6. Click "New Sales Channel"
7. Select Jet from the channel list
8. On the Jet.com Integration page, enter the API User, API Secret, and Fulfilment Node ID that you got in step 3
9. Click "Verify Integration"
10. You can import your Skubana inventory directly into Jet.com.
You can also choose to integrate your SKUs programmatically, or directly using the API. Jet.com manually reviews every SKU submission because they utilize a unified product catalogue, meaning that every seller with the same product shows up in the same listing. For this reason, products can take anywhere from 1-30 days to go live on the site. Jet.com prioritizes catalogues of over 1,000 SKUs, so you are better off uploading as much of your catalogue as-is possible upfront.
Finally, you can optimize your account to increase sales by paying attention to Jet.com's "smart cart" algorithm. Jet.com offers additional sellers products to buyers based on their proximity to the seller, competitive pricing, competitive shipping, quantity discount, and fulfill orders quickly. Essentially, if you can stock multiple products that are commonly purchased together, maintain distribution points as close as possible to your primary buyers, and use Jet.com's "Rules Engine" found under the Partner Portal to optimize discounts based on the size of the shopping cart, you can increase sales.
Using the Jet.com Partner Portal
Jet.com allows you to access most of shop data through their Partner Portal, where you can see your sales, track data, check your earnings, see order details, and much more.
The values on our sales and other data are blank to protect the confidentiality of the business.
Dashboard
Jet.com's dashboard allows you to see an overview of sales, order value, units, and other details.
Settlement Reports
Jet.com pays you for your sales on a weekly basis through settlements. The company tracks all sales, refunds, and returns to create a final value total, which is calculated between 12 AM UTC Saturday-Saturday. Settlement reports make it easy to see your total pending earnings per order, so that you can track profitability.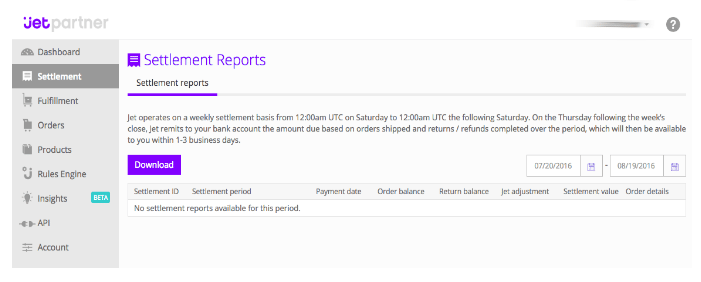 Orders
Orders makes it easy to see all of your shipment information at a glance, which is useful for customer service, as well as for ensuring timely fulfillment. Jet.com helps you track everything from the order date to the shipment method and required ship-by date. Jet.com's shipping policies mean that you will have to ship very quickly to meet the 2-5-day deadline, so tracking this data in your Partner Portal, or in Skubana, is crucial to maintaining standards.

Fulfillment
The fulfillment bar allows you to set up and track fulfilment and returns. Jet.com requires that you set up a fulfilment node for every warehouse that you ship from, as well as a return node, where you receive returns back. You will have to set up fulfillment nodes before you can upload SKUs.

Products
The products page allows you to track the SKUs that you have uploaded to Jet.com. This will also allow you to see the items that are already uploaded, which need more work, and which ones Jet.com is still reviewing. Your inventory from Skubana will show up here.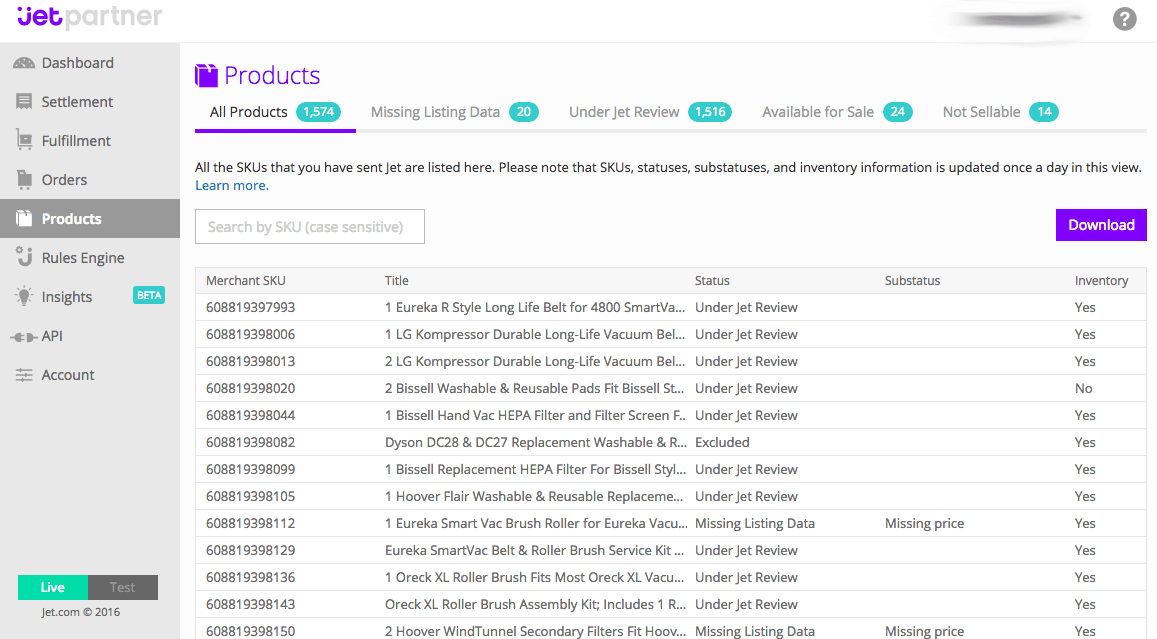 API
The API page allows you to see a total overview of your uploads, brands, data, and more. It also allows you to access API keys, which you will need to integrate Skubana.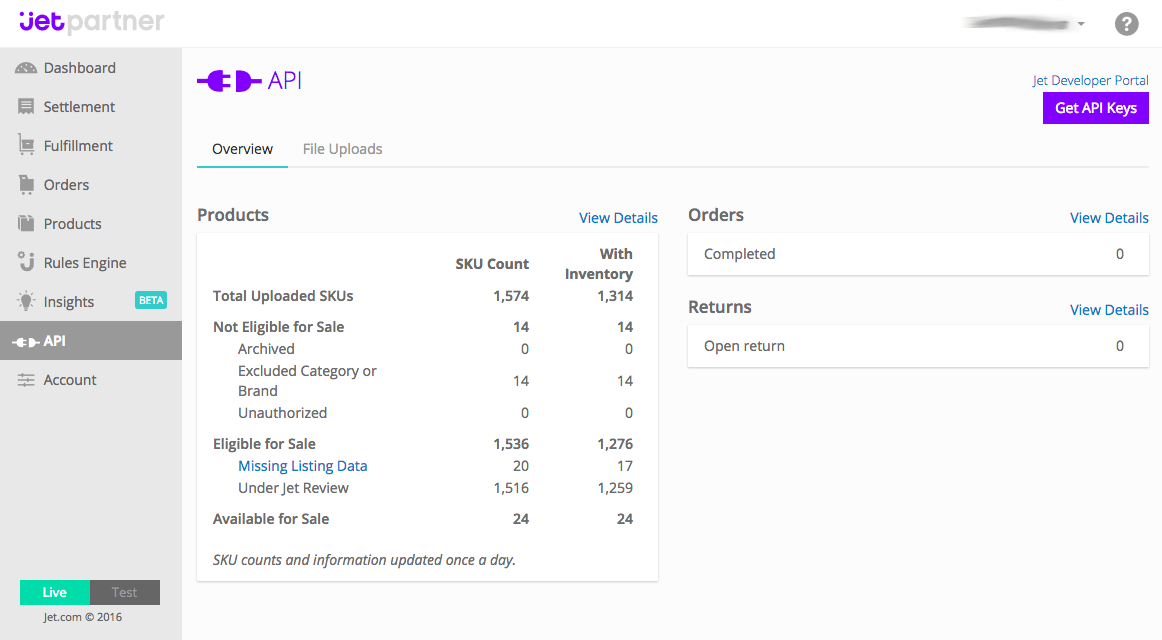 1-click Integration to Jet.com with Skubana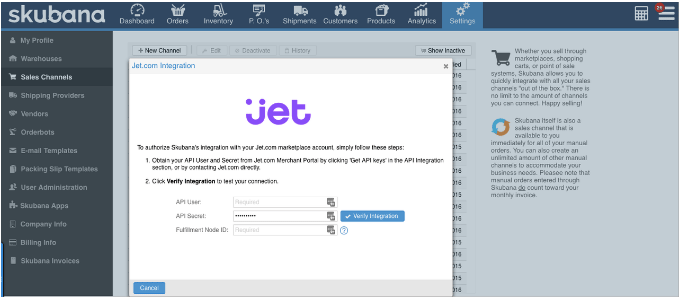 Skubana's all-in one e-commerce solution allows you to directly integrate your products and inventory into the Jet.com API so that you can track and maintain your inventory across all of your channels.
For example, Skubana pushes your existing inventory to Jet.com every 15 minutes, so that your inventory levels stay up to date to prevent overselling. This is ideal for working with potentially larger orders, because you can more easily control your inventory levels at every distribution point.
Jet.com's sales module involves offering incentives to buyers to get them to purchase more from one shop. Each order will be, on average, more than one item, so you need stronger inventory management to ensure that that the fulfilment process goes smoothly. Skubana's automation software can help you there by cutting costs, improving time investment, and ensuring that you have the tools to track the order from the shopping cart to the warehouse, and print shipping labels for it.
Finally, Jet.com works by offering discounts to the buyer, so it is crucial for you to use analytics to track your earnings over time to ensure that you are maintaining a profit despite the discounts. Jet.com buyers check out with an average of 1.5 items vs. the average 1.1 at Amazon.com, which can mean higher profit per shopping cart, but less profit per item. Tracking this to ensure that every item is earning a return is crucial for maintaining profitability and optimizing your warehouse for Jet.com sales over the long term.
Jet.com is a promising newcomer to the e-commerce market, and Walmart's agreement to purchase the platform could add to it's relative success. And, for sellers with multiple items that are frequently purchased together, the platform has a great deal to offer that many other sales channels simply don't.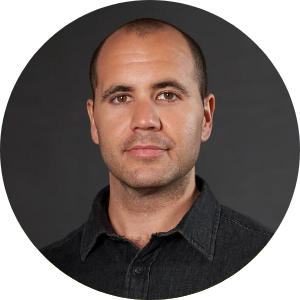 Written By
Chad Rubin
Chad Rubin is the co-founder and chief executive officer of Skubana, a multichannel e-commerce software the enables brands to unlock growth by unifying their back-office operations.