E-commerce Best Practices: Navigating Logistical Nightmares
April 20, 2020
45

min read
COVID-19 is causing unprecedented challenges for brands and retailers. Supply chain disruptions, worker furloughs, and social containment strategies will greatly impact us for the foreseeable future.
Learn the steps you can take to survive this global pandemic and build a stronger, more resilient business.
Check out the recording here or read the full transcript below.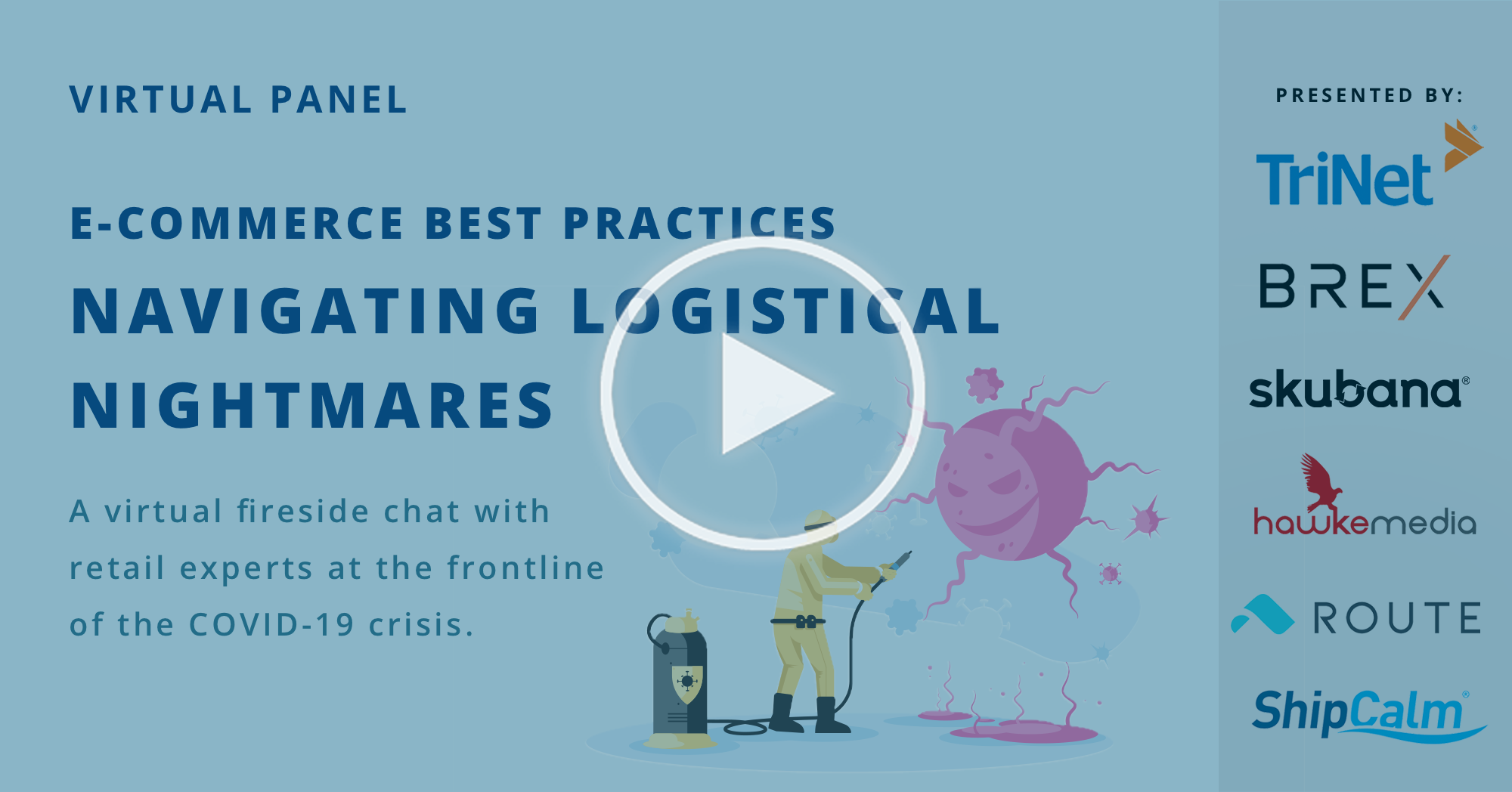 Courtney Hayes:
Good morning and good afternoon. Welcome to the webinar. We're going to be talking about Navigating Logistical Nightmares during COVID-19 and the steps you can take today to survive this global pandemic and build a stronger, more resilient business.
Courtney Hayes:
My name is Courtney Hayes, and I'm the Director of Sales and e-commerce National Practice Leader at TriNet. TriNet provides a full-service HR solution to small and mid-size companies. More recently due to COVID, we're spending a lot of time helping our clients navigate employment guidelines and compliance around workforce fluctuations, furloughs, and appointment classifications.
Courtney Hayes:
I'm very excited to be moderating this or co-moderating this webinar because we have a powerhouse panel here to help you navigate this.
Courtney Hayes:
Before I introduce you to the panel and turn it over to Max, I want to let you know that the webinar is being recorded, and we will distribute afterward. In addition, if you have any questions, you can type them into the questions box on the GoToWebinar panel, and we'll have time at the end of this session to answer your questions.
Courtney Hayes:
So with that said, I'd like to introduce you to our panel. First up, I'll introduce you to Andrew Jones who is the Head of Content Marketing for Route. Route is the premier post-purchase experience solution for online retailers through dynamic visual tracking, premium order protection, and one-click claim resolution. Retailers can deliver an end to end post-purchase experience.
Courtney Hayes:
Second, I will introduce you to Greg Moser who joins us with 20 years of e-commerce experience and the President of ShipCalm. ShipCalm is an e-commerce fulfillment company and third-party logistics provider for small, mid-size businesses with a modern approach to technology and fulfillment facilities on both coasts.
Courtney Hayes:
Next is Chad Rubin who is the Co-Founder of Skubana, a software platform that enables multichannel brands and retailers to unify their back-office operations.
Courtney Hayes:
Last but certainly not least is Gabrielle San Nicola. She's the Director of Growth at Hawke Media. Hawke Media is a marketing consultancy and full-service agency. They've worked with a ton of brands, including Verizon, Red Bull and Tamara Mellon.
Courtney Hayes:
So with that said, I will turn it over to Max to introduce himself and kick off our discussion. Max.
Max Segall:
Thanks, Courtney. And hi everyone, I'm Max Segall. I lead the e-commerce business at Brex. We're a financial technology company with a corporate card product specifically for online sellers. The product offers 60 day net terms for absolutely no fee. We can dive into that a bit later. But while we have everyone's attention, let's dive into the topic of the day, which is navigating logistical nightmares in light of everything that's going on in the world as an online seller.
Max Segall:
So when the news started breaking about all of the fallout from the COVID crisis, one of the first things that really took the e-commerce market by surprise and had a huge impact on the landscape was Amazon's announcement to stop fulfilling nonessential goods. And so I'd love to hear Greg, your perspective on how Amazon's move has influenced the fulfillment landscape and particularly your business.
Greg Moser:
Yeah. Great. Thanks. Happy to do that. First and foremost, hi everybody. Glad to be here. Thanks, Max. Thanks, Courtney for putting this together. Certainly, the announcement from Amazon was a big shock. I think it caught a lot of people by storm, and I just want to provide a little piece of clarification. They didn't stop fulfilling nonessential items. What they really stopped doing was just allowing new nonessential items into their fulfillment centers. So if you had a product there already, that was good, that was fine. You just couldn't replenish any new inventory. And Amazon made that announcement I think on March 17th, which sent a lot of people sort of chasing their tails looking for a new solution.
Greg Moser:
They originally said they were going to loosen that by April 5th. That was sort of the plan, and we've all been sort of sitting around waiting eagerly for the doors to open back up for us to be able to send inventory in, especially for a lot of our clients that don't have the sort of "essential" items. And then right at the end of March, I think it was March 26th, they said, "Listen, we're actually not going to turn it all back on on April 5th. We're going to keep some restrictions in place, and we're going to slowly start turning on different listings that can send new inventory into our fulfillment center."
Greg Moser:
So it's been a big shock I think to a lot of businesses. We personally have been fielding a lot of inbound requests to start taking overs people's Amazon businesses and start more of a fulfill by merchant or seller fulfilled Prime model so they can continue to sell on Amazon, which is something you can do. So if you've never done this before with Amazon, highly recommend checking out sort of fulfilled by merchant or seller fulfilled Prime if you have your inventory in a facility where you can sort of fulfill it out of it. But it's been quite a shock, Max, for sure.
Max Segall:
Can you speak for a few moments just about what it takes to spin off a fulfilled by merchant relationship?
Greg Moser:
Yeah. I mean, for us specifically, it's really simple. We've been onboarding people in as quickly as 24 hours. Typically what the longest lead time is just getting the goods to us. So it's a really easy thing to do on your Amazon account. If you already have listings that are fulfilled by Amazon, we recommend going in and fundamentally duplicating those listings to being fulfilled by the merchant. So you'll have basically two listings for every product or two SKUs I should say for every product. And then we use a software to pull those orders down from Amazon, ship those orders out to your customers, and then it pushes the tracking information back up to Amazon. So it's a really easy thing to turn on, and we've been onboarding calls all day every day for really the last three weeks walking people through the process of doing it on their Amazon and getting their inventory into our facilities. So yeah.
Max Segall:
Awesome. That's definitely helpful. I know a lot of our customers are calling in asking how to navigate that change. Andrew, I'd love to hear given your visibility to the shipping side of things and particularly the last several miles of delivering products, how this move has impacted what you're seeing with your business.
Andrew Jones:
Yeah. Definitely. Excuse me. First off, really excited to be here. This is an awesome group. I feel like we're going to get a lot of awesome, awesome content through this. So just excited to be here first of all.
Andrew Jones:
Yeah. As Greg was saying, nobody's really been affected as much as basically Amazon has, at least what we're seeing in the news in terms of shipping, shipping delays, what they're stopping doing, what they're trying to implement. It's been a lot. So a lot of online retailers, a lot of merchants, they're looking to see how do I do this myself, how do I fulfill myself, what are the processes, what are the technical challenges, which Greg has spoken to and probably will speak to a little more. One of the areas that Route really focuses on, and that's what I'll talk about really quickly, is maintaining the experience that Amazon shoppers have come to know and love. Because as shoppers are leaving Amazon and are going to go looking for new options, they're going to require or want that same experience they were getting before.
Andrew Jones:
So one thing I want to just touch on quickly, why do shoppers even choose Amazon? What are the factors that drive them there, and how can you maintain that as a merchant as you reevaluate your fulfillment process?
Andrew Jones:
So in a recent study from Epsilon, of all the factors that contributed to a shopper choosing Amazon over a different retailer, about 80% of the reasons had to do or 80% of the preferences had to do with some sort of price or product selection. 61% of the reasons for choosing Amazon had to do with the post-purchase experience, IE shipping, tracking, returns, exchange, et cetera. We're not going got be able to compete on price, product selection with Amazon. That's just not going to happen. So for retailers who are really looking at reevaluating their fulfillment process, focusing on that post-purchase, on that shipping side is really how you can help position yourself against Amazon and provide that amazing post-purchase experience that they've come to know and love. And there's a lot of creative ways that we can do that. We've been looking at free shipping options. There's a lot of creative ways like product bundling, baking prices into product cost, 3PLs, offering better tracking solutions, updating return policies. So there's definitely a lot of creative ways that merchants can get into that right now.
Max Segall:
Really cool. Thanks for sharing that, Andrew.
Max Segall:
One other big ripple of Amazon's move we've been seeing in the marketplace now is that they've decided to pull all spend on Google ads, which had some pretty interesting fallout in the marketplace pricing dynamics. Gab, not sure if you're seeing any of that with your customers, as you're managing their ad campaigns. But it'd be great to hear anything that you're hearing on the ground
Gabrielle San Nicola:
Yeah, definitely. Hi everybody. Thank you again to Max and Courtney. Really excited to be here and happy to help however I can.
Gabrielle San Nicola:
So it's interesting because their pullback really affects this highly coveted real estate at the top of Google search results. This is where retailers and e-commerce buyers really bid and pay handsomely to place solid ads, colorful and image-rich, different pieces of content where consumers are looking to buy different products. And now at this point, that's all gone. So the playing field is completely level, if not in favor of these smaller companies or non-Amazon. And there really is an unprecedented amount of users online right now, which creates a pretty unique opportunity for brands not only to be able to understand their consumers and to get that insight but also be able to do so with such low competition from these monster brands such as Amazon that's pulled out for advertising.
Gabrielle San Nicola:
And one of the things to think about is that when we go back to work as we used to or going back to some kind of a new normal, this data will be much more expensive, and it will take a much longer time to accumulate. So realistically with the loss of Amazon in this area, the ability to reach audiences is pretty unparalleled right now. But just keep in mind the willingness is limited only to [inaudible 00:11:57].
Max Segall:
Thanks, Gab. Had a little bit of echo feedback at the end of that but really helpful context. I think when the crisis really started hitting full speed, us at Brex, we were wondering how spending patterns across the e-commerce market would be impacted. I didn't really know exactly what to expect. We've actually seen a pretty big surge in ad spend since the crisis started playing out. So between January and March, we've seen over a 20% month over month increase in ad spend, and a lot of that is actually been driven by Google. So it's interesting to see how all of this has been playing out. But businesses are continuing to rev spend and this spend in April is pacing to be pretty material increase verse what we seen in March.
Max Segall:
Switching gears a bit, would love Chad, for you to share your perspective on what you're seeing in other major marketplaces outside of Amazon in light of the development and how they've switched gears on the products they're selling.
Chad Rubin:
Yeah. Sure. So I think as Greg alluded to, FBA, Amazon going inbound right now has been limited. So they're only allowing essentials. And so that allows for those merchants and brands that were already multichannel to be able to capture that share. Obviously there's been a lot of FBA only merchants that have been scrambling to move off of Amazon. I look at e-commerce, I always have for the past decade. I look at just e-commerce in general like playing Monopoly, and you want to be on every piece of the board to win. So I've been on all these different channels for a very long time.
Chad Rubin:
The fact that, by the way, Amazon stopped advertising on Google for PLEs are amazing because now it allows not just SMBs to win but also allows if you're on Walmart or Sears or Newegg or any of these other marketplaces, they're actually advertising on your behalf. And it's a great way to take up more pieces of the monopoly board so to speak on Google.com.
Chad Rubin:
So I think just like everyone else on the call, cross hold necessities are taking over these premiums discretionary brands, and we're seeing a massive uptick in those brands. While some of the say companies that have been very premium, let's just say a luggage company for example. Nobody's traveling right now so we're seeing a pretty big dip in that. That being said, I think overall I think e-commerce is going to change people's habits in this current moment because those that weren't shopping online are now starting to change their habits and start shopping online. So whereas eComm was 12% to 15% of retail, that can skyrocket during this right now and after this. So I think it's going to be an amazing thing for those that are involved in online retail forward.
Max Segall:
Awesome. And Chad, I know you work with hundreds of brands as the CEO of Skubana, but you also yourself were an e-commerce operator for many years. Would love to hear how you think about the different marketplaces and the pros and cons of some of the big ones. So pivoting from an Amazon to either a Walmart or some of the other major marketplaces. If you could share some tips with the audience on how to think through making that pivot.
Chad Rubin:
Yeah. So I've been doing this for a decade, and initially people were very resistant to embracing Amazon. And they started thinking about Amazon, and then they start acting on Amazon. And so for me, I think selling on Amazon is a necessity. If they're doing 50% of e-commerce market share right now of all transactions, if you're not on Amazon, sometimes you're not relevant. So even if you're a brand today that say has some ego or some hubris and doesn't want to be on Amazon because they think that they don't want their property next to say when you buy paper towels or toilet paper. What I suggest to those brands, especially brands that are using Skubana, I'll say, "Look, you can put an economy SKU on Amazon. You can put a hero SKU or a diamond SKU. Put one specific SKU on Amazon, and sort of make Amazon's advantage your advantage. You can use it as a testing ground. You can understand what those conversion rates are. You can understand what sections are being driven to that."
Chad Rubin:
So when you go on Amazon.com and you go into the 89 search and you type in an item and you're to present and other people are bidding on your name, it allows you to actually have a deeper presence that you can turn on very quickly to start getting traction. So I think Amazon is really important depending on your category, but I think all categories should be embracing Amazon. But I also think about all these other channels be bringing your product live, whether it's small or long tail marketplaces, like say Huckberry or GaraShop or perhaps Walmart or Home Depot or Jet or Overstock or Groupon. There's so many different places to embrace because anytime somebody lands on that piece of your board like a Monopoly board, they pay up. So it's really just about getting eyeball share right now. I think that's really important, especially since the cost per clicks, which Gab can talk more about, is starting to decrease. And there's a lot less competition. It's now your time to act and take some share.
Max Segall:
Absolutely. It's super helpful feedback. Gab, I don't know if there's anything you wanted to add just in light of how Chad ended that comment.
Gabrielle San Nicola:
Yeah. I mean, cost per click is definitely lower and like I said earlier, the playing field is so equal for companies to really be able to figure out everything they need to do to be reaching out to these audiences basically at a discounted ad spend. This is an opportunity that companies have never had and probably will not see again or hopefully will not see again. So to be able to be comfortable in putting money behind your advertising and really being able to not only drive revenue but understand your consumers and to be able to reach out to them in an effective way is incredibly powerful. And it will be a sign of a brand that's going to emerge from this crisis pretty strongly.
Max Segall:
Awesome. So switching gears a bit, one of the things we hear from our customers at this point, like an hourly basis is there's certain products where they literally can't source the inventory to meet the demand they're seeing, whether it be hand sanitizers or paper towels or cleaning supplies. That's one dynamic, and then another crisis related dynamic we hear a lot from our customers, particularly those that work with retailers, is that the retailers are canceling their purchase orders or going back on commitments. So they have excess inventory.
Max Segall:
Greg, I think you're in a really unique position to speak to both trends and what you're seeing, tips to people on the call. So would love to hand this one over to you.
Greg Moser:
Yeah, sure. Thanks, Max. So yeah, we're definitely seeing a lot of our customers... Well, first on the topic of ups and downs, we're definitely seeing that. And to Chad's point, some of the more luxury brands are really struggling right now as people aren't buying luggage. But some of the brands, like we do a couple of the major soap manufacturers in the country, have been skyrocketing. They orders have 10X'd where they were before. So yeah, there's some wins for some and some losses for others on that front. I do think though, also to Chad's point, the opportunity is still there for the luxury brands.
Greg Moser:
And just to add on to the past topic about cost per click, we're not seeing people necessarily convert right now. So your cost per acquisition might be through the roof. But it's a great time to be educating people if you're a luxury brand and just getting in front of them because the eyeballs are cheap and getting a remarketing pixel onto their website is really cheap right now. So support now and sell later, build your audience, build your brand right now, educate your customer right now unless you've got a soap or a hand sanitizer, in which case just try and stroke your supply chain as best as possible. That is getting easier though. The global logistics market has gotten a little bit easier in the last even week than it has been historically. Manufacturing has been turned back on, which has made things a lot easier for folks, especially that were manufacturing in China. So we're seeing a lot of that uptick.
Greg Moser:
The challenge on the retail front is very really though. There are a lot of retailers cutting POs, which is actually sort of driving some opportunities in that you may have placed or had some big POs from a retailer rapport that they just canceled. Now's a great time to turn around and try to sell that inventory for cheaper than you normally would. You're not going to be alienating any of your retailers because they're not selling right now. So I think that's a really good... If you're finding yourself in this scenario where maybe you had a historically retail rich sort of revenue stream, like 80% of your revenue was from retail and that's all disappeared, there are literally has never been a better time to get into e-commerce. So I think that you can find a lot of opportunities in making that big shift.
Greg Moser:
And again, to Chad's point, we don't think that coming out the tail end of this, even if every government official just said, "All right, everybody's good to go. COVID's gone. We got it all. You're good," we don't think that people's buying habits are just going to snap back to everybody going into retail. We think that that's going to be a long time. And perhaps this upward trajectory of e-commerce is just going to get a big jump right now and then continue on. So now more than ever it's important to sort of sure up what your direct to consumer strategy is.
Max Segall:
Totally. I think buyer habits are going to be permanently changed by this, and a lot of people are going to pivot towards purchasing goods that they normally never would have considered purchasing online from e-commerce vendors. So it's a really exciting time to be in this space and lots to navigate in the short term, but long term I think this will benefit the market pretty significantly.
Max Segall:
Andrew, would love hear your perspective. We've talked a little bit about ads. We've talked a little bit about fulfillment, but what you're seeing on the ground with the shipping landscape. Any disruptions in working with companies like UPS, FedEx, anything else that's really changing in light of everything that's going on in the market?
Andrew Jones:
Yeah. Excited to talk about that. I think there's a lot of questions right now around... If you guys want to do a fun thing after this, go to Google Trends, put in shipping delays, and you can look at it from 2004 until now. And the amount of Google searches for shipping delays is exponentially more than its ever been. So that's just a fun thing to look at, but people are worried about it. Consumers are worried about it. Merchants are worried about it. How are basically the big four carriers responding? The USPS, FedEx, UPS, DHL, how are they responding? Are they consistent? Are they going to get my stuff on time? Is it going to cost more money, et cetera.
Andrew Jones:
So there are some big changes to know, but I think on a positive note, they're functioning very well. They're doing very well. They are still maintaining a really high level of consistency, of security, of getting people the stuff they need when they need it. But there have been a few big changes. Primarily money back guarantees, shipping guarantees, service guarantees are all gone from USPS, FedEx, UPS, DHL. They have temporarily suspended them indefinitely. So there's no end date. So what that's telling us or anybody whose familiar with the service guarantees is those guaranteed basically that they would get the package to your customer's doorstep when they said they were going to do it, and if they don't, you get your money back. Those guarantees are all gone, currently suspended. And it varies from carrier to carrier.
Andrew Jones:
The information on their websites are pretty clear. So if you're shopping or if you're shipping with any one of those carriers, you can go take a look at it. But some of the highlights: USPS, they've suspended their guarantee on priority international. They do ship a ton overseas with their third party partners. There's a lot of exclusions to where it's going to go. It's all listed out on their website. They also have no signature required right now. So any more important package, it's not going to be signed for, understandably. FedEx, they've suspended the money back guarantee for every service. International services now have a surcharge as well. It's usually based on weight and destination. So definitely go take a look at that. They also are suspending no signature, but you will still be charged for adding that. So that's a nuance there. UPS, no service guarantee. Timelines have been extended. DHL, they have an emergency surcharge. Once again that can range from a few bucks up to a couple hundred bucks.
Andrew Jones:
So if you use any of these services or use any of these carriers, highly recommend you dig in deep to really see what changes have been made because you can imagine that you might have your shipping cost dialed. A lot of these surcharges and a lot of these loss of guarantees mean that you can get upside down really quickly if you're not really, really clear as to what changes they've made.
Andrew Jones:
There's a couple other things. I don't want to get too deep into that. I could talk about that all day long. But if you use any of those, if you have a preference, their websites are pretty clear. But go check them out because there's a lot of nuances between them. Also around the dates when a lot of these service guarantees have been cut and when they've taken effect. So if you're dealing with issues, see when these guarantees have been put into effect and see if you're eligible for any sort of refunds or what. But dig in, make sure you understand what's happening so that you can stay on top of the shipping costs.
Max Segall:
Totally. That's super helpful context, and I'm sure something that's at the top of everyone's minds right now.
Andrew Jones:
Right.
Max Segall:
Last very related question before I turn it over to Courtney. Chad, let's say you're running a business right now. You're anticipating disruption with your carrier relationships. What alternatives would you be looking into as a potential workaround to any disruption you'd be seeing with your shipping relationships?
Max Segall:
Chad is on mute.
Chad Rubin:
Here me now?
Max Segall:
Yup.
Chad Rubin:
I can just to speak to on behalf of customers I've chatted with. A few things. One, I've seen them spreading out their inventory. So as COVID starts to hit specific states, they sort of start moving their inventory and transferring to other 3PLs that haven't been affected or even states that could be affected the least as a result of this. So I've seen them doing that and that means you have to have multiple warehouse functionality with abilities built to orchestrate and route orders accordingly based on stock levels at a given time. So I've seen that.
Chad Rubin:
I've also seen individuals that have been shipping direct from China because China's now starting to ramp back up. So they've sort of re-orchestrated their orders to just go right from Hong Kong or China direct to consumers. I've seen that happening.
Chad Rubin:
So I've seen a lot of different strategies during this time. But what I would recommend as just a takeaway is that recommend somebody internally at your company to sort of as the war room individual dedicated to COVID that could essentially help you do scenario modeling and analysis of your business based on specific outcomes if this does become a deeper recession, looking at the impact of your warehouse and your 3PL, looking at the impact of UPS or USPS or FedEx and Amazon specifically along with your supply chain. So have one person individual that's charged and tasked with this to lead the company forward.
Max Segall:
Awesome. Super helpful. Greg, anything you'd like to add on shipping alternatives or workarounds before we turn it over to Courtney?
Greg Moser:
No. I mean, I think these guys hit on the points really well. I will add one small thing, which is to Andrew's point. While the shipping guarantees are gone, we're actually seeing delivers still really good. In fact, like the domestic operations here, specifically... Internationally is a different story because of all the surcharges and things like that. But certainly domestically we're actually seeing the domestic carriers do a really good job. I've been super impressed actually with their ability to sort of stay ahead of this with all the extra work that they've... They're sort of like going through a normal Christmas season right now in March as far as their volume is concerned as everybody's ordering online.
Greg Moser:
So I think one of the things that's really important is what's more apparent is customer uncertainty than the actual reality of getting the package to your front door. And so I think now one recommendation would just be overly communicate to your customers in the form of messaging on your website that says, "Hey, here's what's going on with COVID. Our fulfillment center is still running. You can still place an order. We're seeing maybe 24-48 hour delays." But proactively messaging that because then your customers like, "Okay, great. I'm not going to place this order and then get an email that says it's not going to ship for four weeks." That's what they're worried about.
Greg Moser:
I mean, if you have your old traditional checkout process, they might think, "Uh oh. I'm about to place this order, and then they're going to tell me it's going to be four weeks." So I think including tools like Route is a great thing to add to your checkout process because it just sort of adds this sense of security for your customer and assurance that they're actually going to get their goods. So I just think proactive messaging is a really important thing to be doing right now. That would be the only thing I'd add.
Max Segall:
Amazing. Over to you, Courtney.
Courtney Hayes:
All right. Thanks, Max. So next question just is around conserving cash and Brex, you are no better to answer this question than anyone on the panel. So what is the best way to show up cash?
Max Segall:
Yeah. So there are a lot of things that you should be thinking about when it comes to managing your cash flow. I think one that's increasingly top of mind kind of speaks to Brex's core value prop, which is maximizing the flow or the period between when you need to make your investments and then when you get cash on those investments. So everything is seeing disruption at every point in the selling cycle. So many merchants that historically would have been fine just laying out cash directly for a big ad campaign or paying for shipping or purchasing inventory. Since the selling cycles expanding pretty dramatically, every extra day afloat you could get on those purchases matter.
Max Segall:
So Brex's product, we're a corporate card, but we offer really extended flow on every purchase you make. So we have a product that offers 30-day flow on every purchase made and some pretty aggressive cashback on every dollar you spend. And then we have our dedicated e-commerce offer that offers 60-day net terms. So you make a transaction today, you're not actually going to get charged for that transaction until 60 days after the purchase is made. We're seeing record volumes of sign-ups for both offerings, and that just speaks to the need for these sorts of solutions against this backdrop.
Max Segall:
There are many other financing sources out there. I think in a bit we're going to speak to the government stimulus program, how you can get access to those funds. Everyone should be really trying to mobilize to do that quickly. There are traditional financing alternatives out there. You can work with banks to get cash. Every extra dollar of financing right now in our view as long as you're comfortable with the ability to repay it is valuable for businesses against this backdrop.
Courtney Hayes:
Agreed. Thanks, Max. Going along with the same subject, what's going on with the stimulus package, and will it impact me? I know, Greg, you've explored this quite a bit if you want to take that question.
Greg Moser:
Yeah. Certainly. So there's a lot to unpack obviously with the stimulus package. I've been working on this now for myself and some of the other businesses that we own really since all this news got announced that there were going to be stimulus packages. Reading the bills and talking to bankers and understanding all this stuff. There's really two key programs I think people need to be aware of, and many of you I'm sure are at this stage because there's been a lot of messaging around these. One of them is the payroll protection program. A really great program if you have payroll. So if you had payroll, especially if you had payroll last year, it's a great program because you can qualify for a lot of funding, and as long as you're going to continue to spend that funding on payroll. And there's some other things you can spend it on. They're going to just give it to you gratis. The debt's going to be forgiven.
Greg Moser:
But there's been botches in the rollout of this but to be expected. The government's trying to hand out $350 billion really, really quickly, which now looks like it's going to be closer to $600 billion. So it's understandable.
Greg Moser:
I think I personally have just tremendous anxiety over the last two weeks as we're eagerly trying to be first in line, be with the right bank, and all that stuff. This thing is going to take time. So try to manage your stress and manage your anxiety through this. I think that there now, especially with the added funds, that we're going to see everybody's going to get their turn at the turnstile to pick up their check if they're due it.
Greg Moser:
One of the things I think that might be important for the people that are on this call is if you didn't have payroll last year, there's a lot of e-commerce business owners, small business owners that barely pay themselves a salary, let alone have a big payroll to pay other people. So if you're just an independent e-commerce business owner, that may not be the kind of stimulus that you need or you might not be able to qualify for as much as you like to there. But there is another program put out by the SBA called an EIDL loan. It's more like a traditional loan, but they're really easy to get right now. They're qualifying people for way higher amounts than you would normally be. And so I think that that's a really great option for people to go down the... If you just go to the SBA's website and disaster relief, it'll give you all the details on that program. And anybody can sign up for it, even if you're a brand new startup and literally have no revenue. If you have projections and say, "Hey, I was going to spend all this money and do all these things," you can get a loan from them to continue on your course. You just have to be able to show that you're negatively impacted by COVID, which I'm pretty sure all of us can do at this stage.
Greg Moser:
So anyway, I think both programs are great. Yeah. Take your take and do your due diligence for sure.
Courtney Hayes:
Thanks, Greg. Appreciate that. As we pivot, what could a brand be doing right now to head for post-COVID-19 in the future? We're going to make it out of this at some point. So Gab, what are your thoughts on what brands could be doing now to plan for the future?
Gabrielle San Nicola:
So I mean, right now obviously we're in quarantine, and the percentage of people who are going and shopping through e-commerce is pretty incredible. We're seeing eCommerce growth to be really strong regardless of what the economy is seeing. Nobody's really sure what will happen in the future and what the new normal is going to be. Just like Greg said earlier, people's buying habits are not just going to snap back. Right now consumers are being forced to look at different vendors now that Amazon's a little harder to access. So in the future what we're thinking, brands are really going to need to be focusing on B2C channels today, tomorrow, next month, and in the next year.
Gabrielle San Nicola:
Right now to hedge your bets for the future, you really should be starting to advertise and starting to be taking advantage of the fact that the cost to advertise has dropped a ton. That's an incredible opportunity. To be able to then grow that in the future will be really powerful. It is basically what it is is that crises are great truth-tellers. We're seeing these brands in real-time are going through the crash course in social responsibility. There are already winners and losers. And the winners are the ones who are acknowledging what their customers are going through, working and acting quickly, and putting together this plan and then acting on it. The losers are the ones who are pulling out of advertising and operating as like businesses as usual.
Gabrielle San Nicola:
So what we're really looking to do is to enhance the companies through telling that brand story and running any kind of advertising to promote the companies because for right now, and what we're expecting for the future, is to see a pretty substantive rise in ad spend and correlating success [inaudible 00:39:36].
Max Segall:
Totally. One just point to add because I think you're hitting the nail on the head. We at Brex have so much optimism about the e-commerce market in light of how we've seen things develop over the last several weeks. I think it's very obvious there are winners and losers in pockets of the market. But on a consolidated basis, our customers are seeing revenue, really material revenue growth month over month consistently through the weeks of this crisis. And it's clear that the industry is just secularly positioned really well.
Max Segall:
And the other point to call out that gets us really excited is if you look across the market and all the different sub-sectors in tech, the e-commerce sector as a whole is far and away the big outperformer in the market. So I think there's just so much optimism and justified optimism around the prospects for this market and the long terms shifts in buyer behavior that will be caused by the crisis. It's just a really great time to be refining your operation strategy right now.
Courtney Hayes:
Agreed. Just wanted to remind everyone, if you have any questions, to please feel free to use the question box in your GoToWebinar panel. We have a couple of questions that came in, but thank you guys for you're right on time. We planned for 45 minutes. So perfect timing. We do have a couple of questions that I'll get to right away. These are really for everyone. So feel free to jump in and answer.
Courtney Hayes:
The first question is do you think listing on a lot of e-commerce sites cannibalizes sales [inaudible 00:41:29], especially since they will price match each other and can tank retail?
Chad Rubin:
I can start. I've been doing multichannel for a decade. One of the things I don't do is I don't do spray and pray. I don't put the same content across every single marketplace because every marketplace is different. Along with that, Google looks at duplicate content, specifically just like that, as duplicate content, and they get confused. They don't know how to rank that in their SEO algorithm. So I'm very strategic of how we write our listings on Amazon with A+ content. If we're on eBay, we're using A+ content. We're really going towards the demographic that we're seeing on those marketplaces. And this is for my e-commerce business because we manufacture home appliance parts and accessories, which surprisingly right now is very essential business. So we're not seeing cannibalization. There are ways to actually strategically create SKUs in your business that are maybe Amazon-specific use, using a different UBC code, maybe a different package size so that maybe there's a six-pack on Amazon but you're selling a four-pack of diapers on your own website or vice versa or create other brands to not... If you're really concerned about cannibalization, I'm happy to talk about it offline. But there are things you can be doing to sort of diversifying across those channels that you're selling on.
Courtney Hayes:
Thanks, Chad. Anyone else have any thoughts around that question?
Greg Moser:
I just want to double down on what Chad's saying. I think that point he made of not spraying and praying is a really important one, to treat each one of these marketplaces differently with unique content. It's sort of the same thing that we see with customers who are going online internationally. Everybody turns on their international options. They're like, "I sold internationally." But that's not really selling internationally. Sure, you might take one or two orders. But in order to do it well, you need to say, "Okay. Where's probably our best country that we could target? Oh, it's Australia. How do we message correctly to an Australian buyer?" And the same thing holds true for this multichannel sort of thing. How do I speak well to a Walmart customer, an Ebay customer? How do I develop the content specific to that?
Greg Moser:
So there's no shortcut. You actually do just have to put in the work and tune your message, and then it won't look like you're just sort of out there everywhere and anywhere. And you're just this random number I guess for lack of a better term. So anyway, just totally agree with Chad basically.
Courtney Hayes:
Thanks, Greg. One other question that came in. As an e-commerce brand, what actions can we take right now to focus on our operational workflows on driving profitability?
Courtney Hayes:
Anyone want to take that question?
Andrew Jones:
I can jump in on one part of that as well. Profitability I think is such a big topic right now. So I'm going to speak to one part of that because there is so much that can go into it. And then I'll let the other panelists jump in. But what we're seeing too right now from Route and one of our key products is a premium order protection that covers against lost, stolen, damaged packages. It's free to merchants. And what we've seen is there's been a 7% jump in stolen packages from February to March of the claims that we have processed. That is our highest month ever, and it goes back through the holidays, which is notoriously bad for stolen packages. Tactfully speaking, there's a lot of these little areas that we can optimize right now that can help profitability now. So boost your profitability right now during this crazy time and then once these processes are in place that protect against these nuances, that will carry on after this as well. These are things that we can put into place now that will help, and that's just a little tactical thing that we started to notice that we haven't talked that much about yet is that can be a big issue. So doubling down on these minor issues that we're seeing today can pay huge dividends down the road.
Courtney Hayes:
Thanks, Andrew. Anyone else want to add to that?
Chad Rubin:
I can piggyback on it. I would start looking at non-payroll costs that are variable that aren't critical to the business and really just deciding if you absolutely need those to run your business today. I would try to find technology that can automate a lot of the operational aspects of your business. That's another thing I would do. In terms of generating more revenue right now, especially if you're out of stock of a product, I know Shopify just launched this gift card functionality, and they're allowing it for all their merchants. I would start selling gift cards. So it's like, "Hey, pay $75 and get $100 after this crisis is over." Those are things that you can do today to generate some revenue that I think could be helpful.
Chad Rubin:
And then the last piece I would probably say is looking at the customer, some of your biggest top ticket customers who... It's much harder to open a new wallet but it's easier to go back into somebody's wallet for them to reopen it to you. So going back into your database and seeing who you can be activating who's been a loyal customer, building that relationship. Greg was talking about building relationship with your customers in this time and being there for support but also giving them an offer that shows you're there for support and that you understand what they're experiencing. And just getting them to open their wallet again is probably something I would be doing right this very moment.
Max Segall:
Hey, Chad. Any tips for the audience on setting up a gift card program for the customers?
Chad Rubin:
My wife owns a yoga studio here in Nyack, and she's actually in the process of doing the same thing. It's all about how you're wording it in your newsletter. So going back to those repeat customers or those that have opted into your newsletter or text message program and being like, "Look, our business..." Just being honest. I think authenticity right now is probably the biggest thing you can be doing with your clientele and just genuine being like, "Hey, genuinely, we are impacted. We are seriously impacted, and we could really use you're financial support. Here's what we've got for you that could benefit you but also can benefit us." That's how I would start.
Courtney Hayes:
Love that. It actually plays really well into the next question that came in, which was what can merchants do today to build trust with their customers? So I don't know if Chad, do you want to take this or Gab. I think you both spoke to it earlier, but maybe if you want to double down on anything else that brands can be doing today to build some trust.
Gabrielle San Nicola:
Yeah. One of the things that just as a general rule, your life cycle marketing, think like email and SMS is really supposed to be driving anywhere from 20-40% of your revenue on a normal day. But with that being said, we're seeing incredibly success in the retargeting that we're doing and in life cycle marketing coming from emails and coming from text messages. So in order to foster that relationship with your clients, what you really want to do is have built out life cycle campaigns. So just like Chad was saying, send out something that's heartfelt and true note telling your clients what's going on with you and where you guys are as a business. But also making sure that your flows and your campaigns are properly set out so you can reach out to people and get some more purchases, really foster that relationship in a few different ways.
Courtney Hayes:
Love that. Anyone else have an opinion on that? I know we kind of touched on it already.
Andrew Jones:
I would just add, we've kind of touched on it throughout, but I think it's such an important point. This is piggybacking off of Chad, Greg, Gab. You guys have all mentioned it. That communication right now I think will be 100 times more important now than it might ever be. So being authentic, being transparent, over-communicating, getting creative with the ways you're communicating, opening up new channels of communication. All that stuff right now, there's so much opportunity for online retailers to get a bigger piece of the e-commerce pie that they have a lot of options. So the more you can do to communicate, to be authentic, to be transparent will set you apart more now probably than ever before. Like we've all mentioned, that's just going to pay dividends after all this settles down.
Courtney Hayes:
Agreed. One interesting observation that came in from the audience was from Richard. He said he's heard from every company... Sorry, there's a lot of thunder. He's heard from every company that he's been in communication with over the past few years but no real offers to cultivate relationships. He says, "Personal branding may be as important as ever to restore customer trust." And I think we can all agree.
Courtney Hayes:
So I think that's it for all the questions. I'm not sure if Max or anyone has any closing comments, but thank you guys all so much for joining our panel. Anyone else has any closing comments?
Max Segall:
This was amazing. Thank you, Courtney, TriNet team, and all the panelists for organizing a really informative, just great deep dive into everything that's happening in the landscape. We'll send everyone who registered a followup email recapping everything. But this was great. So thanks all.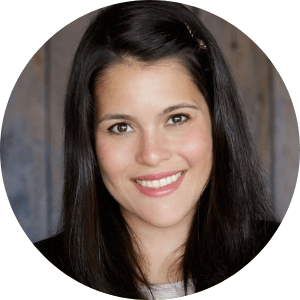 Written By
Gina Tirelli
Gina Tirelli manages Partner Marketing initiatives at Extensiv, the leading retail inventory and order management software for D2C brands and marketplace sellers looking to unify and automate their multichannel operations. When Gina is not marketing ecommerce software, she likes to spend time outdoors with her dog Elli.