How to Manage a Virtual Assistant Without Wasting Your Effort
March 29, 2016
6

min read
Dave Nevogt is co-founder of Hubstaff where he's responsible for the growth and operations of the company. He publishes a series on growing the business where he shares everything from the exact numbers to the biggest mistakes his team has made.
So you've built your e-commerce venture to the point where you've decided to hire a virtual assistant. Congratulations!
Maybe you've reached the point where if you take on any more tasks, you're going to need to clone yourself. Maybe you're just ready to move tasks off your list and focus on other aspects of your business -- like its growth.
You've done your research, carefully vetted and hired a VA (or more than one) to work on specific tasks. You know that working with VAs can be an excellent way to grow your e-commerce company.
Unfortunately, your work is far from done. People aren't automatons that you can set to certain tasks and expect success. They aren't code snippets or processes that you can endlessly tweak and refine to get it right.
People need to be managed. Of course, you hired a VA to help you save time, so you should aim to manage your VA for maximum success with minimum effort. A poorly managed VA can actually end up costing you a lot of time and money, or even damaging your company. Make sure you're managing your VA in a way that ensures your wise growth investment actually pays off.
Know Exactly Why You're Hiring a Virtual Assistant
Think carefully about what tasks you want to assign to your VA. We've found that it's best to use VAs for discrete, repeatable tasks that you can easily diagram.
In e-commerce, these tasks can include:
Adding new inventory to your site

Processing orders

Interfacing with your fulfillment company

Handling returns and product exchanges

Adding order tracking

Conducting inventory management

Answering customer support queries

Adjusting pricing

Analyzing and researching your competition

Managing special offer and promotion campaigns

Finding potential new clients for outreach
Sometimes company founders think they should outsource things like scheduling or email correspondence to VAs, but those could actually be the least-repeatable and outsource-friendly tasks on your list.
Email and scheduling requires a high personal touch and can go straight to your personal reputation if mishandled. Often, you'll be interacting with other business owners or people in your industry. If you can get the entire list of above things off your to-do list, handling your own correspondence should be easier.
It's also important to give a VA different types of tasks. This ensures they don't run out of tasks to work on and also varies things to keep them engaged. You can assign them a primary set of tasks, but be open to switching things up or taking their own requests into account. Maybe your VA working on order processing is interested in doing competition research or identifying potential leads for outreach. Working with your VAs to keep their task list varied can keep a VA happy and doing their best work for you.
Establish a Clear Plan and Task Blueprints
We consistently see one reason why an otherwise skilled VA doesn't work out for e-commerce companies:
You didn't prepare a clear plan or create a solid task blueprint.
Think about it. The best way to utilize a VA is to carve out specific, repeatable tasks, right? But if you fail to document exactly how you want those tasks accomplished, you're setting everyone up for failure.
Create clear plans and blueprints for those tasks.
Spend some time creating straightforward documents and tutorials that show how to accomplish those tasks the way you prefer. These should be step-by-step walkthroughs of the exactly how to add products to your inventory or process your orders, or any other task they might be expected to complete.
Set up a plan for communication.
How often do you plan to check in? How will you assign your tasks? Make sure your VA understands your communication plan and method. Give your VA a way to reach you or another executive with questions, and check in more often when they're still learning the ropes.
Emphasize Metrics to Measure Progress
Once your VA has their assigned tasks and a clear understanding of how to accomplish them, you might think that you can turn your attention elsewhere. In reality, if you don't pause to set up metrics before they start working, you could find it hard to evaluate how your VA is doing later on.
What equals "success" for your VA?
Your metrics should relate directly to the tasks you've assigned. If he or she is assigned to process orders, does this mean 80 percent of incoming orders should be processed before end of shift? 90? 100?
Don't leave this up to interpretation. Clear expectations sets the stage for a better management relationship where both of you understand if your VA is doing the job for which you hired him or her.
Use the Right Tools to Ensure Remote Success
If you don't have a fully integrated system for working with remote staff like VAs, you'll need to select and implement remote team task management software before onboarding.
Figure out what your requirements are for your software. Basic requirements for good remote team management software include:
Time-tracking capabilities

Employee monitoring features like productivity counters and screenshots

Project management features

Mobile capability

Integrations with other important software you use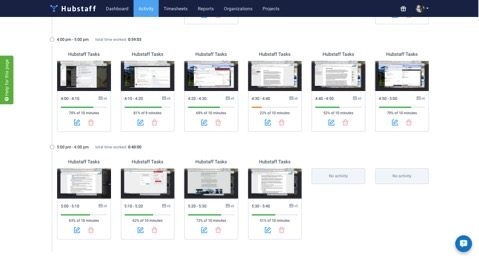 The best software for monitoring VA activity should combine elements of time tracking with project management and automatic updates. At Hubstaff, our full-screen screenshots and productivity tracking capability means managers can know exactly how a VA is working out without having to waste months on someone that just isn't the right fit.
A VA can free you to take your business to the next stage
Growing your e-commerce venture means at a certain point, you're going to have to delegate and outsource tasks (we put together an Amazon outsourcing guide specifically for tasks you can outsource related to selling on Amazon). It can be hard to let go when every task feels vital to your business, but hiring a high-quality virtual assistant can help you scale your business fast and free you up to focus on the next stage.
Your VA can only be as helpful as you are prepared. Evaluate your onboarding, task list, step-by-step blueprints and task management software. If you feel like you're lacking in any of those areas, take the time to iron things out and improve documentation before bringing on a virtual assistant. Ensuring a proper structure is the only way to make outsourcing work and set you and your VA up for success.
Want to write a guest post for the Skubana blog? Email rachel@skubana.com