How to Optimize Your Amazon Reviews Strategy to Boost Your E-Commerce Success
Authority + Social Proof = Sales

That basic formula is proven time and again. When consumers trust the product or service offered and peers are testifying to its validity; the power of that combination directly influences purchasing decisions. In a 2015 survey by WebRepublic, results showed that 88% of online shoppers incorporate reviews into their decision-making process. And Amazon is counting on that.
Credibility
In a study conducted by Survata, Amazon is the starting point for 44% of consumers searching for products, giving it about three times more product search volume over Google. Why? Amazon is a trusted authority. They built that reputation by putting customers at the center of their universe as a way to reach their ultimate goal: Faster and more sales conversions, which translates into more money for Amazon.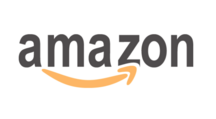 With Amazon's well-established credibility, sellers are enveloped by that reputation and can build a brand name very quickly as a trusted vendor. Amazon's logo shows a smile starting at the a and ending on the z, signaling to buyers that they can be confident from beginning to end of every transaction. Amazon guarantees it.
Social Proof


As the #1 e-tailer, Amazon is the largest resource of buyer-generated product reviews that cover a full range of positive and critical comments. Prospective buyers can relate to the people who have written reviews making their feedback potent decision-making considerations. Billions of dollars in sales are at stake.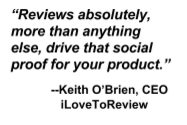 Sellers thrive or die by reviews and Amazon provides guidelines for posting honestly and beyond the "Great product" testimonial. Factual information with authentic comments about a person's direct experience using the product not only helps others to see themselves using it; but prospective consumers can respond by indicating if the review was helpful or not.

"Reviews absolutely, more than anything else, drive that social proof for your product," say Keith O'Brien, CEO of iLoveToReview. Sellers need to be vigilant and monitor every message buyers leave. All of that content and feedback is another great source of information for merchants not only for title, bullet points and keyword enhancements; but also for product development, inventory, and strategic placement decisions.
How To Generate Reviews on Amazon
Amazon states that only 1% of buyers leave reviews. This means seasoned sellers must actively encourage buyers to submit 100% authentic reviews. Here are 5 top ways to obtain them.
1. Give the best buyer experience possible.
Making the best impression on consumers is entirely in your hands so be vigilant to what your customers are asking, doing or saying. Prospective customers observe how everyone else feels about you via reviews and ratings. Your customer service should include:
Responding quickly and with courtesy to all buyer requests and messages as they are an intricate part of good customer service. It also goes along way in reducing or changing negative feedback and claims.

Providing post-transaction support for refunds, returns, and exchanges in a timely manner.

Taking responsibility. Set your ego aside and respond the way that Amazon would.
2. Include well written inserts
.
Clever letters or postcards inside the product box requesting feedback for Amazon products is an attention grabbing option. Encourage reviewers to include videos and/or selfies of products in use.
Keep in mind that it is against Amazon's Terms of Service (TOS) to ask for a 5 star review, but you can certainly invite them to leave honest feedback.
3. Send follow-up emails.
Amazon sends an automated e-mail asking for feedback after a purchase; however, don't depend on those generic messages to spur reviewers into action. Allow the buyer time to receive and use your product, then reach out with a follow-up message via your Amazon seller account. Make sure the content is friendly and genuinely expresses interest in their satisfaction. Try to personalize it whenever possible as that increases their response rate.
Be sure to include a "write a review" reminder with a link to your product page, but make it clear that you would like an honest rating and that there is no obligation to do so.
4. Approach Amazon's top reviewers.
Amazon has a list of recognized top reviewers holding various titles such as "Top Ten Reviewer", "Hall of Fame Reviewer", "Vine Voice". These badges are displayed next to their name, under their star rating. It does make their reviews ultra-valuable.

Getting one of these Amazon critics is not necessarily easy, yet it is not impossible. Although potentially time consuming considering it is one person's review; learn about what reviewers' interests are through their bio, previously rated products and from their wish list. They may be more likely to respond.
5. Use a legitimate review service.
"Legitimate" is the keyword. Amazon actively defends the integrity of its reviews since they have to live up to their reputation of being a trusted source. Buying them on FIVERR or any other fake ones can and will get a seller account suspended – sometimes permanently. They are so serious about this that they made national headlines by announcing they will actually take measures to prosecute those involved with publishing fake reviews. Make sure that the review service being considered is 100% compliant with Amazon Terms of Service.
Upward Bound
Reviews absolutely make a difference in your ranking. Rankings get you noticed. The more high quality reviews earned, leads to greater conversion, which then begets an organic upward move on page listings. Reviews provide additional content about your product which increases your SEO. Ultimately that could mean showing up first on any search terms used to find your product. All points being equal for competing products; the listing with more and better reviews WINS every time.
For other Amazon review management strategies, see our article on Amazon's Early Reviewer Program.

Guest post by Tina Marie Bueno, Marketing Director at iLoveToReview
iLoveToReview is the #1 product review service for professional Amazon sellers in the U.S. and U.K. With a strict commitment to compliance, our industry leading review rates, systems and seller support, iLoveToReview is the highest value solution in the industry for quality product reviews.
Interested in writing a guest post for the Skubana blog? Email rachel@skubana.com