Duplicate Content, And The Importance of Unique, Optimized Product Listings
Here at Skubana, it's our dream to revolutionize the world of e-commerce by allowing sellers to work on their businesses and not in them. To accomplish this, all sellers must have the basics down when it comes to creating unique content on their product listings. To accomplish this, check out the article below by our friend Beeri Amiel, Head of Business Development for Sigmento. He provides a wealth of knowledge when it comes to creating unique content and not duplicate content.
The Problem: Duplicate Content
In today's never-ending quest for growth, online retailers are constantly racing to add new products to their web stores. This leads many online retailers to resort to a very damaging practice of working with duplicate content by using a manufacturers' or other sellers' product content. This includes the use of titles, features, descriptions and images on their own web stores/listings on marketplaces like eBay and Amazon (check out our guide on expanding from eBay to Amazon for more info).
While this may seem like the quick and easy way to add hundreds of products to your online catalog in hopes of seeing immediate sales without having an expensive team of content writers, this practice actually harms products' online visibility and presence. Often the consequences of duplicate content are so severe that products become virtually non-existent on Google, eBay or Amazon.
The Importance of Unique Content on Google
Google's algorithms are very thorough at picking up on duplicate content. While some duplication (such as product specifications) is inevitable, Google aims to find identical blocks of texts that are present on other web pages. If your product listings' descriptions were copied from another source or even if you use the same descriptions that you wrote across multiple channels, it is likely that your products will completely disappear from Google's search results. This occurs because Amazon or eBay's domain authority and popularity are so strong, that only the product listings on their site will appear on search results, while your listing will vanish as Google's algorithm will infer that your site provides no unique value to users. This is also true for manufacturers sites. It is highly unlikely that your web store has the domain authority of many the manufacturers that you carry; therefore copying their descriptions verbatim will have the same harmful results on your web presence.
Some retailers may not think that the investment in unique content may be worthwhile, but this is a grave mistake on their-part. Almost all E-Commerce product searches today begin (and end) on Google, eBay or Amazon and as a result, if your products are not visible on these sites, they may as well still be in your product backlog.
Optimizing Content for other Marketplaces
Every marketplace has unique requirements. In most cases, it is impossible to win a marketplace without catalog data that is optimized specifically for that marketplace.
One of the most common mistakes we see is retailers who go through all the hard work of creating unique content for listings on their own web stores, use automated listing tools to create eBay or Amazon listings for thee same product without optimizing the content for each marketplace's unique requirements and format.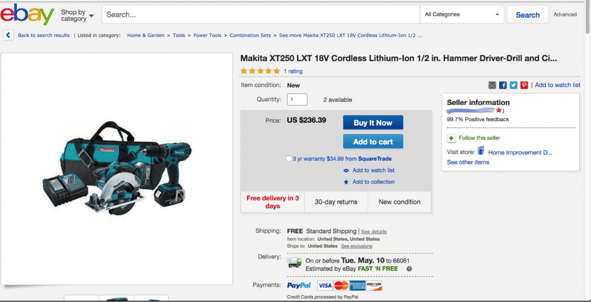 A frequent result of missing channel-specific content optimization is clipped titles on eBay and Amazon. In the rush to add products to every channel they sell on, many retailers ignore these channels' varying character limits for titles. The maximum length of a title on eBay is 80 characters, while Amazon's FBA (fulfilled by Amazon) product listings are limited to 50 characters in a title (FBA title requirement list). Many retailers simply copy titles directly from their own sites, manufacturer's sites, or existing product pages onto their eBay or Amazon product listings without checking how the titles look on each channel.
This results in clipped titles that lack keywords customers use when searching for products, and often leaves the customer guessing as to what product you are actually selling.
Another example of duplicate content on eBay and Amazon is not optimizing values to match the specific values and terminology of each channel.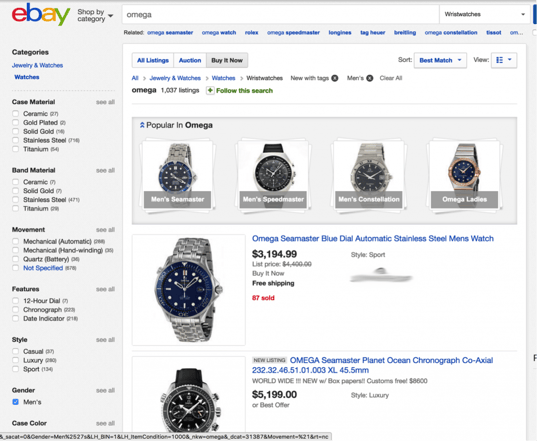 This can result in mapping your products under the wrong categories (or not specific enough categories). It can also lead to a problem that even when it is in the right category, the product values (such as color, size etc.) will not be compatible with that marketplace. This will then make it more difficult for customers to find your products.
A specific example of this error shows a product that is listed under "Not Specified" with hundreds of other products that were not optimized correctly (did not send the recommended value for "Movement"). In the example below, a seller who listed a watch on eBay that includes the movement type of "Automatic" in the title did not optimize this value for eBay in his item specifics, resulting in his product's Movement Type being listed as "Not Specified".
This lack of optimization will likely result in missed sales as customers browsing through Automatic Stainless Steel watches surely will not be find his product.
It is imperative for sellers to verify that the data they publish on every marketplace puts them in a position to win that marketplace. To make sure the categories, titles, descriptions, images and product specifications are all optimized for the specific channel, and that it does not cannibalize traffic from other preferred channels (as their website).
We often advise sellers to create a checklist for every channel they list products on with the unique requirements of every element of the product listing, and to make sure they audit their products to assure they are optimized and comply with these requirements.
While it might seem like a lot of work, the increase in conversions will pay off.
As the pressure to increase the size of catalogs across countless channels continues, it is important for sellers to take a step back and be reminded that in many cases there is a bigger opportunity in their existing catalog. By implementing processes today to maximize the current offerings will lead to more sales, and will ensure the sustainability of their catalog standards.
We see that Google, eBay, Amazon and others continuously increase their demands from sellers as they innovate in order to provide a better experience to their customers.
While many others try to take the easy way out and copy content from one-another, going the extra mile to create unique, optimized content for every channel will be the key to your success.
This article was written by Beeri Amiel, who leads Business Development for Sigmento. Sigmento provides a solution that allows you to get optimized product data, such as specifications, unique titles, product identifiers (GTIN/MPN/ASIN) and categories for your entire product portfolio on-demand. Sigmento can allow you to effortlessly add thousands of products pages to your online store within minutes. See how Sigmento can help you today or email us at info@sigmento.com if you have any questions!
Looking for more solid information about duplicate content? Watch as our CEO, Chad Rubin, discuss why using listing tools may be a huge mistake for your e-commerce business. Listing tools may harm your business with duplicate content, and without tailored content for each sales channel. Watch now:
[embed]https://www.youtube.com/watch?v=etCL-n1dMXw[/embed]
Interested in writing a guest post for the Skubana blog? Email rachel@skubana.com