Preparing For The Busiest Q4 In eCommerce History - Recording
October 5, 2020
64

min read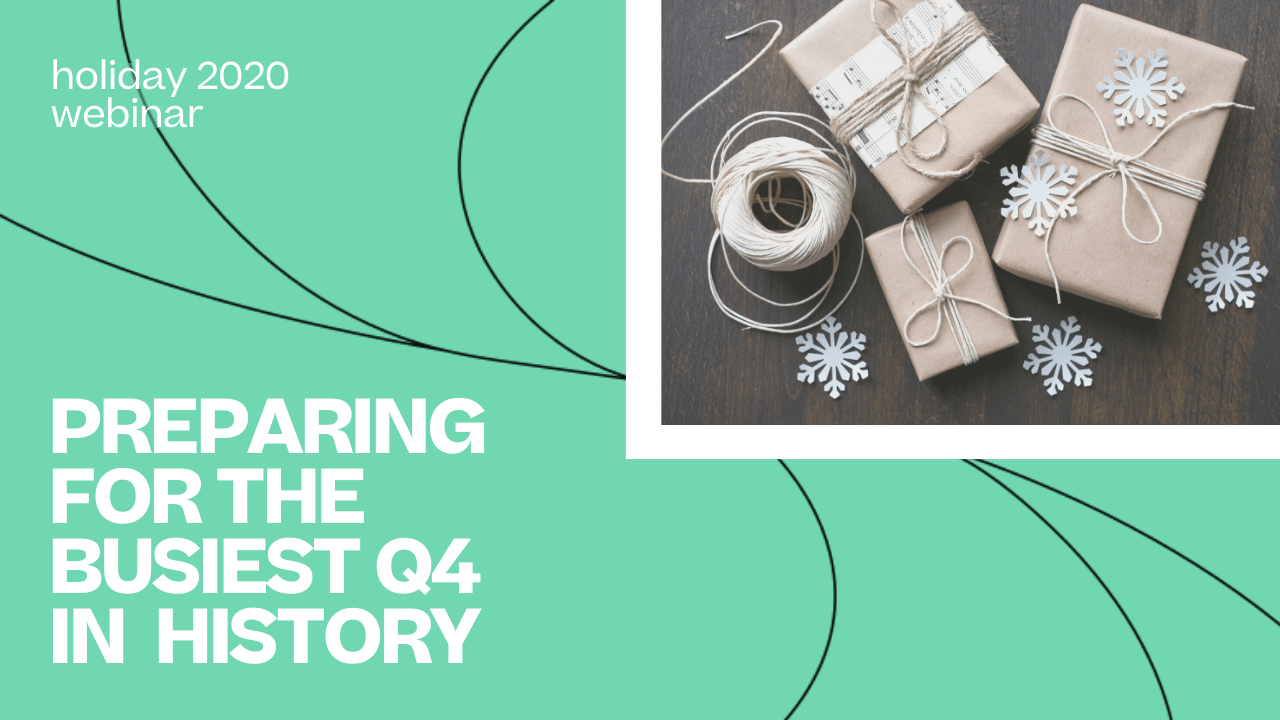 2020 has been one crazy year. We've lost some of our greatest heroes, experienced environmental disasters, and ran out of toilet paper. Safe to say, we're counting down the days until 2021... 🎊

But before that happens, we need to get through the holidays. 🎁

E-commerce is hot right now. You might already be experiencing BFCM traffic, but do you have the operations in place to sustain that momentum? 🚚📦

Can your retail operations handle 2X even 3X your current demand?

Are your products accessible to holiday shoppers on marketplaces?

Can you maintain realistic delivery times for international orders?

What should you do if you run out of stock?

Peak season inventory management can be a complex and daunting process. By understanding common pitfalls, inventory movement, and fulfillment pain points, you can ensure a successful selling season all year long.

What You'll Learn:

💪 How to manage peak season inventory and order operations.
📦 How software can help you drive marketplaces sales and win the Buy Box.
💬 How to deal with the Q4 increase in customer queries.
🎁 How to use COVID sales data to inform your Q4 strategy.


Watch the replay right here or read the transcript below:



Transcript
Emily Ross:
So basically, I am going to just see how many people we have, coming in. I think actually, Richard, you'll be able to, bring people into the waiting room. And also one of the things that we'll be doing, is we'll be pinning, putting a spotlight on the person who's kinda talking at any one time. So Richard I think you can manage that too from your side. Yap, super-duper. Okei-doke. And, people are jumping in, awesomeness. So actually, I've been really excited about this webinar today. I'm practically giddy, because there's just so many interesting things happening. There's Gareth, how's it going?
Gareth Cummings:
Hi everybody,
Emily Ross:
Very good, and there is Aoife just saying a quick hello, that's great. So, Gareth is the CTO of xSellco. I wasn't 100% sure if I would get him on the call today 'cause he's been working super hard. Gareth, this is Chad Rubin. Chad is the CEO of Skubana. He also has his own direct to consumer website, which I don't know if that's poacher turned gamekeeper or if it's just keeping your hand in, but it must give you a really good optics on both sides of the fence, yeah?
Chad Rubin:
Totally, yeah, it was, essentially before Skubana, I had this brand thing crucial it still exists today. And out of the pain we experienced with the brand, we started Skubana.
Emily Ross:
Oh, wow. That's a really cool story. So Gareth, we also have Claire McHugh. Who's the CEO of Axonista. And so Axonista is a pioneer in terms of shoppable video, their technology platform power some of the most interesting shoppable brands like QVC and the Home Shopping Network. So I'm really excited to talk to Claire later on about just like that, the stories behind the brands and how we can create really engaging experiences. And I also have the legend, that is Chris Dawson. The editor and co founder of Tamebay. And if it is not in Tamebay, it is not worth knowing if you're an eCommerce seller. So I am super excited to have Chris onboard. And actually, Chris and I were chatting earlier on and, I think we are both in agreement that the only thing you can't really buy at the moment on eCommerce is a haircut. Although I do, you have, you've given it a comb. You've definitely tidied it up.
Chris Dawson:
I've given it a comb but don't look around the back there is a bit,
Emily Ross:
I'm kind of in the same boat. It's perfectly fine but I'm not gonna turn it around. I'm not.
Chad Rubin:
It's business in the front party in the back.
Emiy Ross:
That's exactly right.
Chris Dawson:
Pretty much, yeah.
Emily Ross:
Actually, I'm just gonna let you know who Richard is. So Richard is my co-host today from xSellco and, while I'm doing all the talking, he's gonna be managing things behind the scenes. So I just wanted you all to see that Richard is there because, I'm probably gonna hide him in a minute and mute him so, when I'm talking to an invisible Richard, you won't think I'm absolutely bonkers. So Richard we might say goodbye to you now.
Richard Barrett:
Yeah.
Emily Ross:
Thanks a million, thank you.
Richard Barrett:
You're welcome.
Emily Ross:
So I am going to, hide him. There's a way I can do that. so there we go, yes. So webinars are great fun, but actually, we all know that like, the real world is slightly better, but you know what, Somebody gave me some advice about trying, about hosting events, both in the real and in the virtual. And there's a couple of ingredients that make them better. So one is, invite really interesting people. And I think I've managed that. Two, ask them some good questions and I've made a list of some good questions, but I would certainly invite people in the audience. And we've had a couple 100 registrations for today, which is amazing, but I would certainly invite people, if my questions aren't what you want to know. Put the questions in the chat or in the Q&A function in the webinar. And then, what was the other thing? Good people, good questions, oh yes, make sure, keep it exciting. So I have a few surprises, and also make it useful. So we're gonna focus on really providing, practical useful insights and information, for eCommerce sellers that are preparing for what is going to be the busiest Q4 in history. I think we can all agree that, 2020 has forced mass acceleration in technology. It has been, both traumatic for many and astonishingly interesting to see how at eCommerce has completely transformed itself in the past nine months. And so, there's so much to learn and there's so many organizations and businesses that are trying to adapt. How can we prepare for Q4, not just this Q4, but how can we prepare for the new reality that eCommerce has? There was some, and before we kick off, I'm actually going to show a quick video that, highlights some of the trends we saw from the last few months. So I'm actually gonna share screens. And this is the fun bit of webinars. I'm gonna share a screen, and I'm gonna play this video. So, as you can see there was some really really interesting, changes and trends, what people cared about, what they wanted most during lockdown and, yeah, fascinating trampoline sales jumped and jigsaws and games, things that we could do at home. And our whole behavior and our lifestyles changed. And so maybe first and foremost actually, I'm gonna push a quick poll, to people 'cause I'd like to know what people are actually worried about. Maybe Richard, you could push that. And I'm gonna hand over to Chris, and ask Chris like, Tamebay has the ear of the high street, and the ear of retailers. What do you think is going to actually happen for Q4? What are we going to see in terms of how people are shopping?
Chris Dawson:
Well, I think this year, it's like you said, it's the perfect storm of Q4 happening with a pandemic. And the first thing to realize is that Q4 is always busy. I don't know of any retailers or retailers that aren't busy in Q4. But also thinking back to the lockdown when it first happened and how everyone immediately rushed online, and were literally buying everything. And we've already seen reports again that, stupid things like supermarkets running out of toilet rolls. So you've gotta be prepared for a ridiculously busy Q4 this year. And along with Q4 being busy, I think there's a number of opportunities. And the first is, people naturally last time, all rushed to marketplaces, eBay was really busy, Amazon was really busy. But then some of the, large retailers and market places started running out of stock. And this is a real opportunity for smaller businesses. And by smaller businesses, I want to include both really small SMEs, and smaller brands and they may be quite large brands, but they're not kind of household names, because what will happen is, consumers will immediately rush to sites like, Google Shopping, they'll be all over social media, looking for products and with people also been told, once again, "Work from home." You're gonna find people with a lot more time on their hands, and browsing Facebook and Instagram and Pinterest. And if they come across a product, they quite like just buy it then there, thinking, "Yep, great Christmas present." The other behavior which no one's really discussed yet, which we're gonna see change enormously this year, is how families interact at Christmas. Now most families come together at Christmas, and they'll meet at mum's house, grandmother's house, brothers and sisters we'll meet together. They'll come together for big Christmas lunch, and swap presents, et cetera. The chances sadly are high but we're not gonna see that this year. And that means, that families will actually be buying a lot more of the normal Christmas things that you think you'll only get one of so, mum might buy a box of crackers, or couple of box of crackers because all the families coming in the house. Now, each of the sons and daughters is probably gonna be buying their own box of crackers, and the same with all of the other Christmas decorations and powerful idea that comes along with the holidays. And also, we're gonna find, parents who've got children at home, that can't go out, can't go to granny's and grandpa's. They can't go out and play in the street with their friends, even though it's allowed in smaller groups because the weather will be bad. They're gonna be looking for more activities to keep the children entertained. So keep a real good eye out for trends into this Christmas, and maximize on them. And don't think that you've gotta be one of the biggest brands out there. If you can make a small amount of noise on social media and Google Shopping, at market places, and keep your website links going, people are gonna find very, very different brands and retailers to buy from, especially as the larger brands start running out of product because the supply chain is gonna be really tricky this year. A lot of people haven't been able to order the normal stocks from China or India, or wherever they normally come from. Big brands and big retailers, are gonna run short on product. And that's where people will start looking for alternatives. And the smaller brands or the more unknown brands, I believe are really gonna have an opportunity to come to the floor, and cement their place in retail this year.
Emily Ross:
I think that's a really interesting point. And actually, one of the good questions I've been asking people on various different chats and webinars was like, "What was the weirdest or the strangest thing that you bought during lockdown?" I know that, I bought chickens, and I know that Claire bought some really, like Claire perfume based on the description of the perfume, which I just think is like, crazy and interesting and brilliant. And actually I will, if you have bought anything interesting, please let me know. Actually, one of the things I do wanna ask is, people who are in the audience, feel free to pop your name and where you are into the chat. So I'm in the West coast of Ireland, which is not a bad place to be. And Gareth is in Dublin from xSellco, Chris is, Chris are you in London?
Chris Dawson:
No, I'm in Fulham, which is about 40, 45 miles West of London, between and New Brent.
Emily Ross:
And then Chad is in Woodstock in New York.
Chad Rubin:
Yes, ma'am.
Emily Ross:
What's the weather like there?
Chad Rubin:
It's a nice 72 degrees.
Emily Ross:
Nice, nice.
Chad Rubin:
Yeah.
Emily Ross:
I think about 60% of our audience today is, in the U.S. and then I think maybe about 40% are in the UK. And so primarily we have people who are, eCommerce sellers but are selling across their own web stores, across marketplaces, like Amazon and eBay. Dustin's in Fort Myers, Florida. So yeah, we have a really global audience, which is great. So, we think that it's going to be a very interesting Q4. There's a lot of concerns, there's a lot of worries. I asked a few people to fill in our poll. I'm just gonna share those results. So people are worried mostly about stock and about resources and so that leads me into, certainly I know that Chad would have some really good points about that. People are worried about pricing, about cashflow they're, everyone's sick of worrying. And also they're worried about COVID like, it makes perfect sense. I think what we're proving is that there are lots and lots of different worries to be heard at the moment. Okay, so maybe I just wanna chat a little bit about some of the surges that we saw before and what we're gonna expect again so, there's, there was definitely a proven increase in the number of people sending customer support tickets across over the last two quarters. So not only were people more worried about their orders and about fulfillment, they were sending much more inquiries and so, I noticed I did it myself, I put an order in for product and then, I sent an email and I didn't get a response quickly. So I sent another email or an Instagram message. I don't know if I was more anxious just because I'm sitting at home and I'm waiting for my things. Or if that's just general anxiety, I might ask Gareth, who is the CTO of xSellco, just to maybe chat a little bit about, how sellers can prepare for surges in support tickets. And if you didn't know, xSellco is the company behind eDesk, which is an AI powered eCommerce help desk for sellers. So maybe you could give us some advice for our audience, Gareth.
Gareth Cummings:
Yeah, of course. I think the same principles apply right to customer support no matter what's going on, right? It's all of communication and proactive communication. I mean, I spoke about this a little while ago, a few weeks back at an Amazon conference that we were speaking at. And, it was Amazon so, one of the things I was kind of looking at Amazon, their first core principle is put the customer first, right? That's the number one thing, right? And they're the world's largest eCommerce company so if they're doing that then, I think they should apply to anybody who's in kind of online selling. But I think that the same principles apply. Like it's about proactive communication. I think we've all bought something online as long as you know, your expectations are set or when it's gonna be delivered, or when you expect to receive it, right? Then you're okay. It's when you're not told, right? It's when you're waiting for a response, it's when your waiting for an answer, that's when you get frustrated, that's when you, consider kinda canceling your order, right? If you know when something's coming, you kind of measure expectations. I think people know because of what's going on at the moment, because of COVID, because of online activity, they expect delays, right? It's you know, with Amazon prime, it was all about quicker delivery, right? They were getting down to 24 hours or quicker again, I think expectations kind of been reset a little. And people understand there's issues, in terms of customer communication. Ensure, you have timed your responses when customer inquiries come in. Ensure you're proactive. So if you know you're gonna have delays, just practically communicate that to people who are buying off you, they'll understand, right? So as long as they're informed, I think they'll be fine. And just really be on top of that proactive communication, and be responsive, right? And, the other thing to watch for is, where you're getting customer queries coming in from. So you could be selling on Amazon, obviously you're gonna get some queries coming in there. But you could be selling on multiple marketplaces, where you've got queries coming in, I think you mentioned you know, Facebook, Instagram, Twitter, customers will reach out in those channels. And you don't want people posting your Facebook page, complaining about you as a seller or, say negative things about the customer experience. 'Cause that, that really hurts, right? I think when it comes to online selling it's, trust and on price. You have to have a keen price, and you have to have trust in your, in your brand and in your reputation and if you don't have that, people, people won't buy off you. So it's.
Emily Ross:
I can tell you one of my absolute pet peeves. So this is me just given out now, but, I spent quite a lot of money on some nice sheets in lockdown and, I got an automated response. Okay, Fairplay got confirmation of my order. They didn't say when it would be coming in. And I asked them when it would be coming in, and they said, "Well, will." In their automated answer, they said they would get back to me in 24 to 48 hours. Four days later, I get a response, which didn't answer the question in the first place. So, automated emails are great, but if you don't actually like hit your SLAs in terms of what you say you're gonna do, then you're gonna bug the customer, and this particular transaction, they bugged me so much. I actually turned it into an eCommerce case study of what not to do. So I, they annoyed the wrong customer, but I tracked every single interaction, every single engagement. And they broke every rule in the book. And I ended up publicly saying on Instagram that this was a terrible company and nobody should, nobody should buy from them, Anyway, I won't name and shame now, but yes, they had a lot to learn. They should probably look at eDesk. Thinking about the price point there. What's, pricing is one of the most contentious issues I think in terms of like remaining competitive and still winning the buy box. Do you have any advice for sellers about pricing strategy for the next quarter?
Gareth Cummings:
Yeah, how's he coming to the quarter, and if you're selling an Amazon book, Amazon always, always have pressure on price. I mean the boy boxes is, one of the mechanisms that drives that. I think the key thing is to know what your competitors are pricing at. That's a really key thing. And have automated tools that can help you manage that process. It's very hard to, I would say, not even very hard, it's impossible to monitor your price is not a need. If you're selling any volume of stock you have to have some automated product in place. And you have to be setting, some of the basics you need to be setting your min and max prices. So you don't wanna be dropping too much below what you can afford to sell from you need to be keeping an eye on your competition. You need to be seeing what they're pricing at. I think the key thing as well is that, you need to consider, I mean, there's price management on Amazon and buy box and it's not a focus in that, but you need to be managing your price across all the different marketplace, you're selling across. So you're selling across your own Webstore, if you're selling on Amazon, if you are selling on Walmart's, for example, you need to have something that can manage your prices kind of holistically across those channels. Otherwise you could be losing out on a healthy margin. So I think that's really really important to consider price management across all the different channels you sell on. Historically pricing is pretty much focused on Amazon and that makes sense and the buy box is still a massive thing. But you need to consider your price strategy across all those different channels you're selling across because, there's opportunity there and you're leaving profit behind if you're not managing that property.
Emily Ross:
So I don't leave money on the table. I think we might've, temporarily lost Chad. I might ask the invisible Richard, if he can just maybe resend Chad his link. But, we can carry on anyway, regardless. So, one of the things actually I will ask, I will ask Chris. What is the weirdest thing that you bought during lockdown?
Chris Dawson:
I was hoping you were gonna come to me,
Emily Ross:
Of course I am.
Chris Dawson:
So, I'm still waiting for it to arrive because I actually only ordered it last week. I'm a bit behind the trend of everyone else, which is, I'm doing a house. And I've just ordered it and I'm waiting for 10 curb stones to arrive, basically one meter long chunks of concrete. I am fed up with the mud sliding down, off my garden, onto my garden path so I get in curbs, that's pulled all the way along, which I should put it myself, so I should get a bit of exercise at the same time. And, if anyone's interested, on eBay.
Emily Ross:
Very good. And I'm gonna land you on it now because I encouraged Chris to buy a diva ring, which I have. Chris, do you wanna explain what a diva ring is?
Chris Dawson:
Yeah, I think the best thing is to demonstrate. So it's basically a light ring that goes through my phone. And when it's off you get a really bad picture and when it is on this,
Chris Dawson:
It's, I actually, you can actually see my face, but it's probably a disadvantage to be honest.
Emily Ross:
No, it's not. I have one too.
Chris Dawson:
It's in my hair at the moment
Emily Ross:
But later coming down off mine, I should probably dust more. But when my kids saw me unpacking it, they're like, "Oh mom, you're gonna be a YouTuber, we're gonna be rich." Like, "No, not quite." But yes, I think we've all upped our game a little bit in terms of our virtual coms. Okay, so I would love to maybe talk to Chad a little bit now. So we've talked a little bit about supply chain and logistics. So Chad, maybe, could you tell us a little bit more about Skubana and also what did you, what do you think people learned from the challenges of the last two quarters in terms of supply chain and fulfillment? Like there was a lot of pain points. Can we prepare? Have we learned anything? Are things better?
Chad Rubin:
Yeah, so hi everybody. Chad Rubin here, I'm co-founder of Skubana. We're an operations platform for the backend. So think of it like, if Shopify is the everything you can see above the world, like the retail stores where everything under the ground. So the plumbing, the electricity, everything can make businesses operate and function. Can you hear me by the way? My internet is a little bit sketchy right now, Can you hear me?
Emily Ross:
Your audio is perfect,
Chad Rubin:
Okay?
Emily Ross:
Your audio is perfect. Your visuals a little bit glitchy, but it's all good. We can hear you really well.
Chad Rubin:
Yeah, so we're doing everything operations from Windsor and pointed checkout on Amazon, Shopify or any of the long tail marketplaces. Like Chris alluded to really exploded, all the way to when the package gets delivered for the most part. So inventory management, order management, routing, profitability. So what we learned with COVID happening, number one is, there's always a chance for a black swan event. Meaning there's always a chance for something unique that could happen that really you didn't anticipate in the world. And that's what happened. And so retailers that were over levered into say, just being an Amazon only business, had to quickly scurry to find new ways to fulfill, and new channels to list their products on, which is why.
Emily Ross:
Right when we were getting to the good bit, now, Chad, Chad, I'm gonna ask you to Oh. Yeah, so Chad's internet. So Chad, I might actually get you to turn off your video.
Chad Rubin:
Traumatically across all these lawns until marketplaces like eBay, yeah. Yap.
Emily Ross:
Hey Chad, I'm gonna turn off your video just to improve your audio quality. And you're gonna come back off mute now in a second. Oh no, we lost Chad! Although to be honest, he's in Woodstock, New York. So, you know,
Chad Rubin:
Do you hear me?
Emily Ross:
You know what? I might come back to you in a minute, Chad, we might wait for your internet to improve.
Chad Rubin:
Thank you.
Emily Ross:
I love live webinars, don't you? They're great. Let's have a little think about, so I actually have some great questions as well from the audience for Chad when he comes back in. But Chad, if,
Chad Rubin:
by the way, can you hear me?
Emily Ross:
Oh, you're back, yeah. So,
Chad Rubin:
That's cool. Let's check it. My WIFI should be much better now,
Emily Ross:
Awesome, Okay.
Chad Rubin:
Can you hear me?
Emily Ross:
Yeah, go again.
Chad Rubin:
Can you hear me now?
Emily Ross:
Yeah.
Chad Rubin:
Casting from New York? Awesome. So we saw fulfillment strategies really changed dramatically with COVID, and I believe right now at least preparing for Q4, you're gonna have to really keep accountable your fulfillment strategy and the people you're working with to make sure that they have the proper resources to run your business. God forbid, there is a spike that happens. We're on top of it. You need to make sure you're really monitoring your stock flow and your velocity across your business, across all your skews on a daily basis, to make sure that you have enough stock so that you could last into, into two forges. If you lose a sale, it goes to your competitor.
Emily Ross:
I have a great question from the audience for you Chad, from Carlos. So Carlos wants to know, in terms of logistics, what do you think are the main challenges in terms of transport warehouse delivery to fulfill? Do you think the logistics players are ready to fulfill the huge upcoming demand?
Chad Rubin:
Unfortunately I don't, I don't think the last mile is prepared at all for this, for what they're going to see, and really what's happening right now, it's, in America, at least for Prime Day, it's happening in October. Everyone is speculating it's October, I'm thinking it's gonna be October 5th, roughly. And so with Prime Day in the forth quater it's the first time it's ever been in the fourth quarter. So you'll see Prime Day elevate sales, and then you'll see that all flow through to Black Friday into Christmas. And so I don't think, I think this is gonna be an, it's, I'm anticipating it to be crazy, but I don't know if everyone else has prepared for how crazy it's going to be.
Emily Ross:
Yeah, and another question from the floor, Walmart versus Amazon, which marketplace should I choose?
Chad Rubin:
I don't think it's binary, I think it's a positive sum game, I think all winner, all players could win. And I look at eCommerce like playing monopoly. You wanna be on every piece of the board to win. So why not list your product in Walmart? There's no extra fee for that to happen. So once your product is sold out, say it's on Amazon, or it's on eBay and sold out, or they can't find what they want. They start looking at Google or they start going on other places, and if you're not seen, you're not relevant. So it's really important to make sure that you're seen across the web, in every channel or marketplace that is relevant to your demographic.
Emily Ross:
One last question, should I rent more warehouse space in anticipation of a surge?
Chad Rubin:
So I'm a really big fan of automation and leverage. I think that's the way to win in eCommerce. So that's either using technology, or outsourcing your non-core competencies. And so there is this new strategy. It's not so new, it's really called the 3PL Lite, or 4PL Strategy. It's essentially allowing you to scale, in multiple locations, in multiple facilities, without actually owning or having to rent a warehouse. So you'd actually place your product in other people's warehouses, and when that product is sold and it's closer to your customer you can wrap it or specifically from that warehouse to your customer directly. So I don't, I'm not a big fan of using your finding more rent, renting a place for three years. This isn't going to last for three years, hopefully knock on wood, finding other partners in the space and ecosystem that can support your business and your fulfillment strategy. So you don't have to over leverage yourself into a lease for three or five years.
Emily Ross:
Okay, so kind like a Airbnb for warehouse.
Chad Rubin:
Yeah, totally, exactly. That's great.
Emily Ross:
So, okay. So we've talked about some help desk and useful things to think about pricing fulfillment. One of the things it's almost like the elephant in the room though, is the fact that, consumers, like, I love to go shopping. I love to go shopping with my friends and it's a day out, it's an experience and I may not actually buy a huge amount of things, but the experience of shopping for me is so enjoyable. People will be shopping in Q4 in their droves, not because they absolutely want to, it's because they have to. And so the experience of shopping from an eCommerce perspective can almost be very functional. And I want to talk about how we can actually, I think about the experience of shopping for our customers and actually Gareth who spoke at Amazon Accelerate, which was, I think the biggest conference in the world for, for eCommerce sellers. I think at that conference, there was also an interesting look at Amazon Live. Amazon Live is looking at shoppable video. Well, the absolute masters of shoppable video is of course, QVC and the Home Shopping Network and those platforms are powered by the technology of Axonista. And so we have the CEO of Axonista, and the company that actually builds those platforms for some of the top brands in the world. And so I'd like to ask Claire about, like, how can we, how can eCommerce sellers, think about the customer in a better way. How can we win their hearts and minds as well as their money?
Claire McHugh:
How can sorry, phrase that again?
Emily Ross:
So,
Claire McHugh:
I mean, you broke up for me there when you were saying,
Emily Ross:
So I was just asking, like, they're gonna move from, from offline to online. And they are going to, they're gonna want to buy things, but how can we make that buying experience better?
Claire McHugh:
In terms of video, right? We're talking about shoppable video here? or is that the,
Emily Ross:
Yeah,
Claire McHugh:
experience of buying it?
Emily Ross:
So I think actually, well, first of all, is shoppable video, something that's regular. Like, so actually here's the thing. Google are experimenting with shoppable video with Shop Loop, Amazon are experimenting with shoppable video with Amazon Live. And like, is this something that is going to be accessible for SMEs? Or is this something that only massive brands will be doing?
Claire McHugh:
Yeah, I mean it's very interesting what's happening right now. 'Cause you've got everything you've talked about with COVID and eCommerce happening. On the flip side you've also got, the video industry's taken about five years leap forward for everything because, and I think one of my team said it, best at a meeting last week. They said, "You know video's a utility now?" And it absolutely is. Whereas it used to be, just the grant of big media companies. It is something that everybody is using, whether they like it or not, in lots and lots of different ways. Primarily to supplement revenue streams that were taken away or to meet people like this have panel sessions that we can have in real life. And the key challenge of all of that is, replicating the real life experience in a way that makes sense for the context of what you're trying to do. And I think that's as true for buying or shopping as it is for panel events or webinars. You know it really tried to have the lean into what makes this an authentic webinar. What makes this an authentic shopping experience, whereas QVC who are masters of this and have been interactive from day one. When you think about it, they have been, viewers used to pick up the phone to buy something that was being shown, but, why they're so good at selling is really about context. And if you're watching some, any Shoppable video channel or Home Shopping Network or QVC or anything like that, infomercials, everything, you'll notice that they sell kitchen equipment in a cooking show, in a kitchen with some people who were cooking. And there's plenty of time for them to talk about the features of the frying pan, why they're telling you what they're frying in it. They also use a well known celebrities that are engaging and that can, make it interesting when they're still trying to sell something ultimately that's what they're trying to do. But they're so, so good at that, and it's fun to watch. And it is really around creating something that's a value to somebody who's watching. And, my background with media goes back to sports broadcasting. I worked in Setanta Sports for years, I was one of the, three or four people in the company. So I got to do a lot about, a lot to learn about building media company that way. And I think, everyone, if they're not thinking of video as part of their strategy, that really do need to start thinking like the media company. If they wanna add video into their portfolio of things, of tools that they have to sell, because it's very persuasive, it's very emotional. It creates feeling. And when you've spent so much money getting somebody to come to you, the ability with something like a Shoppable video, it makes it very easy to purchase. And while you have their attention, you can put a call to action up that they can actually fulfill. And that is really really nice. It's all about context, it's all about storytelling. It's all about being authentic to your brand, and respecting the platform of which you are, selling. So if you know, if you're using Instagram, there's lots of interesting things that you can use for free in Instagram, by the way. We're talking about being on budget. You have to think about the context of someone, when they discover your piece of content, and you have to think about the length of that piece of content, and how long you have to tell your story, and what you can, what kind of call to action you can deliver within that. One of my favorite. I buy a lot of things from Instagram, as you well know, but one of my favorites.
Emily Ross:
How come on Instagram though, like I, yeah, so I generally have a hidden miss, 50% like the, what I get is not what I expected to get so, and actually, yeah, some of them have not been, some of them have been rather disastrous. But I do see myself doing it more because I'm in a state of, I'm much more receptive to ideas when I'm sitting and I'm relaxing and I'm, engaging with the content. So, I think it's gonna be a really interesting area to kind of observe how it evolves, but there's so much evolution, but it is really interesting to see when you think about it, like influencers selling on Instagram are really just, they're just doing QVC. Like from when did QVC start selling the, pick up the phone and call us, like that was, is that a year a go.
Claire McHugh:
A year ago.
Emily Ross:
Yeah, so like, it's not new. It's just giving people a better way to actually buy those products. And so it's actually back to what Chad said, "It's not binary all of the channels matter." And it's about actually, I suppose, being consistent in how you're telling the story and the quality of the assets. I think it's also quite, quite important.
Claire McHugh:
Yeah, so there's, one of my favorite things to buy on Instagram is actually, there's a box of organic vegetables that I buy every week. Now I don't have a subscription, but I ended up buying it every week. I feel very healthy when I do. And it's a company called Harvin's Day. And what they do is they have just little tiny videos of the farmers harvesting their vegetables, who are local to Dublin, which is where I live. And I'm like, "I want those carrots." Now I know who's produced them. I feel like I'm connected with them. And they've just beautiful assets like that. I'm unsure, it's a big scramble to go and collect all these things and put them in a box, and get them to my house. But I do consistently buy it and it reminds me that it is a thing that I want to buy because it's a continued story that they're telling all the time. So thinking like a media company, but to your point of this one story I do wanna share which is something that we worked on. Which was completely on a budget, but very very successful. And that's, it's Fashion Leaf. I don't know if you've, you guys have heard of Fashion Leaf, but it is a fundraiser that is founded by a lady called Lauren King, who's a TV personality in Ireland. And it raises funds for Oxfam every year and they do this big fashion show in conference center here, where they take preload clothes and put them on models on a runway and people search for bargains. And they're really engaged and it raises a lot of money, and they have plans to do it this year, and of course COVID happened and, we couldn't have these big events. They had all of this stuff that everyone had donated and of course, people were carrying out their wardrobe because they were home for the first time. So there was extra stuff being donated and they had nowhere to put it. They had no means of getting this out into the public.
Emily Ross:
I think there was a TV of Tomorrow, that won an award and in America actually for the channel. And, I think I read about it. And in terms of the funds for Oxfam and like, Oxfam or global for, I'm not sure if Oxfam in America, but in terms of Europe, it's a global NGO that does amazing work overseas, around poverty and sustainability, but for an organization like that, like how quickly were they able to turn something from offline to online to actually create a shopping channel?
Claire McHugh:
So it was super impressive, like Lorraine called us and she's like, "Can you help me? I know you do QVC things." I said, "Okay, yeah." So there was a fashion relief show that they wanted to put on Fridays. And we had what they did was very clever is they made an appointment to do. They put a Fridays at seven o'clock. People turned up with an expectation. We provided the software to do the shopping the video piece, but Lorraine and her family, literally her two daughters and her husband had to learn how to become a TV studio in their house with very limited resources, but like quick, four people. So there was like script writing, lighting, sound filming all of the things that you would expect to do. And they also modeled the clothes.
Emily Ross:
Yeah, when you think about it actually, there are 12 year old YouTubers that are making huge amounts of money, and selling lots and lots of things because they have become broadcasters. In fact, everybody, anybody who has one of these can now become a video production person. So yeah, I think that's super interesting and, thank you for sharing that one.
Claire McHugh:
Yeah.
Emily Ross:
I want to, I wanna push a quick poll if that's okay. I just want to find out about people invisible Richard, can you please post poll number one. I just wanna see if people actually did suffer that surge in orders during lockdown. Actually poll one and two, just asking people about, did they see surges before and did they have issues with customer support channels? I'd just love to know. I was talking to an eCommerce seller, Greg from Ohio. He runs a company called MyBoatStore. And it was fascinating to think about, and the last big time, the last major impact we had was like 2008 in the recession. We saw the worldwide recession. So he sells products to clean his boat, and he thought he was gonna be toast when the recession hit. But actually what happened was, people were needed to sell their boats in recession. So they, they still bought his product. So he saw a surge because of the recession. And then in COVID, he was again expecting that people wouldn't be spending money but, they were at home and a bit like doing DIY, and Chris ordering his like, ridiculous lumps of concrete. I hope he didn't have to pay postage on that delivery. And they must have weighed a ton. But, he saw people spending time doing his boats, doing up their boats, but he wasn't prepared for that surge. And so, this had this kind of chain reaction of, supply chain issues, warehousing issues, customer support issues. But yet I think he learned if he got ahead of it, if he got in front of them before they were annoyed or peeve that he was able to manage their expectations and back to what Garrett said, consumers aren't, they're just people like you and me. And if we're honest and accountable, and we think about them and put them at the heart of things, they're very reasonable most of the time, like almost all of the time you can expect people to be understanding as long as you manage their expectations. Don't over promise and under deliver, do the opposite. So, so managing their expectations and if needs be like, give yourself a little wiggle room, I think in terms of the promises that you're making around ordering. So let's see, wow, yeah. So 92% of people saw a surge on online orders, during lockdown, and 83% had increased demand and customer support channels. Okay, that's super interesting. Okie-dokie so, who do I wanna pick on next? And what do I wanna ask? So, I have, Oh, there was one thing I don't know if I'm allowed to talk about this. So I wasn't sure if I was gonna have Gareth on the call today because he's been working on an integration, and I'm not sure if I'm allowed to talk about it yet. I'm I allowed to talk about it, Gareth? Okay, that's a yes. So I think, xSellco became a Google certified partner today, but they've spent the last six months integrating with Google Shopping. And actually looking at the industry as a whole, and all the big players. So Amazon have hired, I don't know how many new people, eBay has done a huge amount to push forward in the industry. Facebook has launched Facebook Shops, Google has made the shopping tab free to get listed. So before, and actually Walmart as well and Shopify, like they're all, they've all realized that this is the moment, now is the time to push ahead. Actually, Chad, I'd love to know, I'd love to hear your perspective as a business owner as well. Like, what does it feel like to see all of these big players pushing ahead, like that feeling of momentous change? Like what does it feel like from your perspective as a business owner?
Chad Rubin:
Well, it's a little bit bittersweet in a way, as I know a lot of folks, a lot of businesses are struggling right now. If you look at the town that I live in, which is Nyack, New York, one out of every two businesses went out of business. So to be thriving in a time where others are really struggling, it's hard, but also makes you really appreciate what you have. In terms Skubana, my wife owns a yoga studio, so my wife, she's at 33% capacity right now. They just opened yoga studios up but she's had a really hard time in the past six months while, Skubana, because of the shift of spending $200 billion have shifted from offline to online. We've really been a beneficiary of this environment. And so, I can only have a lot of empathy for those that are struggling, but also being sort of, very optimistic for what's going to happen in eCommerce to come. Now that there's this massive shift that has occurred.
Emily Ross:
Yeah, yeah. Thank you for that. And actually talking about the weird things that people bought during lockdown, like all my yoga equipment that I would have normally had at the studio that I go to is not as set up here in my office and doing yoga on Zoom so, yeah, we're all trying to adopt and we're all trying to change your experiences.
Chad Rubin:
And so like for me, one of my weird things that I bought was knife sharpeners. I would always bring my knives to get sharpened. And I started doing my own knife sharpening, I bought it off of Amazon.
Emily Ross:
And I bought a knife on Instagram. I bought a custom handmade knife on Instagram, cause I saw the guy making the video. Oh my goodness, Claire. I just kinda twigged. Yeah, I bought a really nice knife.
Chad Rubin:
Right, I just loaded up a cord of wood into a shed here. And he told me that prices for wood have increased double, since COVID because everybody's leaving New York City and coming out to the countryside. So there's all these implications and sort of long-term benefits of companies that are actually doing really well amidst the chaos.
Emily Ross:
Yeah, okay, cool. So one of the things, one of the interesting moves from Google I think is, is it's, like what I believe to be it's play to win Amazon customers. So Google have had a really interesting year. This was the second quarter it was the first quarter that they in 22 years that they saw a drop in Ad revenue from Google Ads. And so they obviously, to reduce or to see a drop in Ad spend, when everyone is shopping online, is really interesting, don't think? And it's probably why it's one of the reasons why they opened up the Google Shopping tab so, for those of you who don't know, the Google Shopping tab is hidden under the three little dots under more, but it's there where you see product listings, and there's images. And it's very like the Amazon experience where you see the product and the stars and you can compare, it has a 30% higher conversion rate than Text Ads alone. But what is really interesting is that, if you wanted to sell products there, you have to, set up the merchant center connect it to your Google Ad account. And it was kind of complicated and it was tricky, but, and you had to be spending money on ad words. But Google announced, I think in April that they would be letting it, letting people list for free on the shopping tab, put their products up there for free. And also that. And then a couple months after that, they announced that product listing Ads in the U.S. would appear at the top of Google search, which was a really interesting move. They're now connecting eCommerce sellers who have product listings with hundreds of millions of eyeballs. And those ads are just going to get served in search, in maps, in knowledge panels and in, in the display network. So it seems to be a really strategic move that Google are trying to make to, I suppose chase Amazon customers. And so I think that's really interesting. But xSellco have integrated with Google Shopping. And that news I think is now okay to talk about. 'Cause I think it's literally the paint doesn't even dry on the integration. So I'm very excited to ask Gareth about that in terms of what you think, what does that mean for people who are perhaps, overexposed to Amazon and to selling an Amazon?
Gareth Cummings:
Yeah, I think Chad puts on air on right. It's about selling across multiple marketplaces. You don't want to be kind of just very focused on Boneshaker marketplace, because you can be restricted, if you're on Amazon you may be loosing out to competition, you may not be winning the buy box. So I think it's really important that you look at distributing your sales across all those different channels, right? I mean, it's so much interesting stuff going on. Walmart's have doubled their third-party centers in the last six months. Have gone a bit 60,000 directly where it's already hasn't. Shopify, apparently Walmart's, I think Shopify, if you go to the GMV of probably Shopify ecosystem, I think it's surpassed the eBay now so like, they're just growing huge and then, you've Google Facebook kinda pushing into that space as well, like you are trying to get their share of the ecosystem. But yeah, it's really interesting on the Google piece, because when we first spoke with Google, it was probably nearly a year ago. The first question I asked them, I was like, "Why don't you have free listings on Google shopping?" Like Google, the whole model. It's organic search and paid search. That's their whole model. But when it came to Google Shopping, it was just paid on . I didn't get it at the time, but they kind of said, "Hey, we're looking at changing that model." And I think, I dunno if that news is really kind of permeated out to online sellers yet, have they really kind of grasp what that means? But essentially you can list for free on Google, on the main Google search. And your products can be popping up there. And I think that's a bit of a game changer. If you're used to selling on Amazon or eBay, or even Walmart, you might have a web store, but you might be struggling to get traffic to it. You might have the time or the capacity to kind of think about how you can get traffic towards your web store. You might have engaged this with agencies before, but they're looking to charge a certain amount, whereas now you can actually get listed for free. And you can do it with our integration. So you can plug your story in and we can get you listed on Google, but in about five or six clicks and you don't have to pay for ads. You're there, you're on the Google search page or on Google Shopping. I think the important thing there is if, when customers click on those products, those things are coming to your store. So, so they're your customer. We all know Amazon are very productive over around that buyer seller relationship. If you're a third party seller they don't want you engaging with that buyer. But when that buyer comes to your store, you can engage with that customer. You can speak to me, you can remarket from, you can try and resell and I'm gonna think that's really important, I think, Greg who's, MyBoatStore has really interesting story. He talked about that, how he started off in MyBoatStore and then went to Amazon, and I was looking to kind of pivot back. Because, you can build relationships with customers, you can reach out to them, you can build that bond. Where you can't do it on especially, on marketplaces. So, yeah.
Emily Ross:
That's a good question, because I don't think people realize, or maybe I don't think consumers realize that, when you're shopping on the product listings on Google, they're like when you shop on Amazon, you're buying from Amazon and that's a third party marketplace but when you're in the shopping tab, if it's an Amazon like experience, but then you're clicking through to the, maybe the Shopify or the backend web store of the seller. So, there's that middleman is less or rather you're dealing directly with the seller.
Gareth Cummings:
Absolutely, all right. So I mean, so if you're listing on Amazon, you're paying the listing fee, and everything that goes with that. That could be 12 and a half percent of, That's a chunky cost. But if you're listing for free on Google and a customer comes directly to you, that's, you're not paying a listing fee for Google. It's a big difference. I think that's the only, I mean, you would think, which is interesting is, so the three lessons and then the smart shopping campaign. So again, historically pay for ads was kind of cumbersome, you have to manage ad campaigns and you have to understand that word, which is difficult. But Google now have a new automated kind of agrammatic smart shopping campaigns. And essentially what that does is it just, it takes your products and it puts them all across the Google ecosystem. So it won't disappear on shopping on a Google search. It'll be right across the Google ecosystem and, we've noticed with some of our early beta clients that, they've seen a surge in orders from mobile. So they would've had very little mobile sales coming through before, but now all of a sudden, 'cause Google is pushing them across mobile and kind of optimizing production, they're seeing a surge in sales so it opens up, not only does it open up, search traffic to your web store, it also opens up new avenues in terms of mobile as well so it's,
Emily Ross:
It's funny 'cause, I was, I actually, I'm so sorry. There's a dog barking outside and I completely lost my train of thought, which is I love live, live webinars are great. So actually what I'm gonna say is, that the Google Shopping integration is interesting. I might hold you back at the end for like, if there's people in the audience that want to stick around, I might ask, you might stick on later. And if there's people who want to ask you directly about that, they can. But I just, yeah, I think it's very, very interesting. And like Facebook launched Facebook Shops, everyone came out with offers and deals, and new kinds of platforms because they recognize all of these big players recognize that, eCommerce is the only game in town, and I think we're, what Chad said, I don't think we've probably only just scratched the surface of where we are going with innovation in this space, with shoppable video, with deliveries, drone deliveries, that is going to be a thing. We are going to see things being delivered by drones, in Ireland already medical equipment is being delivered by it by an Irish drone delivery startup called Manna Aero. I think the next couple of years are going to be astonishing. And for eCommerce companies, brands, no matter how big, small, if there is everything to play for. And so maybe cause I'm conscious of the time, we're coming to a close, I might just, if there's any last questions from the audience, I might get them to pop them into the chat or into Q&A. And I also will do a round robin of my lovely guests. And I will ask them for perhaps, their closing words of wisdom for people selling online that are facing into what is going to be one of the most challenging Q4s in history. And yet perhaps the one with the most opportunity. The first COVID Christmas. So maybe I'll start with the fantabulous Chris Dawson of Tamebay, and ask Chris for his words of wisdom for eCommerce sellers.
Chris Dawson:
I think the only thing you can really do, is keep your head out and try to stay calm. But in order to do that, I would suggest that you prepare, prepare, prepare everything you can, so if you're selling on Prime Day, get everything pre-practice, but also think about your systems and think, what can I automate, What can I make a process that just happens behind the scenes that I don't have to do on a daily basis? And whether it be messaging, or whether it be Google Shopping ads, or whether it be repricing, or whether it be, "Have I actually automated as much as I can?" Just things like printing my labels and getting invoices printed. So that my warehouse runs as smoothly as possible. Think about automating your stock so that you don't have to do a stock count, or you don't have to worry about which shelf something's on. You should have a system in place that when you go to pick an item, it tells you what shelf it's on. So automate, automate, automate. And then try and relax. Sector's gonna be busy and it's gonna stressful. And I think you're just gonna have to ride the wave, but the more you prepare, the better prepared you will be for ride that wave.
Emily Ross:
You forgot one important tip, which is to sign up for Tamebay's newsletter because that's also really important. And Thanks.
Emily Ross:
Yeah.
Emily Ross:
I actually think,
Chris Dawson:
Thank you.
Emily Ross:
You've probably stolen the good content from Chad and Gareth. 'Cause I suspect they are also going to say, "Automate, automate, automate." But Chad, maybe I can, I can pop over to you now and ask you the same question.
Chad Rubin:
Yeah, I think I've three answers here. The first one is, just dovetailing on the Google conversation is, one of the biggest things you can do is doing things that no one else is doing. And any eCommerce things expire after six months, roughly three to six months. And so right now there's no fees on Google. It's not gonna be forever, but right now that is a leg up that you can be doing and nobody else is doing. So I definitely would shout from the rooftops. That's one thing I would do after this phone call is like, look into getting your product listed on Google because they still have 80% of all search volume. The second thing I would suggest is, the same way that you're designing your fulfillment strategy, I would also design your supply chain strategy, and your product strategy. And most of all maybe don't spend enough time with fulfillment right now. And I think they should be just given what's happened in the world in the past eight months. So definitely focused on fulfillment, and think about your velocity across your skews, because if you're out of stock, somebody else will get that sale. The third thing I wanna just share would be, we were talking about video, and I think a very important piece here across any channel that you're selling on, would be always when you're creating your listing, in your product detail page, always ask why or so what? So if you're selling an air purifier and filter for it, okay, it has HEPA filtration, so what? Well, it cleans particles. Cleans your hair. Well, so what? Why are you buying this air filter? It's really because people want to not be embarrassed when maybe people come to their house or they wanna be breathing cleaner air. So always going into that why, when you're creating your product detail pages are very important.
Emily Ross:
Thank you, that's really, really good advice. Gareth final words of wisdom.
Gareth Cummings:
I think Chad and Chris coveredit quite well. I think just to pick up on Chris's point, then Chad's It's gonna be a crazy busy time, but, wireless consumers understand. I mean, they're not, people are aware, they see businesses shutting down, they see the older friends or families struggling. So I think that they're gonna have a lot of empathy. They're gonna understand that, I think, yeah, I think just, it's gonna be, a crazy busy Q4. A lot of things crammed into a short space of time but it's yeah. Keep your head, I think, people don't understand what's going on and yeah, just, I think Chris said, well right away. I think that's a good way.
Emily Ross:
I will ask you to stick around and I'll just check to see if people wanna maybe have a little sneak peek at Google Shopping. Once we hit the hour mark. Clare McHugh, can I ask for some words of wisdom?
Claire McHugh:
Sure. Will you get them? I think if you were thinking about adding video to your tool set, I would say, don't be afraid of it. Think about the story that you're trying to tell. Think about it like a media company. Like think about your story arc. If you are, if you have a brand and you have your own story, that's also a story that people are interested in when they're buying stuff particularly now, because they want to know that they're helping brands as well. And it's a very powerful way to connect with people, but you also have to think about the context in which people are viewing it. And that's really important. And it's a forced in one of these things that can't really be automated. It's very artistic and it is, it does require effort, but it's not super hard either. And it is a very powerful tool. If you're trying to replicate a real life experience, really focused on the key thing that you want people to feel that is missing from that real life experience. This Christmas.
Emily Ross:
That's a really, really good piece of advice. And actually going back to just what Chad said about an air purifier, that, it's not just speaking to the features and benefits, it's the why of somebody needing it, and getting huge benefits from it. And actually maybe if you're not gonna think about Shoppable video, maybe an eCommerce seller could experiment by making a short piece of video about who they are and why they're selling and what they're selling and putting it on their Instagram or putting it on their website. Because what that does is, it connects their story with a customer and we are, we're all human beings and we're all trying this together. I think if I had one piece of advice, it would be that, companies that have been selling online have had, you're already streets ahead and that we all have friends and family that are, coping with the transition to virtual. So if you can help them, if you can share your eCommerce knowledge, if you can recommend the tools like at Skubana, like eDesk, like Repricer, the platforms like Tamebay and the knowledge platforms that we've talked about today. Share them, recommend them, share your wisdom because we are all in this together. And so, I'm just gonna check one last time. We have no more open questions. I want to thank everyone who has made time for this webinar today. Thank you so much. I wanna thank Chris, Chad, Gareth and Claire. I'm just gonna check to see, I'll say goodbye to all of you and we are, oh, one minute over so my time is on point. Yeah, I wanna say thanks so much. Yeah, you've been great. Thank you for sharing your time and your knowledge. I will say goodbye to all of you but Gareth we'll just see who sticks around to talk a little bit, five minutes about that Google Shopping integration you mentioned. Thanks so much, thanks guys.
Claire McHugh:
Thank you.
Emily Ross:
Thanks. I mean, speakers are more than welcome to stick around and talk about Google Shopping if they want to as well. And always, so Dustin says, "Thank you." Aoife says, "Thank you." Yeah, lots of people saying thank you and waving goodbye. Lovely, great chats. Excellent. Oh, somebody raised their hand. Oh yeah, so a couple of people sticking around. Okay, that's great. Hi Gareth, how are you doing?
Gareth Cummings:
Hey, how are you doing?
Emily Ross:
That was fun.
Gareth Cummings:
That was fun, really interesting. Well, done you for pulling all that together.
Emily Ross:
Thank you, Adam Perry says, he loved us. That's great, and genus is great. Oh, that's nice. It's nice to know. It's kind of weird sometimes when you feel like you're sort of shouting into the void, but it's nice to see, and oh, somebody raised a hand. I don't know what that actually means. Let's see, I'm just reading the chat. Oh yeah, so apart from Chad having a slightly workadi internet, that was fine. Okay, so, we still have, there's about 20 people in the room so, I'm gonna see what they have to say. So Google Shopping, integration. It literally, when did it go live?
Gareth Cummings:
Yeah, so we officially went live good, what day is today? Wednesday, right?
Gareth Cummings:
Yeah. Yeah, we officially went live, on yesterday. We've, we did,
Emily Ross:
Went to bed yet? Have you slept?
Gareth Cummings:
Yeah, it's been a bit of a crazy week, but like we've been working with it was back in November. We got to speak in Belgium in terms of doing this integration, then we would have started off back in January, February, started work with them.
Emily Ross:
Oh, before you say, I just wanna say to the people that have stuck around, thank you so much. I have swag for you people. So because there's a small number of you, I can actually do this myself. So if you wanna stick around to have a look at Google integration, to see about how you can get your products listed there, I do have some swag from xSellco, and I'm giving away your swag, Gareth. Just to let you know.
Gareth Cummings:
Yeah.
Emily Ross:
And So yes, if for everyone who sticks around, if they want to, I'll actually put my, I'll put my email address into the chat, or actually, maybe Richard's. Invisible Richard, if you're still there, can you perhaps share an email address in the chat with the hearty souls that have stuck around, and we will make sure that they get their hands on some nice swag. And I can pick our sprains. You probably don't have anything to show me because I didn't tell you, I was going to be asking you about Google Shopping, or the Google integration. But I would love to know like, why, like I know that the merchant center, cause I remember this, I used to be in, well, I am in digital marketing, but I used to, be in an agency that managed these types of campaigns. And actually the one thing that I think is really interesting is that the people who will lose out from this, from smart shopping, are the agencies that, the expensive agencies that manage campaigns for eCommerce sellers. 'Cause smart shopping kinda makes them redundant, but it is hard to set up the merchant center. It is kinda painful and there's a lot of friction. So like do eCommerce service still have to do that, or like, what's the story?
Gareth Cummings:
Yeah, I think, that was the first thing that Google came to us. They said, "Look, we have a problem in the SMB sector." They struggled to onboard to be allowed. They don't want to pay digital agencies, up to 10 grand a month to do this for them. They're struggling to get on so, that was the kind of problem that they came to us with. We kind of respecialized integrations and all that type of stuff. So we said, "Yeah, look, we can have a look at that." And we brought it down to really think six kind of simple steps. So if you sign up to our integration, essentially in six steps, you can be open running on Google shopping. And so we took all this kind of complex onboarding and merchant center, and ad campaigns and all this type of stuff, we brought it down and we just kind of presented six simple screens. And that's a real key thing. You can get up and running on Google Shopping really, really quickly and that was, the core problem that we were trying to solve. Make it really easy, remove the complexity, and you shouldn't have to worry about the complexity. It should be easy for you as an online seller to get onto this channel. Amazon make it easy. And that's what we wanted to do for Google. And that's what we think we've achieved.
Emily Ross:
Okay, so let me, 'cause I'm not an eCommerce seller, but like, so if you are selling on Amazon, you can push your products out into Google, or is it only Amazon or is it, or is it just if you're selling on your web store?
Gareth Cummings:
No, I suppose you, important to note is you need to have a Webster. If you don't have a web store, Google Shopping is not for you.
Emily Ross:
Okay.
Gareth Cummings:
I mean, these days it's relatively easy to set up a web store. You could go to Shopify, for example, sign up really quickly, get your product feed up there. And then, once you're up and running the webstore, we essentially hope you're into our integration and we take care of everything else. So we'll push your product feed into what automate that, we'll create your merchant account we'll manage all that from the background, and yeah, and that's the cool thing is, you can be up and running and be listed for free straightaway, so you need to spend on ad campaigns. And then once you're kind of comfortable with that, then you can start looking at enabling smart shopping campaigns. You don't need to spend a lot like, some of our clients who are on it already are only spending, five dollars, $10 a day, but they're seeing great return off that. So it's, you don't have to invest huge budgets in the ad campaigns, and you control it. So you can start pretty slow and see return and then invest little bit more so that's I think pretty nice way of doing it as well.
Emily Ross:
Well, back to the point about the quality of the images and the assets, I think that's the difference between people when they see a picture and reviews and price points, like they've already compared those so, when they click through, they're so much more ready to buy, like you're that kind of traffic is incredibly high quality. So that's exactly the kind of traffic that you wanna bring to your, your website. And ideally you just wanna have a website that actually, is optimized to convert. I'm actually, I'm at a conference tomorrow, eComm Live it's in the UK, but, I'm on a panel about eCommerce for goods. And it was really interesting. I was talking to one of the usability experts. 20% of people in the UK have a disability and actually, online shopping for them as a huge bonus. It's brilliant because it makes things easier for them. But product listings with that kind of asset, is so much easier to engage with. It's so visual, like it's definitely a big opportunity I think. And somebody said that the Google Shopping opportunity was the biggest one that eCommerce had. And I think Chad said it too, that it's, it really is something that's, what was he saying 80% of?
Gareth Cummings:
Yeah, he sad that 80% is search traffic, like product search traffic. And again, that was some of the data that people share, but also Google, people go to Google to search for products. That's where they're going to investigate and discover. So, that's their initial kind of, I mean, everyone does it. You go, you're looking for a product. What do you do? You go to google, you put it in. So they still get you to master search traffic. And it's a bit of a on tap source at the moment. But I think Chad made a good point, where you've kind of got a three to six month window. To kind of, to get ahead of that, of that kind of trend. And that's an area there now you can kind of jump on.
Emily Ross:
Okay, well, I am conscious that I've run over and that you also have been working super hard, so I should probably let you get back to it. But I don't know, it's like, I looked before the webinars started and I didn't see anything on the website yet about it. But is there anything like where can people go and look, is there a link? Is there a website? Is there a blog post?
Gareth Cummings:
Absolutely, yes. So if you go to repricer.com, you'll see a banner across the top and just click in that and bring it to the Google Shopping and you can sign up there. Yeah, absolutely.
Emily Ross:
Okay, well, thank you so much for your time. Thank you for sharing your insights. And to everyone, we still have, 17 people who stuck around to listen to Google Shopping. So thank you very much, everyone. Thanks for your time. I'm gonna say goodbye. And we'll probably drop you an email after the fact. Oh, anyone who's mailed me, emily@edesk.com, that's my eDesk email. I will make sure you get some nice swag, and I will promise not to use your, email address or a postal address for anything other than sending you some nice free stuff. And, yeah, I think we're probably gonna make this, webinar available on recording. I'll just have to chat to invisible Richard. But yeah, thanks everyone. I'll say goodbye.
Gareth Cummings:
Great, thanks Emily. Thanks everyone.
Emily Ross:
Bye, thanks.
Chris Dawson:
Bye.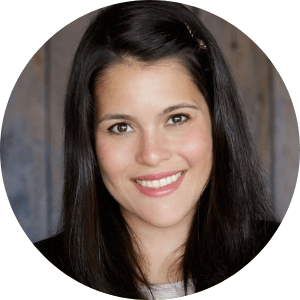 Written By
Gina Tirelli
Gina Tirelli manages Partner Marketing initiatives at Extensiv, the leading retail inventory and order management software for D2C brands and marketplace sellers looking to unify and automate their multichannel operations. When Gina is not marketing ecommerce software, she likes to spend time outdoors with her dog Elli.