Be 2022 Ready: Preparing Your Retail Media Strategy Across Marketplaces - Recording
December 13, 2021
43

min read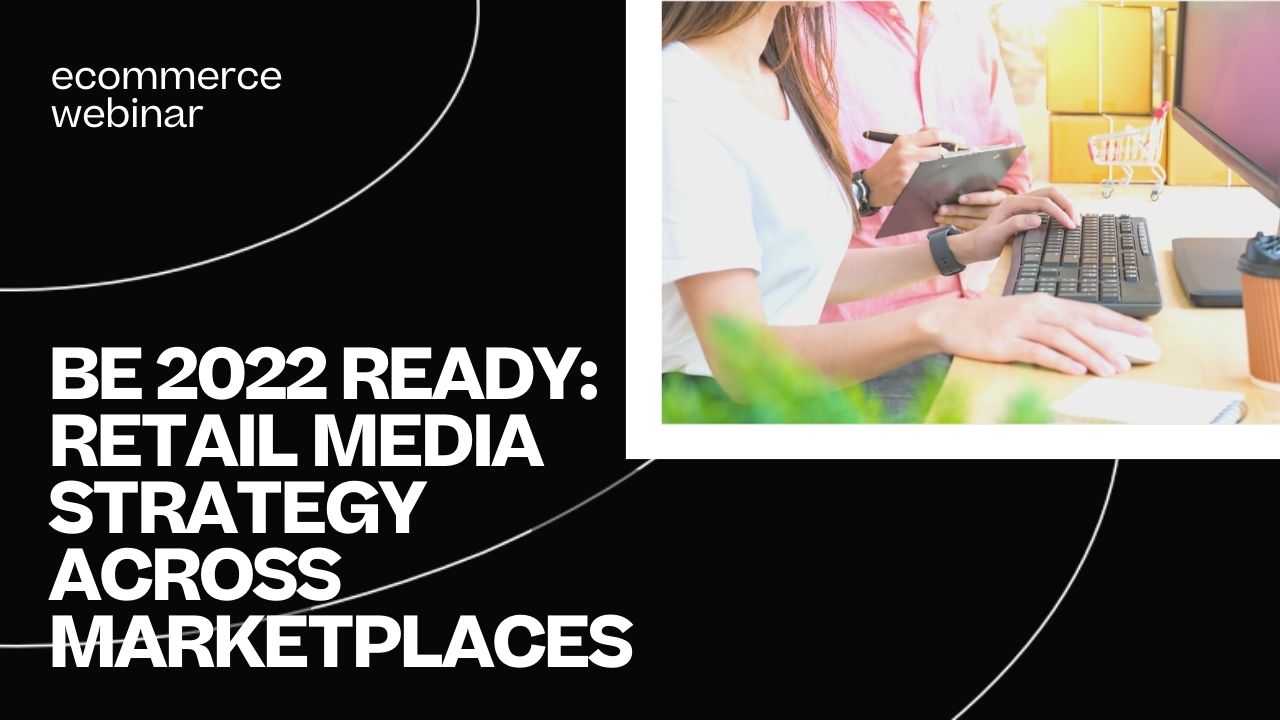 How can your brand achieve success across the ever-expanding retail media landscape? Be nimble and flexible with your strategy and tactics across marketplaces 🛒. This includes looking beyond ROAS for KPIs 📊, being flexible in your fulfillment strategy 🎯 to navigate platforms and supply chain challenges 🔗, and more.

In this webinar, we partnered with e-commerce operations platform Skubana to cover how to diversify across marketplaces and get the best return for your business.

What we covered:
💡 Lessons learned in 2021, plus what's coming in 2022 and how to apply it all to your marketplaces strategy
📊 Beyond ROAS: KPIs to focus on across marketplaces
🎯 How to adapt your strategy to weather supply chain and fulfillment challenges
Transcript
Kerry Mallett:

Ready, Prepare your Regional Media Strategy Across Marketplaces seminar. We are really excited to be partnering with Skubana to share all things retail media and what you should do in order to be prepared for next year. But first, let's hop into some logistics. The first, always the question on everyone's minds, the recording and slides will be in your inbox shortly after the session today. If you're on the East Coast, by end of day. Also, if you have to log off for a little bit, you can log back anytime with that same link that has been in your inbox. Also, we have some of our newly released quarterly reports in our handout section, which is on the white dashboard to your right. So, make sure to download those. Also, as some have already been saying where they're tuning in from, feel free to join in our chat, and also submit questions for our live Q and A with Sam and Lizzie at the end of the session as well. Also, we'll be having some poll questions throughout the session, including if you wanna talk with our teams after, let us know via the poll that I'll be launching. And, again, you can find that on the dashboard to the right, and we'd love to be able to continue the conversation. I'll introduce myself, my name is Kerry Mallett, I'm the Webinar Coordinator at Tinuiti, and I'll be hosting our webinar today. So, I wanna introduce a little bit about Tinuiti. Here at Tinuiti, we've mastered the media that matters most. We're the largest independent performance marketing firm across Streaming TV, and the triopoly of Google, Facebook, and Amazon. At Tinuiti, we understand that success requires both strategy and channel specialization. That approach wins us awards and recognition across the industry, such as the American Business Stevie Awards, and the Shorty Awards, and allows us to grow some amazing clients like those that you see here. All right, I'm gonna turn over to our speakers to introduce themselves.
Lizzie Allan:
Hi, everyone, my name's Lizzie Allan, I'm based in New York City, and I'm an Account Manager here at Tinuiti on the Emerging Marketplaces team. So I do advertising strategy for clients on different retail media platforms across the U.S. and the UK.
Sam Potter:
Hey, guys, I am Sam Potter. I work on this Skubana Customer Success Team, dealing with renewals and upsells. I'm based in upstate New York.
Kerry Mallett:
Lizzie and Sam are gonna be sharing all of your expertise. So I'll walk through our agenda for what we have for the session. So we're first gonna be going over what are those essentials for strategic diversification across channels, and then, what are those benefits of a multi-channel approach? Some advertising trends that we're seeing on Walmart and Instacart, and finally, opportunities for 2022 and looking ahead. But before we dive into all that, we wanna hear from you all. And so, I'm gonna launch our first poll of the sessions. I wanna see, what is your biggest focus on your marketplaces strategy right now? So, is it the managing advertising tactics and cost? The activating on a new platform that you're trying to get on? Maybe it's navigating fulfillment challenges, or if it's something else, you can let us know in the chat. So again, you can find the poll on the dashboard on the right hand side, under Polls, and I've got some answers coming in. So it looks like our audience so far is kind of split between managing advertising tactics and costs, and activating on a new platform. Little surprised that fulfillment challenges isn't up there based on what the holiday season has looked like so far. All right, well, as those answers continue to come in, we'll be able to see we're all at and I'm gonna go off camera and hand over to Sam.
Sam Potter:
Thank you, yeah, very interesting to see these answers come in on the poll, guys. So diving in, thinking about the marketplace in 2021, naturally, we've all heard the word "unprecedented" too many times over the past two years, but just everything that we've been through over the past couple of years goes to show that we still don't really know what's to come next year, but we can anticipate areas where we really need to pivot. And as merchants, there are myriad ways to pivot, to ensure that we're keeping up with the changes going on in the world. So, as we all know, online marketplaces are gaining momentum and more quickly than maybe we ever expected. We're all familiar with the saying, "Go where your customers are." These days consumers are flocking to marketplaces like Amazon, eBay, Alibaba, Walmart, Rakuten, and so many others that we're now selling on to do their shopping. In 2020 alone, the pandemic resulted in a 26% surge in e-commerce sales amounting to over $4 trillion. So that's a big pie. In 2021, we're expecting to clock in at about $5 trillion in terms of e-comm sales. So those purchases are going to come to over 2 billion online shoppers total. If you think about that's a massive marketplace that we're dealing with. 66% of shoppers had their pre-shop touchpoints online across various channels, providing that omni-channel experience and proving that that's here to stay. The future of online sales and e-commerce in general is being omni-channel. Globally, around 62% of e-commerce online sales were made through marketplaces in 2020 so that just goes to show the power of marketplaces nowadays. Now, in terms of predicted trends for 2022, when we take a look at distribution and fulfillment planning, we understand that there are quite a few new challenges, whether that's the shipping challenges that we're experiencing, freight ports, it's just harder to get materials for what we need to fulfill our customer's orders. So predicting these trends ahead of time in terms of what we're coming up against, but also keeping in mind on the positive side, what are new efforts folks are pioneering to move forward into this new world where values are changing as well? So sustainability is one big example, and we've seen that at Skubana with customers, such as LastSwab or LastObject, right here, we're showing LastSwab, one of their, I think it might be their flagship product actually. So sustainability at the forefront of commerce means that the landscape is changing in terms of what folks value and what consumers truly want. Also, predicted trends for 2022 include new marketplaces. So we've seen the rise of Walmart with Walmart Fulfillment Services which branched off from their original marketplace, but we're going to continue to start seeing more marketplaces for more niche products. So there's lots of unknown, but things to anticipate for the year to come. Now, we'll take a look at some of the ways that you can diversify your business as a merchant in this hyper competitive space that we choose to continue to play in. So everything from owning your brand, your product choices, the options that you can offer your customers to diversify your communication with them and your offerings, the way that you can improve your keyword research and essentially your digital presence, and the consideration of marketplaces, whether you're currently in one marketplace or looking to expand, it's something that you should always be thinking about. So on the technical front, it's really important that you own your e-commerce site. And more than that, it's important that you make it a user-friendly site. Think about your day-to-day, think about your Black Friday experience, any shopping you've done the past week. You probably came in contact with a site that really just, wasn't a seamless process to check out and think about all the times that you've abandoned your cart. I know that I think about my own habits when I'm shopping and if I think about the fact that I'm not special, there are thousands, if not millions of other people with the same habits as me, it's pretty easy to lose customers just with a website that isn't providing a smooth, seamless experience for shoppers. So if you provide that truly seamless experience, you will have shoppers engaging more with your brand, and you'll have more sales, simple as that. So investing into your UX and your user experience in general, it's always worth it. And not only that, another area to invest in and to explore if you haven't already, or to invest in more with your marketing team is social media. It's a big, big player in terms of engaging folks and finding new customers. So how will you grow without reaching these groups, or these cohorts with people that you haven't really marketed to yet? In other areas, ranking for SEO keyword terms is a huge piece of this game. For example, think about the fact, do you have capabilities to provide relevant results when users are making spelling mistakes in your search field, or if they're using plurals or synonyms when they're searching for products on your site? Something as simple as spelling errors can set the difference between you getting your customer's business or the competition getting it. This is proven by the stat that 43% of shoppers on retail websites go directly to the search bar as their first action. So think about what you do, if you enter a website, I typically go to the search bar, and if you're not getting a result, searchability is so important. And what's even a more powerful stat I would say is that, on average, conversion rates double when search is used, which is a clear testimony to the value of searching in a strong search functionality. Now in terms of products, so there are many ways to diversify your product offering, but one great place to start is your Diamond SKU. So your Diamond SKU is essentially your best-selling SKU, and we'll drop in the chat for you right now, There's this URL that you can follow from your Shopify store, if you're a Shopify merchant, and this will show you all of your products sorted by the best-selling, so your Diamond SKU would be your number one SKU, bestselling. Products like this, you'll want to consider how you're diversifying the availability of your products on your different channels. So, are you thinking strategically about what channels you're selling on? You could sell your basic products on marketplaces, but still entice your customers to come back to your primary storefront with exclusive offers like customization or limited editions. And if you're not sure how to handle things on your Amazon Storefront, try having at least one of your most popular products listed to remind customers why they returned to your page in the first place. Being on Amazon will expose you to both new customers and shoppers who are already looking for your products, but who check on Amazon to see if there are other, better options first, maybe it's a question of price. But once they see you because they recognize your product, they'll probably go for what they know and what they trust in. Broadly, brands should have enough of a presence to encourage organic discovery without getting buried in third-party fees. So you need to create that momentum and that presence can be done with the use of technology, like I mentioned before, social media, having a presence. See how your products perform, and on Amazon, you can make strategic decisions about what other products you'll sell on Amazon versus what you'll keep exclusively on your website. So always consider your channels in relation to each other and your products' performance in relation to how they're doing on those respective channels. You might have a lot more success on certain channels for specific SKUs and it might not be worth your time to sell those SKUs in such large quantity on those other channels, depending on what the future of that shop is for you. And then, in terms of product expansion, utilize your data and you can expand into other product categories in order to grow. Don't be afraid to start working on your next biggest product, because if you're not working on it, someone else may eventually be working on it in your place. Now, in terms of branded content, this is a great photo here from one of our customers, TUSHY. They have the most creative and fun, beautiful design on their website, but even just the process of selecting the type of bidet, the color, the design, the size, everything is so beautifully orchestrated here. So enhance your listings, use custom images, video, and any helpful content for your products to stand out from the other commoditized listings. And it's tough. There has to be something that sets you apart and the quickest way to do that is something visual. Never stay happy with the status quo. If you stay the same, it's just gonna blend into the background with other products that look identical. And it's beating a dead horse, but having branded content on Instagram, and TikTok, or other websites that might be relevant to your customer base, whether you're using engaging ads, or using say an Instagram account that has a personality of its own representing the brand can go a long way, especially if you're investing in the right marketing tools to help get your ads in front of the right people. And with humans spending more and more time online, there's a lot of real estate there. A lot of mental real estate to take up while folks are just scrolling online. Now, in terms of offer diversification, let's take a look at how bundling can help impact average order value. What is average order value? What is it? Why should I care? So take a look at this chart here. Let's say you're selling an item for $40 in your store, your online store. If it costs you $10 to make the product and roughly 20% of the sales price to ship it, that'll land you with a profit of about $25. So, say you sell two items within the single order, shipping costs and labor costs are the same, if not lower, so your profit margin increases by 3%. Ultimately, that's how economies of scale are built. That's how you drive more revenue and you offset your acquisition costs while ultimately providing more value to your customers. And more money in your pocket in the long run. So another area to consider for product diversification or business diversification is creative kits. So here in this photo, we took this screenshot from Moonglow, our customer at Skubana. They create jewelry that's based on the phases of the moon, and they have a great bundle category on their website. They even have this bundle that allows you to match your necklace with your dog's collar, which is super cute. So ultimately, with the ability to bundle and kit products, providing these options for customers will create a more seamless and speedy shopping experience. You're essentially telling shoppers what they need before they need it and before they even think about it, but it is what they're coming to your site for, it is what they're coming to your shop for. With acquisition costs becoming out of control at times, it's important to focus on generating profit over volume. So look at margins, look at your margins across channels and across SKUs, and remember to factor in your fees, don't forget the higher fees, and then maximize your customer lifetime value by using other channels as well. So you may have folks who always shop through your website, but don't be afraid to use something like Instagram as another marketplace to sell more to folks who may already know your brand as well. Now, when it comes to choosing your sales channels, it's really not a question of selling on Amazon or selling on Shopify, it's a question of Amazon and Shopify. So as a brand, you need to be where your customer is, but choosing between channels isn't a zero sum game. You want to be selling to everyone, you don't want to limit yourself by channel. And it can be a big undertaking, but it's always worth it. So ultimately, more shoppers are shopping online than ever before so it's important that you have that presence where they're shopping. De-risk your sales channels and create consistent customer experiences everywhere you sell. So keep everything as identical as possible, if you're running a sale, it should be on the other sites as well. Your pricing, is it identical? Do you have the same products on each channel? Are the bundles consistent? And then, stock. Having stock ready for all channels. If some folks who only shop on your website don't think that they could come to Amazon, but your website's out of stock, they're not gonna know to go to Amazon to order from FBA, for instance. So ensuring that you have consistent stock across all your channels will ensure retention and more sales. You can lower your customer acquisition costs by creating unified experiences at the end of the day, and folks will know where to go and know what to trust. Understand the value of your returning customers, know how much they've spent before, track your highest paying customers, and you can drive brand loyalty by pleasing your customers with new campaigns. So, targeted campaigns, such as campaigns for your most frequent shoppers or your most regular shoppers and most valuable shoppers is guaranteed to bring good results, and customers love to be recognized for their loyalty. So that always goes a long way. Analyze your profitability to maximize your best channels and focus on the SKUs where you're seeing most profits, even if it's not in Amazon, Amazon may at times be easier to manage than other channels, but there are shoppers on other channels as well. So it's worth expanding into all. Lastly, prepare to fulfill your orders to everywhere. So start thinking about how you can fulfill to more locations, does that mean international expansion, moving into Canada or to Europe, or if you're already in Canada or Europe, moving into the States and beyond. So think about how you can fulfill elsewhere, who can fulfill for you to make that a more seamless experience too. So the importance of measuring diversification, this is an example here, this report is from Skubana's analytics module, where we have a number of custom reports for customers. But ultimately, looking at unified data, such as a report like this, it can help you determine which combinations of sales channels, warehouses, products and shipping providers are the most profitable. So I think that one area that's important to look at, especially today, is the shipping. When you're working with a 3PL warehouse, or you have a relationship with a shipping provider that can significantly reduce your costs, so beneficial pricing there is helpful, especially when with certain fulfillment strategies, you may be paying more for shipping. So see how you can balance within your logistics workflows the areas, especially as shipping becomes a bit more contentious. Then, automating for accurate data. In order to have truly accurate data that you're working with, there are a few things that you'll need. You need a single dashboard of truth, like Skubana. You need to aggregate everything into one area. Having cross channel reporting with detailed data on revenue, order, and units sold is essential, as is tracking your cost of goods sold. And you need the ability to respond to new orders quickly and accurately. So how can you ensure that the information you're sending to your warehouse is accurate and that it will be fulfilled properly, and that it's being sent on time. It's important to have real-time inventory in order syncing to maintain control as your sales volume increases across multiple channels. So, how do you make sure that your Amazon orders and your Walmart orders are being pulled in at the same rate and being transferred to your warehouse at the same speed for equal fulfillment time or different fulfillment time? If you need certain orders that need to be fulfilled more quickly than others, how do you prioritize? It's important to aggregate all of your inventory into a single view so that the data will update quickly to reflect on all of your channels. If you have incorrect inventory data updating to a sales channel, you might be losing out on sales, or you might be overselling. So Skubana's the answer for many, many retailers and merchants online trying to solve for these questions. There's a lot of opportunity on Skubana to automate your workflows, and it's nearly impossible to do without when you grow to a certain size. So at a certain stage in your growth, a tool like Skubana is necessary. Lastly, in terms of fulfillment strategies. So having the right warehouse network allows you to build your relationships with freight carriers to get discounted rates. If you need to expand to other geographic locations, seek out potential partnerships with other warehouses in those areas. You'll want to find the right group of technology partners to drive optimal efficiency for your operations. Multi warehouse utilization isn't always viable for sellers, but the evaluation should be a blend of your SKU count, item sizes and weights, where your customers live, for example, are the products oriented at sales to specific demographics, or regions, or seasons, or temperatures? What's the realistic viability of maintaining stock in multiple locations and effectively load balancing inventory to prevent stock outs? Which defeats the purpose and can cause split orders at times, if you do have multiple locations and are regularly splitting orders between those locations. So optimizing your rules, making your automation for fulfillment intelligent, and keeping profit at the forefront. Cost comparison of freight shipping of bulk inventory from the point of origin to multiple warehouses versus the shipping zone savings at the package level for the same amount of inventory. It's less tangible and quantifiable, but potentially equally as important as the savings in time to home and the customer experience with the brand, particularly important nowadays with the value placed on reviews and social media. Having multiple warehouses requires true interoperability of inventory management, order processing and intelligent order routing based on defined business rules. For example, inventory availability to ship one package, proximity to the customer based on shipping zone. or lease cost, or lease transit time. Multiple warehouses also requires visibility across the warehouses for maintenance of the customer and inventory. In the absence of that functionality, 3PLs can partner together to manage customers, but it becomes challenging. This is where the combination of 3PL Central's WMS layered with Skubana's warehouse visibility and intelligent order routing brings significant benefit. And the 4PL network will add value and flexibility for e-commerce sellers and 3PLs across the board. Now, if you have any questions about anything I just talked through, please feel free to leave them in the chat for later on in this session. And without further ado, I'll hand it over to Lizzie, who's going to speak to the benefits and importance of multi-channel advertising.
Lizzie Allan:
Perfect, thank you, Sam. So before we talk about how to diversify your marketplace advertising approach, let's go over why it's important to do so if you're not already. So with so many different retail media platforms, it can be hard to choose which ones to expand to. And if you're already doing well on Amazon, you might think that there's no point in diversifying your marketplace approach. However, e-commerce is not a trend and the more channels you're on, the more benefits you'll see. So the first is increasing your customer base. So different platforms have different memberships, there's Amazon Prime, or Walmart Plus, Target Red, Instacart, and a lot of these are paid so people are gonna be choosing one or two to stay on. So if you're only advertising on one channel, you're greatly reducing the new to brand growth you could be seeing. Also, no one's ever complained that they have too many data insights and each website and each platform has different metrics and KPIs they respond to. So, running ads on multiple channels is the best way to have the most comprehensive e-commerce portfolio. With this, there are also so many testing opportunities available on different platforms so each platform is staying really competitive by adding new capabilities as fast as they can, and we will go over some of those. So the more channels you're on, the more creative you can get, and the more paths you will have to reach your brand goals. So before launching on a new marketplace, there's a lot of mistakes that are made and they usually happen before we even launch. So the first is not setting expectations accordingly. So if you see a really high return on Amazon, it makes sense to want to replicate that on another retail media platform. However, launching on a new channel is not building off your Amazon performance, it's building from the ground up on a new platform. And with this, it takes time to grow. So with this, copy and pasting strategy on Amazon will not work and it will not yield the same results. So trying to do this is both unrealistic, and it's also not the best use of your budget. Only focusing on one goal is gonna stifle the opportunities that come with expanding your marketplace strategy. We know that consumers use different marketplaces for different reasons, so when it comes to advertising, we should be doing the same thing. And finally, the next step to stay flexible during your strategy. So staying flexible will help both your business as you move forward in both strategy and budget. So whether that be leaving room in your budget to invest in new capabilities, or new channels, or if you're seeing an issue with inventory that can mean pushing a new hero SKU to the supply chain, because if you're able to pivot strategy, you'll always have a stronger brand. Okay, so, moving into some channel specific insights, starting with Walmart. So, Walmart is the nation's largest retailer. It's also the number two e-commerce site, as well as the number one online grocer in the country. And with that, Walmart is seeing huge sales and huge increases in sales, so that's 13.6% increase in sales growth year-over-year. And they're doing a lot to try to keep this momentum going. So they have a subscription service Walmart Plus, which is very similar to Amazon Prime in that you get faster delivery and also some additional deals. And that's estimated to have pulled in 16 to 18% of all Walmart shoppers. And that's up from an estimated 13% before. With this, Walmart is still maturing as a platform so it doesn't have the same insights as other channels yet, so leveraging outside help can really make your strategy a lot stronger. So these are the most popular tools I found for 2021. So the first was utilizing DataHawk and Helium 10 to find share of voice because awareness is a great goal to have, but checking manually for sponsored products can be really tedious, so using these companies can help look at your share of voice and determine where to allocate funds and if there are any gaps in your strategy. Additionally, having a healthy product listing score on Walmart actually benefits the way that the Walmart advertising platform pushes your products. And the amount of reviews you have actually impacts this. So if you have a newer product on Walmart, or are just looking to boost your listing scores, using something like Bazaarvoice, which takes reviews from your D2C website and adds into your product listing page can help your performance. Additionally, if you use Tinuiti for your Amazon search, you know, we have an awesome benchmark report and we now actually released this for Walmart so that's something great to see how your ads are stacking up. So there was some really exciting platform changes as well in 2021, the first is new ad types. So it's a search brand amplifier, and this is a banner ad that targets keywords, and I will be going into this a little bit more in depth later on, but also order and pickup, and shipping were combined on to create a new website experience for Walmart. So what this means is previously there were separate tabs for if you're doing an order and pickup, or if you were shipping, so this meant that there's a little bit more competition on that search-in-grid between companies that previously only shipped because they are now competing against order and pickup as well. So this did lead to some high CPCs, but this also led to more advertising placements. Okay, so looking forward to 2022. So I think the first tip I have is to look at your goals and maybe think of something besides just return on investment or ROAS. So the immediate gratification of a high ROAS is great, but if you take a step back, what's it really doing for your brand? Are you only targeting branded searches? Do you have a small volume on Walmart because it's only your Amazon shoppers looking for an out of stock? If you look at other KPIs, you can build your presence on Walmart without being weighed down by one metric that might not be the most relevant for your brand needs. So I always recommend building awareness on Walmart because it's an opportunity to tell your brand story and build trust in your brand by reaching potential customers and increasing your audience size. So looking at impressions is the metric to follow here specifically at a category and search page level. So this can be achieved by keeping all match types, so broad phrase and exact, keeping them with high bids and also keeping your portfolio of products large. You could also use share of voice to see how your share grows over time. So you also want to make sure you're staying competitive in your category. And the best way to do this is by targeting the consideration funnel by reaching customers as they search and browse, and then engaging with those potential customers. So look at clicks, see if your click-through-rate increases, then also look at item page visits. This might not always lead to a direct sale, but one click can lead to incremental sales later on, as consumers continue to engage with your brand. So it's a fact of life, there's gonna be more competition. So as Walmart continues to grow, so do the amount of sellers and advertisers on the platform. So this does mean increasing bids to stay visible, but instead of just increasing your product bids or your keyword bids, you can add a search-in-grid bid placement modifier, and, yes, it is a mouthful, but what this does is increases your CPCs still, but it'll push products more towards the search results page, which tends to see higher conversions. This is also available for pushing products towards the app, mobile, or desktop placement, so you can pull up placement report, see where your ads are culminating the highest and then push towards one of these. Like if you have a lot of people shopping for groceries online, you might wanna push some budget towards the app and mobile placement modifiers. And then, finally, make sure all your advertising placements are actually on. For manual campaigns they can be disabled, like the search carousel right here, so you wanna make sure that all your placements are on, so you're getting as many impressions as possible. And then, this is less flashy, but make sure you're sticking to the basics of the platform. So Walmart is a first price auction so you're bidding what you pay. It's really tempting to set a really high bid to make sure you're getting that top search placement, but if you're bidding $20 and your competitors paying $10, you're really just losing all that money because you're gonna be bidding what you pay, or paying what you bid, excuse me. Also, if you do have a top spot, you might wanna try incrementally decreasing your bids and seeing if you're able to hold that spot still. And that way you can protect some of your ROAS. Also, Walmart doesn't have any negative keywords, so making sure you're leaning into both automatic and manual campaigns in order to convert and show high awareness. Something super exciting for Walmart as well is there are now the same amount of placements for manual sponsored placements as there are for automatic, previously, automatic held more so now you can target keywords at a larger scale. And then, finally keep an eye on the buy box. You wanna make sure that your prices are low and that you have fast shipping times to make sure another seller doesn't come in and take your buy box. Okay, so a super exciting feature for 2021 was the release of the search brand amplifiers. So these are banner ads that target keywords that can be branded or a category, and they're super great for building awareness. They don't get a ton of clicks just due to their placement, they are top of the search page, but really people look at them and don't always know you can click, but they do uphold a a pretty strong conversion rate when they do get clicked on And these are also super cost effective because of the lack of competition, these are also only available for 1P clients right now, so if you are a sold then shipped by Walmart, I do recommend including these in your branded search. For example, I have one client who went after a handful of really competitive category keywords, they wanted to be must-win for those, they wanted to be top of the search, but their CPCs were over $30 per click. So they're running out of budget really early in the day. However, we introduced search brand amplifiers and they're able to pay less than $5 for those same keywords and also stay live all day at the top of the search page. And they spent 5% of their sponsored placement budget. So I really recommend these used in conjunction with sponsored products. There are also some really cool testing opportunities with search brand amplifiers. If you are worried about return, you can group your high priced keywords, the ones with the highest CPCs, and then you can use those to target your key products that have the highest costs to offset some of that return. And you can also run multiple custom headlines, so what this would mean would be advertising the same products, but using a different custom headline as you can see here and seeing which one gets the most clicks and the highest click-through rate. For allocating budget for search brand amplifiers, while I do think they're great, you wanna make sure you're still putting most of your budget towards sponsored products so I wouldn't recommend putting more than five to 10% of your total budget to SBAs. Okay, now changing the channel to Instacart. So Instacart was a little bit of a wild card going into 2021, it saw such huge growth in 2020 due to no one leaving their houses. So there's a lot of uncertainty if it would continue to build up that momentum. It turns out that it's really nice for other people to grocery shop for you. I live in a sixth floor walk-up so I will gladly pay that fee for someone to carry oat milk up all those stairs. So Instacart saw some more growth year-over-year, 11% to be specific. And with that, beyond just a consumer base growing, it also grew with the amount of retailers that were available on the website. So Instacart is no longer just for grocery, it's expanded past that grocery vertical and now has stores available like Petco, Michaels, Dollar Tree. So that's the first big learning of 2021 is just because you aren't selling a consumable, doesn't mean Instagram advertising can't fit into your retail media strategy. It's actually great to get in now while there's less competition, because Instacart is not slowing down. There's a lot of uniqueness with Instacart, it's very user experience focused, which draws more customers coming in. It's also why they're so great at building that momentum. So right now you can search a specific keyword and a recipe will pop up. And also, something I love about Instacart is that all brands have equal opportunities. So I've a background in in-store retail marketing so I know how hard it is for brands to get any pull in that in-store planigram and get that coveted middle of the shelf spot. However, the beauty of Instacart is it's fair game across all brands to get that number one shelf placement, as long as you're strategic with your bids and your budgets, which I'll show you how to do. As for new platform capabilities, the first is self-service display, which is so exciting, which launched in October, as well as this deals tab, so coupons used to be just integrated into the search for Instacart, and now there's a whole separate deals tab, which includes new feature product spots. Okay, so first diving into featured products. So people use Instacart and they don't always realize it's a second price auction, so it should be noted that you will be bidding slightly more than the second highest bid. So it's not first price like Walmart. It's also very unique because customers are logging on, being given a geography and then clicking a retailer. So you're really already in that consideration part of the funnel when you're on Instacart, so it's important to really target category keywords and be aggressive here. So I do recommend putting the majority of your budget towards category words. Also, you do wanna make sure you're utilizing branded and competitive terms because Instacart is great for brand steals. You can have aggressive bids, you can have those top spots for competitor terms. You'd actually be surprised at how few large companies are actually on Instacart right now and aren't protecting their brand. So while you won't see much returns from these brand steals, you can definitely gain a lot of awareness. But on the other side of this, you do wanna make sure you are including branded searches into your terms because other people can brand steal for you. This also brings me to my next point, Instacart doesn't allow you to negate keywords and it also doesn't allow you to remove them, so the Instacart AI will actually add keywords it thinks will boost your ads to your campaigns, so even if you didn't want to go after branded terms, you'll have them regardless. So the best way to control your budget with these added keywords is separating your campaigns by category, competitive, and branded keywords. So staying competitive on Instacart is also really important. So there's an increase in volume in consumers using it and a lot of brands weren't prepared for this so their ads went dark. So make sure you are allocating proper funds to your Instacart campaigns. However, if that's not an option, Tinuiti has a really cool feature through our API where we're able to pause campaigns for part of the day and make sure they're only turned on during those peak times in order to have the most control of your spend and see that high return when people are actually shopping. You also wanna make sure you're keeping as many APCs as possible in your ad groups, because every retailer has different inventory, and Instacart, it's not a retailer, it's a platform with many retailers, and because those retailers have different product assortments, you wanna make sure you're covering as many retailers as possible and penetrating as many stores as possible. So target your full catalog if possible. This is also great because if a product goes out of stock, consumers can add your product instead of a different brand. And then, if you sell in the Great White North, Instacart Canada just launched. So it is a different UI slightly, it's in the same one, but it does have fewer stores so you can keep your investment levels lower, but it's great to get in now. Okay, and then moving into display. So this is a new feature, this launched in October. So it's slightly different than featured products for bidding, so it is a first price auction and you're paying a $15 minimum per thousand views. So what's cool about these is you can keyword target like you can't in featured products, you can also behavior target, which I've had a lot of fun with, and you can target buying behavior or your own brands in the past 30 to 180 days. And then, this will drive users to a brand new page. So there's definitely not a really high return on display, it's definitely used for awareness building and consideration, but what's cool is on featured products, you can't really target adjacent complimentary products, but I've been doing this on display. So say you're selling baby food, you can target a customer who has bought diapers in the past 30 days. And there's probably gonna be a lot of overlap in relevancy, and then you can stay top of mind. So this definitely should also be combined with featured products. This way, you could have a full funnel approach. So leveraging the featured products for conversion and consideration while using display to gain awareness, because that's gonna improve your click-through rate and also your impression share. Okay, so, while running advertising on multiple retail media channels means you're targeting different audiences, this doesn't mean you have to look at tool performances separately. I work with a lot of clients who advertise on different retail media platforms, and the first thing I do, if I see a change in performance is cross reference other channels to see if it's isolated or it's something happening with the brand. There's also gives a lot of opportunities for testing, like promoting different products in different ways, like using your hero SKUs for return on Walmart, and then using that really high awareness on, excuse me, for a turn on Amazon and then using the high return on Walmart for newer SKUs. So I urge you to diversify your platforms then also look at them holistically. And finally, I talked about Instacart and Walmart a lot today, however, e-commerce is growing so fast that by the time this webinar's over, I'm sure there'll be three new platforms that we need to advertise on. So find which ones are the best for your brand goals and if you need help with this, feel free to reach out to Tinuiti 'cause we can lead you in the right direction. And then, we want to be a little bit topical here, no one said they had supply chain issues in the poll. However, I'm sure they are impacting a lot of people. So from a marketplace standpoint, what you can do is increase awareness of new SKUs, if your hero SKUs are having issues getting in stores. And you can also look at what other capabilities you have beyond just sponsored products or featured products. So, on Instacart that can mean putting more budget towards display if you're having trouble spending. And similarly, with Amazon using those banner ads or search brand amplifiers, or you could even launch on a new channel. And I'll pass it off to Sam, who'll talk about some operations.
Sam Potter:
Oh, thanks. In terms of next steps toward the year ahead, a few directives and things to keep in mind that'll be helpful to blaze a new trail of what's to come. We've got three pointers here. So continue to adapt quickly to global shifts, we're gonna keep running into unique challenges, that's not gonna slow down. And remember that with adaptation comes creativity. So don't be afraid to jump into something new, or to try out a new app, or a new process, or a new sales channel in order to stand out from your competition. It has to be an everyday reinvention of what you're doing to keep your brand relevant and to keep the products selling. And lastly, creativity, remember, can include testing new channels, diversifying your network and/or your social media experimentation. So it can be an adjustment at first to get used to this new way of hawking the product, or trying to get new customers in, or making yourself visible as a brand, but it's necessary to keep the momentum. So one brief plug here on this Skubana side, we are releasing a Walmart Fulfillment Services and Skubana integration soon, so early 2022. We're very excited about this. It's been a long time coming and we've had customers asking us for this integration for over a year now, really ever since Walmart launched Fulfillment Services in beta. So we're really excited to be offering this to our entire customer base next year. So if you're not familiar with Walmart's Fulfillment Services endeavor, it's similar to Amazon's Fulfilled by Amazon program. So existing merchants can choose to ship inventory to Walmart's Fulfillment Centers and they will fulfill those orders for you. So it doesn't have to be a Walmart order, it can be from your Shopify site, from any other sales channel, but Walmart will fulfill it for you. This also applies to Walmart Marketplace orders, but the best way to think about it is as if it's FBA for Walmart. So that's a huge area for growth, a huge area for expansion in 2022. If you're already using the program, using Skubana's integration would be a great way to centralize all of your order information and your data as a whole. So this'll be a really exciting feature for us to add, keep an eye out early 2022. And for all of you, who've joined us today, we're giving away a $50 gift card to any new customers who aren't currently on the platform who come and take a demo with our sales team, just a brief 20 minute call. So we've got a great sales team who can fill you in on the ins and outs of Skubana. So we'll share this deck with you and you can just follow the link at the bottom here to sign up for that demo. And Ashley also just dropped it into the chat for you. Thank you, Ashley.
Kerry Mallett:
Awesome, well, thank you so much, Lizzie and Sam, for sharing all of your expertise. On the note of follow-up conversations, if you are interested in continuing the conversation with our teams of how to take advantage of new advertising opportunities across marketplaces and expanding on the marketplaces, you can let us know via the poll in the poll dashboard. And so again, on the dashboard, on the right hand side of the screen, you go from chat to polls. Please let us know now, if you are interested in continuing the conversation with our marketplace experts. So I will give everyone a second to respond to that poll question. And then, also, if you haven't gotten questions in for our Q and A with Sam and Lizzie, we do have time for a few questions, so you can add those to the chat as well. Fantastic, well, we will keep that poll open and we'll move into a brief Q and A. So the first question is, can e-commerce advertising have an effect on in-store?
Lizzie Allan:
Yeah, I'll take that one. So it definitely can. The thing is it's a bit sticky to see the direct impact. So it would be great to see if we could track someone who saw an ad on Walmart, clicked on it, then two weeks later bought it in store on an impulse purchase. The thing is that would take a lot of work, it would also be a violation of a lot of privacy laws. So we can't see a loop that closed, however, we can look at things like the total in-store lift and use that in conjunction with our advertising efforts. So kind of using those cross-referencing across in-store channels and e-commerce.
Kerry Mallett:
Thanks, Lizzie. All right, our last question, since I know we are a little short on time, is what kind of support does a system like Skubana typically require? Is that provided by Skubana, a partner, or is that something that them as the merchant needs to manage?
Sam Potter:
Sure, that's a great question. So at Skubana, we do have a team of dedicated folks, currently our customer success managers, but soon that will be a team called Professional Services with agents who will assist with workflow development and the like, so we do have a team for that, but we do feel strongly that it's important to have a tech representative for each merchant's brand, because inevitably, there has to be someone who is at the helm and keeping track of the different programs in each brand's tech stack. So we typically are working with a tech contact, or an entire team on the Skubana end with our customers. So it doesn't have to be someone with a technical background, but typically that's what is simplest for our merchants. So if anybody has questions about the Skubana offerings, feel free to reach out to me. I'll drop my email in the chat as well. Yeah, and if anybody has any other questions.
Kerry Mallett:
Awesome, thanks, Sam. Unfortunately, we have run out of time for our Q and A, I did just launch a featured action. And so, for our audience members so that you can stay informed on the future of digital marketing, we have a ton of resources on our content page. And so, through the featured action I just launched, you can head over there to not only register for upcoming webinars, but also download some of our latest guides and industry leading information. So, wanna let everyone know that they can do that and also we want your all feedback. And so, please rate this session. You also will be redirected from this once we close our session today, but we would really love to not only get your feedback on this session, but also what you'd love to see for Tinuiti webinars going forward. So, do wanna thank everyone for tuning in today and thank you to Lizzie and Sam for coming on and sharing all of your expertise as well. And I hope everyone has a really great rest of their week. Awesome, thanks, all.