Skubana Integrates with Xsellco Fusion: How to Pimp Out Your Customer Support Operations for Maximum Efficiency
September 24, 2016
6

min read
We get it.
We understand how brutally difficult it is trying to run and operate your business selling on multiple different sales channels.
Once the product arrives at your customer's doorstep - it could be sold from Amazon, Shopify, Jet.com, Walmart or countless other channels - that is truly when the sale begins.
You have to delight your customers with an excellent customer experience and you need to make sure you respond promptly.
Your customer support team has limited time (we all do) - so instead of logging in to each separate marketplace or sales channel, now you can have ALL, and we mean ALL order information and details flowing from Skubana into Xsellco Fusion as a CRM multi-marketplace ticketing software.
Today's marketplace competition is fierce, so now it's time to tip the scale in your favor and work smarter not harder.
It all boils down to operations. Here's how:
Using XSellCo Fusion with Skubana
Managing multi-channel e-commerce is tough, and whether you're an old hand at it, or just setting up new channels, you probably know that. Stepping away from single-platform sales offers long-term security and increased exposure to different customer demographics, but it also comes with a plethora of problems. For example, you will have to track and manage sales and fulfillment across every channel, and keep up with customer requests, complaints, and returns across all of those channels, and that's not easy. While Skubana handles the first, XSellCo Fusion is one of our favorite solutions for the second.
What is XSellCo Fusion?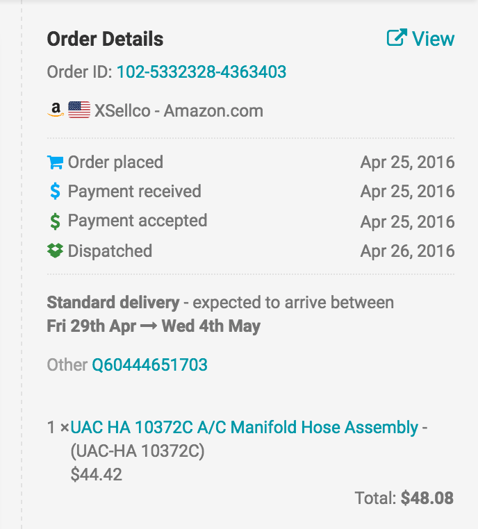 XSellCo Fusion is an eCommerce help desk tool designed to make it easy to manage and handle customer support across all of your channels. The software allows you to integrate all of your data including email, social media, and contact forms into one place, and then access customer data including order numbers and other details right with the customer's message. It also offers service and support tickets, email templates, and response prioritization to save you as much time as possible. And when you integrate Skubana, you'll be able to access all of your Skubana data, right there in your customer support help desk. And, that's where the XSellCo Fusion offers a lot of bang for your buck, because you can access your customer's information right where you need it, when you need it.
XSellCo is also a big name in multi-channel. They stepped into the multi-channel market early on and produced their first solution in 2013. Now, XSellCo offers a fleet of multi-channel software solutions, including Fusion.
Fusion's Role in Multi-Channel Retail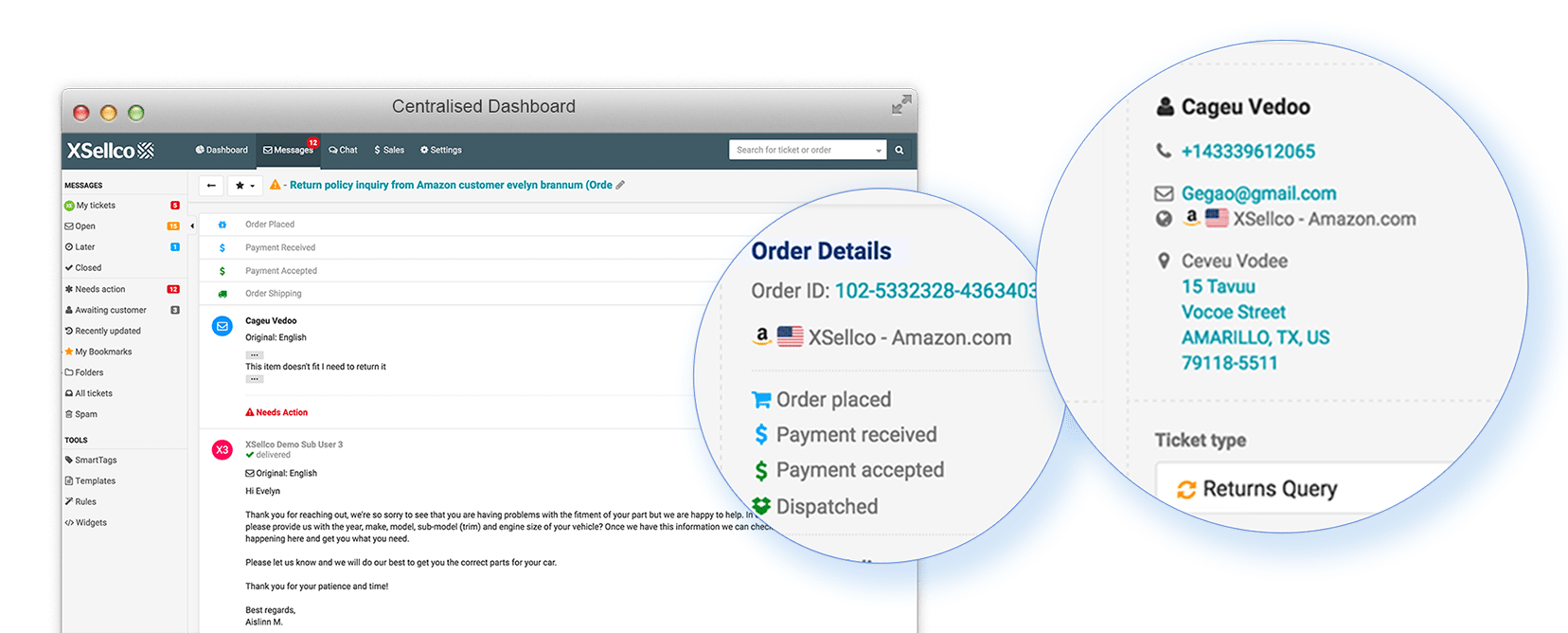 You know that great customer service is essential for the reputation management necessary to maintaining your brand in a multi-channel environment. XSellCo's eCommerce help desk tool can help you to improve your customer service while reducing the amount of time you spend on it. By integrating all of your data into one place, you can quickly respond to customer requests because you can see what they ordered and when. And, when you integrate Skubana, you can also see your fulfillment and other details right from the customer's message.
Fusion integrates with shopping carts like Amazon, eBay, Shopify, Magento, WooCommerce, Cdiscount, and Allegro. It also integrates with your social media, email, and other support tools. Then, when a customer contacts you, Fusion shows you their profile along with their orders, so you know what they are talking about, and how to respond. Plus, with integrated templates and response prioritization, XSellCo estimates that you can cut your average response time by 46%.
What's the big deal? Speeding up your customer service allows you to save money, but also makes it easier for you to handle issues more quickly.
And, there are a lot of studies that show you have to handle customer requests as quickly as possible.
E-commerce relies on quality consumer opinion, and studies by Microsoft Azure show that 66% of consumers spend more with a company that offers excellent customer service, while Business Insider showed that 60% will actually skip an intended purchase after a bad customer service experience. But, quality isn't the only concern. 39% of modern consumers expect a reply from customer service within four hours, and 55% of social media users expect a reply in less than 4 hours. Without that fast reply, many will simply move on and make a purchase elsewhere.
Managed customer service is essential to achieving the response times that many consumers expect. And, when some studies show that 62% of shoppers will actually check your social media and other locations before buying from you for the first time, maintaining your consumer relations on every channel is crucial for your brand. XSellCo Fusion gives you the tools to make handling customer support that much easier.
Integrating Fusion with Skubana
If you use Skubana, you can now integrate it into your XSellCo Fusion helpdesk dashboard to take advantage of integrated analytics and product sales. Integrating Fusion allows you to quickly access order details and IDs, or specific product invoices right from the customer email or message. This makes it easier for you to reply to customers, because you can tell them where their product is, quickly set up a return, or answer questions with all of the information you need.
The integration process is also relatively simple, but it is easier if your XSellCo and Skubana accounts were set up using the same email.
From Your Fusion Account:
Click "Settings" from the main menu

Select "General" and choose "Company Settings"

Scroll down until you see "Skubana"

Click on "Please click here to install XSellCo Application in Skubana" under "Access Token". This will take you to the Skubana App Store.

From the Skubana app store, click "Install App by XSellCo"

Click "Install". If your accounts use the same email, you can proceed to step 7. If your email address is different, you will be prompted to log in, or to create a new account. Choose to log in.

When you log in, check the URL address bar. You should see "Skubana_Code" and then a string of letters, numbers, and characters in the URL. This is your access token. Copy it.

Log into Fusion using your account details

Paste the code you copied from the URK into the "Access Token" section under Skubana.

Click "Save Changes".

Log into your account

Authorize the app installation and click "Install" again.

Return to XSellCo. The "Access Token" section should now have a number in it.

Click "Save Changes".
After completing all 10 steps, your Skubana account will be connected with your XSellCo account. You can access the data through the "Sales" tab on the main messenger in Fusion by going to "Sales" choosing the order you want to view, and then selecting the "View" button. Choose "Show Skubana order details" and you should see the Skubana data right in XSellCo Fusion. You can also access Skubana's data through "Messages". Simply click on an order, click the "View" button, and choose "Show Skubana order details".
Integrating Skubana into XSellCo allows you to view product order details including invoices, orders, tracking numbers, and other data right from your XSellCo Fusion account. This makes it easier to respond to buyers quickly, offer updated information, and begin the process of returns, exchanges, or replacements more easily. It also allows you to match sales data with customer service data, which should make life easier for customer service, and for logistics.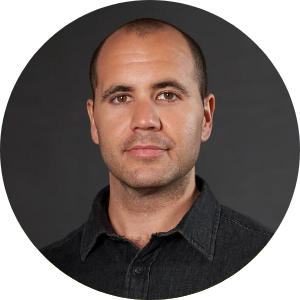 Written By
Chad Rubin
Chad Rubin is the co-founder and chief executive officer of Skubana, a multichannel e-commerce software the enables brands to unlock growth by unifying their back-office operations.