How to Learn from Your Competition (and Top Sellers) by Shopping Online
June 25, 2015
10

min read
Over the years in e-commerce, we've acquired an addiction… shopping. And it's not because we love shopping. The reality is we learn a ton about other e-commerce sellers (and competition) every time we shop online.
Welcome to the first blog post in Skubana's latest series, E-Commerce Fulfillment Clinic. In this post we've purchased firsthand from Chubbies, an e-commerce who specializes in utterly radical shorts that not only leave little to the imagination, but make you ready to tackle any epic adventure that may arise. Here's our takeaways:
1) Analyze the Outer Packaging
You should care about the the way the package shipped because it's one of the larger e-commerce expenses that impact your profit. Looking at Amazon, they are running in the range of 5-15% of the sale as shipping costs. There's no golden rule of what the shipping to sales ratio should be, but the goal is to get it as low as possible.
For Chubbies, they shipped our RAD-O-RAMAS shorts in a shipping box. While the branding on the box is fantastic and they utilize all of the real estate on the surface, it added a couple ounces to the package. Meaning, it was more expensive to ship. We believe, the same branding can be used with a poly bag and Chubbies can really enhance their margins.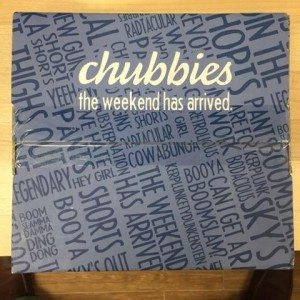 2) Shipping Labels
This is a part that most shoppers and e-commerce sellers just skip over, but it's actually very important. Firstly, Chubbies decided to ship this USPS First Class Mail. Since we know Chubbies is shipping significant volume, cost savings can be captured here by using a freight forwarder such as UPS Mail Innovations or DHL Global Mail (DHL eCommerce), which dominates anything with a shipping weight that is below 1lb.
In addition, check out the "return address." At first glance, it may seem that this was shipped by Chubbies directly, however, if you Google the address on the return label - 29010 Commerce Center Dr. Valencia, CA 91355. It turns out, this is a 3PL warehouse (Third Party Logistics) called AMS Fulfillment doing the fulfillment pick and pack for Chubbies.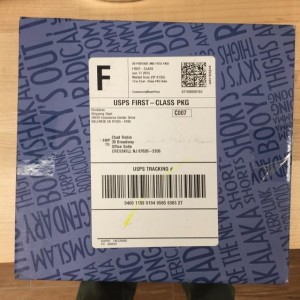 When you open the package, what do you see?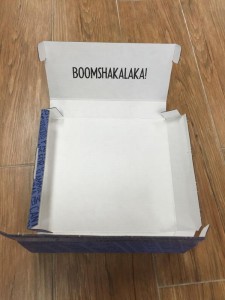 Today, that first glance inside the box for consumers can be the defining moment between gaining repeat business and losing that customer forever. You always want the consumer to feel as though the package was assembled with care and attention.
Boomshakalaka! Even this simple message can add to the overall brand image and create true brand affinity with your customers. There is no excuse for delivering a package that has a bland or disorganized presentation on the inside of the box. The customers feel that energy that you packed the box with - if it's packed with care, they will feel cared for and in good hands with their purchase and vice-a-versa.
3) Promotions
Inside-the-box real estate is precious space. You should always include some sort of branding or promotional material. It's free advertising! Aside from trying to endear yourself to the customer, it is just another way to reinforce your brand and promote something new and exciting. To score a repeat customer and to decrease the latency of the next purchase can all be achieved with a simple flyer or sticker.
Chubbies did a very good job at achieving this simple, yet crucial aspect. They included two types of promotions: one that welcomed you to the "shorts revolution" (and their community) and the other letting you know that there are deals to be had for fourth of July. Right there, Chubbies has you already thinking about making your next purchase.
The Promotions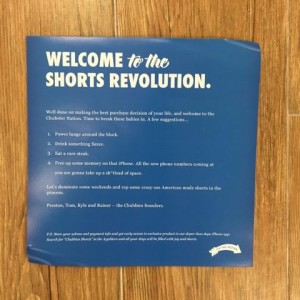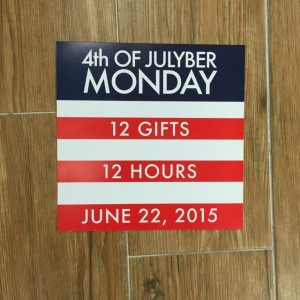 The Packing Slip
We believe the packing slip is a great opportunity that Chubbies can improve upon. There is a decent amount of white space on their packing slip. Though it is good to leave some white space to add balance to the paper, Chubbies missed an opportunity to reinforce their brand or promote themselves.
Good brands give you only the necessary items when you receive your package (product and packing slip), while great brands continuously find ways to promote themselves and add to the buying experience. By adding that little something extra to the packing slip as well, Chubbies keeps you thinking about them while looking at every item in the box. We understand that Chubbies packing slips may be limited to marketing customization because these are auto-generated by the 3PL warehouse management system (WMS).
The Stylish Result is Made For the Weekend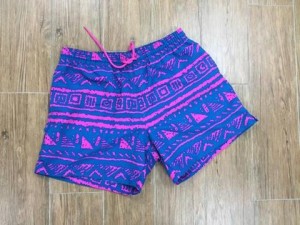 Conclusion
After reading all of that, now it's time to go shopping. Shop online as much as you can as an e-commerce seller. Finding the best practices and learning from companies in different industries, or even seeing how your competition ships items serves as a great learning experience.
Packaging, shipping carrier selection, fulfillment process and market collateral are all areas to focus on. After you have learned from your online shopping, the next phase is execution.
P.S. These shorts gave our CEO a reason to go to the beach. Upon his journey he received several nods of appreciation, and second glances while sporting these tastefully appealing shorts.
P.P.S. At Skubana we print shipping labels for USPS, DHL Global Mail (DHL E-Commerce) along with UPS Mail Innovations (UPS MI). In addition, Skubana has a 2-way FTP that automates orders and inventory to any 3PL in the U.S. or Internationally from your shopping cart or marketplace.
Disclaimer: The reference to Chubbies does not create a sense of endorsement or sponsorship by, or other false association with, Chubbies or Chubbies products.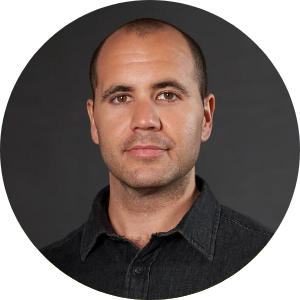 Written By
Chad Rubin
Chad Rubin is the co-founder and chief executive officer of Skubana, a multichannel e-commerce software the enables brands to unlock growth by unifying their back-office operations.