Unboxing: Diff Eyewear
October 25, 2017
5

min read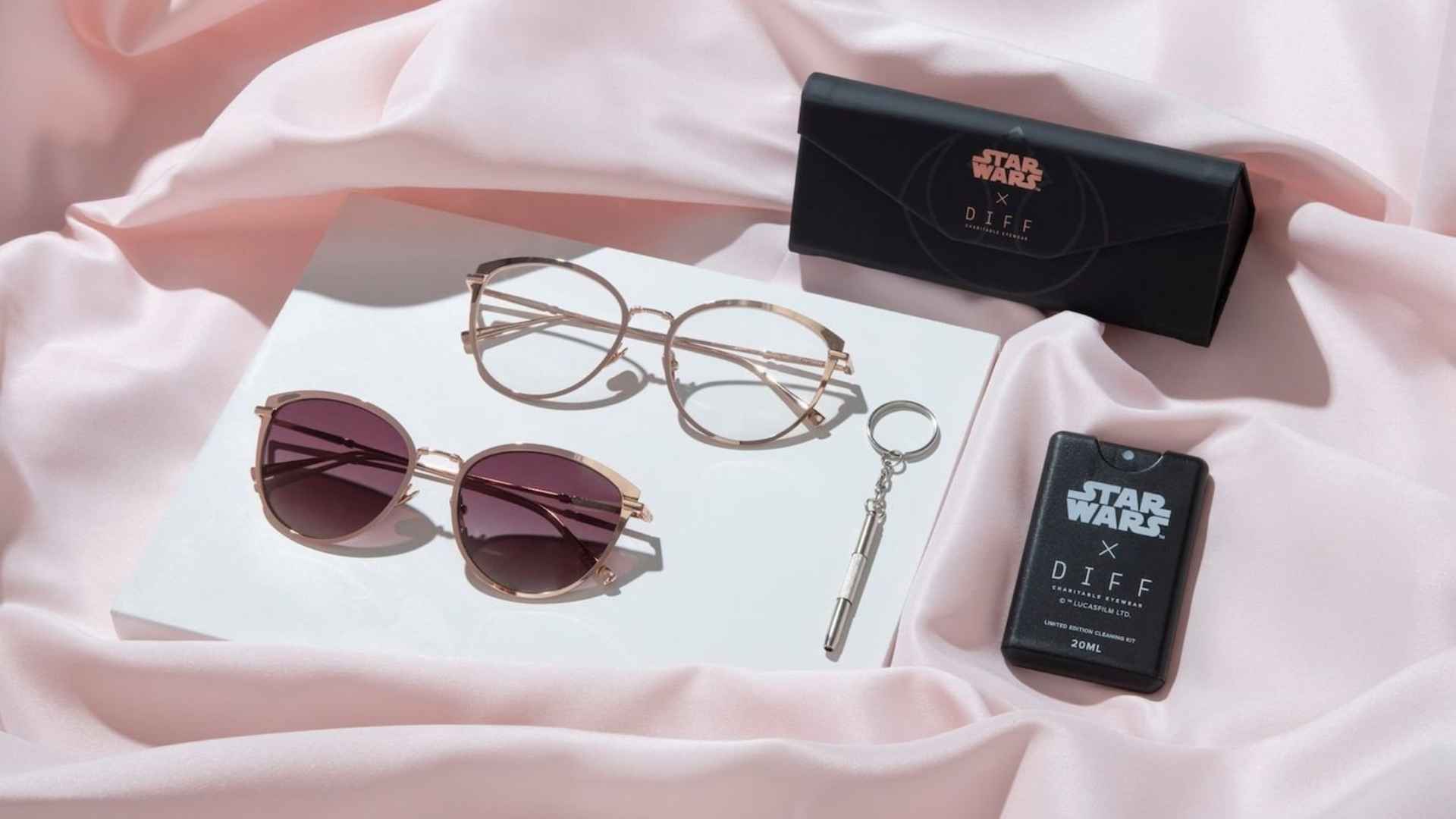 Your marketing worked! A customer has placed an order on your website. All that's left is to pack it up and ship it.
Every e-commerce order has to go through packing and shipping, but many sellers aren't making the most out of the order fulfillment process. Every order is an opportunity to create a great experience and start customers on the journey to becoming a brand advocate. This is your chance to put your brand's best foot forward.
[bctt tweet="Think of order fulfillment as the last part of a first date. It determines whether you get a second" username="skubana_erp"]
Why is packaging so important? Every interaction your customer has with you, whether it's online or through the packages they receive, reflects on your brand. It's a stitch in the fabric of your relationship and an opportunity to differentiate yourself from the competition by creating something memorable. The art of customer retention lies in the details.
That's why we started our unboxing series. We review different boxing strategies from top brands and assess what's going well and what can be improved. This series is the perfect opportunity to learn from brands that are crushing it and discover new ways to improve your own fulfillment strategy and wow your customers.
The outer packaging
There's a big difference between the way a jacket from H&M and from Chanel are handled. One's usually carelessly stuffed in a carrier bag. The other is gently wrapped to avoid creasing and handed over in an expensive carrier bag with explicit care instructions while you sip complimentary champagne. Customers want less of the first and more of the second.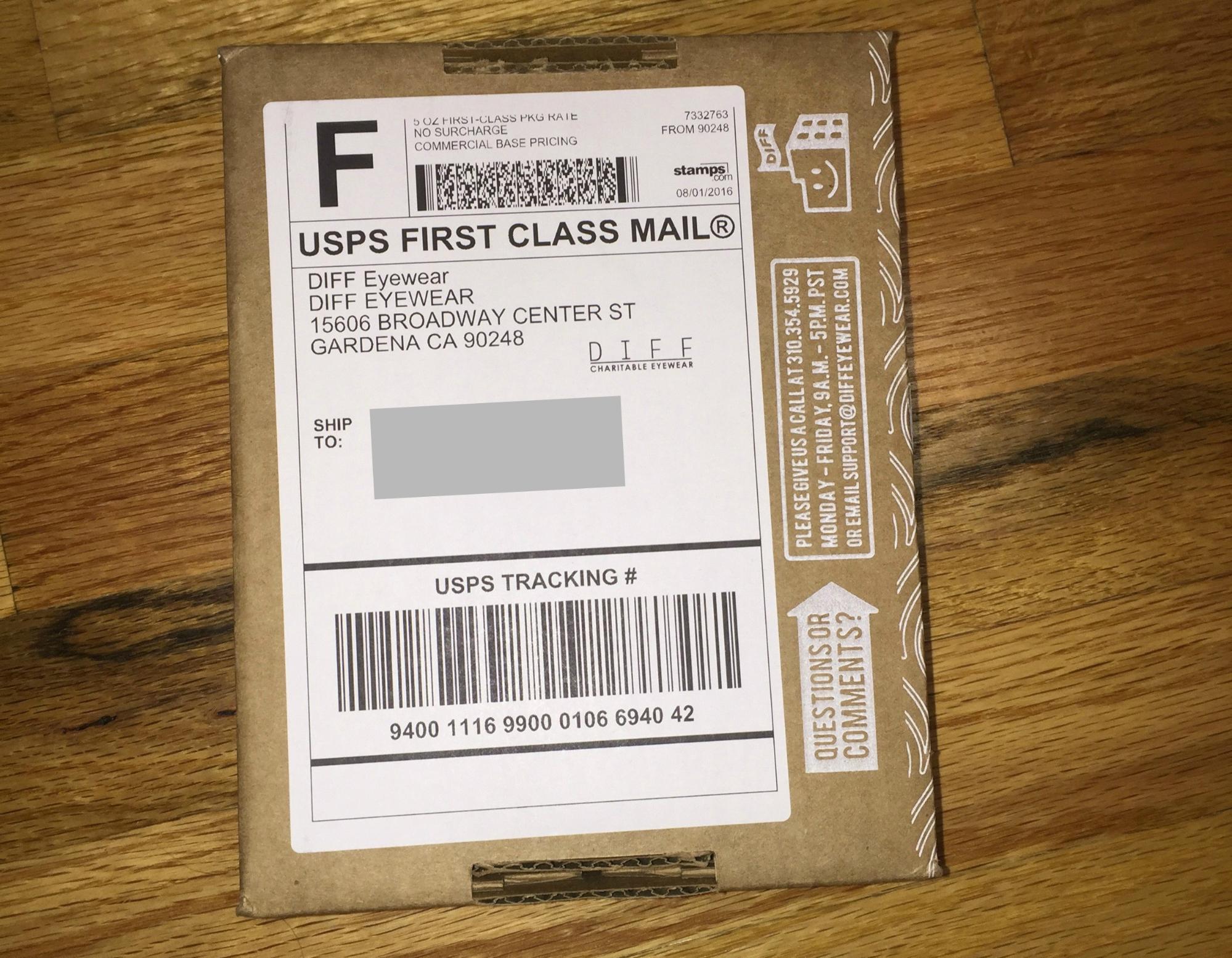 Diff Eyewear's brand is all about affordable luxury. They provide the same quality as designer brands at a fraction of the cost. How well do they put that across through the packaging?
Packaging has a few key functions. It needs to be as light as possible to decrease shipping costs while being tough enough to protect the items and durable enough to arrive on the doorstep looking good. It's a big ask and one of the reasons so many companies opt for heavy duty cardboard.
Diff Eyewear chose a standard brown cardboard box with some branding. Most of the box is taken up by the shipping label though they have differentiated themselves a little bit by adding a "Questions or Comments" blurb on the side. The logo is clearly displayed on the box so you definitely know what you are getting and who you are getting it from.
The minimalist packaging could have been a conscious branding decision but brands looking to stand apart can benefit from taking a more customized approach to packing. Brown paper packages can work, but they aren't everyone's favorite thing.
Shipping
Shipping is a pretty sizable expense. And, because free shipping is a great marketing and customer retention tools, a lot of companies pick up the full bill.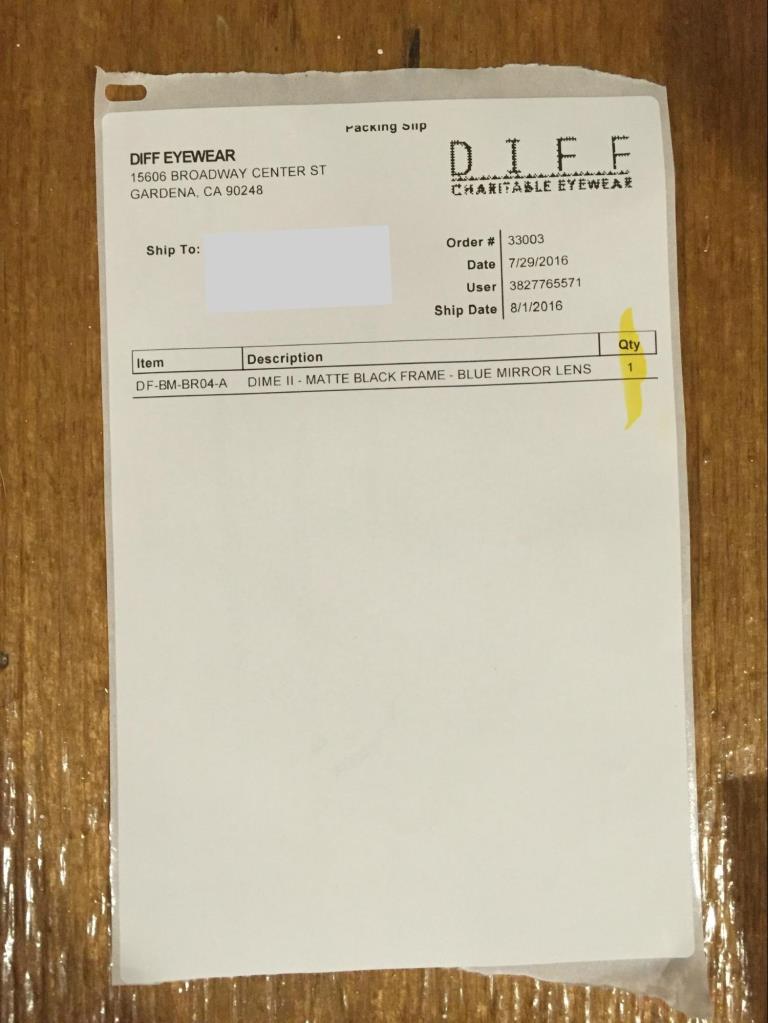 A quick look at the packaging slip shows us that Diff Eyewear handles their own order fulfillment and shipping from their warehouse in California. They use Stamps.com to buy and calculate the price of shipping online which gives them access to the USPS Commercial Base Pricing Plan. The Stamps system lets them automatically import orders from services like Shopify and Amazon.
Using a service like Stamps saves them money on shipping as the software supports all USPS services and gives them a clear estimation of cost and shipping time, helping them pick the best one every time.
This is a solid setup when you are growing a company. If you want to scale further and expand globally, partnering up with a 3PL company could make the process easier and save you money.
What's in the box?
This is where Diff Eyewear brand comes into its own.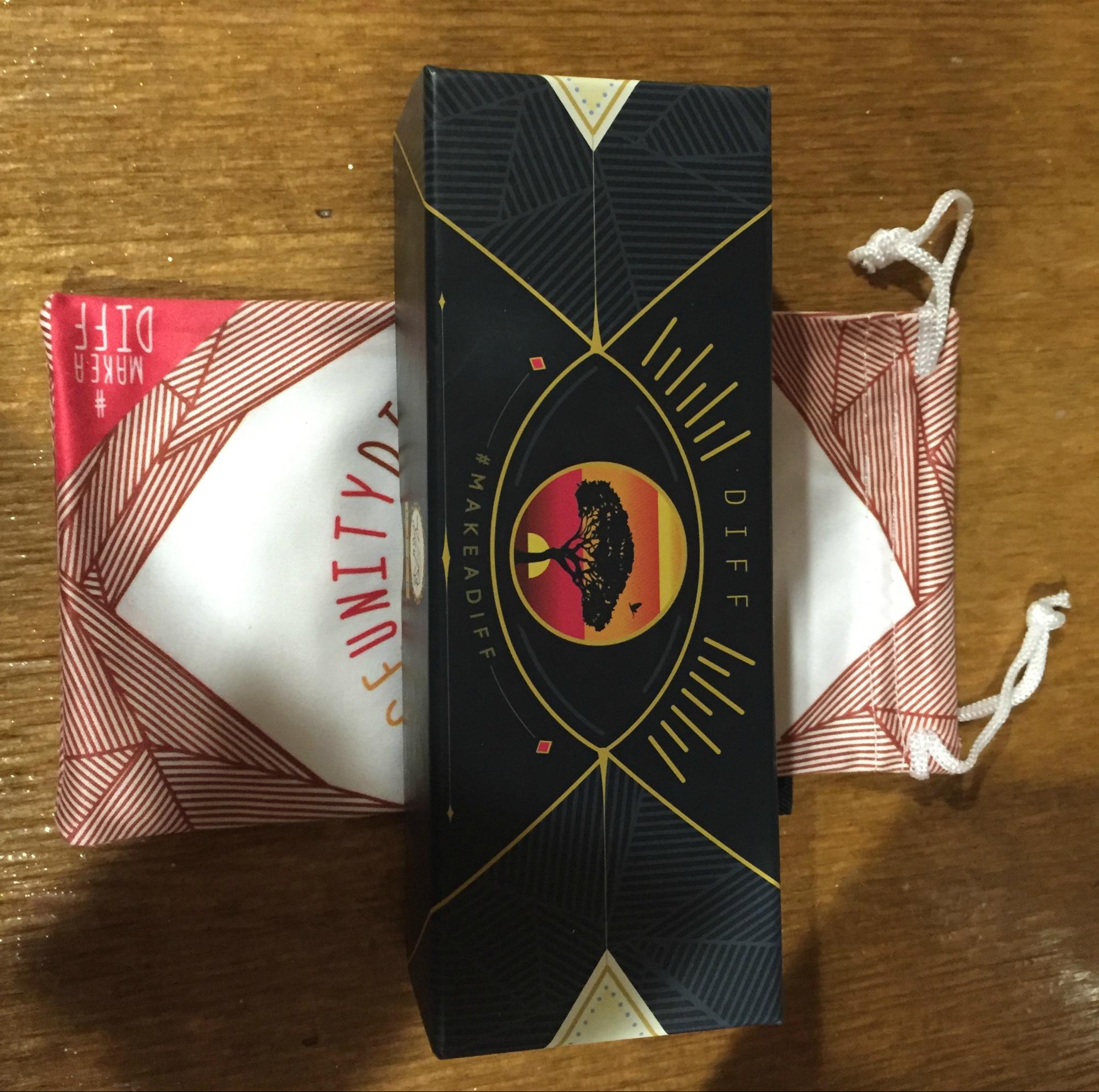 The box is wrapped in a nice branded bag for your sunglasses. The box itself is sleek and modern. The Diff Eyeware branding makes it exciting to open. Someone has definitely put a lot of thought and effort into making the unwrapping process feel luxurious. Presentation reflects on a brand and the team here have done a fantastic job.
Promotional Materials
The inside of the cardboard box itself is also well utilized.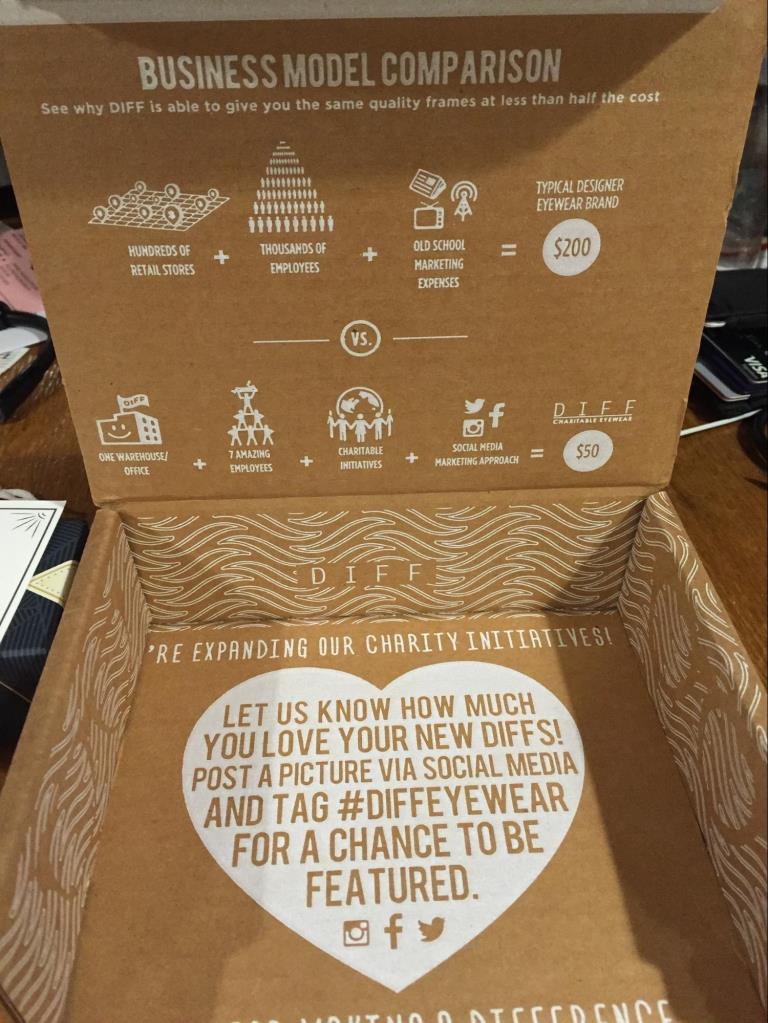 Where the outside is pretty minimalist when it comes to branding, the inside delivers. Scroll work on the side adds a dash of whimsy. The business model explanation on the lid re-emphasizes why this brand is different from designer chains. And, they add a strong call to action to generate engagement!
What's missing is a mention of the brand's chief charity initiative. For every pair of sunglasses they sell, Diff Eyewear donates a pair of reading glasses. Giving back is a strong part of their founding story and their appeal. But, a cardboard box can only hold so much!
And while the inside of the box does a good job of re-emphasizing Diff Eyewear's mission and including a call to action by using all the available space, there is a missed opportunity for extra promotional materials. Eco-conscious brands can always include a scannable QR code or link that takes customers to a special landing page with custom offers or information.
Conclusion
Diff Eyewear did a great job of packaging the actual product once you got inside the box. Size wise it feels that the outer packaging could be smaller- this will decrease the amount of ad space on the inside but it will also decrease the cost of shipping.
An unboxing is a great opportunity for brands to set themselves apart from competitors by transforming a mundane occurrence into an experience. Think of order fulfillment as the last part of a first date- it can determine whether you get a second. This makes it a key opportunity for brands to show their customers exactly what they've got and to start a healthy long term relationship.
P.S. Check out an all-in-one e-commerce tool that can help you streamline your operations, from inventory management to analytics (whether you're selling on one channel or all of them!).
P.P.S. Loved this post on unboxing? Check out some of our other ones like this post on Toms or opening up Kylie Cosmetics.
Disclaimer: This post is not sponsored or endorsed by Diff Eyewear.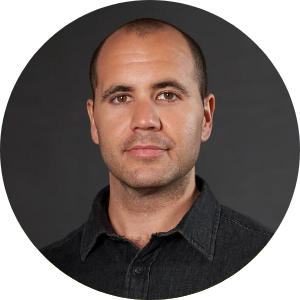 Written By
Chad Rubin
Chad Rubin is the co-founder and chief executive officer of Skubana, a multichannel e-commerce software the enables brands to unlock growth by unifying their back-office operations.