Unboxing Graze.com: How to Learn from Your Competition (and Top Sellers) by Shopping Online
If you know exactly what you're doing, you can build an e-commerce storefront and start fulfilling right away. Chances are, however, you don't know best practices to get the package shipped while leaving a lasting impression with customers, but that's why we're here.
We love a great deal, but what we love more is the amount of insight you can get from other sellers by shopping online.
Here's the second blog post in Skubana's shopping-fueled series, Unboxing (see our previous post on Chubbies).
In this post we've purchased from Graze, an e-commerce monthly subscription-box site that revolutionized consumer snacking by providing interesting and wholesome foods.
Our take on the online subscription-box craze:
In order for a monthly subscription-box company to be successful the products must be either curated, no-brainers or both!
Curated Products: Enables discovery and allows you to try new things. Think Birchbox.
No-Brainer Products: Products you don't want to think about and use monthly. For example Dollar Shave Club, and HelloFlo. (You have to see their video)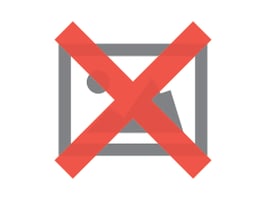 Graze is a combination of Curated and No-Brainer products. Instead of hitting the vending machine and deciding what you want, Graze sends you what you want based on your craving profile and automates it to you!
Here are our takeaways from our 1st Graze:
1) The Outer Packaging
Inefficient packaging means dollars wasted in the world of logistics and shipping. The main goal for e-commerce sellers? Keep the cost of shipping down to increase profits.
Graze's outer shipping box is made of a 1-ply cardboard that's lightweight, efficient, and slim. There was no waste and the box kept their shipping cost to a minimum.
Graze takes extreme pride in their packaging. The box that our snack packs were shipped in is made of entirely recyclable materials and is intended to be re-purposed by the consumer if they decide not to recycle it.
Think outside the box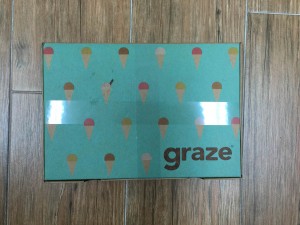 The Message

After examining the above note on the outside of the box, we visited graze.com/packaging where they suggested using the inside of the box as a planter.
Although Graze does a good job of keeping the outer design of their box simple and elegant, they leave something to be desired. We question their use of the ice cream cone imagery on the outside. Nothing jumps out at the consumer and leaves that lasting "wow factor". We would suggest trying to tie their brand into the display more. They should be able to paint a picture in the consumers mind by just looking at the packaging.
2) Shipping Labels
This is where Graze has been able to reduce their high shipping cost due to the lightweight outer packaging. On the shipping label we noticed the letters EVS, which stands for electronic verification system. This indicated to us that Graze is using a shipping consolidator, which is a third party shipping company that works directly with the USPS (i.e. DHL eCommerce & UPS Mail Innovations) which can give you significant savings.
Rather than delivering your parcels to your local post office and having them handle the delivery, the consolidator combines packages from other shippers, saving your company money through bulk shipping. The consolidator then delivers the packages to the USPS post office nearest to the final delivery address.
The Shipping Label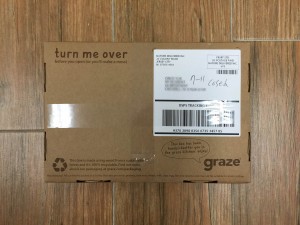 What's In the Box?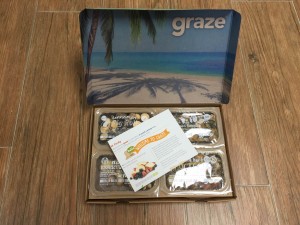 The initial impression of the inside of our package is quite impressive. It comes across as well planned and packed with pride. In today's climate where consumers want everything to be perfect and as advertised, Graze gets an A+.
Each snack is placed snug into its own compartment and gives off the impression that each snack was hand packed. This attention to detail can go a long way with consumers.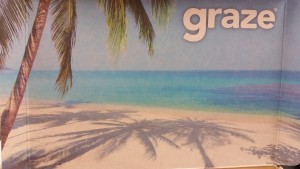 Notice the background on the top of the box. It depicts a scenic summer beach theme. This is perfectly tied into the season and inspires the consumer to grab their snack packs and enjoy the summer. By making the consumer associate a place, or image with your product you can create stronger sense of customer loyalty.
3) Promotions
Graze optimizes on the inside-the-box real estate by adding a simple promotional flyer to every box. They provided a quick introduction to the brand since it was our first time purchasing from them and then they swiftly move into retention mode.
Graze cleverly added rewards coupons to their flier in order to get the consumer to think ahead to their next purchase. Brands should always be focused on repeat customers. It is the cheapest way to get business, a higher margin and allows for marketing dollars to be spent on new customer acquisition.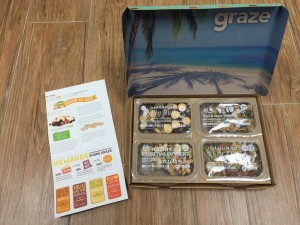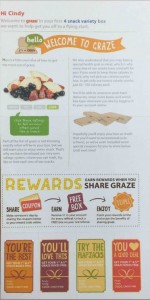 One of the big things to note with Grazes inner marketing material is their amazing attention to detail. Note the promo codes in the below picture. The promo code is directly associated with the name of the customer. That's a wonderful personal branding experience that will certainly leave a lasting impression with us.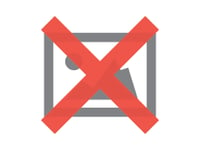 Conclusion
Overall Graze made their packaging experience exactly that, an experience. And a memorable one at that. By adding these little details they're promoting not only their brands ideals, but creating a personal shopping experience. We're happy to feature them in our Unboxing series.
P.S. These snacks were awesome and healthy, which is a bonus when you hit a hunger pang mid-day and feel the need for an afternoon pick-me-up. We're also feeling quite special and important thanks to their personal branding and feel good packaging. Yay for us.
P.P.S. Did we mention here at Skubana, our software allows you to create shipping labels for USPS, DHL Global Mail (DHL E-Commerce) along with UPS Mail Innovations (UPS MI) with a 1-click integration. All on the cloud. No Setup Fees. No Hassle.
And Lastly, Thanks for reading Unboxing Graze.com. We hope this can help your e-commerce by providing some insight into building a better customer experience.
Disclaimer: The reference to Graze does not create a sense of endorsement or sponsorship by, or other false association with, Graze or Graze products.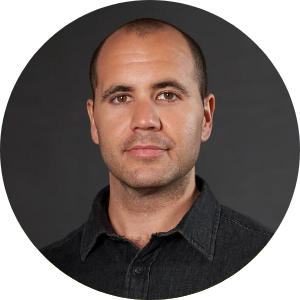 Written By
Chad Rubin
Chad Rubin is the co-founder and chief executive officer of Skubana, a multichannel e-commerce software the enables brands to unlock growth by unifying their back-office operations.