Unboxing Hey Honey -- What We've Learned From Shopping Online
March 17, 2016
7

min read
Success in the ecommerce industry often depends on complex factors including production, packaging, marketing, distribution, and branding. A mistake in any one of these factors lowers the quality of the product, and degrades the customer experience, which can be detrimental to an Internet brand that relies on consumer opinion to make sales.
Most importantly, when it comes to selling online, your decisions don't end with designing a product and it's packaging. When your customers place an order, every factor of that order is part of their buying experience. This includes the time it takes to ship, the box the item arrives in, and what's inside of the box.
Packaging, branding, and fulfillment methods aren't just how you get products to consumers. They're part of your overhead, and part of your company's branding. Despite that, even large, international companies make crucial mistakes with their packaging and fulfillment.
Unboxing is a series of blog posts focused on deconstructing packaging, fulfillment, and distribution methods used by top brands and shops around the web, so that you can learn from their decisions and their mistakes. In our latest Unboxing post, we've ordered from Hey Honey, a mid-range skin care company focused on using honey and propolis (also known as bee glue) in their ingredients.
Here are our takeaways from our Hey Honey order.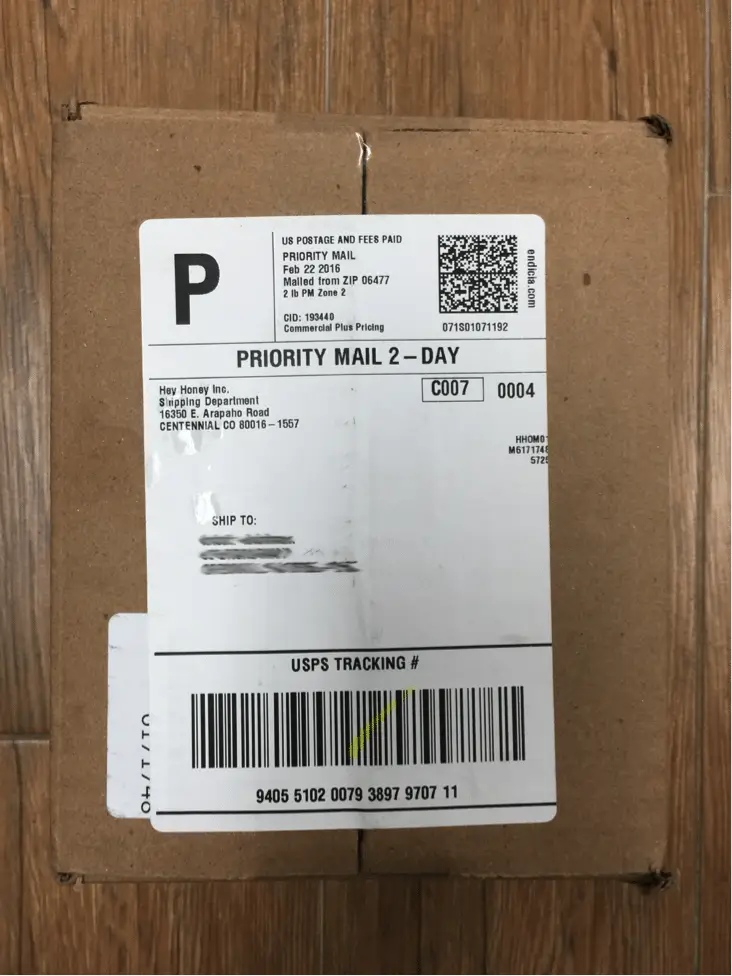 1) How Was It Shipped – Grade C
Exterior parcel packaging matters a lot for ecommerce, and most brands have to keep both design, and content protection in mind when choosing packaging. It's also crucial to choose the right packaging, because packaging materials affect costs and shipping rates. For example, larger packaging might afford more protection for shipping, but it costs more to ship, and more to purchase.
Our Hey Honey order shipped in a recycled cardboard box, which does a good job of protecting the skin care items inside. The recycled cardboard also holds up to the brand's ideals of giving back, and using eco-friendly materials. However, with no exterior package branding, Hey Honey could have done a lot more for promoting their brand. If the buyer is expecting multiple packages to show up, they won't immediately know who the box is from, which is a missed brand reinforcement opportunity on the part of Hey Honey.
The package also isn't that impressive. While Hey Honey does offer free shipping for orders over $50, the packaging looks like it was ordered on a budget, is sealed with a strip of tape, and doesn't really communicate that the products inside cost nearly 10 times that of a generic drugstore alternative. There's no premium feel to it, even if the products are more premium.
In addition, the box is larger than necessary for the products inside, which is important because packaging typically affects 10-15% of ecommerce shipping costs. Hey Honey's products aren't breakable, so a lightweight cardboard envelope would have served just as well.
2) The Shipping Labels – Grade B
A quick look at the shipping label on any delivered parcel can tell you a lot about the company, their shipping methods, and where they're spending their money. For example, Hey Honey uses USPS Priority 2 Day Shipping. They also have a Commercial Plus account, which is a smart move for volume shippers.
What else can we tell from the label? Hey Honey purchases their shipping labels through Endicia.com, a shipping solutions provider that integrates their software directly into warehouse and ecommerce.
Endicia.com is a smart choice because they have two primary benefits, they make sure that you're getting the lowest rates for your postage through USPS, and their labels don't charge to your account until they're actually used, which allows you to print out return labels, include them in the box, and they only charge if the person uses them. However, Hey Honey didn't actually take advantage of this service, and they do not offer free shipping on returns.
They also shipped from Orange County Connecticut, zip code 06477 which doesn't add up with the address on the box.
Hey Honey Inc.
Shipping Department
16350 E Arapahoe Rd.
Centennial Co. 80016-1557
A quick Google search shows that they're actually shipping through a UPS store, located at #108-311 16350 E. Arapahoe Rd.
Hey Honey likely diverts all of their shipping through UPS, who pick packages up from their warehouse in Orange County, and then distribute them to USPS through their own store. This likely saves them money over delivering packages on their own, but they could still be saving more money.
For example, while Hey Honey uses an ecommerce shipping solution, the introduction of third party logistics (3PL) would allow them save considerably on shipping costs by distributing packages to their warehouse nearest to the delivery location before bringing it to USPS. This would potentially save time and money for Hey Honey, especially considering their minimum shipping is only $3.99, or lower than it likely costs them to ship items.
Overall, Hey Honey made some decisions that save them money, but they could definitely be doing better.
3) What's in the Box? - Grade C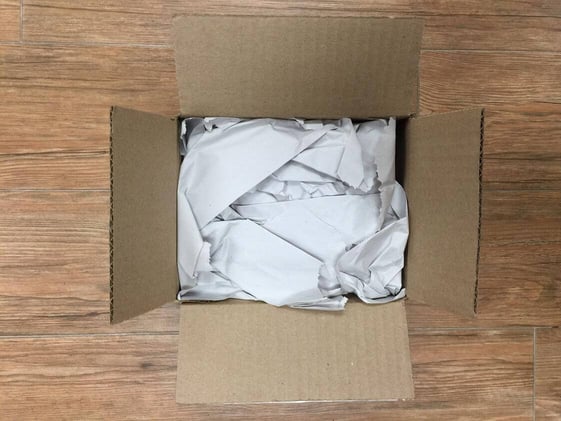 Opening a box should be an experience. Like walking into a retail store, customers should be greeted with your brand, and what they see should be carefully curated to that effect. Unfortunately, Hey Honey missed the memo.
Inside of the box, we were immediately greeted with crumpled paper, which was intended to fill the space inside of the box. Once we removed that, we found the three products we ordered nestled in the paper.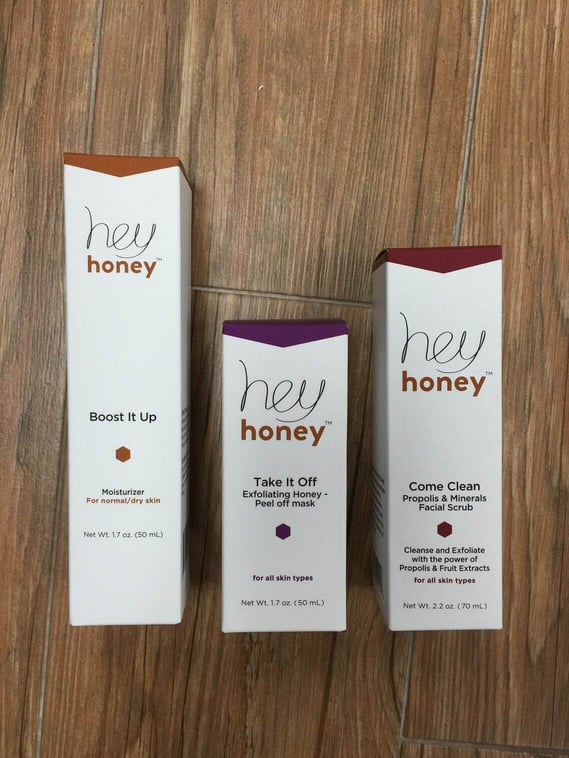 Each product is individually branded, with it's own retail packaging, which does reinforce the brand, and suggest a quality product. The order also showed up on time, in good shape, and none of the boxes are broken or crushed in any way.
We also received a packing slip with our order information, return information, and a suggestion of what to use in case of returning the items. Since Hey Honey has a no return policy if items are already open, this is only really useful if the items arrive broken. The return slip has Hey Honey's brand on the corner, but that's it.
4) Promotional Efforts – Grade D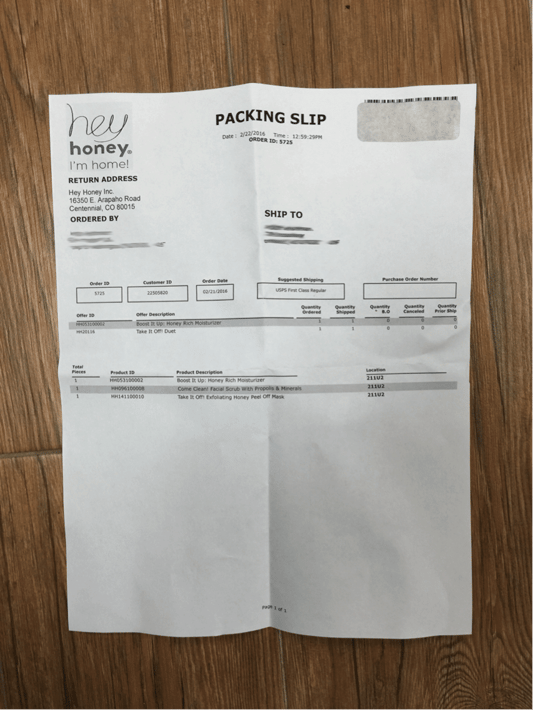 Hey Honey basically ignored all of their opportunities to market their products and brand their business to their consumers. While the individually packaged products are branded, as is the shipping label, Hey Honey could have utilized the retail space inside of the box for considerably more promotional efforts.
For example, most people who purchase skin care items are interested in more skin care items, and they are more likely to go back and buy more if they loved the product. Hey Honey could have capitalized on this with a brochure explaining the benefits of using natural ingredients for skin care, reinforcing their brand while making consumers feel good about their product choice, could have included a print out of new products, a small discount for return customers, or even samples of other products with a small discount to entice customers to go back and buy more. Even a social media campaign inviting users to share photos or results on a branded hashtag would have been a good inclusion, as each of these efforts can induce customers to go back and make another purchase, or increase social media hype.
5) Conclusion – Grade C
Hey Honey did a few things right, for example, they're using a shipping solution that directly integrates with their ecommerce store and their warehouse, allowing them to save time and money on shipping. However, they made multiple poor choices regarding in-box branding, shipping options, methods, and promotional efforts.
By introducing a 3PL, Hey Honey could reduce their overall shipping costs, and add branded packaging and labels. Adding promotional efforts to the inside of the box, and spending a bit more on careful, branded, interior packaging would also be an improvement for their brand.
That aside, Hey Honey achieved the basic need of quickly getting a product to the consumer.
Thank you for taking the time to read this episode of Unboxing. Hopefully it's given you some insight into how packaging, shipping, and distribution affect your brand, and your customer.
Disclaimer: This post is not, in any way, sponsored or endorsed by Hey Honey or any of their affiliates, and does not create any sense of association or relationship with the company.
Skubana integrates directly with 3PL providers, allowing you to reduce costs by customizing and printing your own shipping labels, automating shopping cart to marketplace actions, and streamline workflow to improve inventory management, customer service, and more. Contact us for a free demo!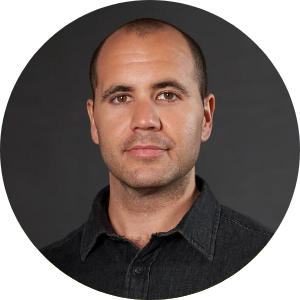 Written By
Chad Rubin
Chad Rubin is the co-founder and chief executive officer of Skubana, a multichannel e-commerce software the enables brands to unlock growth by unifying their back-office operations.