Unboxing Lokai: How to Learn from Your Competition (and Top Sellers) by Shopping Online
October 29, 2015
5

min read
Most successful e-commerce businesses spend a large portion of their marketing efforts on branding.
But when it comes to selling products online, your e-commerce branding doesn't end with designing and marketing products. Packaging and distribution methods affect your brand and your customers lifetime value, as much as your other marketing efforts do. In short, online sellers must take the impact of shipping and packaging design into consideration.
In our latest Unboxing series, we purchased from Lokai, a company that's recently been in the spotlight for their special "Lokai bracelets". They also donate $1 for every bracelet sold to a charity, and for October, that's the Susan G. Komen for the Cure Foundation.
Here are our takeaways from Lokai's shipping and packaging:
1) How Was it Shipped? Grade: B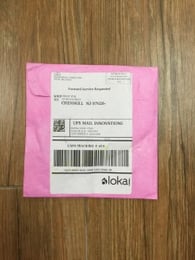 Outer packaging is important for both design and safety, but it also affects about 5-15% of your overall shipping costs.
Lokai clearly had this in mind when they chose a pink paper shipping envelope. Unfortunately, while cost effective, paper doesn't offer a great deal in terms of protection for the bracelet within. The pink packaging is nicely branded with Lokai's logo, which is great for reinforcing their brand, except the logo was obscured by a packing label.
Overall, the package says Lokai has put some thought into their brand, which is good for reinforcing their image with customers who receive it, but the slightly crumpled paper didn't really tell us that the package had been handled with care.
The super lightweight paper is ideal for sending parcels cheaply, to reduce shipping costs as much as possible. And it's more eco-friendly than plastic alternatives.
2) What About Shipping Labels? Grade: B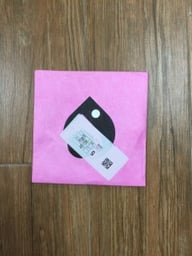 As we already noted, Lokai's shipping label was plastered directly on top of their package branding, but you can still sort of tell that it's the logo.
By reading the label, we can see that the package was shipped from:
Lokai
660 Bodwell Street Ext.
Avon, MA 02322
At first glance, this appears to be a Lokai warehouse, but after a quick Google search, you can see that it's actually Research Packaging Inc., a 3PL handling labels, packaging, and fulfillment.
We can also see EVS (electronic verification system) on the packaging, meaning that Lokai works with a third party shipping company working to save money. Because third party shipping company's deliver packages directly to the USPS office nearest the delivery address, they probably save considerably on shipping.
The package also took less than a week to arrive, which helps with customer satisfaction.
They also took the time to brand the shipping label, which is a nice bit of brand reinforcement.
3) What's in the Box? Grade: C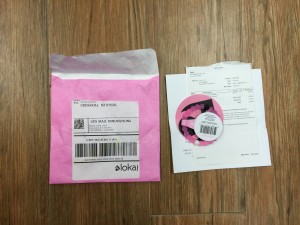 Unboxing is the most important part of packaging, because it has to deliver on the promise of the package as well as the initial product marketing.
In Lokai's case, we were a little disappointed.
While Lokai only shipped their bracelet in a thin paper package, they didn't bother to include any additional wrapper or covering for the bracelet inside. While this does cut down on weight and the thickness of the package for shipping costs, and the eco-friendly nature of recyclable packaging works well with a company that advertises to nature lovers, it doesn't really do much for making the customer feel that they've purchased a quality product.
Instead, they just slip a bracelet directly out of a paper envelope, with no packaging other than a retail sticker and card. It's not really packaged, so much as slipped inside and mailed off.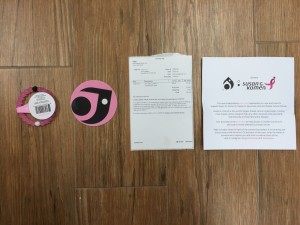 The packaging itself is cost effective, but even a lightweight paper box for the bracelet inside of the envelope would make a better first impression.
Despite the nature of the package, there were actually no complaints about the bracelet arriving broken on arrival, so package integrity isn't a needed focus.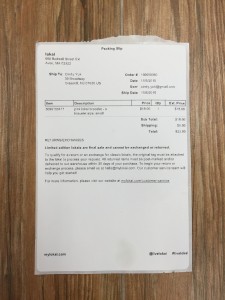 The packing slip is also fairly plain, with no visible logos, but does include Lokai's email, website, and name, in various places on the paper.
While they could have used some of the large amount of white space at the bottom of the page for branding, they do include some valuable information, so it's not a wasted effort.
4) Promotion Efforts Grade: A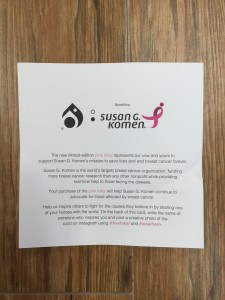 The empty space inside of a package is valuable marketing space, because you can use it to induce customers to make a second purchase through rewards or offers. Lokai doesn't really do any of this.
Inside of the package, we have a packing slip with information that the limited edition Lokai bracelet we purchased is not available for returns. They also included a slip with information on the Susan G. Komen Foundation. Both of these are informative, and the slip is a great reminder that they're donating to charity, but with no brand reinforcement, and no encouragement to go back and look at their other products, few buyers will.
Lokai does include one small bit of promotional material in the form of a small card, and a prompt to write the name of a hero on that card, and to share a creative photo of it under #LokaiHero on Instagram. A quick visit to the hashtag shows that most people are using it to share photos of the bracelet itself, which does make more sense for people buying a product that they want to show off.
Conclusion: Overall Grade: B+
While their packaging is far from perfect, Lokai manages to use cost effective solutions for shipping, while keeping their branding intact across the entire package. The interior design is a little lackluster, but it is eco-friendly, which fits into the brands image and policies.
Lokai's brand is exponentially growing, following celebrity and social media endorsements. With that growth, they can afford to increase the price and improve their packaging, to help the brand become an even stronger social trend.
P.S. Skubana's software allows you to create custom shipping labels, integrate directly with low-cost 3PLs in the U.S., to automate orders and inventory between shopping carts and marketplace. Stop by to see how Skubana can help you with every part of e-commerce management.
Finally, Thanks for reading Unboxing Lokai. We hope it gave you some insight into using customer experience for your branding. This is a GREAT company donating to a lot of GREAT causes, and we're happy to support their brand.
Disclaimer: The reference to Lokai does not create a sense of endorsement or sponsorship by, or other false association with, Lokai or Lokai bracelets.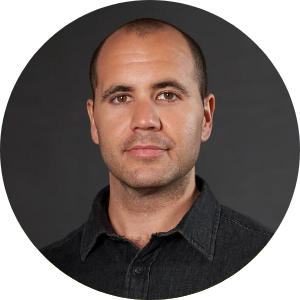 Written By
Chad Rubin
Chad Rubin is the co-founder and chief executive officer of Skubana, a multichannel e-commerce software the enables brands to unlock growth by unifying their back-office operations.