Unboxing: Thrive Market
August 16, 2017
5

min read
What makes a customer stick with you when there are so many other options out there? What makes them commit?
Sellers of all stripes have searched for the answer to this question for years. Who doesn't want a magical solution that instantly helps you demonstrate your value and crush the competition? I don't have a simple answer for you but I can say one thing for sure. Creating an all-encompassing brand experience designed to delight the customer at every stage of their journey with you is the key to retention.
Order fulfillment is often seen as a perfunctory necessity. The lead you've gently nurtured has finally transformed into a customer and placed that order. Now, you've just got to get it to them. The shipping, delivery and packing method are all a reflection of your brand. A customer doesn't differentiate between different tasks or departments: they see (and judge you on) the overall experience.
That's why we started our unboxing series. We review different boxing strategies from top brands and assess what's going well and what can be improved. This series is the perfect opportunity to learn from your competitors and discover new ways to improve your own fulfillment strategy and wow your customers.
[bctt tweet="Join us as we unbox Thrive Market and see how pros handle packaging!" username="skubana_erp"]
Today, we are going to unwrap a package from Thrive Market, an organic and non-GMO membership and delivery site.
The Outer Packaging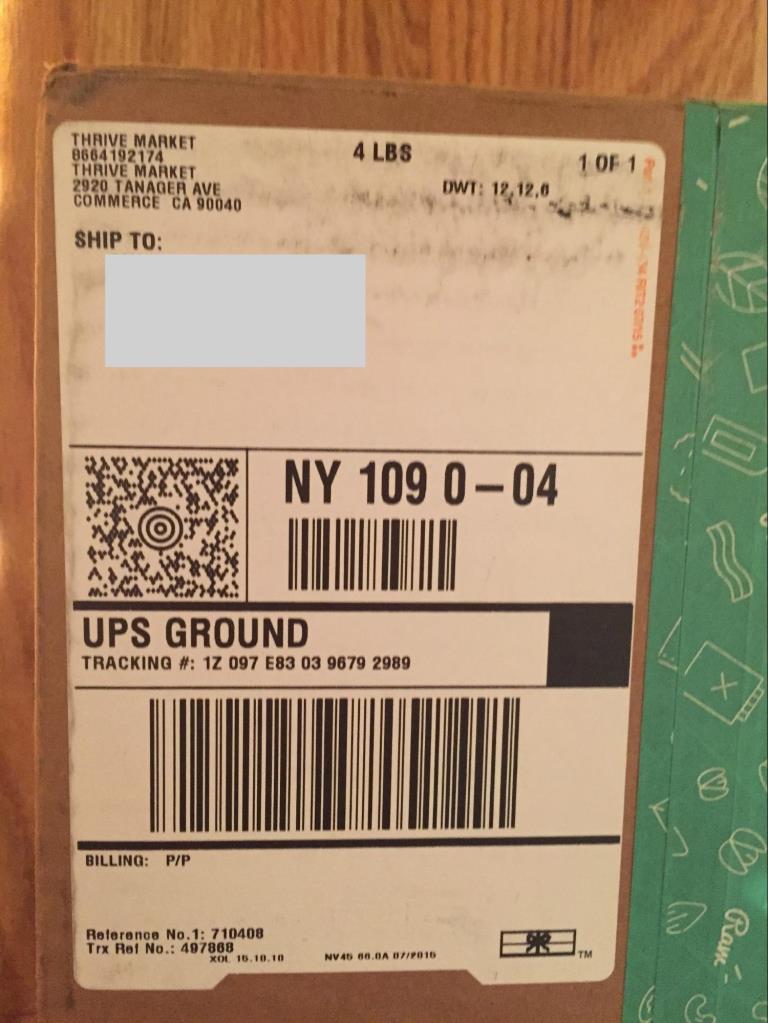 What's in a package? Until someone invents a way to directly beam goods into your customer's living room, order fulfillment comes with some pretty substantial costs. When you are dealing with thousands of orders, the ounces add up pretty quickly. The package needs to strike the balance between light and durable. That's one of the reasons so many sellers favor heavy duty cardboard boxes- while they are not always the lightest option, they provide solid protection for the items inside.
Thrive Market opted for a heavy duty box and UPS Ground shipping. This is a potentially costly option, especially when we take the 2017 changes to pricing changes into account. The team over at Endicia created a handy infographic, pulling together the shipping prices for USPS, Fedex and UPS. USPS came out on top for affordability for every category. Switching to them can greatly decrease the cost of shipping while still offering crucial features like order tracking.
When you are shipping food, weight has a way of building up without a direct correlation to the price of the items. If you are in a similar situation, using a more affordable shipping solution can decrease your costs. And, if you have reached the scaling stage of your business, teaming up with a 3PL can help you save money while giving you access to multiple warehouses.
Shipping
A shipping label reveals many secrets. Thrive Market is currently handling their own order fulfillment, shipping goods from a warehouse in Commerce, California. At the moment, they ship to the contiguous US and offer free shipping on orders over $49.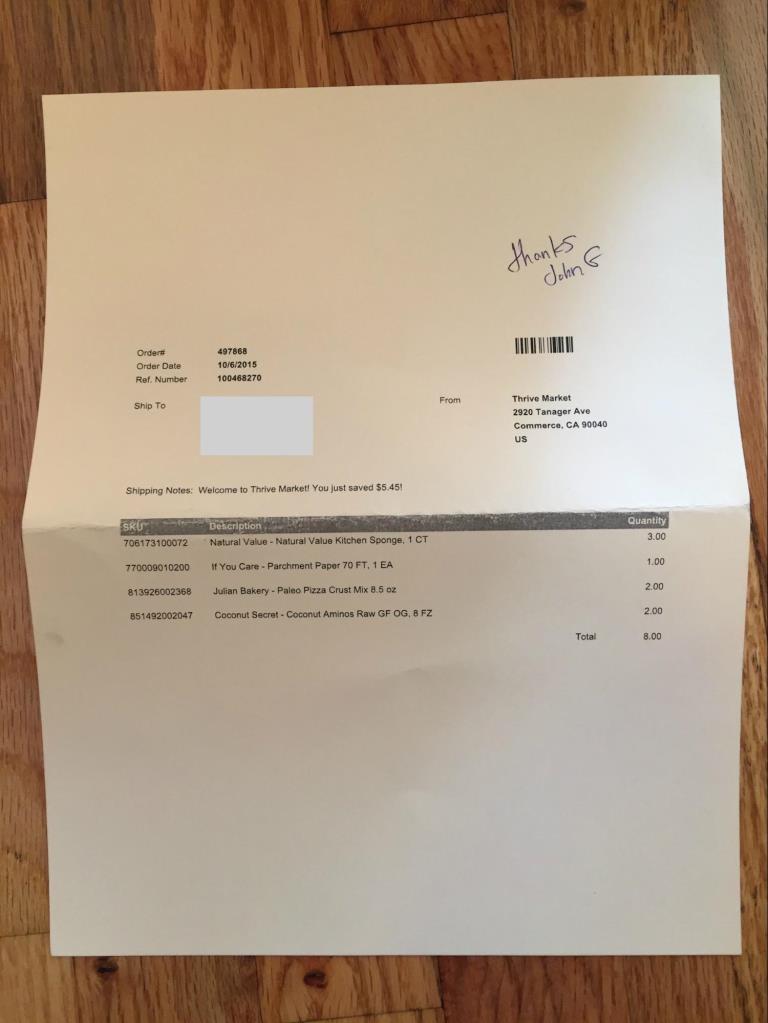 As the company scales, shipping from a single location in California means that customers living in northern states or on the east coast will receive slower service. At the same time, the complimentary shipping on larger orders will cost the company a substantial amount more the further away from California they get. At this stage, partnering up with a 3PL or expanding their warehouse network could help them create a seamless customer experience and save money across the board.
What's in the box?
When you open the box, you are greeted with company branding and the Thrive logo. They use the same soft shade of green that's used throughout their website, tying the box into their overall brand.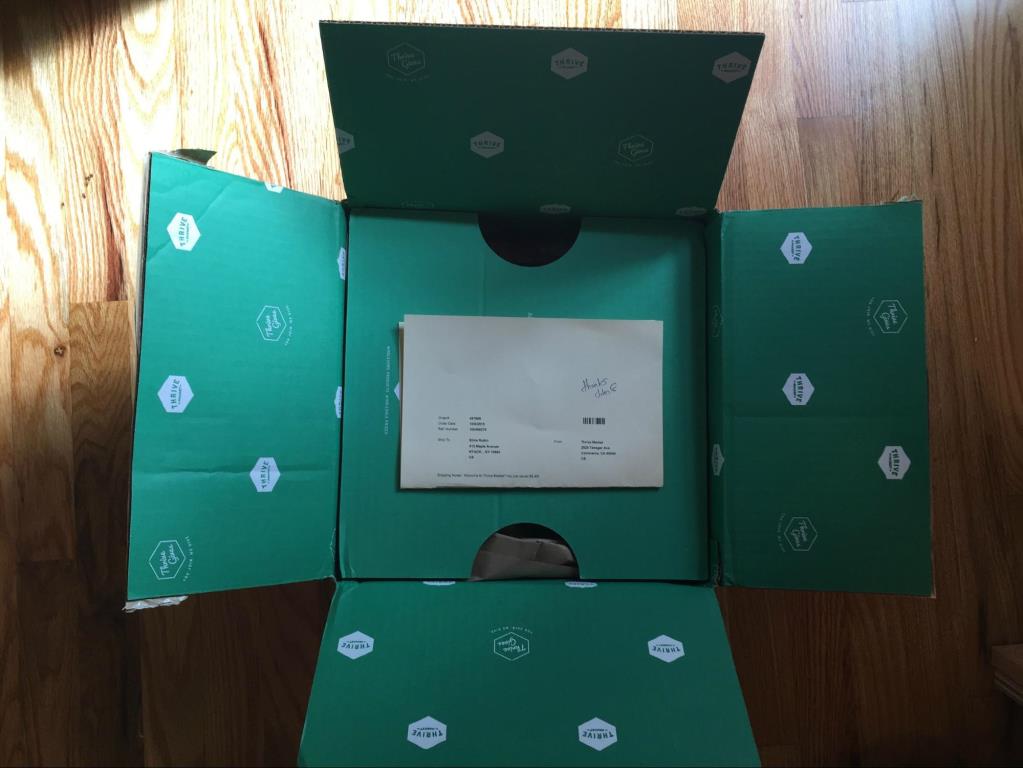 The first thing you see inside is the shipping label. When you lift it out, you are greeted with a thank you note from the team, printed straight on the box. They take this opportunity to tell the customer a bit more about what their membership does and how it helps others in the community.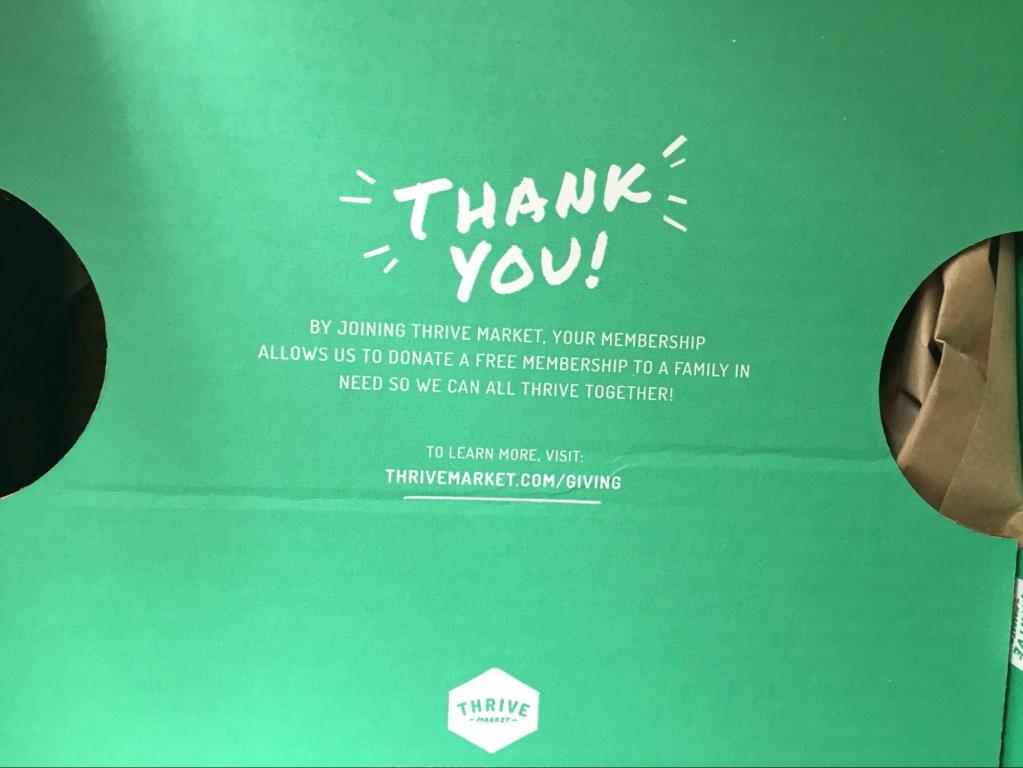 A company that's built around the idea of organic products and sustainability needs to use every piece of cardboard real estate they've got. This is a smart move and a decent use of space. It ties into Thrive's story and value proposition while making you feel good for helping.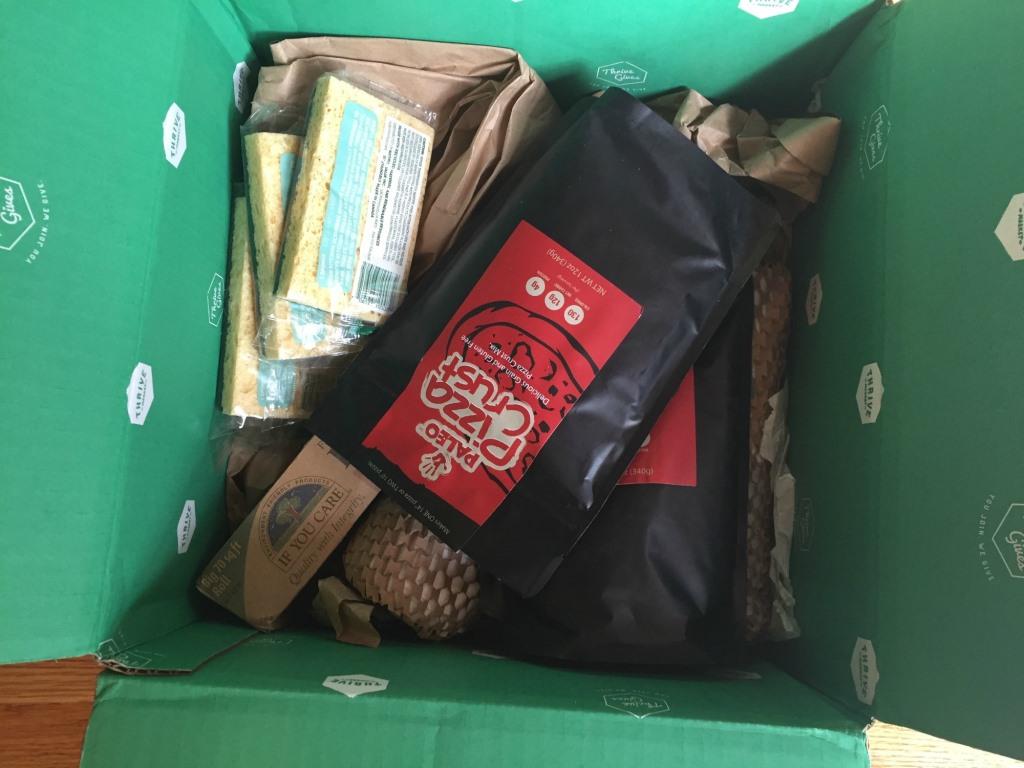 Inside the box, the items are padded with brown paper to prevent them from rattling around too much. Nothing inside this particular box is breakable or likely to get damaged by being squished so it works.
One of the challenges here is the relatively low cost of food items. It's hard to create the same feeling of euphoria and luxury when you are unpacking pizza crust- though it is both amazing and delicious!
Thrive could take make more out of the packaging real estate by using the inner flaps to share interesting information. Snack subscription service Graze gives DIY enthusiasts ideas about how to reuse the boxes their deliveries come in. Something like this would tie in with what Thrive Market stands for. Or, they could take their storytelling to the next level by using some of that space to share stories about some of the families the buyer's membership helps to sponsor.
Conclusion
Shipping food presents a much different challenge than lighter, premium goods. Thrive Market has to balance the high shipping cost for heavy, inexpensive items with making each box feel a little unique. It's a tough challenge, but one they are tacking well. Switching to a cheaper shipping option and using the inside of the box to share tips and stories can take that to the next level.
P.S. Check out an all-in-one e-commerce tool that can help you streamline your operations, from inventory management to analytics (whether you're selling on one channel or all of them!).
P.P.S. Loved this post on unboxing? Check out some of our other ones like this post on Toms or opening up Kylie Cosmetics.
Disclaimer: This post is not sponsored or endorsed by Thrive Market.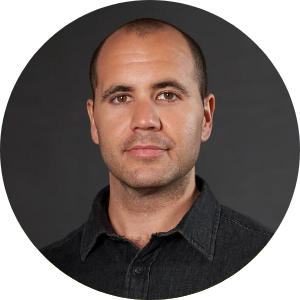 Written By
Chad Rubin
Chad Rubin is the co-founder and chief executive officer of Skubana, a multichannel e-commerce software the enables brands to unlock growth by unifying their back-office operations.