Walmart 2020 Update - Recording
August 7, 2020
45

min read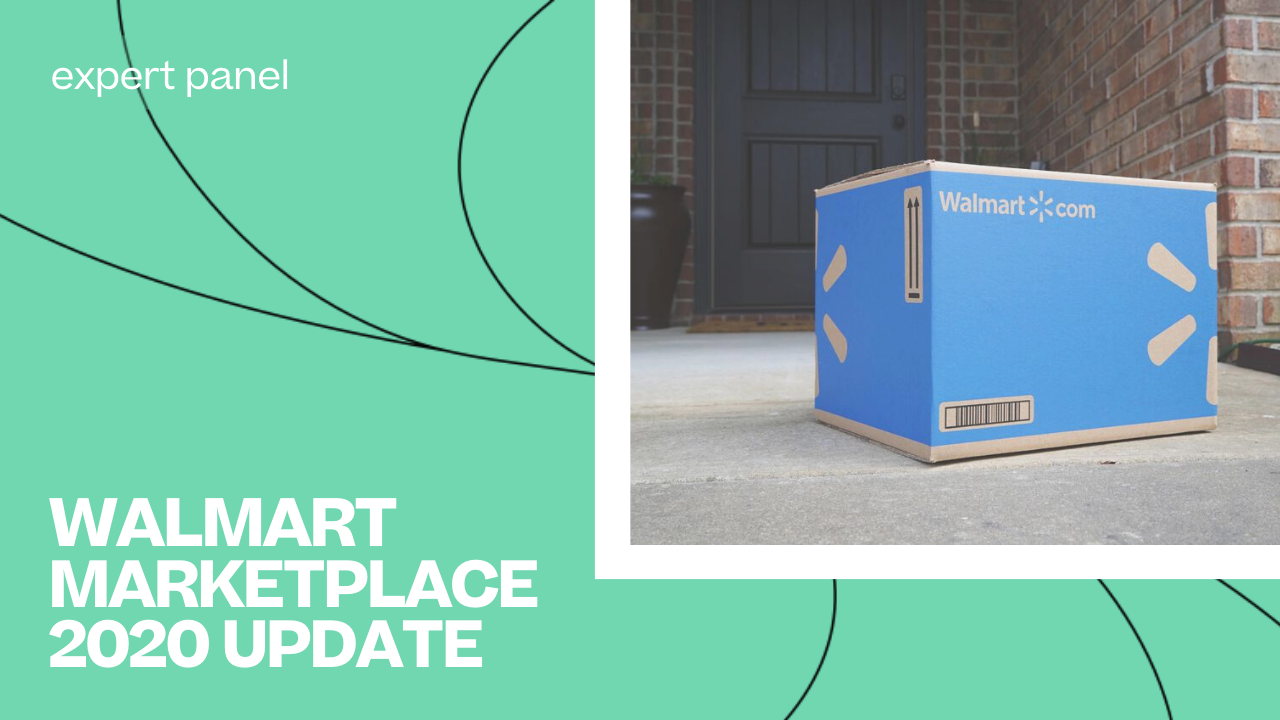 Six months after missing Wall Street's Q4 expectations, Walmart has emerged as the e-commerce sweetheart of 2020.
Walmart +
Walmart is going head-to-head with Amazon in a BIG way, and both buying and selling on Walmart vs. Amazon isn't so different anymore. Walmart+ will offer customers perks like same-day delivery of groceries and general merchandise, discounts on fuel at Walmart gas stations, and early access to product deals.
Shopify Partnership
The deal will open Walmart's Marketplace to Shopify's small business sellers, with the goal of bringing 1,200 Shopify sellers to the marketplace this year.

Response to COVID-19
Walmart brings decades of disaster response experience. From the Hurricane Katrina to the Great Recession, Walmart's low prices and wide assortment make it ideal for those trading down and cocooning at home.
WFS
Walmart's new fulfillment service promises to take care of warehousing, pick and pack, shipping, delivery, returns, customer service, and more.

But millions of sellers are still waiting for access...
$1.2 billion Investment in FlipKart
The new capital infusion comes at a time when a new powerful player has started to make inroads in the Indian e-commerce market.
Watch the replay right here or read the transcript below:
Transcript
Chad Rubin:
Hello everybody and we are alive on this Fireside chat. Interestingly enough, I told my wife, we were having a Fireside chat and she said, "Why do you call it a Fireside chat? "There's no fire." So I'm thinking about maybe doing a little fire in the background here. Our idea of this session is to essentially drop as much value as possible and interview experts who we feel can drop a ton of value and make your time worthwhile on this jam session. So today we've got Elizabeth joining us from to Tinuiti and Elizabeth, if you don't mind sharing your background, that'd be awesome.
Elizabeth Marsten:
Sure thing, so my name's Elizabeth Marsten. I'm the Senior Director of Strategic Marketplace Services at Tinuiti, which is a long way of saying I work on a lot of the new stuff and particularly the Walmart capabilities that we're building out and I've been in, the industry probably 14 years now as of June. I originally started thinking it was called paperclip marketing and it's not.
Chad Rubin:
Awesome, thanks for joining today. And we've got Gareth from XSellco I know you were a little delayed but really just your background quickly. The idea is that we're gonna be going through a 45-minute session here and dropping as much knowledge as we possibly can so that people walk away with some tangible stuff from this conversation.
Gareth Cummings:
Yeah, great, so Gareth Cummings, I'm the CTO of XSellco XSellco is a e-commerce specialists company focused in customer support pricing, technical stuff so yeah, excited to be here tonight. I'll talk a bit more about Walmart and [inaudible].
Chad Rubin:
Awesome, so let's just get started. This is not about Amazon for the first time ever, right? This is about Walmart. I feel like not a lot of people talk about Walmart in general but maybe we can just talk about some of the high level things, Elizabeth, that you're seeing as you're working on some of the newer capabilities with Walmart. Why don't we start there and we'll just make our way around the table.
Elizabeth Marsten:
Sounds good, and to that point, the number one thing I think I see is that almost confusion between Amazon and Walmart. So we think because, and to be fair, Walmart's huge, 4,700 stores technically worldwide has a larger revenue stream than Amazon but when it comes to eCommerce and when it comes to, Amazon was a digital first company and Walmart is stores first, we have that disconnect. So we've got a lot of folks that are confused on what selling on means, the difference between third party, being a vendor, being in the store and what you can and can't do. So I did see a lot of our earlier questions kind of revolve around some of the nuances between the two.
Chad Rubin:
Yeah, so why don't we get into it? I'll start off with the nuance. There's about 3 million, over 3 million sellers on Amazon. Last numbers I've checked, there was about 50,000 merchants selling on Walmart. So it's a lot less saturated. Anything at least, Elizabeth wanna share there or even Gareth?
Elizabeth Marsten:
So we're seeing, like I think, and this is a Walmart stat, about 92% of those listings on walmart.com are actually from the third party, so the .com on the Walmart side is just kind of tip of the iceberg right now. So if you are in the marketplace technically speaking, there's a little more room than say 3 million on Amazon.
Gareth Cummings:
Yeah, it's interesting to see the growth as well. I mean, if you look at 2019, there's about 30,000 sellers on Walmart's site.
Chad Rubin:
How many? 30,000, right?
Gareth Cummings:
30, 000, so that's grown to 50,000 now but the numbers are saying about 15,000 in the kind of first six or seven months of this year. So they're really accelerating that growth. Before, Walmart was reasonably exclusive in terms of the sellers they would take on board, but very selective. Amazon make it easy, you can get onto Amazon quickly. I think when looking at some of the numbers was that, between 1,000 new sellers in 2017 alone on Amazon. So they make it very easy, very streamlined. Walmart traditionally have made it a little more difficult. You have to meet certain criteria, they want you to have certain sales volume. They have been selective in terms of what goods you sell, so it's interesting to see Walmart open that up more. I mean, Amazon's success has been driven quite a lot by third party sellers. That's a big part of what they do, about 50%, 55% of their sales are from third party sellers. That's how they're every store because the third party sellers fill all those gaps of products that they don't stock and that's been a key thing from Amazon from day one. So it's really interesting to see Walmart opening it up. I know we're gonna talk a bit later about maybe some of the shop value and stuff like that but it's a really interesting dynamic because Walmart is such a huge name in the US and Canada, of course in terms of presence. I think in particular, because of COVID and with acceleration in terms of the bigger online groceries and stuff, people buying through that, I think there's real opportunity for Walmart to kind of really accelerate their growth in the space. In fact, I saw some numbers that, 74% growth in Q1 in e-commerce, so that's massive. We talk of growth, that's just off the charts.
Chad Rubin:
Yeah, I think a lot of that is due to just the shift of offline to online, given the pandemic. So as we're engaging here, we did launch a poll. It's important to know, are people currently selling on Walmart today? If you are, please say yes, if you're not, you can of course say no. I would love to understand why you are or why you aren't selling on Walmart. I think that's gonna be super helpful and Gareth, I think you bring up a really interesting point. So people associate Walmart with being maybe millennials, that's why they bought Jet, they bought jet.com and quickly sunsetted Jet but they bought Jet for a specific reason, I think that was to get to the millennials and I think that didn't work out quite so well. I think this relationship now they just built with Shopify, opens up that door to get those data ski brands that weren't willing to sell on their platform and give them a to start selling onto Walmart because they are quote unquote "pickier" than Amazon.
Gareth Cummings:
Yeah, absolutely. I think the Shopify, that's really interesting at partnership because Shopify obviously have been growing huge amounts in the last two, three years, in picture the last six months again 'cause of COVID. The amount of people trying to get online, to Shopify is kind of leading the pack there in terms of enabling companies to get to the web stores. Now, the integration that they built is really interesting. It's gonna allow third party sellers or online sellers to essentially sync their products directly to Walmart. So they're kind of removing that friction, making it very easy for a few to kinda list and I think, yeah, I can really see that really having a big impact in terms of sellers on Walmart. And I think, it'll be interesting to hear some people on the webinar in terms of if they sell or not and if they don't, why not because it's a less competitive landscape than Amazon. Amazon, obviously, you've got the buy back, you've got huge competition. It's just a really competitive space whereas at Walmart's a little bit more of a, I suppose, greenfield or such in terms of opportunity for sellers to get on there and start selling their goods.
Chad Rubin:
Totally, Elizabeth?
Elizabeth Marsten:
Also for Shopify, they've already hit that 1,200 additional sellers that they had alluded to in a press release earlier this year and I think one of the things to keep in mind is expectation setting. So yeah, there's a lot of greenfield, there's a lot of space but also, if I think about Amazon in 2014, when they started to launch really into the advertising space and how long it's taken them to put together the right customer support, the right education, the right, heck even forums. If you just even go on like Reddit, for example right now and you try to look for Walmart seller forums, there's a couple but it's not nearly as extensive as it's been developed over the last few years for help with selling on Amazon. So I would just say like set that expectation of, we're all in the same boat, it's new, everybody's learning and I know it's frustrating because you look at just the size of what should be available or the volume and it's frustrating 'cause you're like, why aren't we there now? Why isn't this faster? And then I just remind folks, retailer first. 4,700 stores first moving into e-com versus starting on .com.
Chad Rubin:
I would say, one of the things I love about Walmart, so Amazon stopped doing any product feeds, I think December, 2019, I think. And one of the things I love about Walmart is that essentially even included in the referral fee, the commission fee that they take, they are actually doing the advertising for you on Google and they certainly have a lot more cloud and probably aren't managing that to get the highest return on ad spend possible but that's one of the things that I love about Walmart doing that for me. Elizabeth, I know you have some experience on the advertising side, anything to share on that?
Elizabeth Marsten:
I mean, it's great, obviously. So it reminds me a little bit of what Etsy was doing for their sellers in the beginning as well. So Etsy was doing the Google shopping or product listing as they were called at the time and then they were also doing the free feed. So they were uploading and getting the entire catalog within Etsy on there and when Google moved to paid, Etsy paid the bill through that Q4, that year 'cause they saw how crucial it was to have that traffic. So having someone like having Walmart partner in a sense with you, even if you don't necessarily know it or feel it, you do in the long-term. It's an investment on Walmart's part that's great.
Chad Rubin:
I would say, I just want to second that. I think for me, it's important like we do our own PPC. We do the product feed through, we're actually on Shopify as well and then you've got Walmart as well. So when people are searching something, we're taking up a lot more real estate space on Google. And for me, I look at e-commerce and I say this time and time again, that it's like playing monopoly. You wanna be on every piece of the board to win and I wanna own as much real estate as I possibly can. So, .
Elizabeth Marsten:
As I say, some retailers are starting to sell that space. So within their own product listings, within their social, there's a few larger retailers out there and Walmart's just do it.
Gareth Cummings:
Yeah, it's interesting in terms of that in terms of the pay and there's a lot of ozzy going on at the market's moment. Like you've Google shopping and you've come back to free listings back in April, they announced it in the US. So they're making somebody who was back in terms of kind of opening that space up again but I think you make a very good point in terms of you have to be spread across these, it's getting a more, Amazon are still the most dominant marketplace but it's becoming a more diverse marketplace to sell on. You've got Walmart, you've got Facebook coming in now, Facebook shop, you've got Google shopping helping up in terms of free listings, Shopify. You need to be across those channels. I believe you must be selling across multiple channels to kind of ensure that you're getting the sales that you deserve and need. And also I think it's interesting to note all the different kinda moves that are happening at the moment.
Chad Rubin:
So why don't we move into talking about Walmart Plus. Elizabeth, I know you're probably pretty familiar with the program. If you wanna share with those that don't know Walmart Plus, I think that would be a good place to start.
Elizabeth Marsten:
So familiar but not necessarily engaged. I think it lends into the different sections at Walmart. Not all are necessarily, it's a little bit harder to navigate, I would say in terms of you've got Plus, you've got fulfillment services, you've got advertising and then within that, you've got media group and then you've got seller and you've got marketplace. So Plus is interesting to me in that it is known but not known in some ways, so, membership. You assume that there's gonna be an average higher household income associated with that. So kinda taking that page out of the Amazon prime, Playbook, as well as Target and they're shipped relationship. I think it's gonna be really interesting is if, how much they lean into their unique capabilities that they can offer like gas or savings on grocery trips, more than anything else.
Chad Rubin:
Yeah, I completely agree. I know we had mentioned that Walmart's bigger than Amazon. I think if you subtract out grocery and then you add in the... Amazon doesn't take their revenue, they report it on a net basis. So they backed out the marketplace sellers revenue, if it's as a 3P relationship. And so actually if you backed that back in, actually Amazon is quite larger from a retail perspective when you minus out groceries on Walmart, I think that's a good, interesting thing to think about as we're progressing the conversation.
Gareth Cummings:
Yeah, it's really interesting to see that the Walmart Plus. Amazon Prime has been such a big thing for Amazon. I mean, even we know in terms of Amazon Prime when you're a seller, in terms of again, getting back, winning the buy box, getting position, all that type of stuff but it's interesting in terms of Walmart. Amazon have tried to add more parts that apply membership in terms of video content and stuff, how successful they are. I'm not sure but Walmart's, I think has bigger opportunities in terms of, as you mentioned already in terms of groceries, in terms of the gas, even though I think it was reading something, brand their credit cards. So it would feel that Walmart can really have some impact there. I think there's some customer loyalty or brand loyalty there at Walmart, you think they could capitalize on and so, it'll be interesting to see how that regularizes over the next period of time.
Chad Rubin:
Yeah, I think that's a very interesting point and I'm just reading the chat where people are saying, "Hey, we just wanted to go enlist directly "on the channel itself." And I think that's important to understand and think through like when you're spraying and praying and taking content, that's on your Shopify store, it's unique content to you and you just post it to Walmart, you're creating duplicate content and that duplicate content makes Google confused and it hurts your ranking when you're actually ranking on SEO. So what we do, prior to Skubana, my life consisted of running a D to C company where we manufacture and sell home appliance parts direct to consumer where on Shopify, we create unique content directly in Walmart's portal. And so I just wanted to clarify that, like I don't believe in just taking a tool and just spraying and praying and adding their content directly to the channel. I don't know if you guys have anything to add about when you're creating solid listings on Walmart, anything else to take note of.
Elizabeth Marsten:
Yeah, don't copy and paste from Amazon directly. So one thing I would note in particular, I've noticed is Amazon product titles tend to be pretty long. So you will often put in, you'll put in size, you'll put in color variation if you can, you'll put in maybe even a use case. So like, excuse me, vitamin supplements, Quito, Paleo, that audience that might be with it. On Walmart, I've noticed that that tends to be too much. So because of the way that they're indexing and understanding what things are, we know that product title is really important but it's more important to state what the product is and perhaps the category and brand is not nearly as important in the product title if that helps. So like putting up those feature bullets, putting up together as many images you can. And I would say probably the other thing is, handful of reviews. You don't have to have 45 views but you do need the social proof.
Gareth Cummings:
Yeah, I think that the trust element, it's all important. Trust is just built up price. So you have to have actual stories, you have to have those reviews. If you don't have them in combination, people are gonna be a bit wary in terms of purchasing from you. I think you make a good point in terms of each marketplace is slightly different. If you're selling off your own web store on Shopify as opposed to Amazon, as opposed to Walmart, you need to consider those different like, if it's ads, so it's different rankings, different indexings. Those definitely are important on different marketplaces and you have to put the time and effort in to each different kind of channel that you're selling on, that's really important.
Elizabeth Marsten:
And one other thing that I think might be helpful for the folks 'cause I'm reading the chat questions as they come by is, kind of understanding the difference in variation listing. So on Walmart, if you have a variation list, if you have your single product page and then you have say, 12 different colors and you have that page and it has all the 12 different variations, you can only advertise on, right now that top variation, hue variation that you've input versus if you have, for example, a single page for each one of those variations. So that can exponentially create more work for you. So if you have 12 variations and you decide you wanna do or you wanna try and do 12 different pages, that's 12 different pages of unique content you have to make versus a single page, you kinda have to balance that out against how much work are you putting in now and whether or not you have the tool to help you do that.
Chad Rubin:
Yeah, right. That's really interesting. Okay, what else do we wanna talk about with Walmart? I think one thing that comes to mind, Elizabeth, that you shared was title. Walmart looks really sort of smiles when you're creating a much more robust title and a lot of it's index based on the title and I think that's a stellar point of distress, which is Walmart is definitely in the shadows of Amazon and kinda following their footprint but Amazon's search rank used to really be focused on title. eBay's really focused on title, which hasn't evolved for a very long time. It's funny, like eBay just came out with their earnings last night and they're investing, et cetera but they still don't allow you to have videos as images in eBay, which is crazy to me. So for Walmart, a lot of the indexing happens on this unique titles and making sure you're putting the right keywords that are indexing based on that and I think the same thing for eBay.
Elizabeth Marsten:
Yep, so what I would say is when you structure your product titles, the number one thing I recommend more than anything else is go to walmart.com and look at what other competitors are doing in the sub category and at the category level to understand length, how much information is in there, how important brand is. If you're a pretty brand name brand, you don't necessarily need it first in the title. You can either put it in. If you don't have a brand name that's pretty recognizable, focus on using that space on something else. But I have noticed that that three-sentence long product title that sometimes you can get away with on Amazon just doesn't do as well on Walmart. And part of it I'm wondering, has to do with say mobile experience, how many folks are on the app versus how many are on the desktop versus mobile web. Yeah, sure. The Walmart app has probably had the most downloads this year, they're the winners, sure but it's not as prevalent as, say Amazon. So thinking about, not only what's in that product title but how it displays and how everyone else kind of has their stuff. And I would also take a look also at new category. So take a look at that left nav and look at those categories that are available, whether or not you need to include that category or are you sensitive good because again, that piece of the store. So Walmart's going to in their categories, mimic their stores a little bit because they don't want, they don't want you to be confused when you come in and you go to the store and you look up and you go, is it soda or is it pop? They're gonna try and make some continuity there. So you wanna try and replicate that with your product pages.
Gareth Cummings:
Yeah, it's interesting on the category piece because I know Amazon have kind of moved towards a little bit more in recent years but like typically Amazon is very much based on the service. So it's your title, it's keywords, that's really important and can be found on Amazon. Again, as you say, Walmart's a little bit more about the calibrations so you need to make sure that stone's cracked and then, but I think some of the things that apply, again, you always wanna have good product images, you want your product to look the best, some of the basics, the reviews you mentioned already, some of those things still sell out through right across the different markets.
Chad Rubin:
Gareth, so Xsellco. You guys are focusing on customer support along with repricing. So I would imagine, are you supporting Walmart across both of those?
Gareth Cummings:
Absolutely, yes. Indeed we are. It's interesting you see, we've had some feedback before about providing customer support on the Walmart platform was a bit more difficult, it's a little more challenging. Amazon have invested in quite a bit of seller central and . Yeah, that'd be nice. But I mean, that's a lot of the problems but I think Walmart are even little bit further behind the curve ball there and that's, I would say that coming from XSellco but that's where a product sales happen in terms of customer support because the same things will happen on Walmart that will happen on Amazon. You can get suspended, you can get your products de-listed. In particular, Walmart have price guarantees. Your pricing at Walmart will be really important. A common problem you see here from our sellers is that, your products will be de-listed on Walmart and you might even get notified. So you need to make sure that your price guarantee is--
Chad Rubin:
So, does XSellco allow you to place with Walmart?
Gareth Cummings:
Yeah, it's likely. So you can have your Amazon, your Walmart and your Shopify channels in and you can set rules within the price of .com. So basically you're managing all of that and it just thinks automatically. So you don't have to worry about, am I gonna dip down below the threshold? You can set minimum price, maximum price. So you can build the price rules so you're not gonna be suspended, you're not gonna be kicked. So obviously we'll help you win buy box in Amazon but in terms of Walmart or Shopify, you can ensure that you're staying within the balance so it really helps that problem. And then we have a lot of customers who use Walmart on our platform. So we'd probably have, probably in the range of 10 to 15% on the price but when it comes to your E Desk, which is our customer support products, we have about 25% we're selling to Walmart. So it's quite high and that's growing. We see that growth across our platform. So obviously with Amazon and eBay, you always have a lot of those sellers but Shopify, Walmart, they're growing. In the past, once a week we see youth growth on our platform in terms of sellers who are starting to sell on that level.
Chad Rubin:
I do wanna dread down a little into pricing on Walmart versus Amazon. Will XSellco actually lower the price? If Amazon's price gets compressed, will you follow along and match that price?
Gareth Cummings:
Yeah, absolutely. So we can match that price but you can also put a minimum threshold there so you could can sell this pen and say, look, minimum price on that pen is five dollars so I'm not gonna price below. So if Amazon go below five dollars, we won't push the Walmart price below five dollars. So you can match and stay competitive but you can also put your minimum thresholds so there's no risk of you finding, I get below what I could afford to sell for that product. And again, that's one of the key things within price of our current product. Historically, we were very focused on Amazon and we still are but we've moved a little bit towards a multichannel 'cause that's the direction that the market's going. So we're doing price management across Walmart, eBay, Amazon, Trip Advisor, we have Shopify, Magento, they're all covered within our platform and you can set the rules, as I said, it's safe and you can ensure that you're staying competitive with Amazon but you're not gonna drop a load in what you wanna set up.
Chad Rubin:
Yeah, I just wanna address one of the questions that came up in the chat which is, the idea that you can take your listing, let's just say it's on Amazon and Walmart's really concerned about pricing on Amazon. Fine, so let's just say you take a diaper, a six pack of Huggies diapers, I have an almost one year old so I'm just gonna use that example. Six pack of diapers, it's using a UPC code, Amazon's typically matching based on UPC codes with pricing. So just what I would suggest to those in the audience, let's just say, you're selling diapers on Walmart. Maybe you'll have a 12-pack or a 36-pack that you're offering with a different UPC code that's adding a different flavor to Walmart versus Amazon and that's one way that you can sort of get around the price parody issue.
Gareth Cummings:
Yeah, absolutely. So, dealers order things within our price 'cause you can assure you're matched to the current listings within our product, sometimes there might be slight differences in terms of what the product you're selling on both stores. So there's the ability to match and kind of tweak that within our core product as well.
Chad Rubin:
Elizabeth, anything to add to that or you're on mute?
Elizabeth Marsten:
No, I was just saying, so my dog is sleeping on the floor next to me and she has this awesome habit of, car door slams anywhere in the neighborhood and she just has this like piercing bark. So I always trend, I'm waiting for it. Let's put it that way.
Chad Rubin:
Hashtag working from home and being on a webinar.
Elizabeth Marsten:
Yeah, for sure. So, one thing that I've seen some sellers do is bundles. So exclusives is a big dea, so Walmart in particular, you'll see several exclusives within the Walmart universe or different even product lines that are exclusive to, say Walmart and then that kinda helps with that UPC or that pricing issue, keeping the houses separate and keeping both Amazon and Walmart happy.
Chad Rubin:
Gareth, from a CS perspective, what are some best practices you've seen for those that you see expanding from Amazon to Walmart or from Shopify or Big Commerce to Walmart, like bad multichannel expansion? Are you seeing any merchants or brands doing interesting things in this space?
Gareth Cummings:
Yeah, it's really interesting to see that. I think the key thing is, depending on, obviously if you're selling through your own web store, like Shopify, you're gonna own the customer relationship. So a customer comes to your store, buys directly from you, you have that information. When they bought off you, they sold, you have their email address. You have a lot more enriched customer data that you can use as opposed to a marketplace like Amazon, where you're limited in terms of the information you're getting. So just slight variations in terms of the customer support and restrictions that you may have in certain marketplaces but I think the real key thing when it comes to customer support, especially on marketplaces like Amazon and Walmart, they are really, basic customer support is such an integral part of what they do but we all know Amazon, we all know the famous customer obsession. So when you're selling on Amazon, you're basically a rep, you're representing the Amazon brand. So if you're not providing that customer support that they would expect, then you're at risk of being suspended if you're not gonna meet the 24-hour SLA that they have in place. You're at risk of being punished. Similar to Walmart, it's interesting 'cause I'm speaking to a couple of people in industry and a couple of others. One of the concerns Walmart have opening up in terms of third party sellers is that experience. It's that experience that you acquire or get from walmart.com. So customer support is such a vital part of selling. You have to have a book plus some experience, you have to respond within those SLAs, you have to give that good experience because if you don't give that good experience, it's affected on Amazon and Walmart and they're gonna suspend sellers, they're going to essentially point out sellers who don't provide that good key customer support experience. So yeah, it's really valuable.
Chad Rubin:
Yeah, for me selling on Amazon, they've just created a very high benchmark and we use that benchmark to help us sell everywhere else. So they are just keeping the standards high and I think it's been helpful for us to improve our customer support and certainly time to resolution, time to first response.
Gareth Cummings:
Yeah, absolutely. And then also having the consistency across your customer support so, even as a seller, you wanna have consistency in terms of supporting customers. People are going through your Walmart's marketplace, on Amazon, through your own store. They could be going through your Facebook page. If you have an Instagram or Twitter handle, customers can commune there. So it's really key that you're able to support across those channels and have a consistent experience, so that if someone has bought something off on Amazon, but have you on Twitter, Ash tweeting the whole world saying, "Hey, this experience is crap," and so on and so forth, then you really wanna be able to jump on that and handle that really well. That's where our product, E Desk comes into play 'cause you can have customer support across multi-channels and have them all in one place, which is really important.
Chad Rubin:
All right, so we're at the 30-minute mark, there's a lot of questions that came in in the chat. And I think we can start just going through like a lightning round. I don't think I can answer all of them or we can. I'm interested to look at the first one that's up there. Maybe people can up vote ones that they are really more interested in hearing about. But the first one that I see on my screen is, what percentage of sellers are from China? How many sellers are American in Walmart? So I do know that if you look at the top sellers on Amazon today, the top 10, I believe there's about 60% of those are abroad companies, typically out of China, sometimes with the US presence but they're mainly FBA. The difference is, is that Amazon's program with plus is so nascent and so early that they can't leverage it yet and so it really requires you to either have a 3PL or have your own fulfillment center, which by the way Steban can help you with. But I think that creates a barrier of entry. Anyone have anything else to add to that?
Elizabeth Marsten:
It is not nearly as prevalent as it is on Amazon. So a number of Chinese sellers, that's for sure and that's part of that gating process too. So being able to be listed. In early days I was looking at it and going, this doesn't seem like much of a gate but now that we're two, three years into the more open application, that has definitely been more US-based.
Gareth Cummings:
Yeah, I mean not much more of that but yeah. Obviously Walmart's is pretty much more North America focused in terms of its history and where it came from. So yeah, I think that's the price we open up , we'd expect that to change.
Chad Rubin:
And in terms of gating, are we talking about getting into the Walmart marketplace?
Elizabeth Marsten:
Yes.
Chad Rubin:
Can you share your experience there, what you've seen and how can people getting into, 'cause there are certain people that were blocked from getting in in the chat.
Elizabeth Marsten:
Yeah, and so unfortunately it is a common occurrence. So it's very like, yes, no problem, got in or like constant problems, reapplied. So one of the things I do recommend if you're having issues with it is to engage with a software company or a partner that has a direct line of communication to the Walmart marketplace seller programs so they can in a sense, a fast pass but they also help you fill out that application. So if there's information that you're missing or they're just not getting. Like, I have a client right now that I'm working through that. They're trynna list their products and they received a notification that they are selling essentially a prohibited product. Walmart Support just gives them this link to the help center and says, "Here you go, sorry guys." And they're like, well, which one of the five things on this page did I violate, how can I fix it? Also to add salt to the wound, there are other competitors in the 3P marketplace selling the same type of product and a reseller selling their very product and so it's obviously very frustrating. So I've actually done a couple of things. One is, resubmit the case brand new, try a different venue, maybe get a different human that's willing to look at it a little bit more. Add that context, show that link and show that, there's somebody else selling your stuff. Why are you prohibited, to find out, is it just that they've got a limited number of spots for that category or for whatever? Do they think your product's perishable and it's not, that kinda stuff. Making sure your application is clean, your categories are clean. And then again, using that partner. I hate to say that but it's true.
Chad Rubin:
And by the way, I don't know if Tinuiti offers this but I know in Skubana, we can help fast track it. There was a question as to, why would Walmart do that? And it really just comes down to tofu, top of the funnel is expanding. Everybody wants it now, especially as FBA was limited and now people pivot to FBM and now they can do, you can fulfill by yourself with Walmart as well or with a 3PL. So I think it's pretty effective from Walmart's part because of like, hey, we're gonna be super selective who we bring in. It's not about what know, it's about who you know or who knows you specifically. And I just think it will help them bring on the right clients. I don't think they wanna have 100,000 toilet paper rolls like Amazon does and let everyone into the program.
Gareth Cummings:
Yeah, absolutely. If like, in terms of what we said earlier on, they're still selective of who they want there. So going to partner with somebody who can help you navigate that through this .
Elizabeth Marsten:
Yeah, and just know you're not alone. Everyone is very frustrated when they get back the single link to the help center article that goes, "Yeah, sorry," and then you're just kinda going, "Oh, okay."
Chad Rubin:
Yeah, so some of the things that come up...
Elizabeth Marsten:
Uh-oh, I think we lost..
Gareth Cummings:
We lost Chad.
Elizabeth Marsten:
We did. So do we get to make up whatever we want as far as the webinar goes? We just start answering random questions.
Gareth Cummings:
I was thinking that, Liz but it's .
Chad Rubin:
I was just saying like, one of the things that you would need to be fast tracked in the program would be like, how many SKUs do you have? What are your reviews on Amazon? How many reviews have you had in the past 30 days, the recency of those reviews? Revenue profile, I think is important to them, what other channels you're selling on. Those are the kinda things that they're gonna ask you for as they filter that top of the funnel to bring you into the program. Any other things that you've seen in the math?
Elizabeth Marsten:
Oh, I mean that's pretty much it. What's funny is you mentioned the Amazon reviews but you can't import the Amazon reviews but they totally use them. So I was like, that's kind of an interesting interplay.
Gareth Cummings:
Yeah, I was just gonna add, I think you list 'em all but obviously you're grabbing your for Walmart is a key thing. Typically that they would prefer sellers who kind of are setting already and have some sales. That's a key thing in terms of onboarding something on their marketplace.
Chad Rubin:
All right, let's start at these other questions that came in here. If you guys see one that you think that are important and can really move the needle for those that are in attendance, please feel free to reach out.
Elizabeth Marsten:
I'd say maybe something about assessing third party partner costs, that kinda stuff. So things to keep in mind, obviously, you're not paying those monthly seller fees, it's just the commission. You don't have to do advertising out of the gate. I'm supposed to say that because that's obviously what I do but I do recommend honestly, that somebody sell for two weeks to a month first before they start doing anything else, make sure that they can actually fulfill and do all the things, but do the math. There are some calculators in terms of, whether or not you need a 3PL to be able to get that two-day ship edge and then do the math on your hours. How much time have you spent trying to work through the Walmart systems when you could have somebody that has an established swim lane to do that for you.
Chad Rubin:
And Elizabeth, while we were talking about it, I was thinking in my head like Amazon, I know my category A costs. Have you seen a big difference in the advertising cost of the sale across those two channels because obviously Walmart has less saturation?
Elizabeth Marsten:
So Amazon has the volume, Walmart has less saturation. What we've seen in terms of, and of course Amazon's A-class but they're just and then Walmart's . So, depending on, it's really category dependent and it's really brand dependent too. So what we've noticed is bigger brands, name brand recognition that you'd know and if I could find it in your kitchen today, honestly have an easier time in terms of conversion and keeping that A cost down versus, say like a third party seller. I'm just being really honest. It is a little bit harder as a third party seller in advertising. And the other thing I've noticed too is about price point. It is really important if your price point is, if you're five dollars and under, it's gonna be hard. It's gonna be a lot harder to hit than on Walmart than say, for Amazon, which is still even a little bit difficult at that low price point but if you can hit, if you're in that $25 AOV and higher or you have an item that's a big, like an add on or a basket builder that you can tag into anyone's normal routines kinda thing, you have haven't used your chance at a comparable A pass.
Chad Rubin:
Gareth, anything to add to that?
Gareth Cummings:
No, I see some questions popping up about pricing. Obviously people are asking quite a lot about pricing, questions and one of the questions that you hear, what happens if a product is at a lower price on Amazon than it is on Walmart? Just to be clear, a couple of questions were asking, do you have to sell on Amazon instead of Walmart? That's not the case, just to be clear. So you could have never have sold on Amazon before and it's like Walmart is for you but there is a criteria that they'll expect. They'll expect a certain revenue profile, they'll expect a certain review profile. So if you're just starting off, I would suggest Amazon is probably a good place to start off because it's easier to get on, it's easier to get started whereas Walmart, it's more for sellers who are established already and have a sales profile, looking to grow and expand. So I would say that's key. And then on prices, you can list products at different prices on different marketplaces. The key thing I was trying to speak about earlier is that, each marketplace has its own, I suppose rules or ecosystem around price and that's where you have to be aware. So Walmart would have certain price guarantees in terms of products that are being listed, they don't want you to list those products elsewhere so that's the really important part of Walmart. Amazon again, has the same price rules. So I'll give another for repricer.com because if you put them there, you can even monitor your pricing too all in one place so yeah. I've just, there's a lot of pricing questions, it's a lot to--
Chad Rubin:
Cool, and I am seeing a lot of Shopify brands and Big Commerce brands in the chat here and Magento too, wanna highlight that. And a lot of them are just brands. And so what you're seeing is happening, this dichotomy that's being formed or this paradigm is like on the marketplace is people are largely searching generic branded terms. So they go to the marketplace 70% of the time, they're searching like sheets versus a branded sheet company, whereas on Instagram, you're building that rapport with the customer, you're building your brand up. They don't buy direct either from Instagram shop or from your own website, through Shopify or through any of the other integrated partners like Big Commerce and Magento. So I think that's just another little small, interesting nugget that's happening whereas like, if you're a betting company, even if you put one stew on Walmart to just dip your toes in the water and see if it's warm, I think it would be really important and strategic because you can use different terminology. You don't have to lead with your brand, as Elizabeth spoke about, you can lead with bedding sheets, whether it's bamboo or whether it's eucalyptus or it's something else. You can create a different persona and go after that ideal client profile on Walmart, which is very different from then, someone who's maybe on Instagram or Facebook or even Amazon.
Gareth Cummings:
Yeah, I think that's really interesting to have actually. I was reading some reports on this actually, about the brands and saw some brands. Faith in brands is declining, quite a lot of research develop that there are not really, it's become more about trust and price. So as you say, people are searching for a product but they're not searching for a pick of brands and if they see a product and it has a good price and the seller has a good rating and it's trusted, then people will buy. Brand obviously is still important, don't get me wrong but there's certainly a bit of a, kind of switch in that in terms of online in particular but I think that's accelerating a little bit more.
Elizabeth Marsten:
I mean, we saw COVID push that forward. So it was literally, do you have it, when can I have it, how much is it? End of story. I mean, just and depending on the category you're in, that was literally the story like, oh, you have these vitamins, great, I don't care. I just need all the vitamin C that you have. You have any kind of hand sanitizer I want. If you look it, that's an amazing study in a category gone wild.
Gareth Cummings:
Yeah, we pulled some data on that actually from our own platform. It's interesting, we have about probably about 8,000 sellers on our platform. We look at data and we compare year and year in terms of growth and normally on average across, all sellers are growing at 10 to 15% one comparison . We looked at March, April, May. On average, they brought about 65% in growth, which adds some sellers. So if we had one seller, they could probably do about a million and a half in January and February and in March, it's 20 million 'cause they were selling hand sanitizers. It's just, 15 X rate overnight but to your point, COVID has really accelerated that. It's just, how much is the price reasonable and can you ship it get it to me on time and it a good experience as in, people knew shipments would be delayed, deliveries would be delayed but people accepted that. Were you communicating with me during that process? Where you informing, hey, it's gonna be delayed but you're gonna get it delivered seven days from now because as a buyer, I think we all know this. If you buy something and you know it's gonna be delivered and you're kept in touch in terms of what's going on, that's fine but when someone kind of goes dark on you or doesn't respond to your queries, that's when you go, hey, you cancel the order or you want a refund, someone is a fraud, so yeah. Some really interesting data in terms of the last six months and different categories, like we saw some categories up 125% and we're looking at different regions. So it's funny like, as kind of the crisis kind of went East to West across the globe, you could see different online responding. So it kind of started off, you see everything jumping Spain, France, UK, and it came across to obviously the US and Canada. So it was really interesting to see that happen, as this whole thing happened. And they haven't dropped back down and that's the really interesting thing. It's gone up and it's kept at that level. We haven't seen the tail off already so it's, yeah.
Elizabeth Marsten:
Yeah, destroying all year over year numbers and calculations. So for everything, when we go year by year, we're up 150% but I really don't think next year, we're gonna do that again. So it's been hard in terms of isolating the noise and kind of flattening that out and say like, if there wasn't, what can we expect next year?
Chad Rubin:
Yeah, that COVID bump is real. And I think, at least for me, I have feelings of just feeling very blessed to be in the eCommerce space, as dollars have been shifting from brick and mortar, it's unfortunate circumstances but it's just, I'm grateful that we're able to be in this environment and helping merchants and brands succeed in this time. Any remaining comments, things you wanna share with those that are enjoining today before we wrap up?
Elizabeth Marsten:
I recognize that Walmart doesn't have as many outlets for information as Amazon does today and continue to set those expectations but also continue to reach out. So I saw some really great questions and kinda back and forth in the chat alone. So please, talk to each other. Do those comparisons, let's build that community, same way that Amazon has.
Chad Rubin:
Yeah, I wanna just double up on that. So we run a Slack group called Run D to C and if people wanna participate in it or share, we're all about building a community, especially right now, where we need to rely on each other's information, help each other, you can contact myself, Chad@Skubana or you can contact Gina, who's somewhere in here in the chat to get you into the group and to be contributing and helping others and helping yourself at the same time. Gareth?
Gareth Cummings:
Probably just after that as well, I think there was a bit of . There's a big community around Amazon and it's grown over the years. I think that's, we just need to leverage them out ourselves and an example, it's similar. We kinda put together close customer forum. So you bring some more customers together so they can speak and it's not just about products, it's about general things that are going on in the e-commerce world, the sector problems and they get to kind of compare notes sometimes and kinda understand what kinda solutions that you're coming up with certain problems. So again, yeah by all means even if our products are a match for you, if you drop a note to the and join those forums because they can just help you get through these different questions and challenges and so on and so forth.
Chad Rubin:
And Elizabeth, how can people reach you to find out more about what you're up to, just jam with you?
Elizabeth Marsten:
Yeah, I'm pretty reachable. So obviously I'm on LinkedIn but Twitter, I have my at E-B-K-N-D-O handle, you can find me on there. Tinuiti is the name of the company that I work for or the agency and it is spelled with continuity so you can find us there and believe me, they find me and forward me anything that comes in.
Chad Rubin:
Awesome, thank you so much for spending time with us today. I'm grateful for Gina for putting this all together, for all of us and thank you for your contribution. Have a great day, happy selling.
Gareth Cummings:
Thank you, see you later.
Chad Rubin:
Right.