How Fulfillment Wins in Walmart
September 19, 2017
3

min read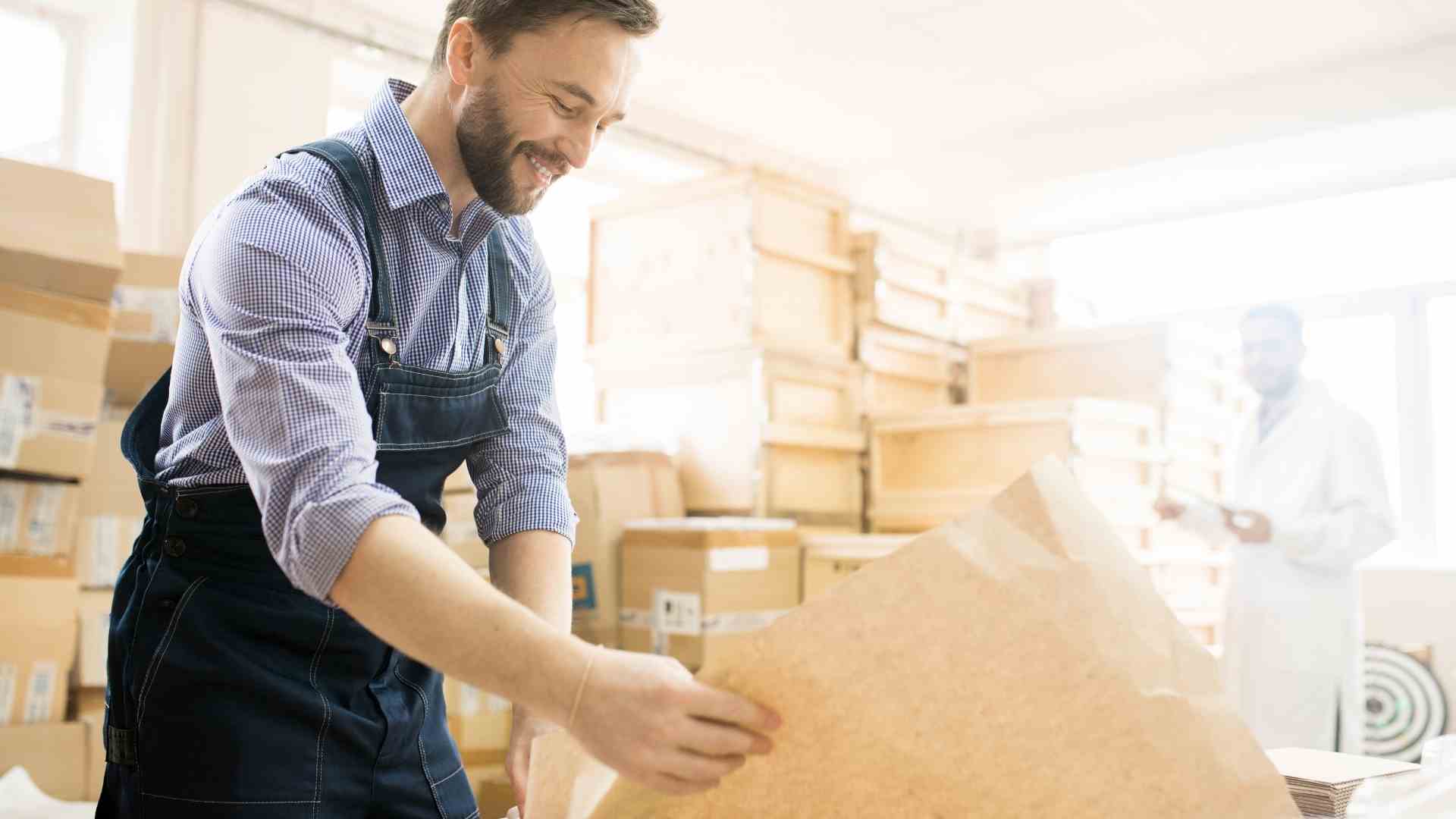 This is a guest post from the Symphony Commerce team.
With over 88 million unique monthly visitors and 19,000 third-party sellers, Walmart has quickly jumped to the top of every Amazon seller's radar, and many sellers are now considering the pros and cons of selling on Walmart vs. Amazon. While it offers an enormous opportunity for budding Amazon sellers, it also presents several key challenges.
As almost all sellers are aware by now, Amazon removed their brand-neutral packaging option for multichannel orders from their popular Fulfillment by Amazon (FBA) service last Fall. In response, Walmart banned all sellers from using FBA to fulfill Walmart orders.

This has presented an enormous challenge for sellers who have all their inventory in FBA. What was once a simple transition to sell on multiple marketplaces has now become a major project requiring a separate Walmart supply chain and fulfillment solution.
In response, most sellers have resorted to fulfilling orders out of their own office or warehouse, which has led to missed SLAs, slower shipping times and lower feedback ratings. In fact, Marketplace Pulse conducted a study comparing the average customer ratings of the top 100 Amazon Sellers with the top 100 Walmart Sellers. While the top Amazon Sellers boasted an average rating of 4.9/5, Walmart Sellers averaged a rating of 3.9/5. They ran sentiment analysis on poor Walmart seller reviews, finding that "most reviews are complaining about shipping issues - products taking too long to ship or returns not being free. On Amazon top sellers are either using Fulfilled by Amazon or have perfected their own shipping, while on Walmart the sellers are left to deal with their own fulfillment."
While the lack of FBA has presented a major setback for Walmart sellers, others have capitalized on this opportunity. It has created a unique landscape where sellers with powerful FBA-like fulfillment have a major edge over winning the buy box that they would never have in Amazon.
Take a typical Amazon listing (shown below), where every seller is using FBA. All sellers offer Prime eligibility, fast shipping, and bear the same FBA fulfillment costs. Eventually, each seller will undercut one another by $.01 until any margin is eroded away.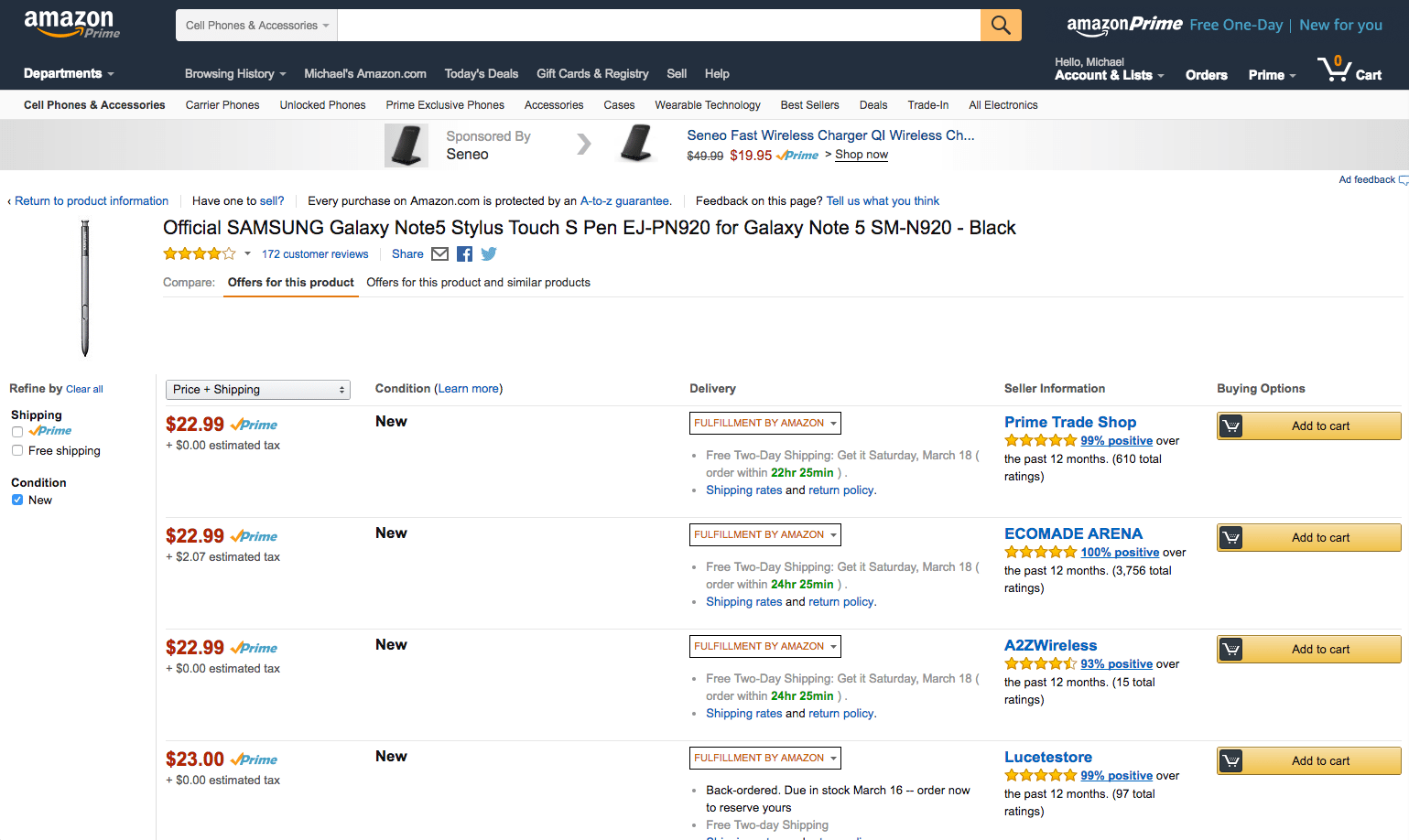 If you now look at this popular listing on Walmart (shown below), a different picture plays out. The winning seller, etailz, is offering faster shipping (with Fulfillment by Symphony) than the next best seller by more than 4 days. They are also winning on price, which could potentially be attributed to lower fulfillment costs.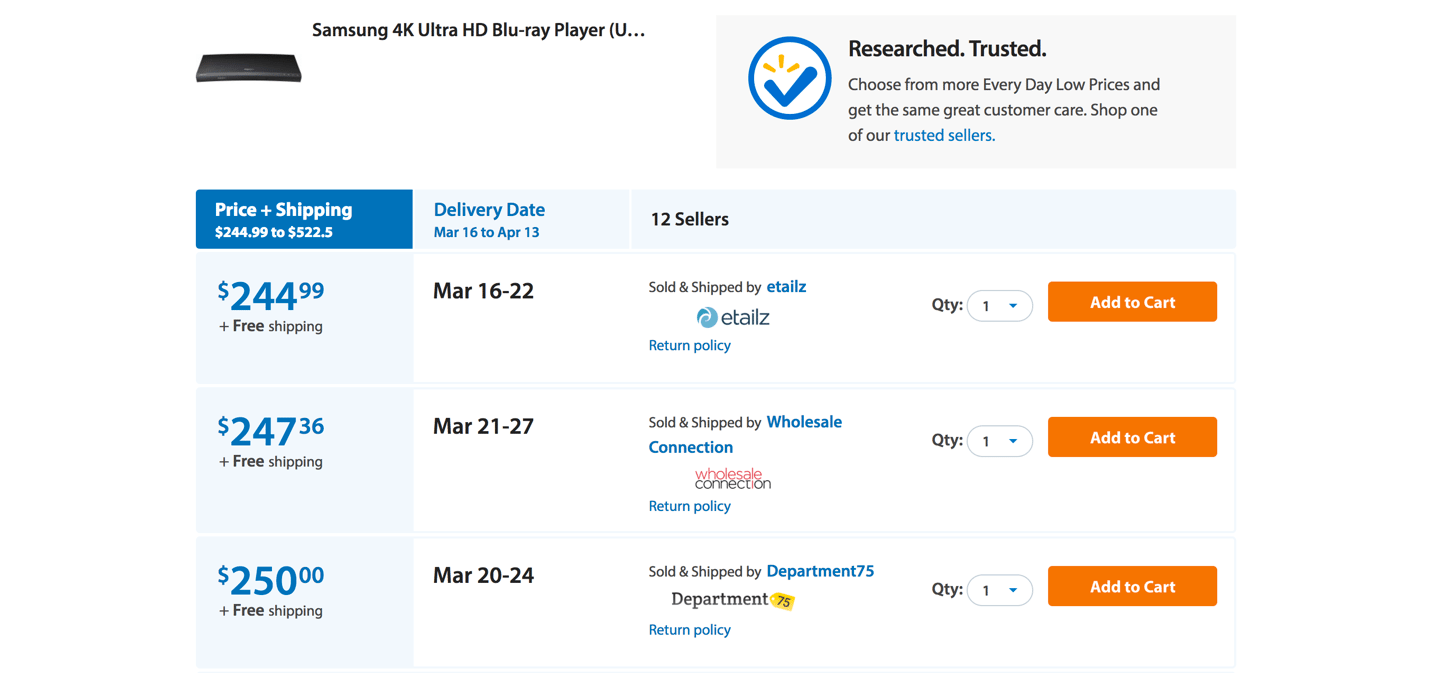 Two key factors determine Walmart's buy box ranking: landed cost (e.g item value + shipping) and delivery date. With a great fulfillment solution, sellers can win the buy box on Walmart at a higher margin than on Amazon.
Not only will fast and predictable fulfillment help sellers win the buy box on Walmart, but also help their products get noticed. Chad from Skubana wrote a great article on recommended practices for gaining ranking traction on Walmart, listing these 5 as the most important:
Optimize Item Descriptions
Practice Competitive Pricing
Achieve and Maintain Positive Reviews + Ratings
Achieve Greater Than 99% On-Time Shipment Rate
Unit and Sales Cancellation Rate Should Be Less Than 1.5%
Fast, predictable and cost-effective fulfillment can help achieve each of these goals (apart from content optimization) and can help sellers get noticed on Walmart.
As someone who has seen the impact of fulfillment on Walmart sales firsthand, I strongly recommend that sellers leverage a fast, predictable and cost-effective fulfillment solution for their Walmart channel. Feel free to check out Symphony and other multichannel, FBA-like fulfillment options, as it could propel your business on new, high-growth marketplaces like Walmart.